In this chapter you will learn 3 different hacks to buying Bitcoins with PayPal
Since buying Bitcoins with PayPal is still very hard to do because of the chargeback issues we've discussed previously, you'll need to use one of the 3 hacks described below.
Hack #1 – Buy Bitcoins with PayPal through Virwox
Since no exchange currently allows a way around the charge back issues of buying Bitcoins with PayPal we are going to have to go through VirWox – The Virtual World Exchange. We will use a virtual currency called SLL (Second Life Linden Dollars). This currency is used for one of the biggest virtual worlds today – Second Life. After buying this currency with PayPal (which is acceptable) we will then trade it to Bitcoins.
My guess is that Virwox is able to do this method since they are not directly selling you Bitcoins with PayPal but rather selling you SLL with PayPal which they can prove if you received (unlike Bitcoin since it's anonymous in nature).
Things you should know about Virwox before we get started:
Because of chargeback risk Virwox is taking on, they are limiting the amount you can deposit initially through PayPal or a credit card. Here are the exact limits according to their website from June 22nd 2015.

This process holds within it more transaction fees than usual. This may still be a valid solution since the soaring numbers of BTC compensate for this. It's important for you to be aware of the different transaction fees.
VirWox is delaying new user transactions for up to 48 hours. This means that it can take you 2 days to complete this process (still way faster than using a wire transfer).
If you still don't receive the Bitcoins after 48 hours (which is very unusual) you can contact Virwox at [email protected]
If you find yourself getting stuck at any point don't hesitate to contact us through the contact form on the site.
Step 1: Go to VirWox.
VirWox is an exchange of virtual currency. You can buy Lindens, Bitcoins, and more. It has more than 400,000 registered users and is a Second Life Lindens authorized reseller.
Step 2: Open a free account
Click on the "Not registered yet" on the top of the left sidebar to open up a new account as shown here: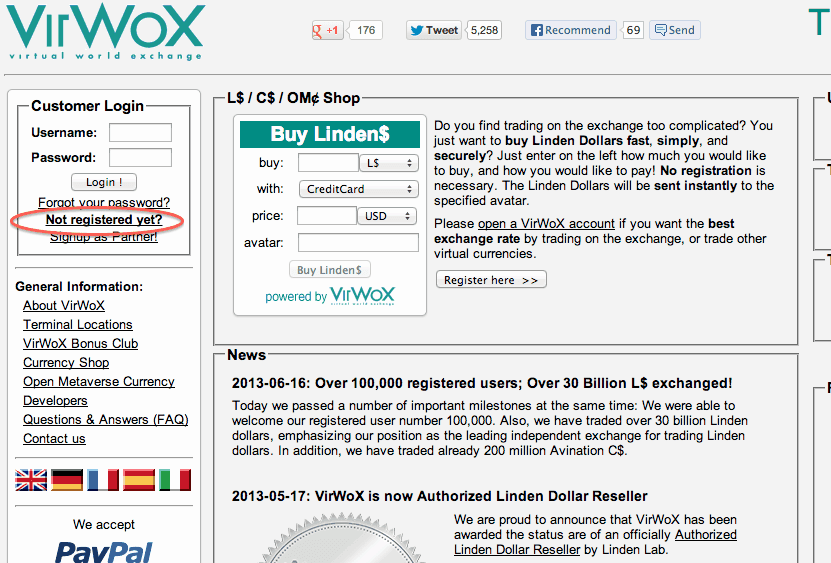 Step 3: Fill out our personal details
Fill out your username and email address. Where it asks for "avatar name" just leave it at "No Avatar", it doesn't matter, since you're not going to play Second Life.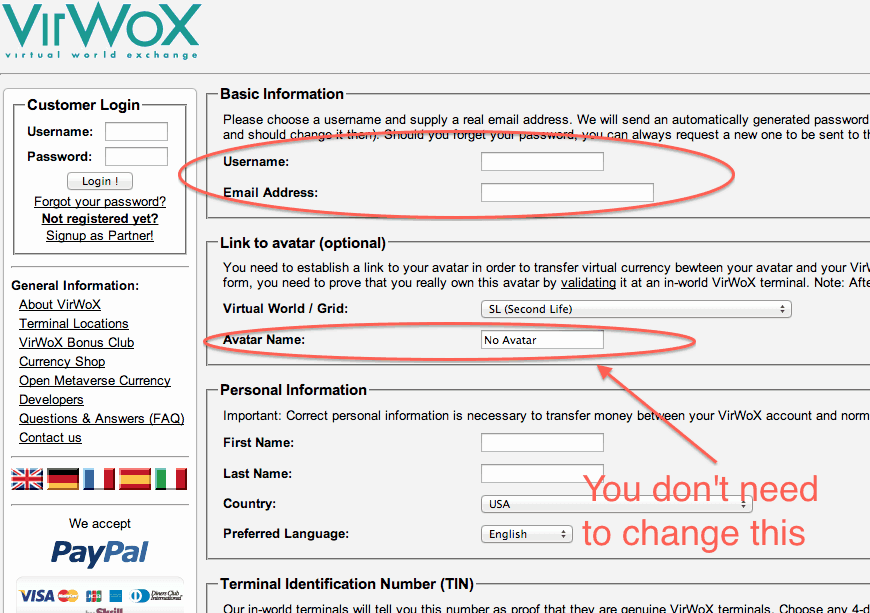 Continue filling out all of the personal details and click "register".
Step 4: Activate your account
Once you clicked "register" you will get an email confirmation with your password. Open the email, copy the password and log back into VirWox.
Step 5: IMPORTANT!!! Change your password!
After clicking the confirmation link it is advised you change your password as shown below since you will be transferring money through this site.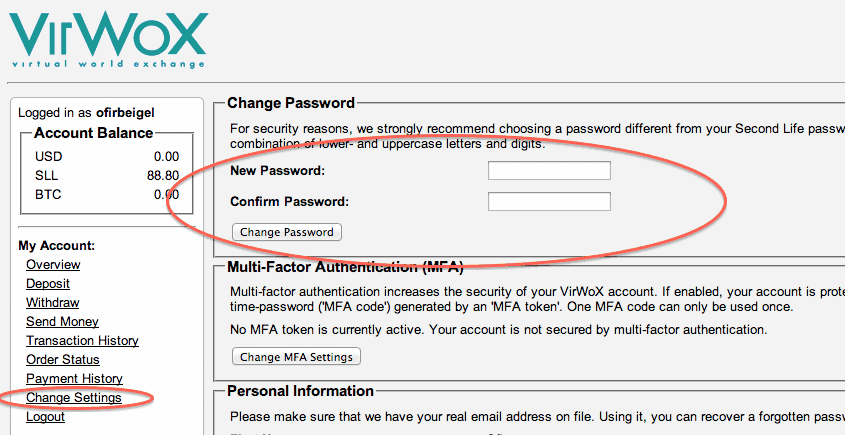 Do not worry about the message saying "Your avatar connection has not been validated yet" – it is irrelevant.
Step 6: Fund your account through PayPal
Click on deposit on the left side and choose PayPal Express. Fund the account with how many USD you'd like.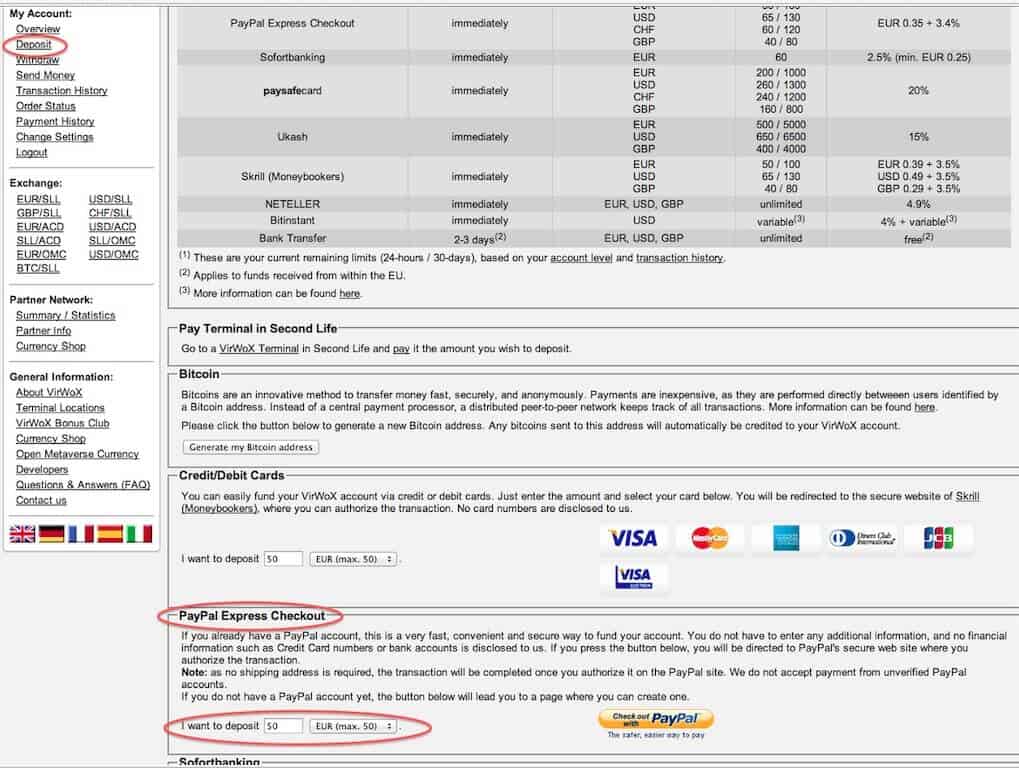 Note: From now on, for each transaction you will make there will be a fee – make sure you are aware of the relevant deposit and withdrawal fees.
Step 7: Buy SLL with USD
Go to Exchange->USD/SLL on the left side. You can also go to any other currency you'd like. Buy SLL (which mean Second Life Lindens). We will later on exchange these SLL to Bitcoins.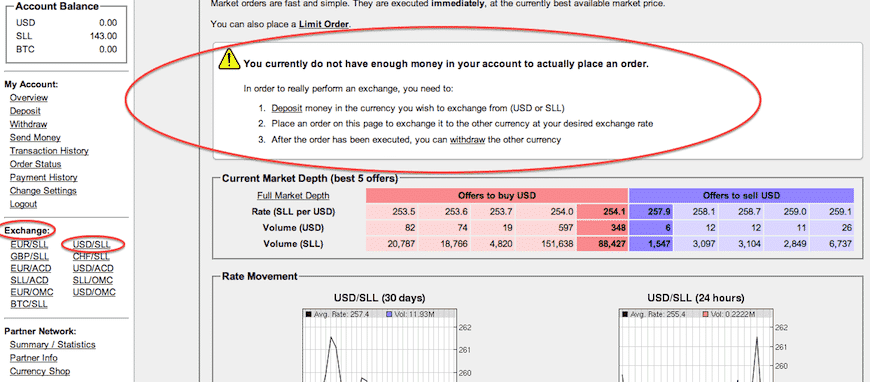 Note: If you haven't made a deposit yet you will get the screen shown above requesting you to deposit before you buy SLL.
Step 8: Buy BTC with SLL
Once you have SLL in your account, go to the BTC/SLL and buy Bitcoins with your SLL.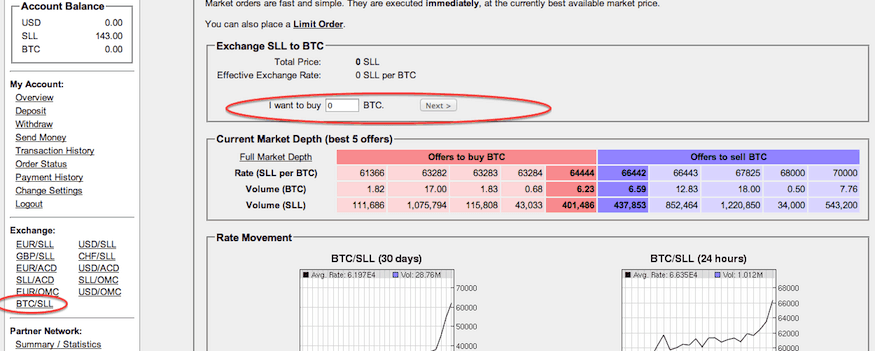 Important!!!
Sometimes a manual review will be required by VirWox after this step. This can take up to 48 hours but usually takes around 6 hours.
Step 9: Withdraw your Bitcoins
Choose "Withdraw" on the left side and send the Bitcoins to your wallet.


Will this method actually work?
Probably yes. I'm saying probably because I have received a handful of emails from people who weren't able to get their Bitcoins. Having said that, from all of the people who didn't get their coins I haven't gotten one email stating their money wasn't returned to them. So yes, the process is a bit irritating but I have been using this method since 2013 and it hasn't failed me yet.
How many fees will be deducted from my deposit?
This is probably the second most asked question I get. It's important to understand that when you buy Bitcoins through Virwox you are actually conducting two transactions. USD to SLL and SLL to BTC. This means you'll need to pay a fee for each of these transactions.
The problem is that Virwox's fee structure is always changing. That is why I advise to check each case in person before proceeding. There is a pretty cool site which shows you the current BTC/USD rate after all of Virwox's fees. I'm not sure how reliable the site is but you can check it out for yourself here.
Hack #2 – Buy Bitcoins with PayPal through Circle (US only)
Recently we got an email from a subscriber of mine stating the following:

Of course this got us intrigued so we asked him about it. It turns out there's a really simple hack you can do to get Bitcoins with PayPal instantly using Circle. There are a few limitations though:
You need to live in the US
You need to have a verified PayPal account linked to a credit card/bank account
If you're OK with these two limitations then you're good to go. Here's how it's done.
Step 1 – Open a Circle account
Head up to Circle and open an account. we've reviewed Circle before and it's a great service provider for buying Bitcoins with a credit card. Opening an account is pretty straight-forward and you shouldn't run into any problems.
Step 2 – Get a PayPal Debit MasterCard
If you already have a PayPal Debit MasterCard (not to confuse with a PayPal prepaid card) then you can skip this step. If not, you can apply here. Application takes a few minutes, and includes the result if you're approved or denied. Once approved, it can take between 2 to 4 weeks to receive your card in the mail. Once the card arrives you'll need to activate it by calling a toll free number or through logging into your account.
Step 3 – Connect your PayPal Debit MasterCard to your Circle account
Go to your account -> settings -> linked accounts and click on "add account". You can then enter the details of your PayPal debit MasterCard.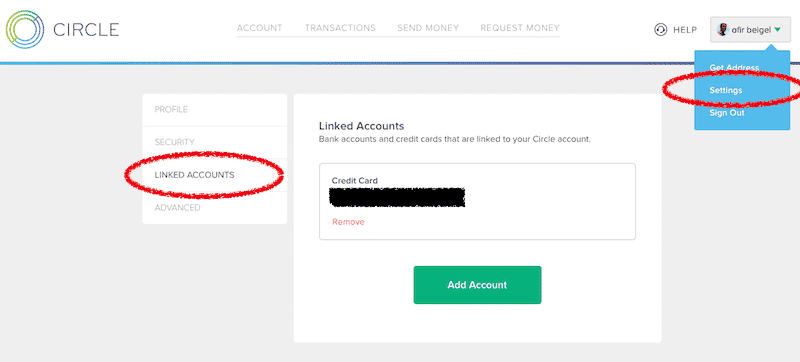 Step 4 – Buy Bitcoins with PayPal instantly!
Once your card is connected you can now buy Bitcoins and your PayPal balance will be the first to be used in this purchase. You can also sell Bitcoins and withdraw the dollar balance back to your card.
I want to thank my reader Chadwick for bringing this to my attention. This is definitely one great hack which will allow many people to buy more Bitcoins. Personally I can't use this hack since I don't live in the US, but I've already confirmed on a recent Reddit post that this actually works. Good luck!
Hack #3 – Buy Bitcoins with PayPal through Local Bitcoins
If both options above haven't worked for you (and at least one of them should), you can try buying Bitcoins with PayPal through Local Bitcoins.
Local Bitcoins, unlike Virwox is a marketplace where buyers and sellers meet. If you use this option you'll be dealing with an actual person which means that credibility also comes into play. The way you can use Local Bitcoins to buy Bitcoins with PayPal is by finding a person that is willing to sell them to you.
But since the seller is taking a big risk (as I explained in the beginning of this post) the will usually charge a really big premium (most of the times this will be more expensive than Virwox). The upside is that you will usually get your Bitcoins faster.
Step 1: Enter your search parameters
The first step will be to go to Local Bitcoins and enter how much you want to buy and from which country. Since Local Bitcoins was originally made for people to meet face to face there is no "worldwide" search which is a shame. This means that there is no way to see all of the people who are willing to sell you with PayPal worldwide other than going through each country one at a time.


Step 2: Choose your seller
On the next screen you'll see a list of available sellers; you can now browse them one by one. Here are the things to take into account:

Feedback score – Located under the seller's name. It's advised to conduct transactions only with high feedback sellers.
Trade limits – Each seller has a minimum/maximum amount of Bitcoins he's willing to trade
Payment window – How much time you have for paying the purchase and marking the payment done after you initiate a trade.
It's also super important to read the terms of trade for the specific seller located on the right side. Here's an example: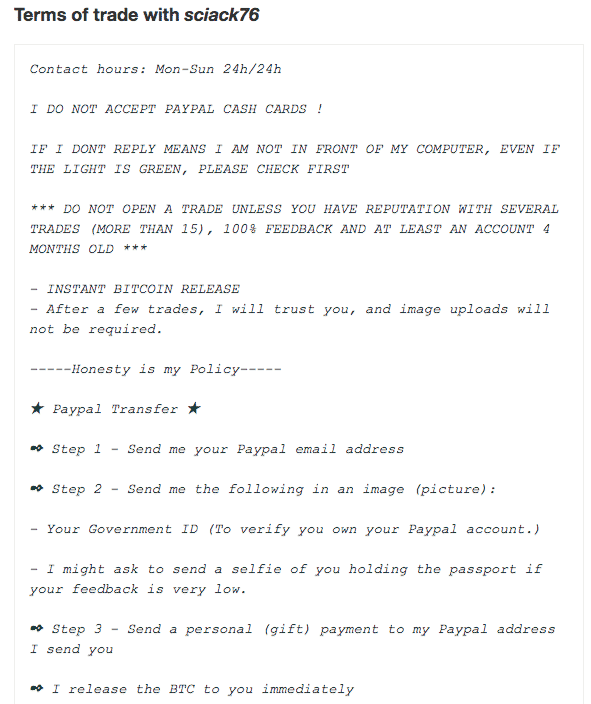 Some sellers will require you have an initial reputation in order to buy from them so they can avoid scams or fraud. This means that you will perhaps have to conduct some small transactions just to get reputation.
Step 3: Complete the trade
Once you've found your seller just enter how much you want to buy and click on "Send trade request".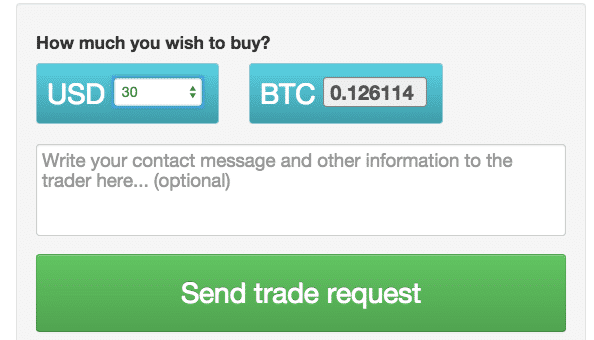 Keep in mind that it's crucial to conduct all communications within Local Bitcoins and preferably use their Escrow services (which are triggered automatically for all online sales). This method is faster the Virwox but it can take you a lot of time to gain enough reputation, find your seller, and also the premiums are really high (around %30 and more…).
Before we conclude this guide, here are some final steps you should take in order to avoid fraud.