What Is VeChain?
VeChain (VEN) is a decentralized blockchain application platform that was launched in 2017. In particular, VeChain focuses on product and supply chain management through asset digitization and RFID technology. This can be used in verifying authenticity, tracking transportation and storage, and even providing details such as source materials used in a particular product.
In February 2018, VeChain announced that it was rebranding to Vechain Thor. VeChain Thor will feature a new Thor blockchain with its own VeChain Thor (VET) token to be used by businesses as a smart payment solution on the blockchain. The Thor blockchain will feature a twin token system. Thor Power tokens will be used for smart contracts and running blockchain applications. Holding Thor Power tokens will generate VET tokens, much like GAS is generated by holding NEO.
Step 1: Choosing a VeChain Wallet
As it stands, VeChain is an ERC-20 token on the Ethereum blockchain. There is no official VeChain wallet, and there aren't many options available. However, this doesn't mean you're limited to keeping your VEN on exchanges. Indeed, you can store your VEN tokens in an Ethereum wallet. This reduces the risk of your funds being lost or stolen.
Web/Online Wallets
MyEtherWallet
MyEtherWallet was launched in 2015 and is open source and ERC-20 compatible, making it one of the best options when it comes to safely storing VEN tokens. It's best described as a client-side interface for Ethereum, and it's unlike many web wallets in that private keys are not controlled by a third party. What makes MyEtherWallet so popular is that it's compatible with hardware wallets such as the Ledger Nano S and Trezor, offering enhanced security.
MetaMask
An Ethereum browser wallet, MetaMask was launched in 2016 and is compatible with every ERC-20 token. MetaMask is also compatible with MyEtherWallet. It's accessible via a web browser such as Chrome or Firefox. No login is necessary, and private keys are stored on the browser, encrypted, and password protected. Aside from storing VEN, you can also use MetaMask to access Ethereum Dapps.
Hardware Wallets
Ledger Nano S
For greater security, you can store your VEN on a hardware wallet such as the Ledger Nano S. Launched in 2016, it's a popular multicurrency wallet offering compatibility with Bitcoin, many altcoins, and ERC-20 tokens. In order to store VEN tokens on this device, you'll need to use it in conjunction with MyEtherWallet. Here's our review of the Ledger Nano S.
Trezor
Another hardware wallet option to seriously consider is Trezor. Launched in 2014, it supports Bitcoin, a dozen altcoins, and ERC-20 tokens including VEN. Much like the Ledger Nano S, you'll need to use Trezor with MyEtherWallet. The Trezor and Ledger Nano S hardware wallets are compatible with Windows, Mac, and Linux and are safer than most wallet types since they're offline and less vulnerable to malware. Here's our review of the TREZOR and its newest model, the TREZOR T.
How to Buy VeChain
Unfortunately, there aren't many options when it comes to buying VeChain. At the time of writing, the biggest exchange on which it's available is Binance. Only Huobi—a Chinese digital trading platform—comes remotely close in terms of VEN trading volume.
Binance
A VEN/BTC pair can be found on Binance, which is where most of the trading of VEN occurs. Binance launched in 2017 and is regarded as a reputable and reliable cryptocurrency exchange. It offers a number of security options, including two-factor authentication. However, the downside is that you can't deposit or trade with fiat. As such, you'll need to buy another cryptocurrency elsewhere before sending it to Binance and exchanging it for VEN. You can read our full Binance review here.
Huobi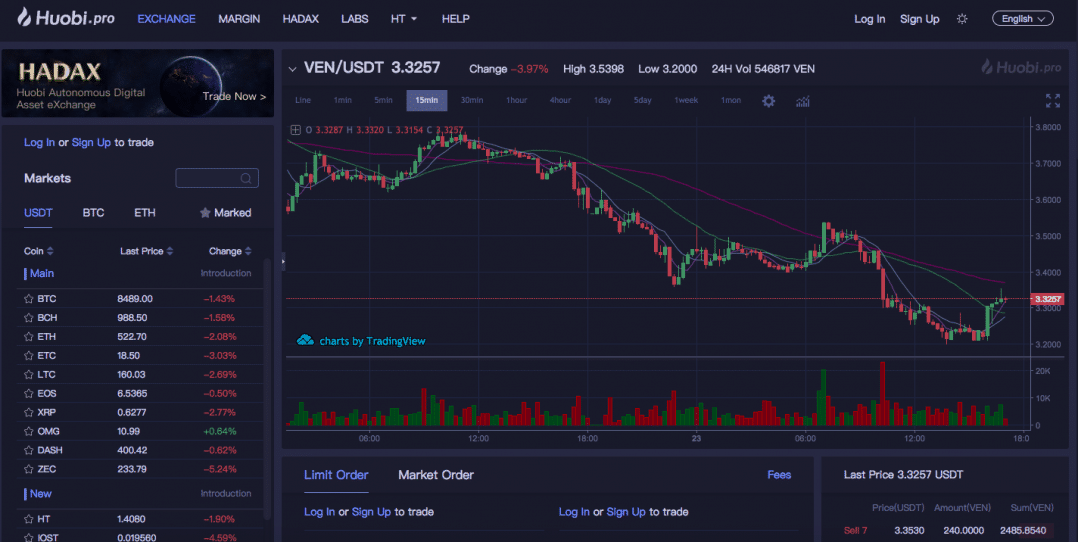 Despite having been around since 2013, Huobi is still relatively unknown in the world of cryptocurrency. This is largely down to its being a Chinese trading platform with most of its user base located in Asia. While Huobi seems to have relatively high liquidity and no fees for Chinese traders, there's little reason to use it when Binance is an option. However, the exchange does have the VEN/BTC, VEN/ETH, and VEN/USDT pairs, which may prove attractive.
Summary
VeChain has made impressive progress in a short span of time, forming some impressive partnerships with enterprises in the process. It will be interesting to see how VeChain evolves as it becomes VeChain Thor.
Have you used any of the above wallets or exchanges? What do you think of VeChain? Let us know in the comments below!