For some inexplicable reason cannabis is still considered to be a controversial subject, despite the fact that Cheech and Chong are pretty much universally recognized as being both hilarious and harmless. Still, due to federal regulations on the subject banks refuse to do business with marijuana outlets, regardless of whether or not they are in perfect compliance with state MMJ laws. Worse, even in Washington State and Colorado, where marijuana has been legalized for adult recreational use, dispensary owners still cannot use banks causing them to handle very large amounts of cash. Further, since dispensaries are not allowed to have firearms on the premises, they are perfect targets for criminals.
Now some people see this as a problem, other people see this as an opportunity. This is why we have three competing cryptocurrencies seeking to service the budding (no pun intended) market for legal cannabis. Of course, when I say "competing" what I really mean is that we have three of them in existence; Potcoin, Dopecoin, and Cannacoin. Today I'm going to give you the lowdown on each one and my assessment on their chances of survival in the highly competitive crypto market.
Cannacoin
Announced in February of this year Cannacoin bills itself as the future of the cannabis industry. Operating on the scarcity principle, the developers have decided to limit the number to 13.1 million coins, even less than crypto titan Bitcoin. Since it's debut in April 2014 the market cap of cannacoin has risen steadily from roughly $9,000 to $20,000. Unfortunately you can only purchase them from one exchange, Swisscex, and they cannot be spent anywhere, which makes their market value of .017480 (as of 12:02 5/27/2014) a little suspect to this writer.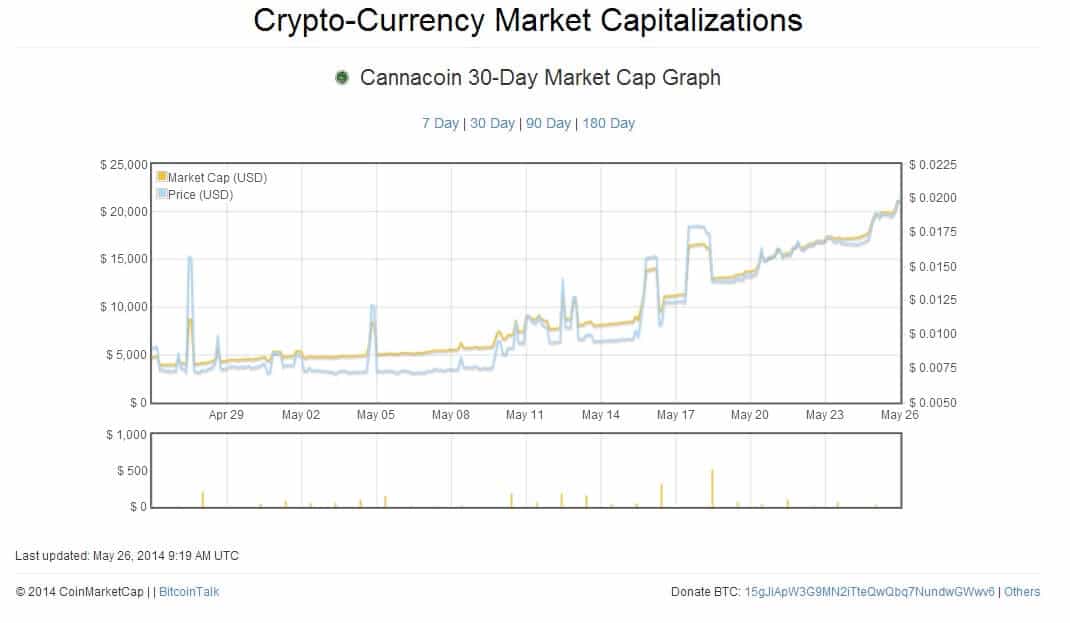 As to their social media presence, their subreddit has 112 members total and their Twitter account has 321 followers, hardly a commanding presence. If they intend to live up to their ambitions, however, it is clear that they are going to have to ratchet up their game to actually be a contender.
Dopecoin
Marketing itself as the premiere cryptocurrency for drugs in general, Dopecoin was launched in January 2014. Using Scrypt/PoW and Kimoto's Gravity Well, (presumably the patched version, although their site doesn't say so) and a total distribution of 500 million coins, it is the largest of the three coins, but also has the smallest market cap, a mere $17,000 down from an all-time high (seriously, I'm not making these puns deliberately) of $149,000 on April 19.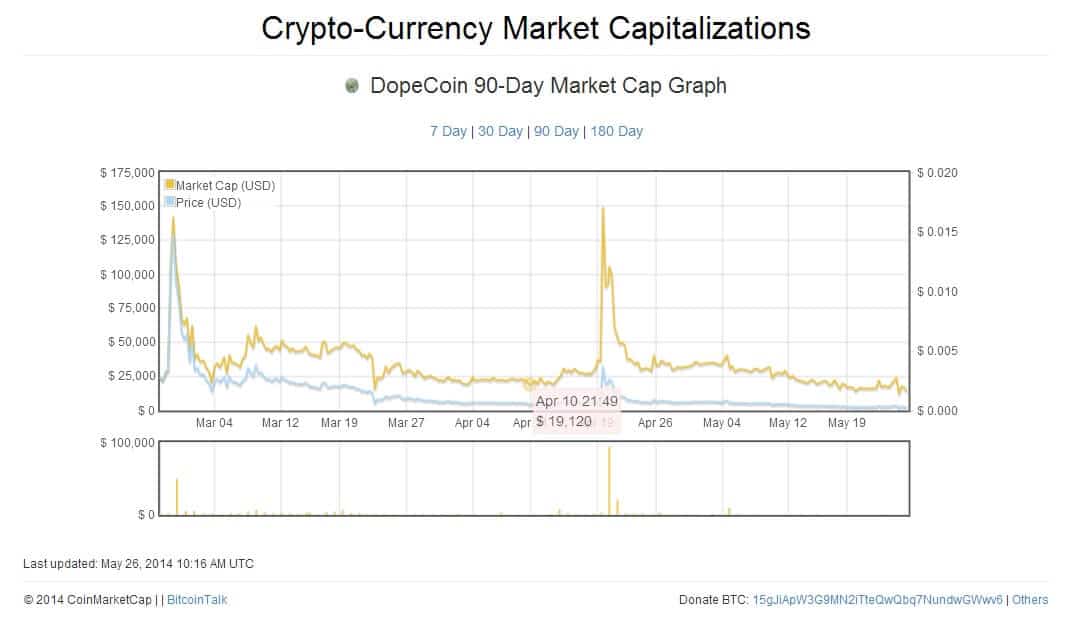 One thing about their site that I found very interesting was their "Hall of Fame" which has a roster of 10 names. At the time of this writing, only 5 of the slots are occupied, and 2 of them seem to be held by people who contributed…dopecoins? I can understand the guy who contributed one bitcoin and the person who donated some doge, but the dopecoin contributors is a headscratcher to me.

They do have a rather slick, professional website but their subreddit only has 164 members, including myself. I don't have any interest in using Dopecoin to purchase illicit items, I just wanted to purchase some as an investment while the price was low. To that end I posted an offer on their subreddit, but to this date have not received a single reply after 29 days. Compared to the other two coins, however, this one is a social media juggernaut with a staggering 7,805 Twitter followers.
With the collapse in the price and lack of community response, I don't think that Dopecoin is going to be around long unless they can manage to convince one of the Darknet drug bazaars to adopt them as the official currency, a move that hardly seems likely due to a variety of factors, especially the inordinately large number of coins that will be produced.
Potcoin
(Full disclosure: I currently hold a small number of potcoins and have made a few postings on their subreddit)
The first cannabis-themed crypto, Potcoin, is currently the world heavyweight champion. Working with a stoner-friendly numerical theme there will be a staggering 420 million created, with 420 per block, and block rewards halving every, you guessed it, 4.2 years. Released in January of 2014 it has had the tumultuous price swings that are characteristic of cryptocurrencies. At the time of this writing Potcoin's market cap is the largest with nearly $400,000 invested in it.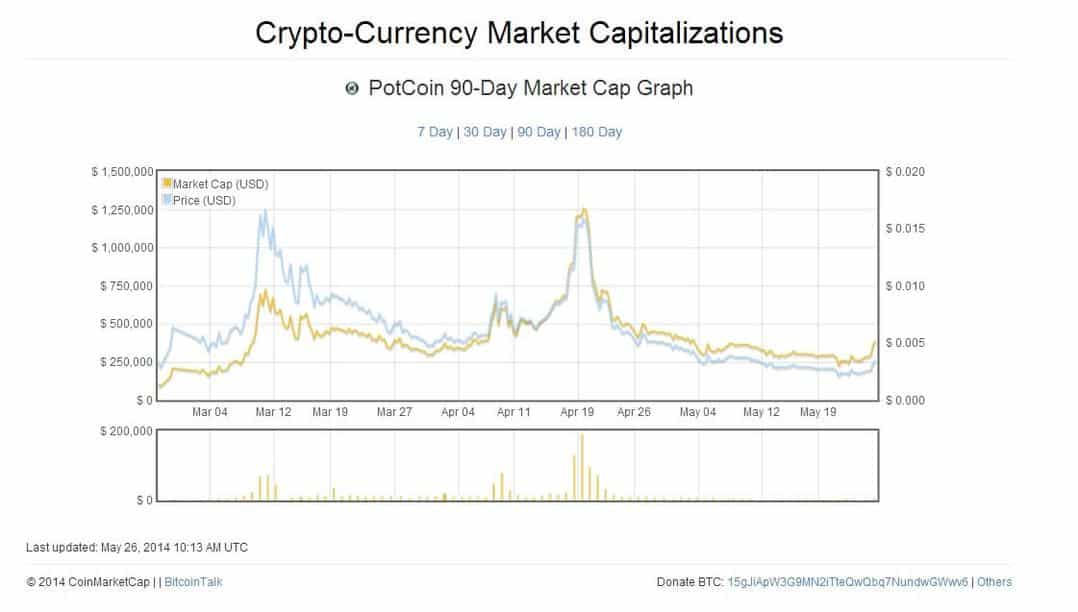 According to their website, there are currently seven merchants that accept this crypto as legal tender, clearly giving Potcoin an edge on the competition. And the news on their subreddit has it that, unlike the other cannabis-cryptos, this one has working ATMs that are currently located in the River Rock Wellness Center, a Denver, Colorado based cannabis outlet with two locations.
The Potcoin subreddit also has almost 1700 subscribers, putting it way ahead of the others. . Now, compared to Dogecoin (87,000) or Reddcoin (21,000) 1.700 does seem like a small number, but again, we have to compare apples to apples here. Fairly active on Twitter, Potcoin also has 2,395 followers.
In the final analysis it seems pretty clear that, barring any sudden changes in the crypto landscape, Potcoin will remain the dominant force in the race to represent cannabis in the crypto community.