Buying Bitcoin with PayPal (Beginner's Guide)
Last updated: 1/17/19
One of the biggest issues today for Bitcoin is the fact that it's a bit difficult to obtain. Even though PayPal has been very favorable of Bitcoin in recent years, it's still an issue to find credible places to buy bitcoins with PayPal in 2019.
Why won't PayPal allow this? It's simple. Numerous chargeback cases have been created by scammers who buy Bitcoin with PayPal from you and then claim they didn't receive anything. This way they get to keep their money and their Bitcoins (here's a short video illustrating this). This post will illustrate methods that will allow you to overcome this issue.
Post Summary
Since Virwox shut down its PayPal deposits in January 2019 it got really hard to obtain Bitcoins through a PayPal account. The two main methods that still allow you to buy Bitcoins with PayPal are:
Method 1 – eToro (for those who only speculate on price and don't need access to the actual coins)
Method 2 – LocalBitcoins (for those who want to actually withdraw their Bitcoin to their own wallet)
Options for buying Bitcoin with PayPal
And now for a more detailed explanation. Here's what we'll cover:
---
1. Buy Bitcoin with PayPal through eToro
Pros: Relatively low fees, a variety of payment methods accepted
Cons: Partially available in the United States, profits can only be withdrawn in fiat currency (i.e. USD, EUR, etc.)
The easiest way to buy Bitcoin with PayPal would be through eToro but only for a limited purpose: while the platform will allow you to buy bitcoins with PayPal, you will not be able to withdraw or send your bitcoins to other people, only to change them back to fiat currency (i.e., dollars or euros). In other words, eToro allows you to invest in Bitcoin rather than to buy the actual coin. However, this will soon change, as eToro is in the process of opening an exchange.
If you're just looking to profit from price swings and don't require the actual bitcoins, this is probably the easiest and cheapest way to go. If, however, you need the actual bitcoins to buy stuff or send them to another person, keep reading.
Keep in mind that if you use eToro, you don't actually need a Bitcoin wallet, as they don't supply you with the actual coins.
IMPORTANT!  cryptocurrencies can widely fluctuate in price and are not appropriate for all investors. Cryptocurrency trading is not supervised by any EU regulatory framework, your capital is at risk.
---
2. Buy Bitcoin with PayPal through LocalBitcoins
Pros: A wide variety of sellers from around the world
Cons: High fees, a chance of getting scammed
LocalBitcoins, unlike eToro, is a marketplace where buyers and sellers connect directly. In other words, when you use LocalBitcoins, you're dealing with an actual person, which means that the seller's credibility is another thing to watch out for.  As for fees, sellers will usually charge a premium since they're taking a big risk of buyers charging back (see the explanation at the beginning of this post). The upside is that you will usually get your bitcoins faster.
A step-by-step guide to using LocalBitcoins
1. Enter your search parameters.
The first step will be to go to LocalBitcoins and enter how many bitcoins you want to buy and from which country. Since LocalBitcoins was originally made for people to meet face to face, there's no "worldwide" search, which is a shame. This means there is no way to see all the sellers who are willing to sell worldwide and accept PayPal in a single search. You have to go through each country, one at a time.


2. Choose your seller.
On the next screen, you'll see a list of available sellers, you can now browse them one by one.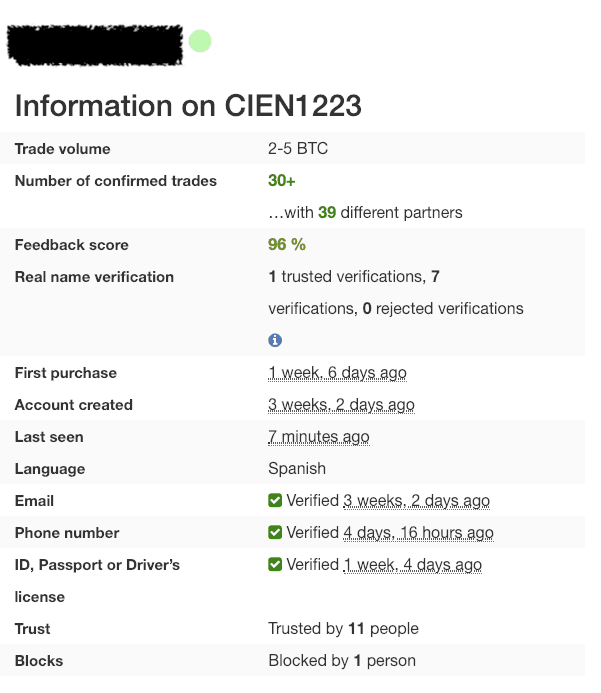 Some of the things I'd check before trusting a seller are:
Feedback score
How many confirmed trades does this seller have?
How old is the account?
How many people trust this seller?
How many people blocked this seller?
In the end there's no real measurement to help you evaluate how reliable a seller is. You will need to use common sense after reviewing his complete details.
3. Complete the trade.
Once you've found your seller, you'll be taken to the trade screen. There you'll be able to see information about the user's trade limits, location and payment window (How much time you have for sending funds and marking the payment done after you initiate a trade).

It's also super important to read the terms of trade for the specific seller located on the right side. Here's an example: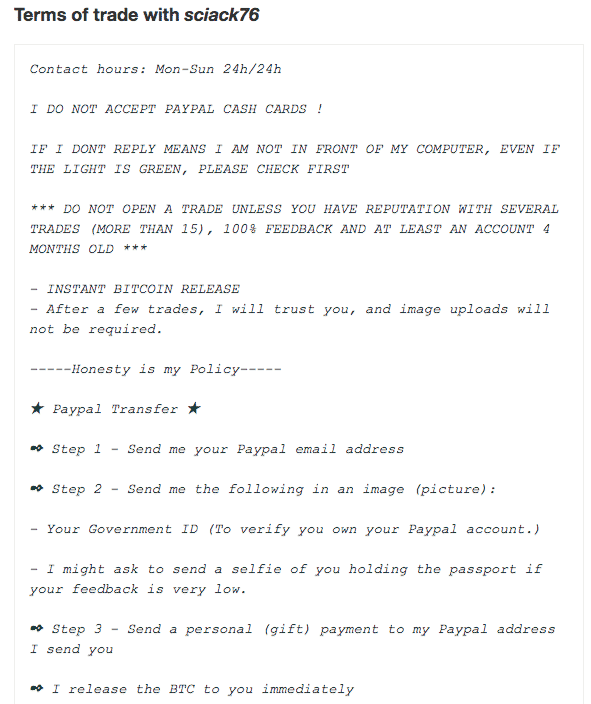 Some sellers will require that you have an initial reputation in order to buy from them to avoid scams or fraud. This means that you might have to conduct some small transactions to build your reputation.
Once you went over all of the information and made sure it suits you, just enter how many bitcoins you want to buy and click "Send trade request."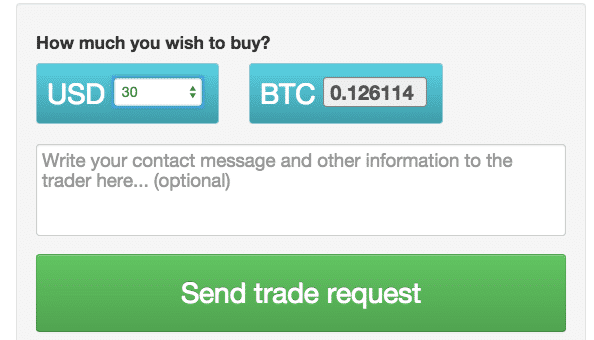 It's crucial to conduct all communications within LocalBitcoins and preferably use their escrow services (which are triggered automatically for all online sales). While this method is relatively fast it may take some time to gain enough reputation and find a seller.
---
3. Buy Bitcoin with PayPal through Virwox
January 2019 update – Virwox has halted all PayPal deposits. I have reached out to them to see if this is just a temporary thing or not. Will update as soon as I get more info.
Pros: Reliable method that has been around for a long time
Cons: High fees
The only exchange that offers a way around the chargeback issues of buying bitcoins with PayPal is Virwox (Virtual World Exchange). Virwox does that by using a virtual currency called SLL (Second Life Linden Dollars) as a means of mediation. SLL is used in one of the biggest virtual worlds today, Second Life, and more importantly, SLL can be bought with PayPal.
The process is very simple: You buy SLL with PayPal and then trade them to bitcoins. Virwox circumvents Paypal's restrictions with this method, as Bitcoins are not being sold directly. Rather, Virwox is selling you SLL with PayPal, for which they have a proof of purchase in case of a chargeback claim (unlike Bitcoin and its semi-anonymous nature). Here's what the process looks like from start to finish:
Before we start: Virwox fees and conditions
For the initial deposit, Virwox limits the amount you can deposit through PayPal or by credit card because of the chargeback risk it's taking on. Here are the exact limits according to the website (as of August 2018):

This process holds higher transaction fees than usual. Nevertheless, this may be a valid solution if it's your only option or when price fluctuations compensate for the fees. Don't worry! To save you the headache, we've included a Virwox fee calculator further down in the post.
Virwox is delaying new user transactions for up to 48 hours. This means that it could take you up to two days to complete the purchasing process—still way faster than using a wire transfer.
If you don't receive the bitcoins after 48 hours (which is very unusual) you can contact Virwox at [email protected]
A step-by-step guide to using Virwox
1. Go to Virwox and open a free account.
Click on "Not registered yet?" on the top of the left sidebar to open up a new account, as shown below: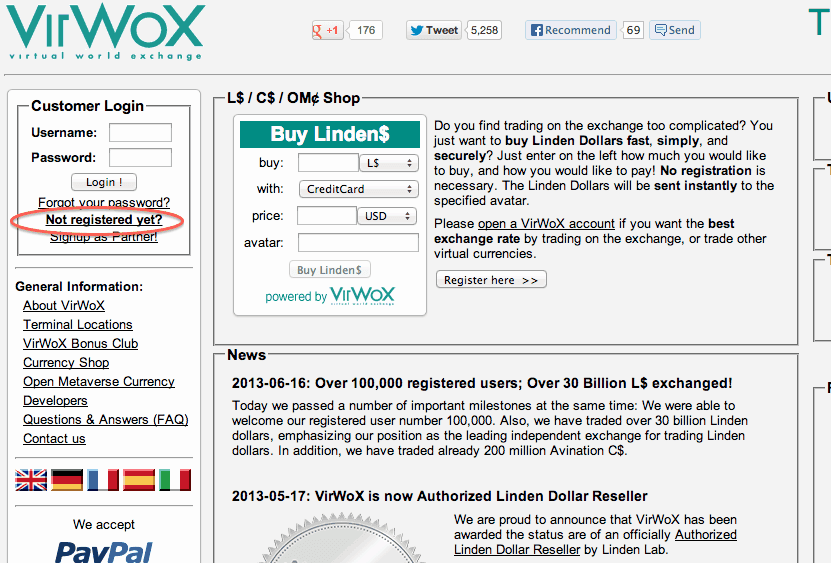 2. Fill out your personal details.
Fill out your username and email address. Leave "Avatar Name" as "No Avatar."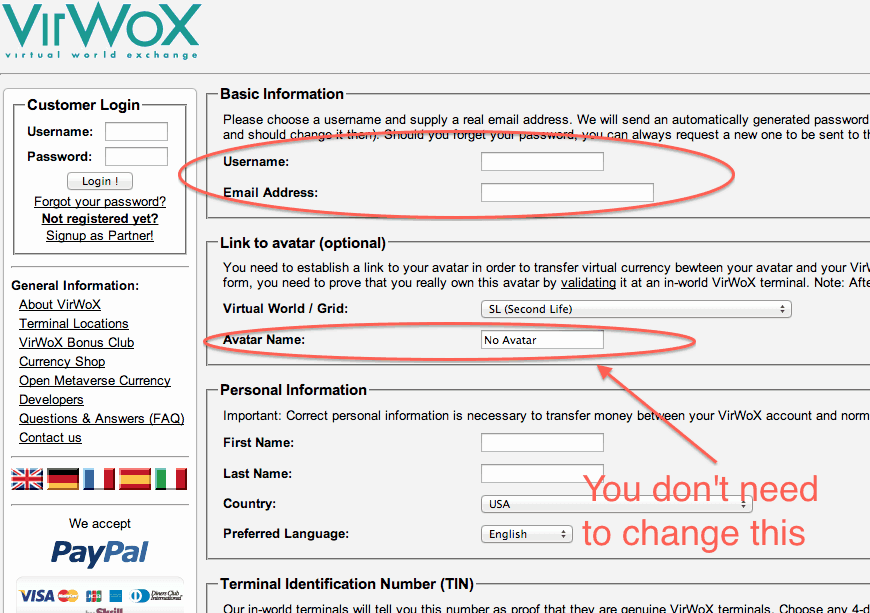 Continue filling out all of the personal details and click "register."
3. Activate your account.
Once you click "Register," you will get a confirmation email with your password. Open the email, copy the password, and log back into Virwox.
4. IMPORTANT: Change your password!
After you click the confirmation link, it is advised that you change your password as shown below, since you will be transferring money through the site.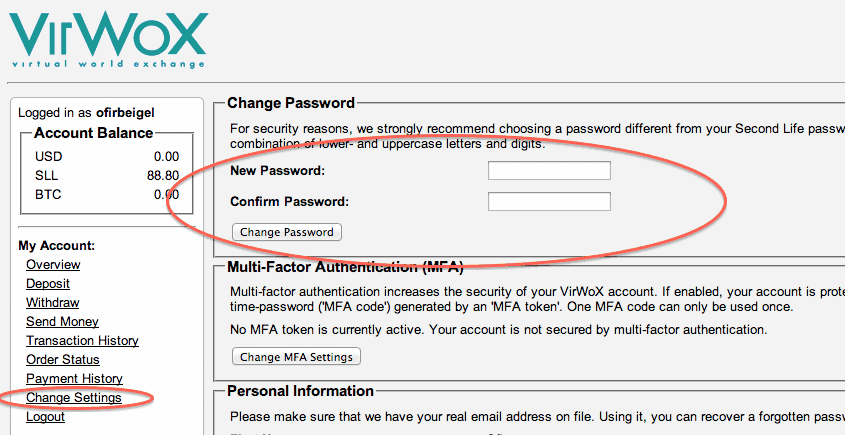 Don't worry about the message saying, "Your avatar connection has not been validated yet"—it's irrelevant.
5. Fund your account through PayPal.
Click on Deposit on the left side, and choose PayPal Express. Fund the account with USD/EUR or GBP depending on your preferred currency.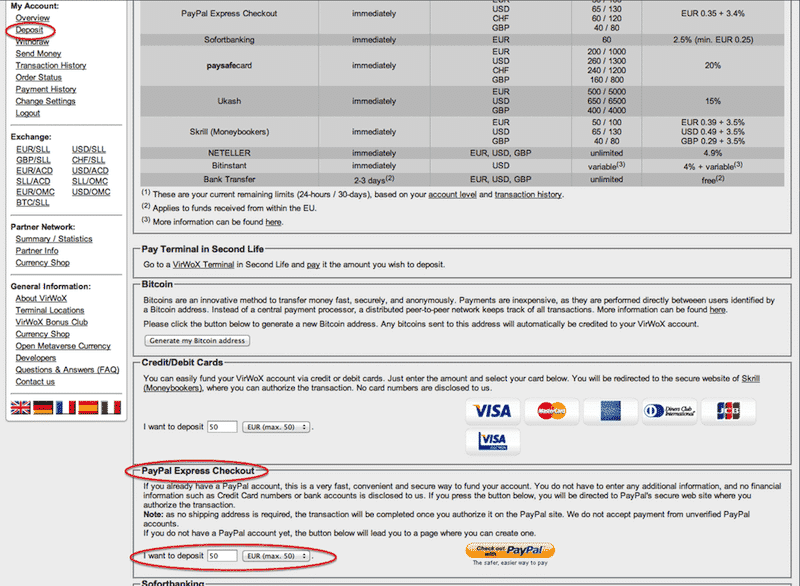 Note:
For each transaction you will make there will be a fee. Make sure you are aware of the relevant fees for deposit and withdrawal. You can use the
Virwox fee calculator
we created to quickly calculate USD to BTC conversion when using Virwox.
6. Buy SLL with USD.
Go to "Exchange" > "USD/SLL" on the left side (or any other currency, depending on the currency you used for the deposit). Buy SLL.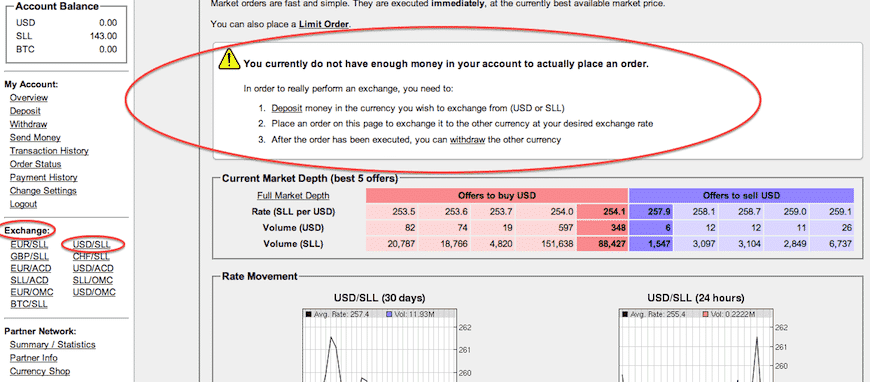 Note: If you haven't made a deposit yet, you'll get the screen shown above requesting you to deposit before you buy SLL.
7. Buy BTC with SLL.
Once you have the SLL in your account, go to "BTC/SLL" and buy bitcoins with your SLL.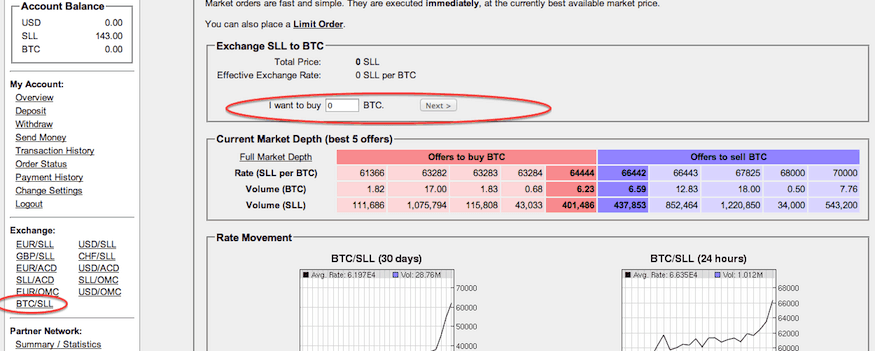 Important!!!
Sometimes a manual review will be required by Virwox after this step. This can take up to 48 hours, but usually it takes around six hours.
8. Withdraw your bitcoins.
Choose "Withdraw" on the left side, and send the bitcoins to your wallet.

Buying with Virwox – Frequently asked questions:
Will this method actually work?
Yes. Having said that, I have received a handful of emails from people who weren't able to get their bitcoins. All of them got their money returned. So yes, the process is a bit irritating, but I have been using this method since 2013 and it hasn't failed me yet.
How much will be deducted from my deposit in fees?
This is probably the second-most asked question I get. It's important to understand that when you buy bitcoins through Virwox, you are actually conducting two transactions: USD to SLL and SLL to BTC. This means you'll need to pay a fee for each of these transactions.
The problem is that Virwox's fee structure is always changing, which is why I'd advise you recheck each transaction before proceeding. To help you with this, we've created the fee calculator below.
Virwox fee calculator
To use the calculator, enter the amount of bitcoins you want to buy and find a rough estimate of how much USD it will cost. You can also enter an amount in USD and find out how many bitcoins you'll be able to purchase.
---
4. Buy Bitcoin with PayPal through Wirex
Pros: Medium fees
Cons: Requires a long time to complete (around 10 days)
Wirex is a company that supplies virtual and physical Bitcoin debit cards. Since it's just like any other debit card, you can use Wirex's card with your PayPal account.
However, as PayPal is the third-party payment, and it is not a Wirex partner. they can't ensure you that this transaction will be successful and will be unable to assist you in case of a failed transaction. So keep this in mind and use it only as a method of last resort.
A step-by-step guide to using Wirex
1. Order a physical or virtual debit card from Wirex
Go to Wirex. Click on "Request new card" and choose the type of card you want. It's possible to buy bitcoins with PayPal using both physical and virtual cards.

A virtual card should cost ~$3 and will be enough for this process.
2. Connect that debit card to your PayPal account and verify it.
Inside your PayPal account, go to "Wallet" > "Add a card" and add your newly acquired virtual Bitcoin credit card.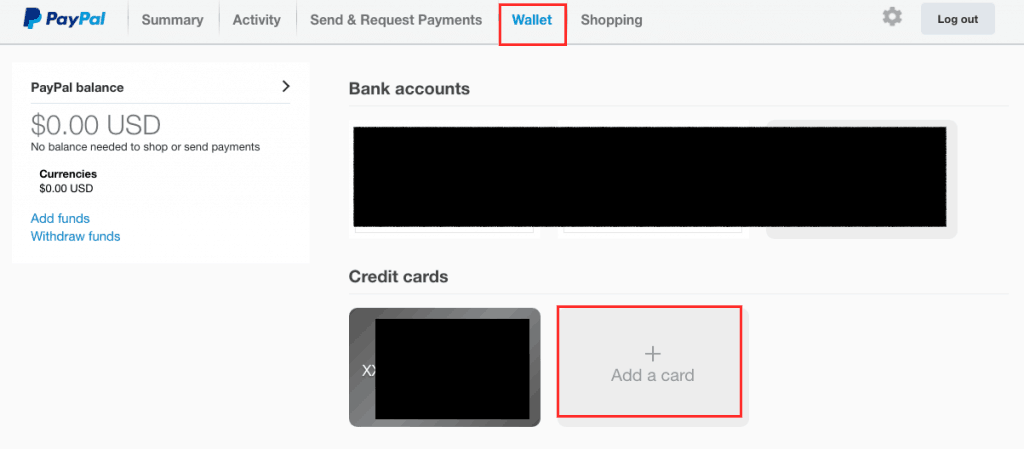 Once the card is added, you will need to verify it. In order to verify the card, you'll need to have a balance of at least $3 on it so that PayPal will be able to charge you. Once PayPal charges you, you will see a four-digit code next to that transaction on your Wirex account. This four-digit code is the verification pin for your card on PayPal.

3. Deposit funds to your PayPal account.
I'll assume you know how to do that 🙂
4. Withdraw funds from your PayPal account to your Wirex account.
Go to "Wallet" > "Withdraw funds" and choose the "Withdraw funds to your card" option.

Make sure to choose your Wirex card. The withdrawal can take up to seven days to appear in your Wirex account.
5. Buy Bitcoin with your funded Wirex debit card.
Now that your Wirex card has funds in it, you can use it to buy Bitcoin.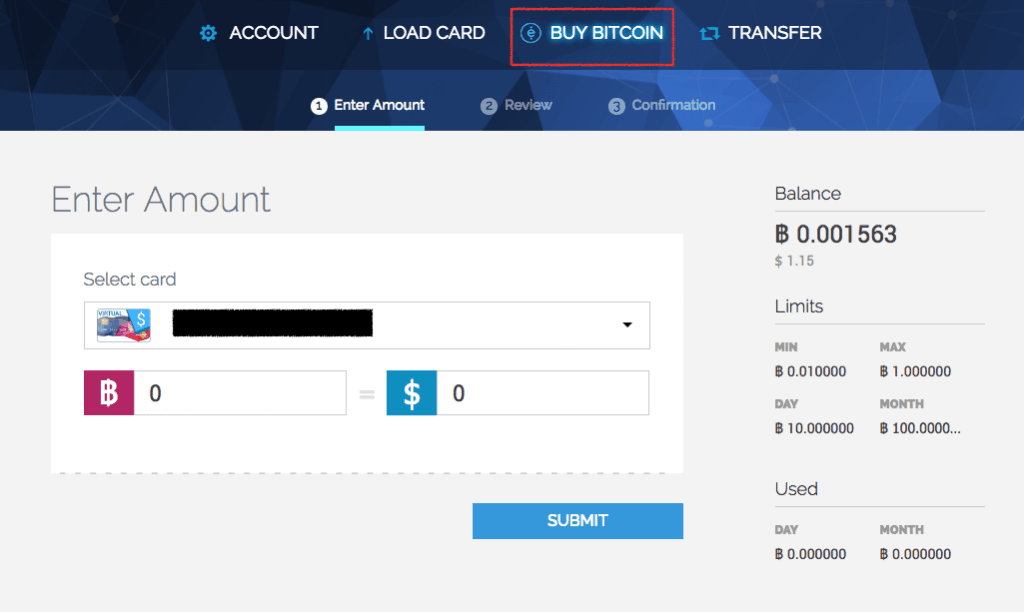 The whole process can take some time, as verifying your Wirex card with PayPal takes some time, and withdrawing the funds can take up to seven business days depending on where you live.
---
5. Buy Bitcoin with PayPal through Paxful
Pros: Wide variety of sellers from around the world
Cons: High exchange rate, the chance of getting scammed
Paxful is the smaller, lesser-known version of LocalBitcoins. It's a peer-to-peer marketplace that allows you to buy Bitcoin with almost anything (e.g., Skype credits, Amazon gift cards). The process of buying bitcoins at Paxful is pretty simple:
Create an account.
Choose a payment method for buying and the desired amount.
Choose your seller. You can either choose manually or let Paxful decide who is the best seller for you.
Once the trade initiates, you will be sent to an online chat with the seller, where you can finalize the deal. The seller's bitcoins will be sent into escrow, and once you mark that you've sent your payment, they will be released into your account. Keep in mind that if you don't finalize the deal within a certain timeframe (usually 30 minutes), the deal will be automatically canceled.
---
6. Using PayPal with Coinbase is no longer an option
While many people think this is possible, this option is no longer available. In the past, Coinbase allowed users to withdraw their USD balances to their PayPal accounts. However, since February 2018, Coinbase has disabled this option, and there's no longer a way to connect your Coinbase and PayPal accounts.
---
7. Additional options not listed here
From time to time, I see many new sites that allow you to use PayPal for Bitcoin purchases. Personally, I'm very skeptical of such sites and advise you to treat them with caution. Reputation goes a long way when it comes to cryptocurrencies, and the methods I've described above have all been tried and tested by me. Moreover, the companies that are described in this post have been around for at least three years and have proven they are here to stay.
---
8. Conclusion: Buying Bitcoin with PayPal is still a mess
As you can see from this long post, there's still no easy process that allows you to buy Bitcoin with PayPal, even as 2018 is already behind us. My personal suggestion is to use a different payment method if possible—but if you have to use PayPal, get ready for some hefty fees.
Bitcoin Video Crash Course
Dummy-proof explainer videos enjoyed by over 100,000 students. One email a day for 7 days, short and educational, guaranteed.
We hate spam as much as you do. You can unsubscribe with one click.