Paybis Review – A Beginner's Guide
By Eliot Prince | Last updated: 5/10/21
Paybis is a UK based bitcoin exchange platform, aiming to provide a trustworthy and simple experience for its users. In this review I'll cover Paybis' services and their pros and cons.
Paybis Review Summary
Rather than being the biggest, Paybis aims to be a fast and responsive Bitcoin exchange. It was founded in 2014 and has offices in Edinburgh. Setting up an account and using the platform is rather easy.
The UI is intuitive and very user friendly. The exchange also offers a wide variety of Cryptocurrency you can buy, with a clear fees structure. With an overall good rating for Paybis customer support, it's a good (though a bit expensive) option for beginners to enter into the crypto.
That's Paybis in a nutshell. For a more detailed review keep on reading, here's what I'll cover:
---
1. Company Overview
Paybis is a platform created to help people buy and sell cryptocurrency with a variety of payment methods. It aims to be a fast and simple way to get started with cryptocurrency.
In operation since 2014, the founders state that their desire is not to become the biggest or most popular cryptocurrency exchange, rather it is to build the most trustworthy and responsive platform.
Founded by Innokenty Isers, Konstantin Vasilenko and Arturs Markevics, the company served more than 300,000 customers in its first 5 years and is now registered as a UK business with offices in Edinburgh.
Paybis offers easy access to cryptocurrency and the so-called wider decentralized revolution.
---
2. Company Services
Paybis' UI streamlines the buying process, providing all options for buying cryptocurrency on the homepage with a minimalistic interface: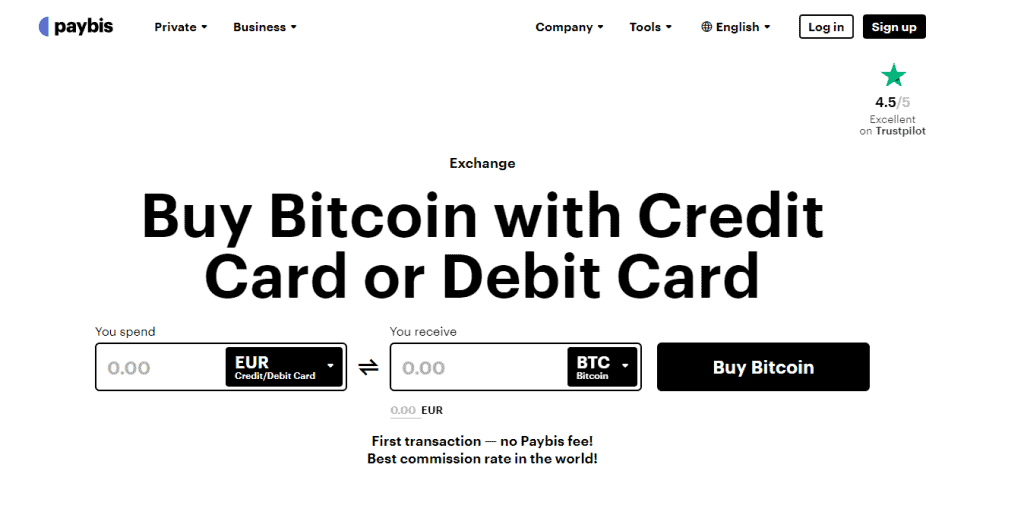 Account sign-up is quick and can be done manually or using Facebook/Google logins. Paybis does adhere to AML and KYC laws so you will need to validate your identity during the buying process. In general, this seems to be really quick too with validation coming in a matter of seconds.
For each buy, you'll need to confirm your purchase via an email link which is some welcome added security. Since Paybis is a non-custodial service which means you will need an external wallet, so be sure to pick a reputable Bitcoin wallet, if you don't already have one.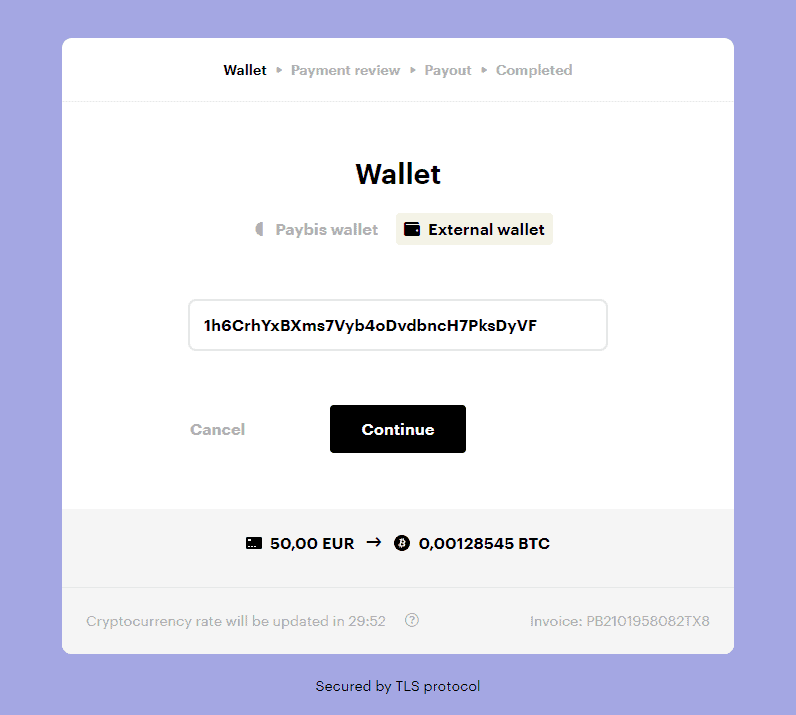 Every step of the process is accompanied with status bars, so you get live updates of the progress. This is a nice touch that inspires confidence in the platform when moving through the buying process.
Overall the service runs smoothly and responsively. It's a user-friendly, if not glamorous, user interface with no distractions or unnecessary features. The website is nice and responsive, making purchases via mobile browser a breeze too.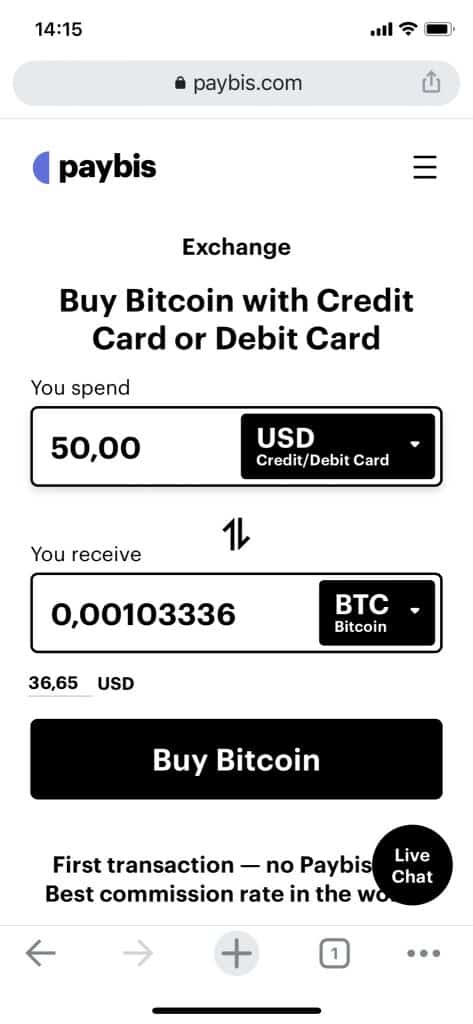 The most convenient way to purchase cryptocurrency on Paybis is via Apple Pay, on any supported Apple device. Using this payment method, users can buy any one of more than 30 different cryptocurrencies with just one click on their iPhone, iPad or MacBook.
---
3. Currencies and Payment Methods
Paybis offers a decent range of fiat and digital currencies combined with a wide selection of payment methods. The list of cryptocurrencies offered by Paybis includes:
Bitcoin
Ethereum
Dogecoin
Binance Coin
Tether USDT
Litecoin
Bitcoin Cash
USD Coin
Chainlink
yearn.finance
XRP
Stellar
Shiba Inu
Tron
NEO
Uniswap
Maker DAO
Compound
Sushi
Axie Infinity
And many more tokens. You can view a complete up-to-date list of cryptocurrencies here, in the drop-down selection box.
Paybis also supports the following fiat currencies:
Payment methods accepted on the platform are credit card, debit card, Apple Pay, Skrill, Neteller, Payeer, Advanced Cash, SEPA and Wire transfers.
---
4. Fees
Fees differ dramatically based on payment method but all are clearly stated at the start of the buying process. Credit and debit card purchases come with a hefty 10% fee which is well above the industry standard.
Paybis puts a 5% markup on top of the normal card transaction fee. The cheapest way to buy is using SEPA Euro transfers which have a competitive 1.5% fee.
The fees for other payment methods are:
Skrill: +10%
Neteller: +5%
Payeer: 8.95%
Advanced Cash: 4.95%
USD Wire transfer: 3%
You can find all fees on the Paybis homepage here.
---
5. Paybis Buying Limits
Buying limits vary, depending on payment methods and identity validation. Paybis do claim to offer some of the most generous limits in the industry.

For credit card purchases there is a sizable daily limit of $20,000 and $50,000 monthly limit.
For the largest purchases, you are best off using SEPA transfers which allow up to $200,000 a week with the highest identity verification level. You can view the full breakdown of verification and buying limits here.
---
6. Supported Countries
Paybis is a worldwide cryptocurrency exchange but it does have certain country restrictions. Even though their customer support claims they serve every country, in practice things are a little different.
As can be seen on their ToS, the service is not available on some locations, including certain US States such as New York, Florida and Nevada.
While it is mostly a global service, Paybis is best suited to UK, Europe and USA customers, simply due to the currency selection of GBP, EUR and USD.
---
7. Customer Support and Online Reviews
Paybis is very proud of its online reputation, particularly TrustPilot where it maintains a 'near-perfect' score from over 6000 reviews. The support team are very active across the web including Bitcoin related Reddit threads and an exclusive Paybis subreddit.
They appear very helpful in answering questions and joining discussions in the industry which is impressive to see. There are not many angry customers to find in the forums. Some users have been frustrated by a high fee structure but others are impressed with the customer support.
There is a number of ways to contact Paybis, including UK and US phone support lines. This is great and a step ahead of many cryptocurrency exchanges. Email support is also offered, and also Skype addresses to contact.
7.1 My personal Paybis experience
I decided to try and get some help via the Skype address, unfortunately, there was no response. One thing to look out for is that there seems to be a lot of fake Paybis customer support accounts on Skype, so be very careful who you are talking too and what information you offer.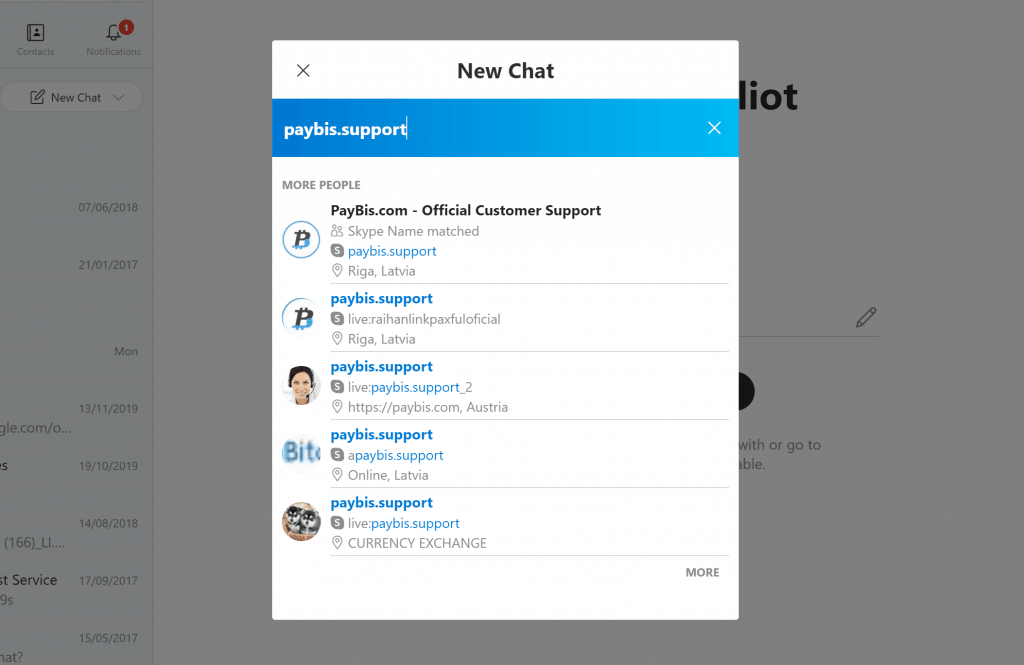 Due to that I concluded it might be better to send a direct email. Frustratingly, there was no response from my email inquiry either.
Although others around the web have experienced great customer support, I found very little help for my relatively simple requests.
While no-one is free from mistakes, this experience left me with a bad taste. Hopefully this is not something that happens too often.
---
8. Conclusion
As a UK registered company, Paybis offers an extra air of legitimacy. The service is simple with no frills making purchasing cryptocurrency quick and easy.
For first time buyers and newer cryptocurrency users, the selection of coins on offer is decent enough with all the top assets listed. This is coupled with a strong choice of payment methods for users across the globe. The platform's online reputation is very positive across the web, with many happy users.
Overall, while Paybis is expensive to use, you get a well designed no-frills platform with a burgeoning reputation. Have you had any experience with Paybis you wish to share? I'd love to hear about it in the comments section below.