Bybit Review
By: Eliot Price | Last updated: 12/14/22
Bybit is a cryptocurrency derivatives exchange specializing in perpetual futures trading (if this sounds confusing, keep on reading). This review will cover the companies services, fees and overall pros and cons.
Bybit Review Summary
Bybit is a cryptocurrency derivatives exchange that allows you to trade perpetual futures. With ByBit you can open positions with up to 100x adjustable leverage.
The exchange has a reported uptime of 99.99%, fees are relatively fair and support seems to be doing a good job addressing customer complaints. Additionally, at the moment, Bybit does not require and KYC to use its services. Bybit is available in most countries, however US citizens are still not allowed on the exchange.
That's ByBit in a nutshell. If you want a complete review of the company and it's services, keep on reading – here's what I'll cover:
---
Don't Like to Read? Watch Our 2 Minute Bybit Review
---
1. Bybit Overview
Bybit is the first exchange to really challenge the market dominance of Bitmex. Bybit was built to address many customer frustrations with derivatives trading platforms especially the issue of platforms going offline during periods of particularly high demand.
CEO and co-founder, Ben Zhou, has been rapidly growing the company from its Singapore headquarters since 2018. It now serves hundreds of thousands of users and it's climbing website traffic and trading volumes now challenge the industry leaders.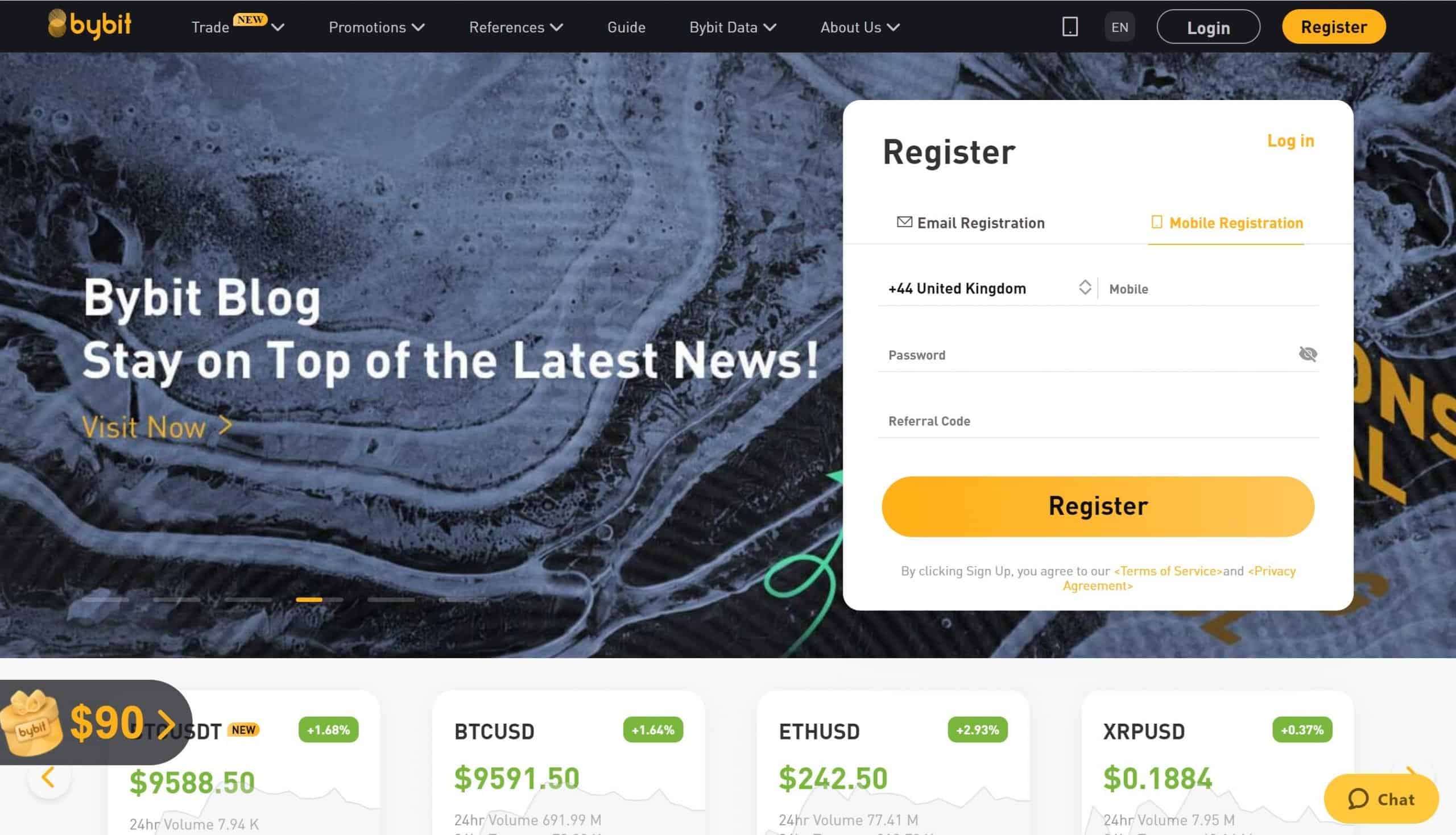 ---
2. Bybit Services
Bybit is a cryptocurrency derivatives exchange where you can trade perpetual futures. What are derivatives and perpetual futures I hear you ask? Before using the platform, it is important to fully understand perpetual futures, also known as perpetual swaps.
Derivatives explained
Firstly, you are not buying or selling cryptocurrencies directly but rather a contract that refers to the currency. When you trade contracts that derive their value from an underlying asset (e.g. Bitcoin, Ethereum or any other cryptocurrency), this is known as a derivative.
The basic concept of trading futures is fairly simple. A futures contract is an agreement to buy or sell an asset for a set price at a specific time and date in the future.
For example, two people can set up a contract to trade 1 Bitcoin for $10,000 on the 31st December. This guarantees a set price for the trade no matter the market value of Bitcoin when 31st December comes around.
Historically, futures were designed for farmers looking to guarantee prices ahead of time for their crop harvest instead of risking changing prices.
Bybit offers perpetual futures trading which is one step more complicated. Perpetual futures are these contracts to trade cryptos without a specified settlement date. This means you can hold a position as long as you want and no cryptocurrencies are actually ever traded.
As there is no settlement date on a perpetual future it means there are added conditions to meet in order to maintain the contract. Failure to meet these requirements will mean your contract is liquidated (i.e. closed and you can be forced to sell your holdings without wanting to).
For additional explanations about futures read this post.
3 Thing to Know About Bybit Contracts
Initial margin or collateral
With Bybit you can trade perpetual futures contracts with leverage meaning you can effectively loan money from an initial stake to increase your risk/reward factor. It's a bit like a house mortgage. You use an initial deposit to leverage more capital to purchase the asset payments until you come to sell a property. Naturally, this results in either a magnified profit or a loss.
You can access leverage of up to 100x on Bybit. So if you are using a $1000 initial margin you can leverage it to $100,000. This would be highly risky though as you are effectively making the cryptomarkets 100x more volatile. So if the price moves down by $10 you lose $1,000, basically all of your capital, and your position will be liquidated.
Maintenance Margin
To maintain your contract you also need to pay a maintenance margin. If we compare it to a house mortgage, the initial margin is to buy the asset and the Maintenance Margin is covering the 'interest payments' on the loan. With futures, your Maintenance Margin varies depending on the market prices.
On Bybit, your Maintenance Margin is the minimum margin required to continue holding a position.  On USDT contracts, the Maintenance Margin starting value is 0.5% of the total contract value. Your contract will be liquidated if the margin for the position becomes less than the maintenance margin level.
For example, You start a long position of 1 BTC at USDT 10,000 with 50x leverage.
Initial Margin = 1 (number of Bitcoins) x 10,000 (price in USDT) x 1/50 (your leverage) = 200 USDT
Maintenance Margin = 1 x 10,000 x 0.5% = 50 USDT
You can now take unrealized losses up to 150 USDT (200USDT – 50USDT) before your position is liquidated.
You can find the Maintenance Margin for a trade at the bottom right of your trading screen.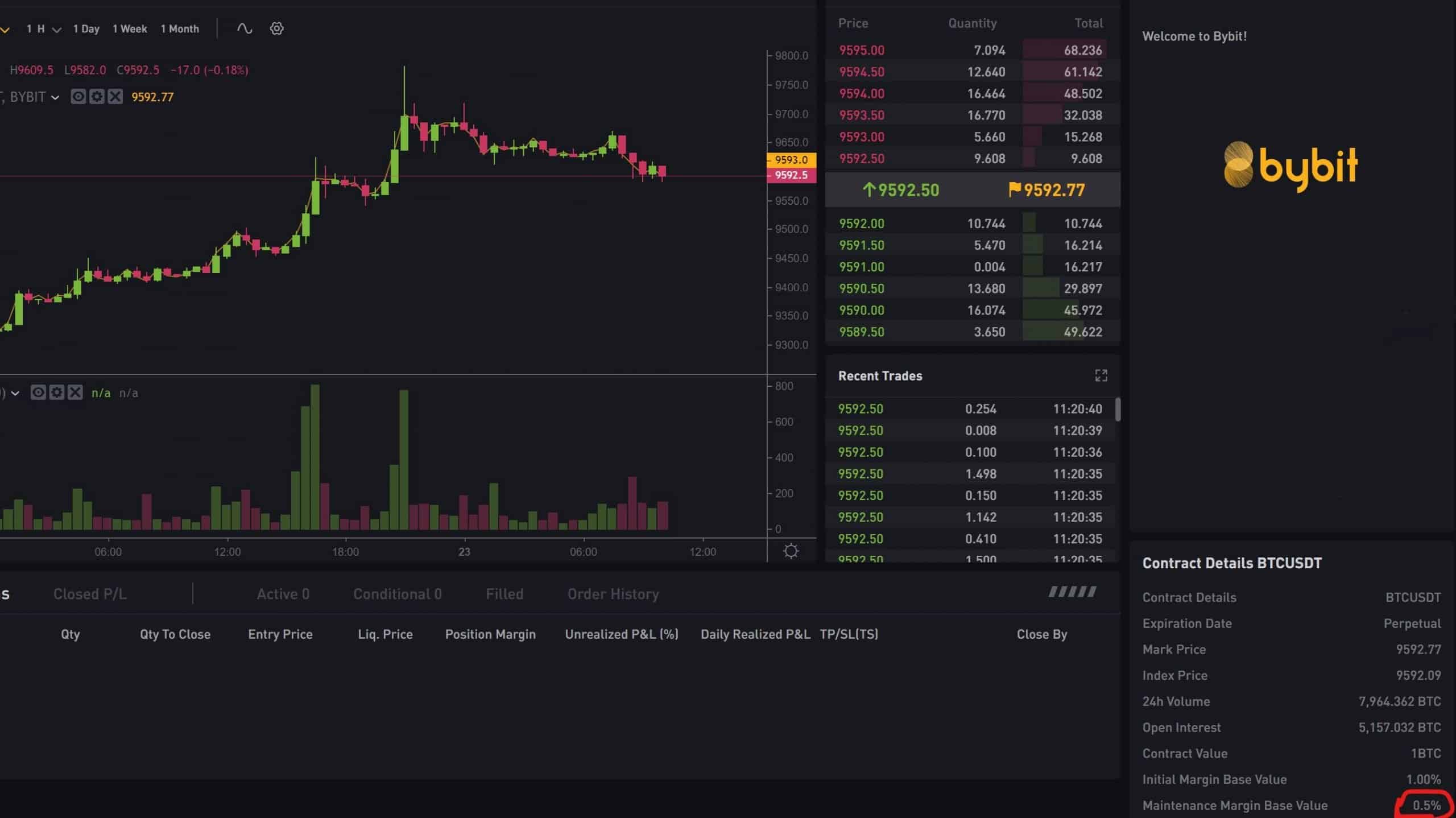 Insurance Fund
An important part of the Bybit platform is the Insurance Fund which is funded using a percentage of collateral from liquidated traders. The insurance fund is most used when markets move quickly and trades can't be executed in time to liquidate contracts. It stops traders from running up debts past their invested collateral and ensures traders receiving profits in full from winning trades.
As you can see, Bybit is not for novice traders or someone looking to buy their first Bitcoin. It is an advanced cryptocurrency futures trading exchange essentially allowing you to bet on the future prices of cryptocurrency while leveraging a position for extra risk/reward.
---
3. Currencies and Payment Methods
Bybit is a crypto-only exchange meaning deposits can only be completed using cryptocurrencies. You can't stake your futures contracts using fiat currency.
Traders can use the following cryptocurrencies on Bybit:
Adding to this, Bybit has now launched a fiat gateway enabling users to purchase Bitcoin and Ethereum via debit and credit card to deposit directly into their account. This is a brand new service announced as I write this review so we will see in due course how effective this service becomes.
---
4. Fees
Bybit trading fees are clearly listed on the platform. It runs a maker-taker fee structure. Market makers are incentivized to help add liquidity to the platform.
Maker Trading Fee: -0.025%
Taker Trading Fee: 0.075%
These fees are in line with industry-standard but remember the fee is calculated on the leveraged amount, not the initial stake, so costs can grow quickly.
---
5. Supported Countries
As a crypto-only exchange, Bybit is available worldwide except for a small number of countries.
Here are the countries Bybit is not available to:
The United States, Quebec (Canada), Singapore, Cuba, Crimea, Sevastopol, Iran, Syria, North Korea, Sudan.
---
6. Customer Support and Online Reviews
Companies growing so quickly like Bybit have traditionally struggled to provide robust customer support that meets customer demand.
I was surprisingly impressed with the Bybit speed when dealing with queries about its platform. The live chat function is fully operational on the website responding to my question in seconds and it appeared to be dealt with by an actual human, not just an auto-reply chatbot.
The query was dealt with in less than a minute and was very helpful considering it related to the new fiat gateway which had literally just been announced the same day.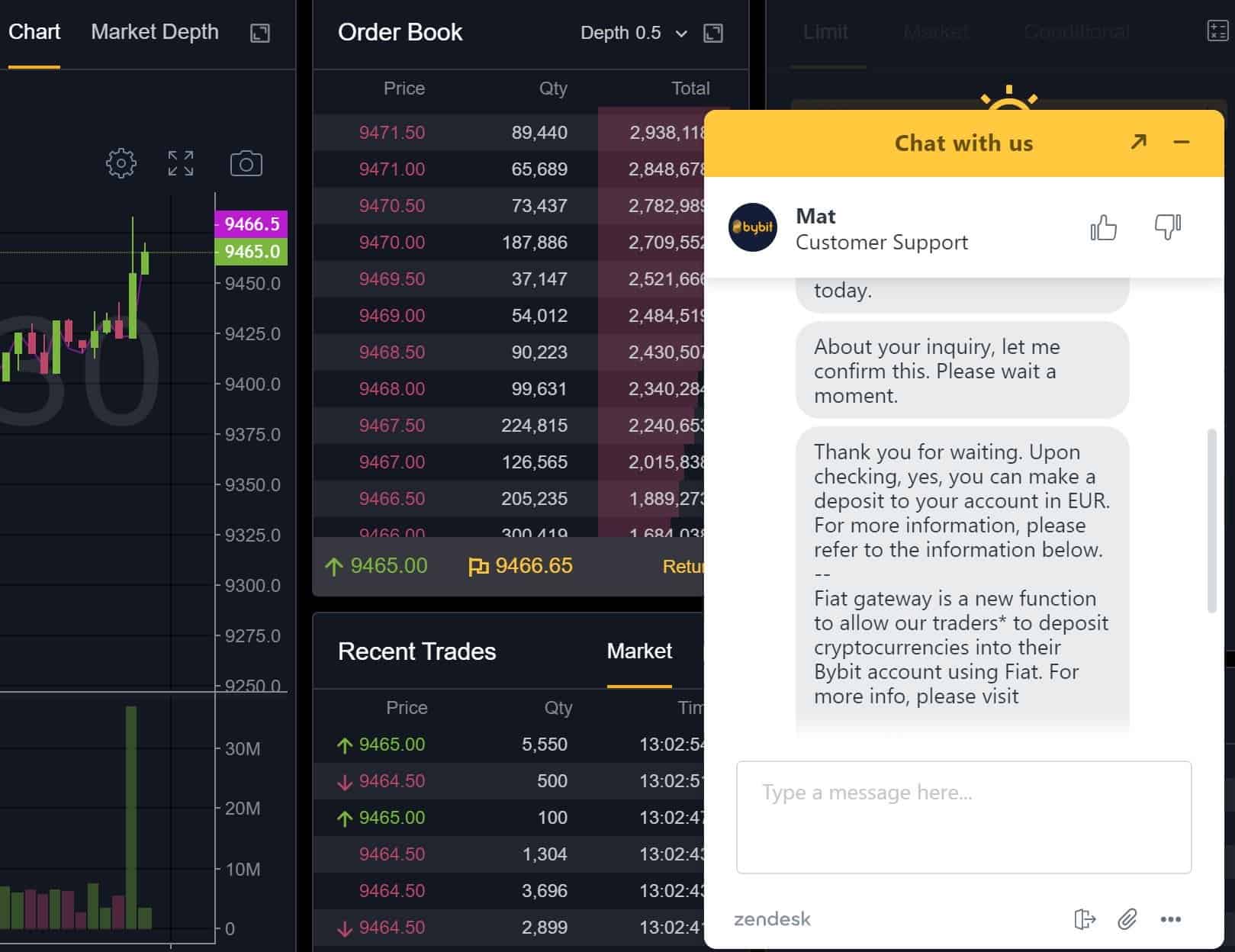 On TrustPilot, Bybit only has a 2.4 rating which does not look good and their customer support team doesn't reply or deal with any complaints here. However, a rating of 4.3 on a much more active Google Play Store is impressive and gives me a lot of assurance in the performance of the platform across mobile and web.
Adding to this, an active social media presence and plus huge (happy) Reddit community make for a confidence-inspiring service delivered by Bybit.
---
7. Frequently Asked Questions
Is Bybit Safe?
Security is a key concern and the operation's focus for Bybit. Here are the strategies the exchange has been employing to safeguard the security of users' crypto assets:
As a derivative trading platform, it is naturally immune from fiat-crypto exchange risks and ICO/IEO related securities policy risks.
Bybit has achieved sustainable profitability, making it possible to avoid counterparty and performance risks.
Bybit restricts the maximum order and position size.
Dual price mechanism protects traders from wrong liquidations caused by market manipulation and ensures a fair trading environment.
The "Exchange Transparent Assets" program by BitUniverse allows any user to review Bybit's platform assets.
Bybit timely reconciles and monitors users' assets. Any on-chain or off-chain fund movements are monitored by an independent internal control business line to ensure immediate response.

Bybit has built a cold wallet system that comes with an in-built solutions hierarchy for storing funds. All the deposit addresses provided to users are cold wallet address. Asset consolidation and withdrawals are completed by offline signatures.

Withdrawal requests are subject to manual reviews three times a day and users can withdraw once every eight hours.
Every employee of Bybit is subject to stringent background checks, compulsory security training and assessment for internal security control.
For additional security measures employed by Bybit read this post.
Is Bybit Legal in the US?
According to Bybit's terms of service, the exchange services are unavailable in US at the moment.
Is Bybit Legal in Canada?
According to Bybit's terms of service, the exchange services are unavailable in Canada at the moment.
---
8. Conclusion
For cryptocurrency derivative traders looking for a real alternative to Bitmex then Bybit is worth a look. It's a well-built platform delivering what it promises including a reported 99.99% uptime. It rarely, if ever, goes offline during high demand and protects traders with an insurance fund.
The addition of a fiat gateway to help you buy Bitcoin with a credit card is a nice touch although most people using Bybit will already have a fund of cryptocurrencies to deposit into the platform.
Coin selection to stake contracts is wide enough to suit most traders including Bitcoin and the Tether (USDT) stablecoin. Fees are set at the industry standard for futures exchanges with market makers incentivized to add liquidity to the platform.
The international platform is available to most countries although US-based customers still can't use the service due to complicated domestic regulations.
As for the customer experience, most seemed satisfied and there is a loyal community of Bybit users access the web. Of course, where there is money at stake there will always be a disgruntled trader but overall Bybit is a worthy legitimate force in the Cryptocurrency futures trading world.
Have you used Bybit? Let me know your thoughts about it in the comments section below.