BitMEX Exchange Review and Comparison
By: Ofir Beigel | Last updated: 1/22/23
Bitcoin Mercantile Exchange, or BitMEX, is a cryptocurrency exchange that is best-known for its derivatives products and high leverage. It now also offers spot trading and other services. In this review, I will cover these products and services, as well as some of the platform's pros and cons.
BitMEX Review Summary
BitMEX is a cryptocurrency exchange that focuses primarily on derivatives products, which allow users to speculate on the price of cryptos with high leverage. Although it also provides spot markets, the range of supported assets is currently small compared to competitors.
Whereas the exchange used to be non-KYC (not requiring users to verify their identity), it now enforces compulsory identity verification after running into legal troubles.
That's BitMEX in a nutshell. If you want a more detailed review keep on reading, here's what I'll cover:
---
1. BitMEX Overview
BitMEX was created by a selection of finance, trading, and web-development experts. Arthur Hayes, Ben Delo, and Samuel Reed launched the exchange in 2014, under their company HDR (Hayes, Delo, Reed) Global Trading Ltd. It is currently registered in Victoria, Seychelles.
The exchange became most popular for its derivatives products – most notably its Bitcoin perpetual swaps, collateralized with Bitcoin and accompanied by up to 100x leverage.
In May 2022, BitMEX expanded its platform to include spot trading services, in an effort to compete with major competitors such as Binance and FTX.
In October 2020, all three founders were indicted on charges of violating the U.S. Bank Secrecy Act and conspiracy to violate the law by failing to put in place the necessary anti-money laundering measures. All three pleaded guilty to the charges and agreed to pay $10 million each as criminal fines.
---
2. BitMEX Services
Derivatives Trading
Derivatives products are BitMEX's claim to fame, featuring both perpetual swap contracts and quarterly futures contracts. These don't involve directly trading cryptocurrencies; rather, you trade contracts that track the price of a certain cryptocurrency asset.
Perpetual swaps are the most popular product on the exchange, providing traders with contracts that track the price of the underlying crypto asset with no expiry. These are available for a range of different cryptocurrencies, with up to 100x leverage on some contracts. 
BitMEX also offers more standard futures contracts, which are settled on a quarterly basis. These have specific expiry dates, at which all open positions are automatically settled at the market price of the underlying asset.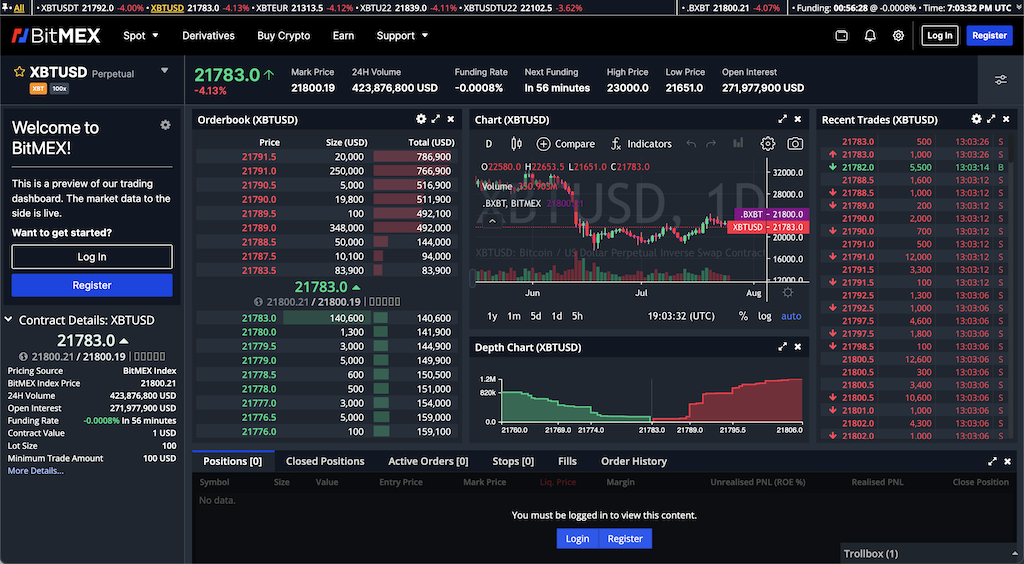 All derivatives contracts on BitMEX are collateralized and settled in BTC or USDT, depending on the instrument at hand.
This type of trading is very volatile, for better and for worse. It means you can generate large profits with small amounts of money, but it also means you can lose everything you've invested relatively quickly.
If all this sounds very confusing to you, it probably means you shouldn't use BitMEX since this type of leveraged derivative trading is aimed mostly for experienced traders.
Spot Trading
In May 2022, BitMEX added a spot trading feature to the platform, for the first time enabling their users to buy and sell cryptocurrencies, rather than just speculate on their prices. 
Spot trading on BitMEX is still limited to a handful of popular cryptocurrencies, all currently in USDT trading pairs. Two different interfaces are available for traders on the platform:
The default spot trading interface, complete with candlestick charts, order books and a complete advanced trading experience.
A "convert" interface, which allows users to swap between any two supported cryptocurrencies at the going market rate. The convert feature is simple and beginner-friendly, with none of the advanced exchange features from the default spot trading interface.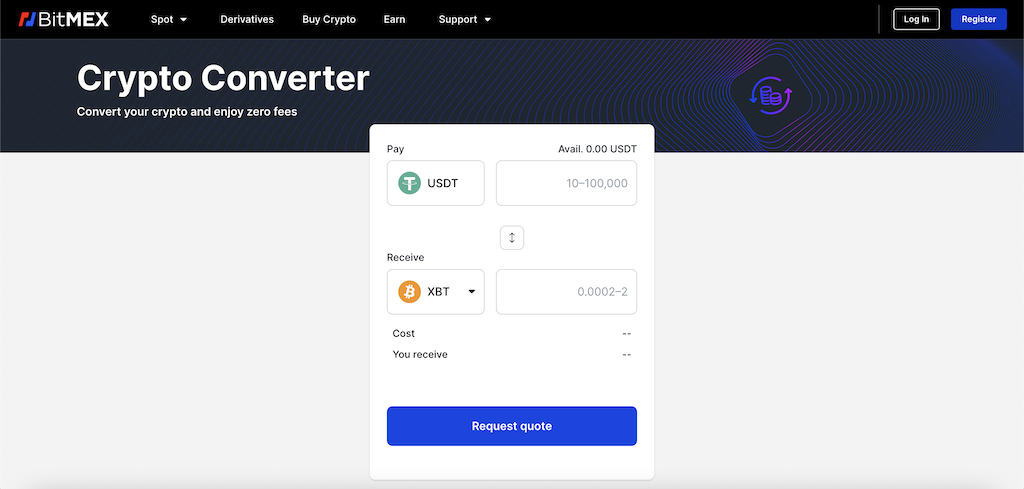 Instant Crypto Purchases
To complement its spot trading features, BitMEX has also added an instant purchase option that provides users with a fiat gateway onto the platform.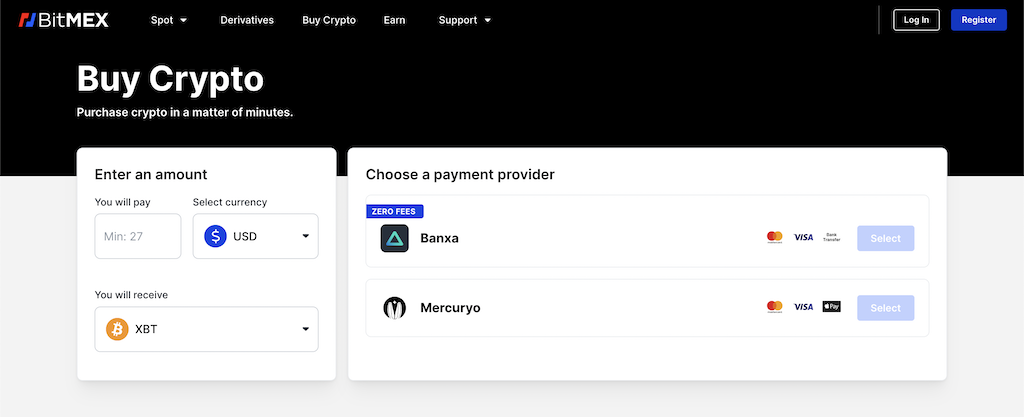 This feature is facilitated using third-party payment processors Banxa and Mercuryo, both of which allow customers to purchase cryptocurrency using any Mastercard or Visa bank card. Bank transfer and Apple Pay options are also available through these providers.
BitMEX Earn
Like many of its competitors, BitMEX also provides a yield-bearing feature called BitMEX Earn. This service enables users to deposit their crypto assets for fixed periods of time, earning a certain rate of return. The exchange does not appear to disclose how it generates yields on these deposits, however it is probably safe to assume they are lent to institutional borrowers with interest.
All deposits in BitMEX earn are Insured by the BitMEX insurance fund.
---
3. Currencies and Payment Methods
Derivatives
BitMEX derivative instruments are all collateralized with either Bitcoin (BTC) or Tether USD (USDT). This means that to trade perpetual swaps or futures contracts on the platform, you will have to fund your account with one of these two cryptocurrencies – regardless of which asset you are speculating on.
On the other hand, BitMEX provides derivatives instruments tracking the price of several assets, including:
Avalanche
Dogecoin
STEPN
Litecoin
Shiba Inu
Spot Trading
Fewer markets are currently available on BitMEX's spot trading markets, however the platform intends to list more assets as time goes on. Assets currently supported for spot trading include:
Fiat Gateway
As mentioned above, BitMEX also offers a minor fiat gateway which facilitates instant crypto purchases using fiat currency. This feature is not handled by BitMEX itself, but rather third-party payment processors.
Supported payment methods include Mastercard and Visa debit and credit cards, as well as Apple Pay and some bank transfers.
---
4. BitMEX Fees
Derivatives
Fees are very competitive on BitMEX. In fact, most users will find them almost negligible relative to the chunky profits to be made if you're a savvy operator.
The taker fees start at 0.075% and decrease as your 30-day trading volume increases, the highest volume traders only get charged 0.025% on trades. Makers get a rebate of 0.01% on each trade. 
It is also important to consider the funding rate on perpetual swap contracts, which is a variable fee (or rebate) which is designed to keep the contract price in line with the underlying asset. This can be positive or negative depending on whether you have taken a long or short position, as well as whether the contract price is above or below the spot price of the underlying asset.
Check out the full fee schedule for derivatives products here.
Spot Trading
Spot trading fees begin at 0.1% for both maker and taker orders, which is highly competitive. These fees decrease for users with higher trading volumes and can reach as low as 0.03% for taker orders and 0.00% for maker orders, for traders in the highest volume bracket.
Fees can be reduced further for BMEX token stakers, depending on the quantity of BMEX staked.
A complete overview of spot trading fees can be viewed here. 
Deposits and Withdrawals
Deposits and withdrawals on BitMEX continue to be free of charge, which is always very pleasing—you shouldn't be left with any hidden costs once you're done trading (other than the network fees).
---
5. Supported Countries
BitMEX itself is a registered company in the Republic of Seychelles. It's a worldwide service except for the following countries:
United States of America
Province of Ontario in Canada
Province of Québec in Canada
Japan
Seychelles
Bermuda
Crimea
Sevastopol
Hong Kong
Cuba
Iran
Syria
North Korea
Donetsk People's Republic
Luhansk People's Republic of Ukraine
The exchange doesn't limit access for any locations, due to the fact that it does not handle fiat currency deposits or trading pairs. Local laws may affect your use of the service, however this is out of the exchange's control.
---
6. Customer Support and Reviews
Customer support
Support is offered via an email ticket, which is pretty standard for the industry. Simple inquiries and issues can be resolved by BitMEX staff in the "Trollbox", a public chatbox where traders can also chat with each other. While this may not be a direct line to BitMEX, it's still really cool to be able to interact with other Bitcoin traders from within the exchange. 
Aside from email tickets and the "Trollbox" you can also contact BitMEX using their social media channels or through their discord server which has a dedicated support channel. The really nice aspect of the service is the website itself, which is packed full of useful information and features. The support center gives a slick rundown of the exchange and helps educate users on complex trades.
Live updates fill the site too. An announcement box keeps users up to date with any updates and issues.
Security information is loaded into the website, which is always a must for me when I'm looking at a new exchange. With BitMEX, you can quickly find out who owns the platform and how they're keeping funds secure.
Multisig withdrawals that only partners can sign, cold storage, and Amazon Web Services are the highlights when it comes to security.
Reviews
Given that derivatives trading isn't widely understood by the general public, there aren't many public reviews for BitMEX. Trustpilot only has a few reviews for the platform with an overall rating of just 2.4 stars. While this doesn't look good, after I looked at some of the negative reviews I found many that are promoting other services so take the reviews with a grain of salt.
No horror stories have offered themselves despite a decent hunt. Reddit and similar forums tend to be more filled with technical questions and chatter.
---
7. BitMEX vs. Bitfinex and other competitors
BitMEX isn't the only exchange built around supplying futures trading options. Exchanges like Bitfinex and OKCoin are considered as worthy alternatives. However, there are some differences between these exchanges and BitMEX.
Here they are in a nutshell:
BitMEX allows higher leverage with a lower margin and smaller minimum contract amount.
BitMEX uses the underlying index price for purposes of margin calculations, not the last traded price. This means that a malicious trader cannot manipulate the order book and cause erroneous liquidations.
BitMEX allows customers to select the leverage they desire via the Leverage Slider or edit it manually even while in a position.
Binance Futures is now the next closest competitor to BitMEX, featuring up to 125x leverage and similar trading features.
For a detailed review between BitMEX and its competition read this post.
---
8. Frequently Asked Questions
Can US Customers Use BitMEX?
BitMEX states they do not accept US traders in their terms of service. BitMEX recently updated their terms and conditions so they require all customers to provide photo ID, proof of address and selfie. 
Is BitMEX a Legal Company?
Yes. BitMEX is wholly owned by HDR Global Trading Limited. HDR Global Trading Limited. The company was incorporated under the International Business Companies Act of 1994 of the Republic of Seychelles with a company number of 148707. It is worth noting however that whilst the company is legal and registered the exchange itself is unregulated and its founders have been found guilty of violating the Bank Secrecy Act in the US.
---
9. Conclusion: Is BitMEX Legit?
If you know what you're doing and want a market-leading cryptocurrency derivatives trading platform, then BitMEX is a great choice for you. For those looking for a more simple exchange to buy and sell some Bitcoin, I suggest you look into some other more user-friendly options.
The BitMEX team have used their financial and web-development experience to create a slick platform that allows smooth trading while keeping users informed.
Live update features, such as the announcement tab and the live chat function, provide that little extra bonus in making sure you never miss out on crucial news. The fees round things off to make the exchange an attractive all-around package.
Have you had any experience with BitMEX? I'd love to hear about it in the comments section below.