Local Bitcoins was founded in 2012, and is the easiest way to truly purchase Bitcoin directly. While other companies will sell bitcoin directly to their customers, Local Bitcoins instead facilitates direct bitcoin purchases and sales between its users. Using Local Bitcoins, an individual can find someone to meet in person and complete the transaction with cash. They can also purchase bitcoin online, using online banking transfers, direct cash deposits, PayPal or even Starbucks gift codes.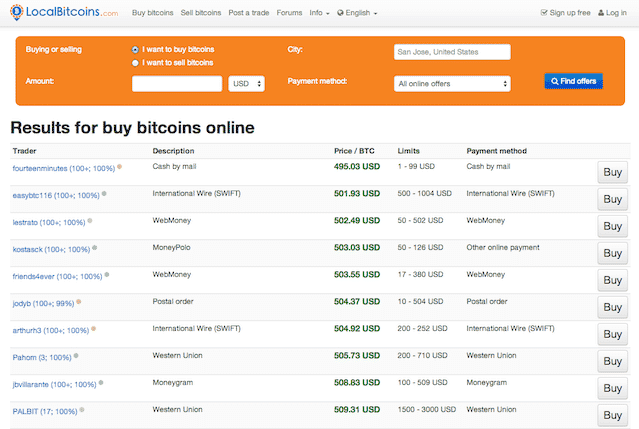 Risk Assessment of Direct Bitcoin Purchasing
Of course, this method of direct sales has risks. It is suggested that any cash purchases that are completed face-to-face should involve a neutral, public meeting place. No one should agree to meet in a private location with, or give out their home address to, anyone that they do not know personally.
Also, accepting online payments through PayPal, credit card, or debit card is risky, as the purchaser could potentially initiate a chargeback, which would reverse any fiat payment received in the Bitcoin sale — but the bitcoin transfer is permanent. This would leave the seller without their bitcoin, and also without the payment because of the aforementioned chargeback.

Such risks can be mitigated by taking notice of Local Bitcoins' helpful risk notifiers, which inform buyers and sellers of the various risks associated with each payment option. For example, PayPal is listed as a high-risk payment option because of the relative ease of reversing payment on the buyer's end. Bitcoin sellers are encouraged to only do business with buyers who have excellent reputations, as they are the least likely to unfairly reverse a PayPal payment.
Fast Bitcoin Purchases
Local Bitcoins is one of the more popular methods of purchasing bitcoin, as it allows for much faster transactions than any exchange, and allows users to retain their anonymity and privacy. If that is important to you, then Local Bitcoins may be the place for you to enter into the Bitcoin market.
Disclaimer:  The first link to Local Bitcoins is an affiliate link, and could result in Coin Brief receiving a shared portion of the fees from Local Bitcoins.  This does not increase the cost to you, but if you would prefer to use a direct link, without the affiliate referral, then click here.