StealthEX Review and Comparison
By: Shennon Hewa| Last updated: 11/10/22
StealthEX is a user-friendly cryptocurrency exchange platform that lets you swap over 600 cryptos anonymously, as well as buy crypto using fiat currency. 
In this review, we'll go over StealthEX's services, fees, availability and customer support.
StealthEX Review Summary
StealthEx is a solid exchange choice to swap between cryptocurrencies or buy small amounts of crypto without needing to verify your identity. It also gives you the best exchange rates possible from multiple partner exchanges, at the cost of slightly slower settlement.
Here's what I'll cover:
---
1. StealthEX Overview
StealthEX is a non-custodial cryptocurrency exchange platform that was founded in 2018 and is based in the Cayman Islands. The platform lets users quickly exchange between a variety of cryptocurrencies, as well as offering users the option to buy cryptocurrency using fiat currency.
StealthEX has partnered with some of the biggest exchanges, including Binance, Huobi, KuCoin and HitBTC, to deliver customers fast exchanges at the best rates possible. StealthEX automatically compares rates from all their partner exchanges, giving users the best rate available at the time of transaction.
---
2. StealthEX Services
StealthEX keeps things simple and only offers two services: The ability to exchange one cryptocurrency for another, and the ability to buy cryptocurrency with fiat currency.
Crypto-to-Crypto Exchange
Exchanging between cryptocurrencies is StealthEX's main service, allowing users to quickly swap between over 600 different cryptocurrencies.
There is no KYC needed to make a crypto-to-crypto exchange, so you can exchange crypto anonymously without providing any personal information. 
The service is also non-custodial, so StealthEX doesn't hold your coins. Simply tell them the address you want to receive the swapped coins to, and they'll do the rest.
To make a crypto-to-crypto exchange, all you have to do is select the cryptocurrency you currently have and enter the amount you want to exchange. You then select the crypto you want to receive and the wallet address you want it sent to. 
StealthEX will automatically compare the exchange rates among all their partner exchanges and provide you the best exchange rate – with all fees included in the final quoted price.
The last step is to choose whether you want a fixed exchange rate or a floating rate; a fixed exchange rate guarantees that you will receive the quoted amount regardless of market volatility, whereas if you choose a floating exchange rate you may receive more or less coins than quoted due to market volatility and ever-changing prices.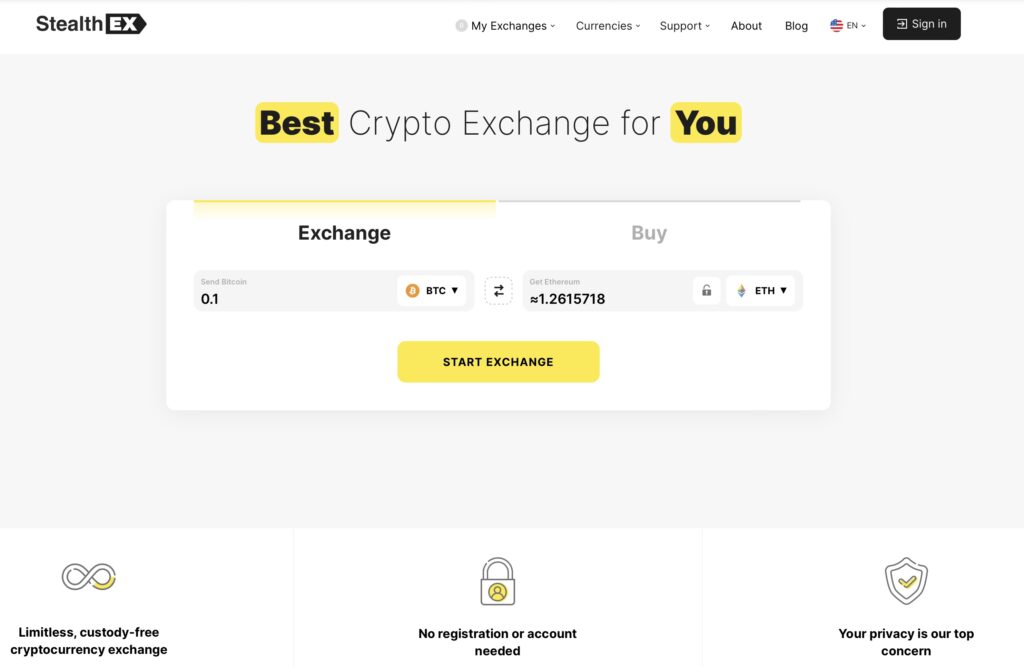 Fiat-to-Crypto Exchange
StealthEX also gives you the ability to purchase crypto using fiat currency. There are a variety of fiat currencies that you can use to buy most of the major tokens. 
StealthEX has partnered with Mercuryo, who also works with many other crypto exchange platforms, to offer fiat-to-crypto orders. 
What makes StealthEX unique is that you can make purchases with fiat currencies without having to pass KYC checks or provide any personal information besides the details of the bank card you use to make the purchase. This only applies to fiat purchases worth less than €900 but is more than most other platforms offer.
This process is very similar to StealthEX's crypto-to-crypto swaps. Select the fiat currency you want to make your purchase with, the cryptocurrency you want to receive, as well as the amount you want to purchase. 
StealthEX will then give an estimated amount you will get in return. If you're happy with the exchange rate, you can proceed to the Mercuryo page to complete the purchase.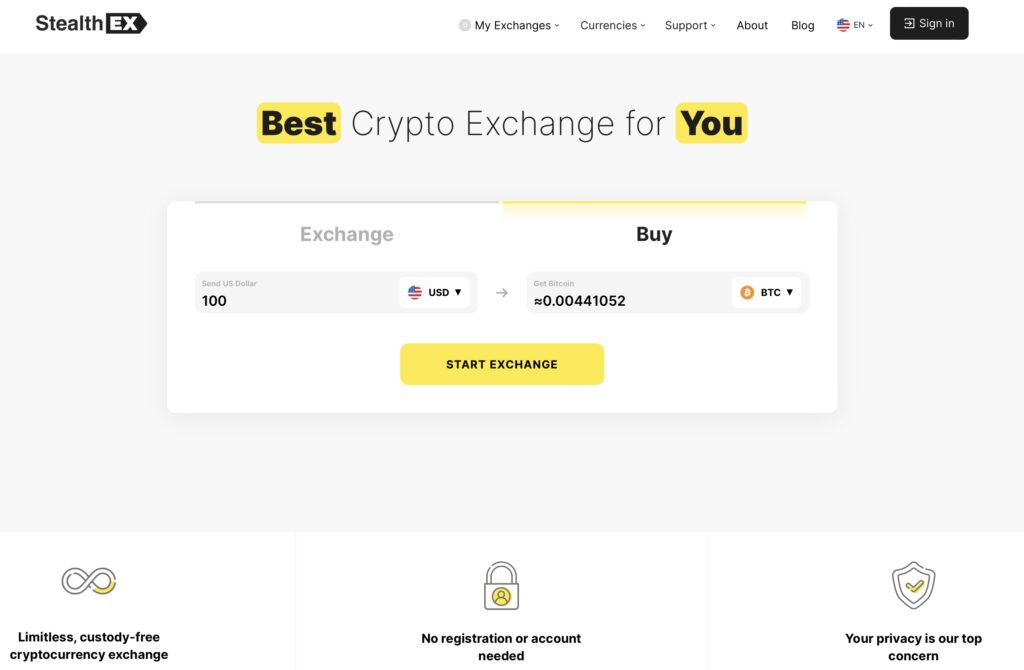 ---
3. Currencies & Payment Methods
Fiat-to-Crypto Trades
If you want to buy crypto using fiat currency, then there are a variety of fiat currencies accepted by StealthEX.
Supported fiat currencies include: 
US dollar (USD)

Euro (EUR)

Pound Sterling (GBP)

Turkish Lira (TRY)

Ukrainian Hryvnia (UAH)

South African Rand (ZAR)

Ghanainan Cedi (GHS)

Tanzanian Shilling (TZS)

Mexican Peso (MXN)

Vietnamese Dong (VND)

Brazilian Real (BRL)
Cryptocurrencies that you can buy using fiat currencies are:
Algorand (ALGO)

Basic Attention Token (BAT)

Binance USD (BUSD)

Dai (DAI)
As for payment methods, you can only use a credit or debit card to buy crypto on StealthEX. StealthEX has partnered with Mercuryo to offer fiat purchases and Mercuryo currently only supports Visa and MasterCard payments.
Crypto-to-Crypto Trades
As far as crypto-to-crypto swaps go, StealthEX offers over 600 different cryptocurrencies with thousands of exchange pairs available on the platform.
Most major cryptocurrencies are supported, including BTC, ETH, XMR, XLM, TRX, ZEC, DASH, LTC, SOL, USDT and USDC. StealthEX also supports a lot of smaller altcoins, so they will likely offer the coin you are looking for. 
For a full list of supported coins, click here.
---
4. Fees
StealthEX does not charge a fixed amount for their service – instead, they include the fees in the quote they offer you. The amount of coins they quote you is the amount you will receive after all network and platform fees. This does mean that fees can vary depending on the coins you are swapping, network fees at the time of exchange, as well as trading fees with StealthEX's liquidity providers.
Since the platform is non-custodial and StealthEX does not hold or store your coins for you, there are no deposit or withdrawal fees to worry about.
---
5. Buying Limits
As far as buying limits are concerned, there is no maximum transaction amount so you can exchange as much crypto as you like. This applies for both crypto-to-crypto trades and fiat-to-crypto trades. 
You should keep in mind that if you try to make a fiat-to-crypto exchange worth more than €900, you will need to pass a KYC check.
The amount you can swap in a single transaction will still depend on the current liquidity of the market and StealthEX's liquidity providers. This may limit the amount you can swap in one transaction.
There is also no minimum transaction size on StealthEX. Your transaction just needs to be enough to cover the StealthEX fee and any network fees for your exchange. This will vary depending on the cryptocurrency you are trying to swap, but StealthEX will show you the minimum amount required to cover all fees.
---
6. Supported Countries
StealthEX accepts users from around the world, with most of Europe being able to use the platform. However, residents of the following countries are restricted from using the platform:
USA

Japan

North Korea

Cuba

Sudan

Crimea

Syria

Any state/country embargoed by the UK
For a full list of restricted countries click here.
---
7. Customer Support & Reviews
StealthEX has a very comprehensive FAQ section that covers a variety of topics and should answer any questions you may have on the service. The FAQs are well laid out and explained in a way that is easy to understand, even if you're new to crypto.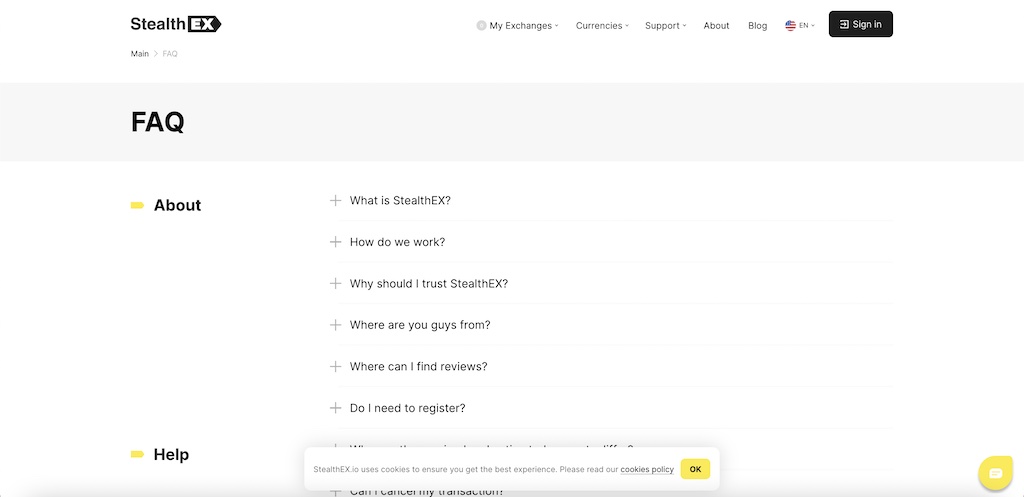 There is also 24/7 customer support via live chat, in case the FAQ section couldn't answer your question or you have a specific question you need answering. In our experience using the live chat, we received a reply in less than a minute. 
There are also the options of emailing StealthEX via the online form or messaging the StealthEX team on telegram, both of which are easy to find on their website.
Looking at customer reviews, StealthEX has a 4.5 out of 5 rating on Trustpilot, with almost 90% of people rating the platform 5-stars. It is worth noting that there are only 100 reviews on Trustpilot so the sample size is small. 
The StealthEX team have also replied to all reviews from customers that reported issues, helping them resolve their cases or answer their questions.
---
8. Conclusion
There are a lot of great features with StealthEX, but what really makes them unique is the ability to purchase crypto using fiat currency without the need to pass KYC or provide personal information – something that most platforms do not offer. 
This, along with their great customer support makes them a solid option if you are looking to buy or exchange crypto.
There are just a few drawbacks to StealthEX, mainly the fact that swaps can take longer than they would on a traditional exchange. The exchange rate is also slightly worse when compared with traditional exchanges like Binance or Kraken. This could be a key factor if you're looking for instant swaps at the very best exchange rates.
All in all, StealthEX remains a very solid choice if you are looking for somewhere to swap or buy crypto without KYC. Their customers have given them a lot of praise and positive reviews, and they are continuing to build a solid reputation.
StealthEx
Pros
No KYC for most swaps
Non-custodial
Wide range of supported assets
Good customer support
Cons
Limited fiat payment options
No advanced trading options
Can't sell crypto for fiat
Swaps take longer than exchanges