I finally got my hands on a Ledger Wallet – a Bitcoin hardware wallet. It's basically a device that allows you to store you private keys on it. If you follow this blog you probably know already that I'm a big TREZOR fan – the first widely spread Bitcoin hardware wallet. But since up until today there was no real competition to TREZOR I jumped on the opportunity to review this cool new device.
The ordering process was pretty intuitive and the package arrived quickly even though I live in Israel and it was shipped from overseas.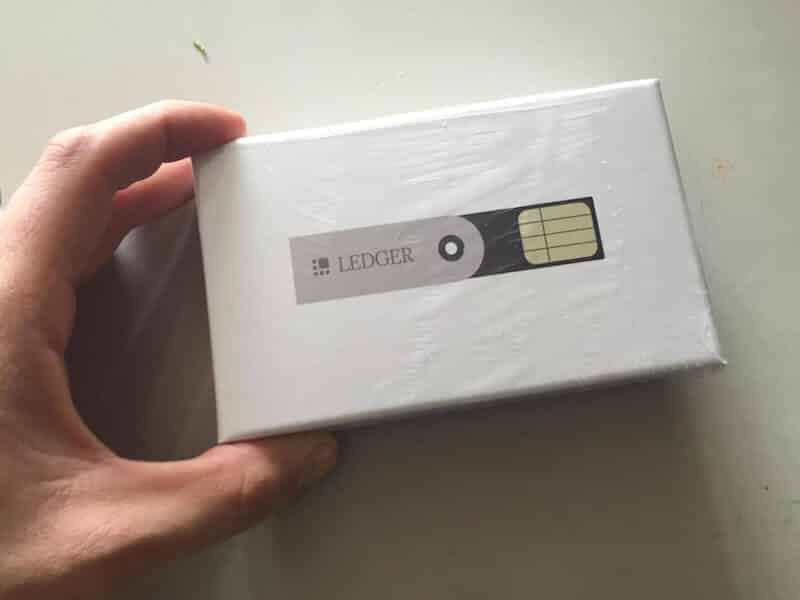 My first impression – Ledger has style
When you open up Ledger's package you immediately notice that it comes in style. Other than the Ledger flash drive itself you also get a PU leather wallet, a ledger security card which kind of looks like a credit card and a chain strap the ledger to your neck if you wish.
TREZOR's device is kind of clunky compared to Ledger's sleeker design. It's also much easier to carry the Ledger around since it's substantially smaller than TREZOR.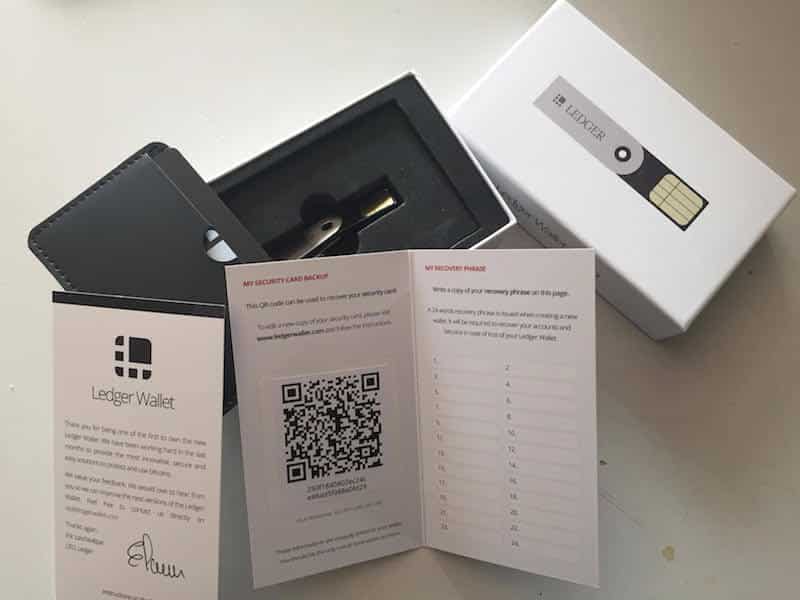 Setting up Ledger – not as secure as TREZOR
Installing and setting up your Ledger requires the use of a Chrome application. Once you fire up the application from Ledger's website you will be presented with a setup wizard. The first thing I've noticed that was different between Ledger and TREZOR is that Ledger requires a "private or trusted computer".
As a layman user I'm not sure what that means ? Does it mean that I now have to scan my device for malware ? Or is it just OK if it's my own personal computer and not some public device.
TREZOR works differently. By utilizing a small screen on the device itself it's possible to set up the device even from a compromised device which makes me feel much more at ease. Here's an example of how this works with TREZOR:
Setting up your security – PIN code and recovery seed
The PIN code is an added layer of security to make sure that even if someone stole your Ledger from you they will still have a hard time logging into your account. Enter a wrong PIN code 3 times and the device wipes itself clean.
Once you've set up your PIN code it's time to move on to the recovery seed. A recovery seed is a set of words that when put together in a certain order can help recover your private keys in case the device is broken or lost.
This means that even if you completely trash your Ledger you'll still be able to recover all of your lost Bitcoins through this seed. It's also why it's very important to write it down in a safe place where no one can access it since if someone gets a hold of this – they can access your funds.
The process is pretty similar to TREZOR's setup only there isn't a "double layer" protection since everything is shown on your computer's screen (unlike TREZOR where the seed is shown on the device itself as seen in the video above).
Here's a screenshot of my Ledger's recovery seed. Once I post this it means I will have to reset this Ledger device since anyone can steal my funds at the moment. However, if I were to use TREZOR my seed wouldn't even appear on my computer screen which would make it much more safe.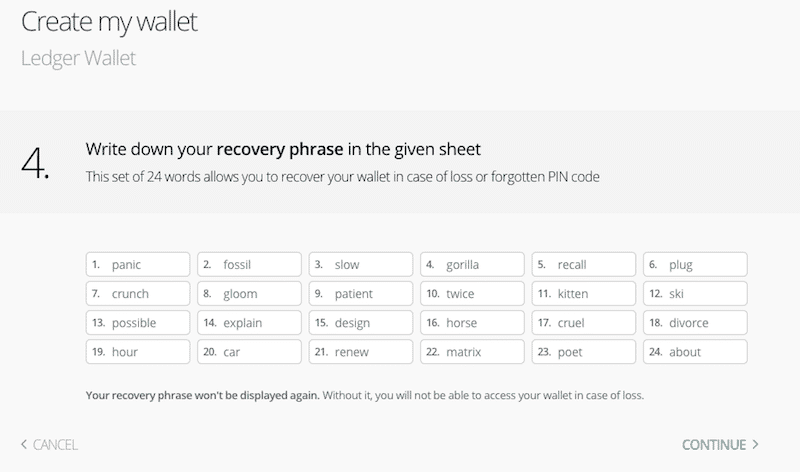 Using Ledger – short and sweet
Once the setup is complete you can start using your Ledger. Just replug the flash drive, enter your PIN code and you're good to go. The interface is extremely intuitive and doesn't require much explanations.
Since there's no way to access your wallet without the flash drive connect to your computer it creates a much safer environment to send and receive Bitcoins. This means that even if someone knows your PIN code he can't access your coins because he doesn't have the physical device.
It also means that even if the computer that you're using to send Bitcoins from is compromised, since you're using what's known as two Factor Authentication (2FA) you're still less likely to be exposed to any sort of threat (especially Man-In-The-Middle attacks).

So here's what I liked about Ledger
First and foremost it's sleek design and intuitive user interface. In other words, it doesn't require a manual to operate it. Also the fact the it fits in your pocket easily is awesome. The price also makes it very attractive.
Here's what I didn't like about Ledger
Ledger seems to be a secure hardware wallet but not an ULTRA secure hardware wallet. Of course even the most secure wallets (i.e. TREZOR) have vulnerabilities. But since hardware wallets are used to store large amounts of money they should inherently be super secure.
Although using Ledger is a more elegant solution than your everyday paper wallet I personally find it neither here nor there. The main issue that bugs me is that the device has to be set up on a 100% safe computer which is not an easy task for non technical people.
All in all Ledger is nice to have but not a must
I think the folks over at Ledger did a fine job with their product, I just don't think it's the best solution to my specific security issues. A companion app should be coming out soon which will make the app more secure using a different device to display sensitive data, but until then I think I'll stick with the more expensive and secure  TREZOR.

Blogger and owner of 99Bitcoins. I've been dealing with Bitcoin since the beginning of 2013 and it taught me a lesson in finance that I couldn't get anywhere else on the planet. I'm not a techie, I don't understand "Hashes" and "Protocols", I designed this website with people like myself in mind. My expertise is online marketing and I've dedicated a large portion of 99Bitcoins to Bitcoin marketing.

Latest posts by Ofir Beigel (see all)