Microsoft is officially aboard the Bitcoin train.
The massively influential tech giant enabled bitcoin payments Wednesday, giving customers the option of exchanging the cryptocurrency for services such as Xbox Live and digital goods like video games and software. The integration occurs in Microsoft's PaymentHub, part of the billing and account management section of their website.
Popular payment processor BitPay was tapped to handle the bitcoin transactions and conversions.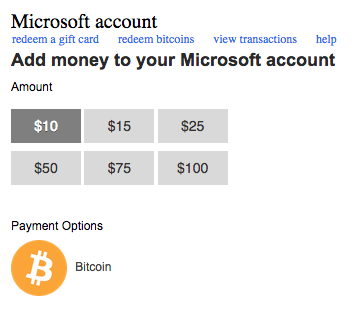 This move comes two months after Microsoft co-founder Bill Gates
declared that Bitcoin was "exciting"
due to its cheap transaction costs and convenience of transferring large amounts of money across the globe. It also follows an avalanche of online merchants adopting the cryptocurrency as a new payment option in 2014.
Funding Microsoft Accounts With Bitcoin
A new entry was added to Microsoft's help page for account billing, walking customers through the process of paying with bitcoin.
You can now use Bitcoin to add money to your Microsoft account. Once you add money to your Microsoft account, you can use it as a payment option to buy apps, games, and other digital content from Windows, Windows Phone, Xbox Games, Xbox Music, or Xbox Video stores.
By using BitPay's intuitive payment interface, customers can either pay automatically with a bitcoin wallet installed on their computer, pay with a smartphone app by scanning a QR code, or manually copy the bitcoin address and payment amount into a separate device or web wallet.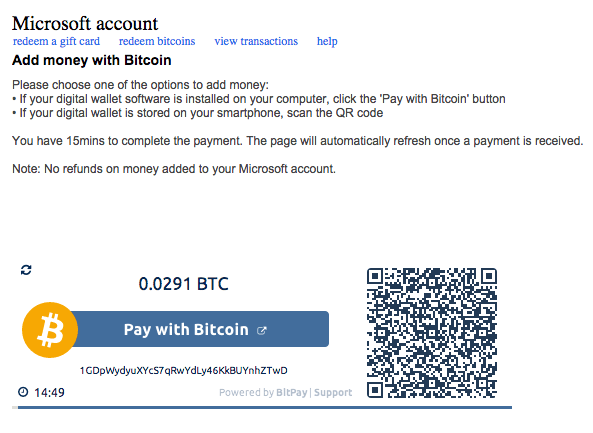 The guide also outlines some caveats of using Bitcoin, such as the fact that payments cannot be reversed or refunded easily. Customers who make a bitcoin payment in error — such as paying too much or too little — will have to contact support with details of their transaction.
Bitcoin Price Impact
The Microsoft news had a nearly immediate impact on the Bitcoin price. Although the exchange rate had been slipping late Wednesday from $350 toward $340, that trend suddenly reversed as online communities — including the r/Bitcoin subreddit forum — became aware of Microsoft's move.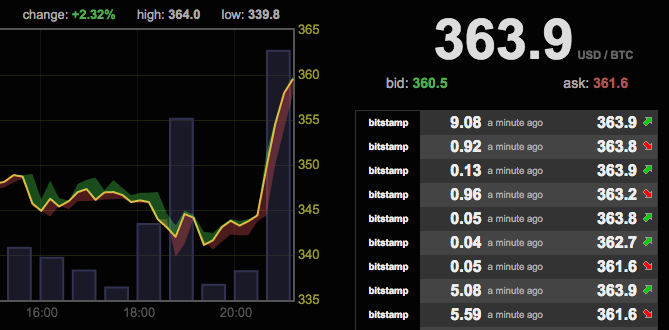 In a span of mere minutes, the Bitcoin price shot upward to just above $360, demonstrating the first instance in a long time that the exchange rate was so obviously impacted by a single piece of news. Despite the lack of a formal announcement on Microsoft's part, the new functionality is already affecting the markets.
Limited Integration, For Now
The integration isn't absolute, as Microsoft doesn't yet allow bitcoin payments for products and services directly. Instead, customers use the digital currency as general funding for their Microsoft accounts — which then can be used to purchase the digital goods. Bitcoin funding is also limited to increments of $10, $15, $25, $50, $75 or $100.
In addition, bitcoin payments are currently limited to United States customers, according to Microsoft's billing guide.
Still, it represents a huge step forward for both Bitcoin, in terms of legitimacy in the public eye, and Microsoft itself — which now has an additional revenue stream and payment option for customers.