Best VPN Services Review and Comparison
By: Ofir Beigel | Last updated: 2/1/23
Best VPN Service Summary
A VPN allows you to access the Internet anonymously via an encrypted connection. Using a VPN is important for your computer's security, especially if you're using public wi-fi. The best VPN providers today are:
That's VPNs in a nutshell. If you want a more detailed review about the various VPN services and to understand why they are important, keep on reading. Here's what I'll cover:
---
1. What is a VPN?
VPN stands for Virtual Private Network. It's basically a group of computers, all linked to one another, that allow you a secure and private connection to the Internet. Let me explain:
Security – When you're using "normal" Wi-Fi connection (i.e. public Wi-Fi) you are using an unsecure connection to the Internet.
This means that you are vulnerable to hackers and other malicious attacks trying to steal your data. When connecting through a network of private and secure computers (i.e. a VPN) you are protecting the data that is being transferred through encryption.
Privacy – Anyone can trace your IP address (Internet protocol address) when you are connecting to the Internet without a VPN. This means that your location can be pinpointed fairly easily.
When you access the Internet via a VPN, your location appears to be that of a remote computer, so your privacy is ensured.
---
2. Why Should I Use a VPN?
Even if you don't feel that hiding your IP address has any interest to you, you probably aren't aware of the risk involved in connecting to the Internet from an unsecure network.
Public Wi-Fi networks—like those in coffee shops or hotels—are not nearly as safe as you think. Even if they have a password, you're sharing a network with tons of other people, which means your data is at risk.
So if you log into your email, bank account, Facebook account or submit any other sensitive information while connected to a public network, someone can easily obtain that data.
While there are some ways to help you stay safe, if you want a one stop solution – use a VPN.
Here's a real live demonstration of how serious this is:
Additionally, you may also want to access websites that aren't accessible in your country. In this case, a VPN is also a good solution. For example, when I was traveling through China I could access Facebook or Google only via a VPN.
---
3. What to Look For in a VPN?
Since there are so many VPN services out there, it's kind of hard to know how to assess them. Here's a short list of what you should be looking for in a VPN service.
Exit locations
This basically dictates what IPs you can use when accessing the VPN. So if, for example, you would like to surf the web from a USA IP, you would need a VPN service that supplies such exit locations.
Logging
Does the VPN service keep a record of what you are doing? If it's complete privacy you're after, you'll want to make sure what the logging policy of that specific VPN service is.
Protocol
This may sound a bit confusing, since when you compare VPN services you'll see terms like SSL/TLS (sometimes referred to as OpenVPN support,) PPTP, IPSec, L2TP, and other VPN types.
Most of these options are invisible to you as the user, as all of these are just different protocols that provide a secure connection. Of course, there are differences between the protocols, but if you're concerned about these,then you're probably already aware of them.
Speed
Since connecting through a remote computer takes more time, make sure the VPN service you choose can deliver your connection fast enough. There's nothing more frustrating than a slow internet connection…
Mobile Compatibility
Mobile usage has already surpassed desktop usage. You want to make sure that the VPN service also supplies your mobile phone with an adequate app.
Operating System compatibility
You're going to install a piece of software called a VPN client on your computer to connect to the VPN, so you need to make sure it's compatible with your operating system (OS). Today, most of the VPN services are compatible with Windows and Mac OS, but it's always advised to make sure your OS is supported.
Price
When it comes to price, you will find free and subscription-based VPNs. Although using a free VPN may sound attractive, keep in mind that most of the free services will log your activities, perform slower and serve you ads based on where you've surfed. Also, their exit locations and speed are pretty limited.
Subscription-based VPNs will probably take your privacy more seriously and in most cases, they will not serve ads. Most paid services offer some sort of a free trial for their services.
---
4. Best VPN Services
IPVanish
I've used IPVanish for a very long time. It has a pretty impressive connection speed (I sometimes forget I'm on a VPN), mobile compatibility and it spans 25,000+ IPs on 325+ servers in 60+ countries.
It also has a dedicated mobile app for iOS and Android and it's compatible with most OS out there. The user interface is pretty intuitive and it takes like 2 minutes to set everything up.
If you go with the yearly plan it's currently $78/year, but you can use this coupon to get up to a 57% discount (bringing it down to only $62.39/year). Of course, there's a 7 day money-back guarantee.
To find more about IPVanish click here.
ExpressVPN
ExpressVPN is another personal favorite of mine (it's also my current VPN service). I love the super easy "one button" interface. The connection is super fast and there are 94 countries (and 160 cities) you can choose to connect from.
The price is about $100 for 12 months. You also get a 30 day money back guarantee if you feel that the service doesn't suit you.
To find out more about ExpressVPN click here.
CyberGhost VPN
CyberGhost VPN is one of the most popular VPN services available today. It offers a free proxy that you can use, but you'll have to "wait in line" in order for it to work (takes about 2-3 minutes).
CyberGhost also offer a 45 days money back guarantee on their plans. Personally, I didn't like the software's "look and feel" but I guess it's a matter of taste.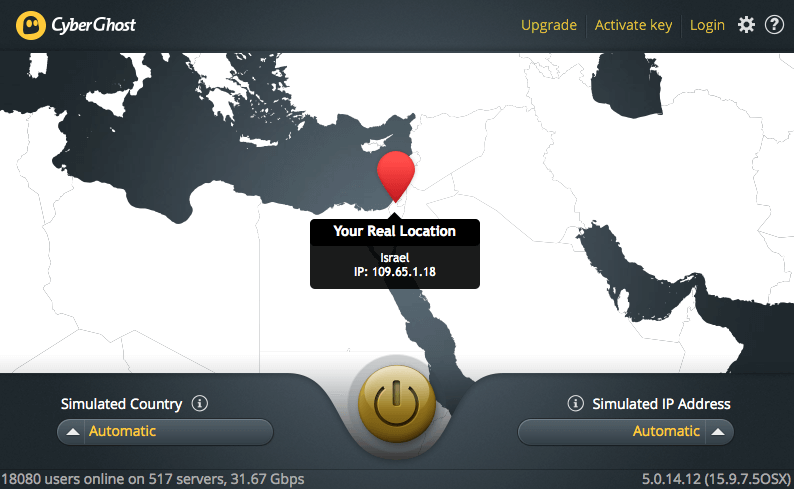 CyberGhost VPN has servers deployed in 90+ countries around the world – you can see the full list of countries and servers here.
The service provides support to mobile devices as well but allows only one device to be connected at any given moment (in contrast, IPVanish allows up to 2 devices to connect simultaneously). CyberGhost VPN also accepts Bitcoin payments and is priced between $33-$96/year, depending on the plan you choose.
To find more about CyberGhost VPN click here.
HideMyAss
One of the most popular players in the market is Hide My Ass (or HMA). HMA operates in 190 countries with over 1100servers – this will give you a wide variety of IP addresses. Here's the full list of servers.
Other than the extreme coverage HMA offers, the service seems pretty similar to the previous providers mentioned (mobile devices and multiple OS supported). The yearly price for HMA is $60. All in all, HMA is a solid service.
To find more about Hide My Ass click here.
ProtonVPN
ProtonMail is the world's largest encrypted email provider, with a mission to defend the right to privacy by making end-to-end encrypted email easy enough for anyone to use. In 2017 ProtonMail team launched ProtonVPN to help to hide IP addresses, avoid having online activity tracked, and bypass Internet geo-restrictions. They are headquartered in Switzerland, home to the world's strongest privacy laws.
Proton VPN has almost 1060 servers in 54 countries. See all of their servers here. 
ProtonVPN paid plans start from $5/month or $57/year. They also offer a FREE plan to try out their services. 
To find out more about Proton VPN click here.
StrongVPN
StrongVPN has been around since 1994 in the computer industry, initially known as ReliableHosting.com which later on started providing VPN services. StrongVPN costs $10/month or $70/year. Surprisingly enough, there's also a link to a 20% coupon here.
StrongVPN has over 950 servers in 35 countries around the world. You can see the full list of servers here.
As most other providers do, StrongVPN also provide a 30 day money-back guarantee. To find out more about Strong VPN click here.
AstrillVPN
AstrillVPN is a VPN provider that was founded in 2009. The company takes pride in offering a premium service, which focuses on quality while being strict about not selling user data to make additional revenue. 
AstrillVPN is developed entirely in-house by real experts and claims to have no downtime. They also boast powerful hardware, real physical server locations, and a huge number of servers in Asia – a costly area that other providers often neglect.
The company has ​​VPN servers in 114 cities, across 57 different countries. You can find a complete list of all their servers here.
Plans with AstrillVPN are on the more expensive end, starting at $12.50 per month, or $150 per year. The service offers a free 7-day trial, however does not offer refunds. 
To find out more about AstrillVPN, click here.
---
5. Frequently Asked Questions
Why is My VPN So Slow?
As a rule of thumb a VPN connection will always be slower than a normal Internet connection since the data is transferred through a remote server (so it takes it longer to travel back and forth). VPNs also narrow the amount of channels your data can go through.
However, today's VPN services are aware of this and take appropriate measures to supply fast and secure connections. Sometimes you'll notice that paid plans are substantially faster than free plans.
Which is The Fastest VPN Service?
ExpressVPN gets the highest results in terms of speed from all of the above mentioned services.
---
6. Conclusion
Before I wrap up, here's some sort of a graphical recap of what we've just covered created by StrongVPN. It goes a bit more in depth about the different protocols as well. If you have your own experience with VPN services feel free to share it in the comment section below.

Source: Lifehacker
Another important and easy step to protect your online privacy is using a secure email service such as ProtonMail or Mailfence.
Are you using any VPN service I didn't mention? Have additional comments or questions? Let me know in the comment section below.