Keystone Pro Wallet Review
By: Alex Miguel | Last updated: 7/2/23
The Keystone Pro wallet is a touch-screen hardware wallet that is designed to be as easy to use as a mobile phone. It can also be bought with the Keystone Tablet, a separate indestructible metal wallet for physically storing your seed phrase.
In this review, I'll cover my personal experience with both products, their setup processes, features and more.
Keystone Pro Wallet Review Summary
The Keystone Pro wallet is an easy-to-use touch screen hardware wallet, which provides a mobile phone-like experience.
Being one of the more intricate hardware wallets, it's best suited toward crypto users who expect to make a high quantity of transactions from their hardware wallet device, or those who prefer a touch screen over physical buttons.
The Keystone Tablet also provides a very easy, yet literally indestructible way to back up your seed phrase.
That's the Keystone Pro wallet in a nutshell. If you want a detailed review of my experience with the Keystone Pro, keep on reading. Here's what I'll cover:
---
1. What is a Hardware Wallet?
A hardware wallet is a type of crypto wallet that enables you to keep your coin in "cold storage" – that is, completely offline and not connected to the internet in any form.
This type of storage makes sure that your private keys (or seed phrase) are secure for long-term safekeeping, since they cannot be remotely accessed under any circumstances.
---
2. Company Overview
Keystone is a blockchain company founded in 2018, based in the Asia-Pacific region. The company raised an undisclosed sum in seed funding from Shanghai-based Qiming Venture Partners in mid-2022.
Keystone has the first official hardware wallet integration with MetaMask, the popular web3 wallet by Ethereum infrastructure company, ConsenSys. The company produces both touch-screen hardware wallets and stainless steel products for storing seed phrases in cold storage.
---
3. What's in the box?
The Keystone Pro wallet comes in a cool black dual-box, which was somewhat larger than expected.
Altogether, the two boxes contain the Keystone Pro wallet device, a battery pack that holds AAA batteries, an alternative removable rechargeable battery, a USB-A to USB-C charging cable, blank seed phrase cards, and a specification leaflet. The box also had a neat 5% off voucher for my next purchase.
The device box cleverly has tamper-proof seals on it, so that you know the device has remained untouched since it left the factory.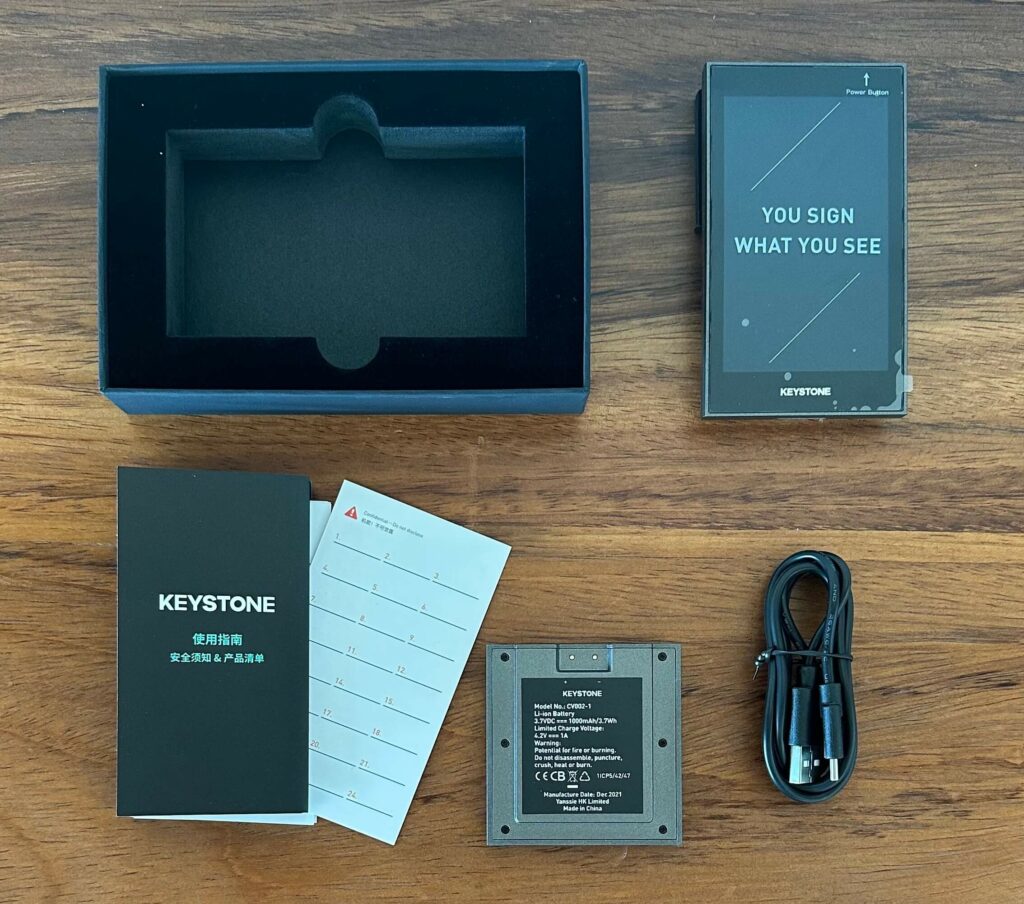 I also got a Keystone Tablet – the company's popular stainless steel analog wallet that stores a physical backup of your seed phrase.
The box contains a Keystone Tablet, a screwdriver, a set of metal letters and some replacement screws, in case you lose any of the ones provided. It also contains a small guide with tips for using the product.
---
4. Keystone Pro Wallet Supported Coins
The Keystone Pro wallet supports coins from several major blockchains, including Bitcoin and Ether. Other supported chains include (but are not limited to):
Bitcoin (BTC)
Ethereum (ETH)
Binance Smart Chain (BNB)
Bitcoin Cash (BCH)
Dash (DASH)
Litecoin (LTC)
Polkadot (DOT)
Polygon (MATIC)
Solana (SOL)
Tron (TRON)
XRP (XRP)
The wallet also supports tokens and NFTs on some blockchains, enabling the wallet to hold over 5,500 different coins and tokens in total.
---
5. How Do I Setup My Keystone Pro Wallet?
Step 1: Power-on device and verify authenticity
Power on your Keystone Pro wallet. To do so, you will need to insert four AAA batteries or switch over to the rechargeable battery pack provided.
Visit the "start" link provided on the device (https://keyst.one/start) on your computer or phone.
Once you have opened the website, tap "It's ready, start" on the wallet screen. Scan the QR code provided on the website using the Keystone Pro device, then enter the code generated to verify its authenticity.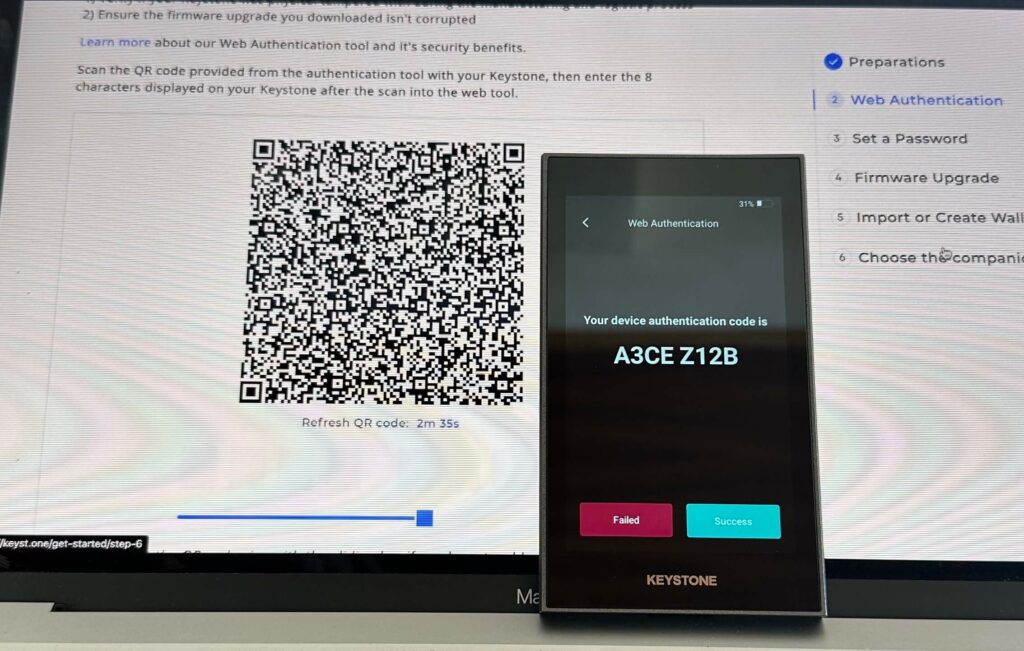 Step 2: Set a password and create wallet
The device will then require you to set up a strong password, which will be used to unlock your device each time you use it (even upon waking the screen). This can be replaced with the fingerprint reader later, if you wish to use that instead.
Once complete, select "create wallet" and enter your new password to begin the next step.
Step 3: Write down & check seed phrase
Generate your recovery (seed) phrase. To do this, select "create wallet with single backup".
Pro tip: For advanced users, you can also create a Shamir backup. This enables a form of multi-signature access to the wallet. At the time of writing, the Keystone and Trezor wallets are the only ones to support Shamir backups.
Write down the seed phrase on one of the blank seed phrase cards provided. If you have also purchased a Keystone Tablet, this is a good time to use it to back up your seed phrase.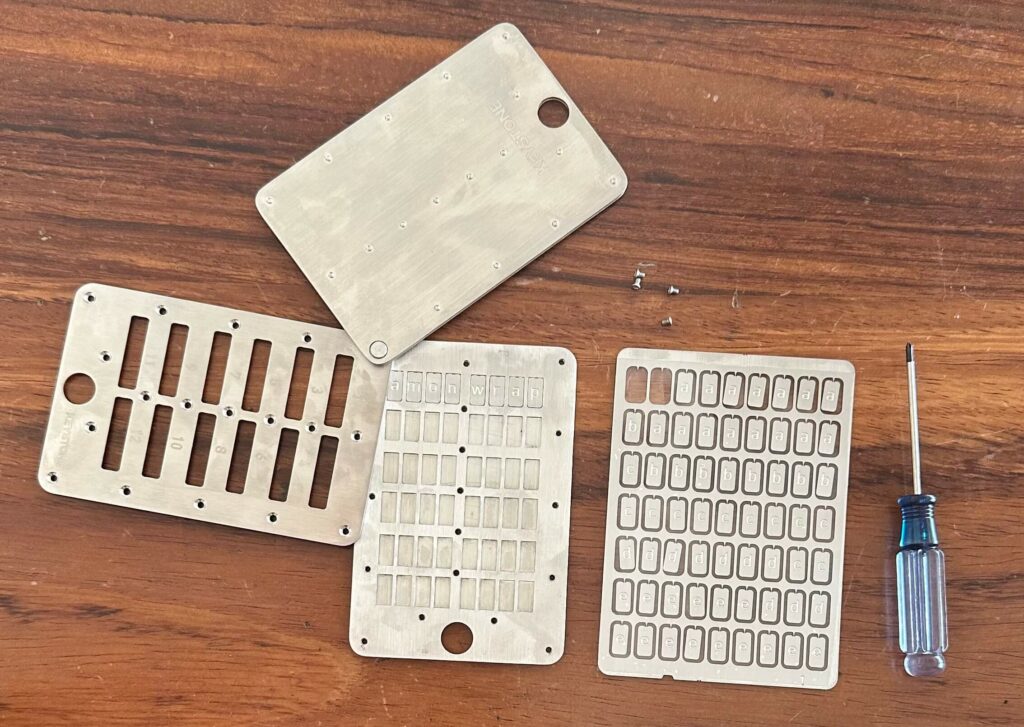 Once you have your seed phrase recorded, confirm it in the device. You will have to type in the first four letters of each word, which may take a little time.
Step 4: Sync with phone (optional)
Once your seed phrase is backed up, you can sync it with the Keystone mobile app on your phone. This enables you to manage and track your balances on the go, without using the wallet device itself.
You can sync your wallet with the mobile app by simply scanning a QR code on the device, using your phone's camera.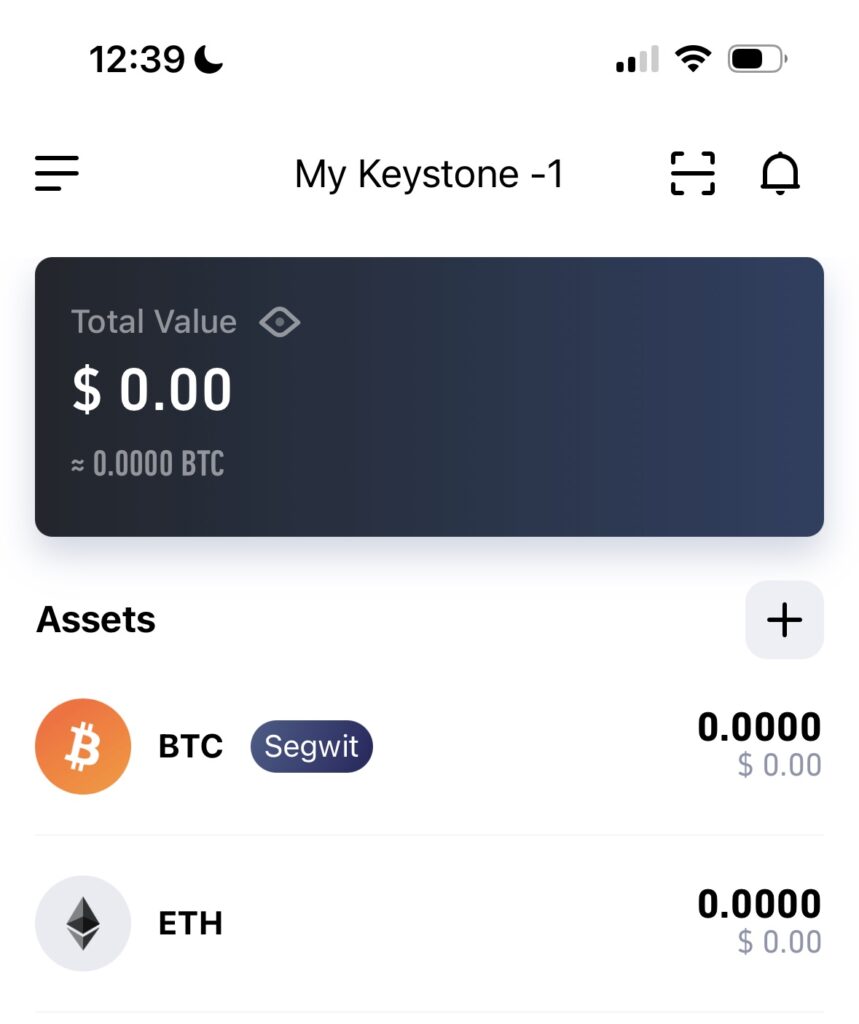 And there you have it! You're ready to load your Keystone Pro wallet with crypto to safely keep in cold storage.
---
6. Personal Usage Experience
The Keystone Pro wallet was enjoyable to use, with the product living up to its objective – being as easy to use as a mobile phone. The device was smooth and responsive, and really did feel like using a mobile phone device. Personally, the touch screen's keypad was still a little small for my thumbs (resulting in quite a few typos), however it was still much easier for input than the physical buttons on other devices.
The seed phrase verification process was a little more lengthy on the Keystone Pro than I would've liked, requiring me to enter each and every one of the 24 words into the device. This is something that many other wallets have improved upon, however in this case you are much less likely to back it up incorrectly.
Other things that could have been improved were the inclusion of a wall charger and the microSD card required to update the firmware to the latest version.
The Keystone Tablet was much easier to use than I thought, due to the seed phrase system only needing the first four letters of each word. The number of screws in the device I thought was a bit overkill, but you can tell the device would survive almost any disaster you could think of.
---
7. How Much Does the Keystone Pro Wallet Cost?
The Keystone Pro wallet retails at $169, which is similar to the popular Trezor Model T – the touch screen edition of the well-established Trezor hardware wallet.
At a relatively high price point, the Keystone Pro wallet is best suited for users who are likely to make a lot of transactions, or simply have a very high preference for accessibility and ease-of-use via a touch screen and larger display.
The stainless steel Keystone Tablet itself costs $49, which I think is a reasonable price to pay to protect your seed phrase from any type of disaster.
---
8. Conclusion – Is the Keystone Pro wallet Worth It?
The Keystone Pro is an excellent device, which is as easy to use as a mobile phone device. With its high price tag, however, I would recommend the wallet mostly for people who plan to make a lot of transactions or really value a large touch-screen device.
The Keystone Pro is a great choice for use in the Web3 world, allowing you to approve transactions with a simple scan of a QR code. The user experience is also great, with a high quality touch screen and tactical feedback.
With that said, I would have liked the seed phrase backup process to have been shorter, since typing all 24 words into the device was a bit of a pain.
That's it! If you wish to share you experience with the Keystone Pro or have any other comments, please share them in the comments section below.