Huobi Review and Comparison
By: Alex Miguel | Last updated: 1/25/23
Huobi is a major global cryptocurrency exchange, consistently ranked as one of the top exchanges in terms of trading volume. In this review, I'll go over the Huobi Global platform and the main things you need to know before signing up.
Huobi Review Summary
Huobi Global is a global cryptocurrency exchange, with a wide selection of tradable assets and high liquidity. It offers a great suite of features including spot trading, derivatives trading and staking, but no longer serves users from many major countries such as the US, Canada and China. Although country-specific versions of Huobi exist, this review covers the main "Global" platform only.
That's Huobi in a nutshell. If you want a more detailed review of Huobi Global, keep on reading below – here's what I'll cover:
---
1. Huobi Overview
Huobi Global is a major cryptocurrency exchange that is registered in Seychelles.
The exchange was founded in China in 2013, by former Oracle computer engineer Leon Li. It began as a Bitcoin trading platform, which quickly became one of the largest Chinese exchanges in China within its first year of operation. This success gained attraction from Sequoia Capital, who invested $10 million in Huobi's Series A round in 2014.
Since then the exchange has continued to grow, expanding to more cryptocurrencies and countries. Much of Huobi's global expansion was fuelled by China's initial coin offering (ICO) ban in 2017, which resulted in Huobi eventually opening offices in countries across Asia and the United States.
In 2018, Huobi acquired Pantronics Holdings, an electronics manufacturer publicly-traded on the Hong Kong stock exchange. Huobi then used this to form the listed company Huobi Tech.
Huobi moved to shut down all services for Chinese users in late 2021, following the People's Bank of China ban on cryptocurrency trading services.
These days, Huobi operates as a primary Huobi Global platform, as well as several smaller country-specific exchanges such as Huobi Japan, Huobi Korea, and Huobi Indonesia.
---
2. Huobi Services
Trading
Spot trading
Huobi's flagship service is its spot exchange, which offers crypto-to-crypto trading for hundreds of different assets, across almost 1,000 different trading pairs.
The user interface is very user-friendly, with a standard and familiar layout. This includes TradingView-compatible candlestick charts, order books, depth charts and more.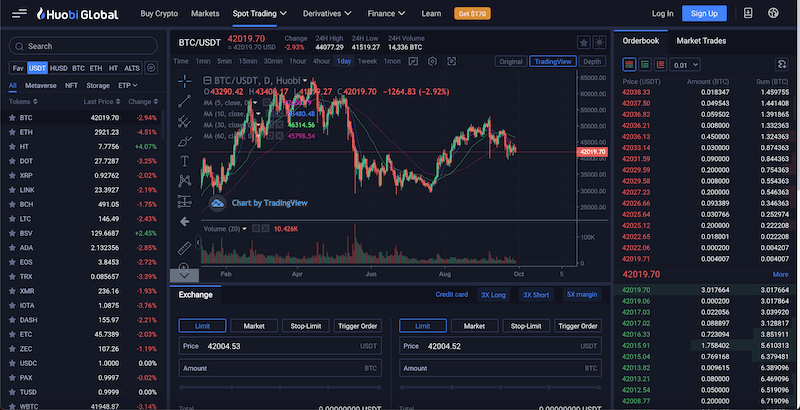 Spot trading on Huobi supports several different types of orders, including market orders, limit orders, stop-limit orders and trigger orders.
One of the most unique features of Huobi's spot trading service is the ability to margin-trade supported assets, with up to 5x leverage.
Derivatives trading
Like many other major exchanges, Huobi also offers derivatives trading – primarily perpetual swaps and futures contracts. Huobi derivatives allow for up to 100x leverage for selected instruments, which is some of the highest leverage available across the industry.
The exchange's coin-margined products accept Bitcoin as collateral, while USDT-margined swaps are secured with Tether (USDT) only.
Futures contracts available include perpetual swaps, as well as quarterly and bi-weekly contracts. These are available for at least 13 different assets.
Quick buy/sell
Huobi users can make instant crypto purchases using their credit card or other payment services, including bank transfers and popular payment apps. Almost 350 cryptocurrencies are available for purchase using this method, with support for 57 fiat currencies and 60 different payment methods.
P2P market
For larger crypto purchases, Huobi also offers a peer-to-peer (P2P) market, which enables users to buy and sell crypto directly to each other.
Finance
Huobi offers a series of interest-earning options for selected cryptocurrencies, which provide an alternative to services such as crypto savings accounts and decentralized finance (DeFi) lending platforms.
Staking
The first of these are genuine staking services, which enable users to stake their proof-of-stake (PoS) assets without a need for technical expertise or specialized hardware. This includes ETH 2.0 staking, which will credit users with "BETH" tokens representing their stake.
Primepool and Huobi Earn
Primepool is a service that enables users to lock-up certain cryptocurrencies to earn airdrops of other tokens, often for very short lock-up periods.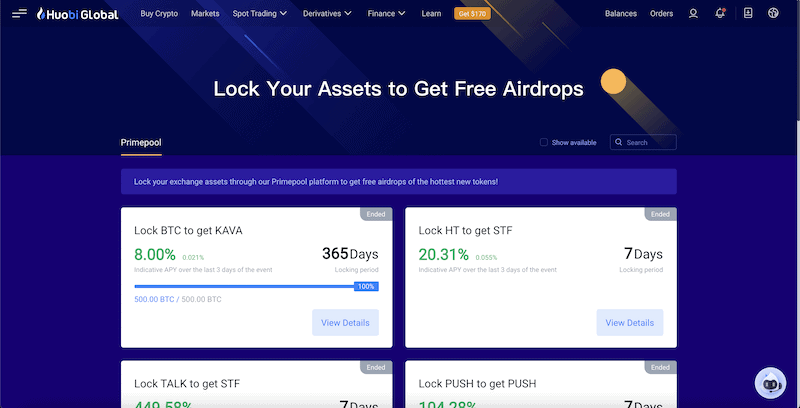 Huobi Earn is a similar centralized staking service, but offers both fixed-term and flexible staking options. These pay out rewards in the same token that is staked, in a similar manner to most other lending platforms. Interest is auto-compounded daily.
Crypto Loans
Finally, Huobi also offers its own crypto loans. These over-collateralized loans enable users to borrow one crypto asset against another, provided that the value of their collateral exceeds the borrowed amount.
A wide range of assets can be used as collateral and borrowed, including stablecoins such as HUSD and USDT.
---
3. Currencies and Payment Methods
In total, Huobi supports more than 350 cryptocurrencies that can be deposited, traded and withdrawn via the exchange. These include major assets such as:
Huobi Token (HT)
Polkadot (DOT)
Cardano (ADA)
EOS (EOS)
TRON (TRX)
Monero (XMR)
Bitcoin SV (BSV)
Tether (USDT)
Huobi USD (HUSD)
Dash (DASH)
USD Coin (USDC)
Crypto may also be purchased directly with fiat using a credit card or alternative payment method, depending on the currency used. Huobi accepts 57 different fiat currencies for these purchases.
Some of the most popular accepted payment methods include GBP deposits via Faster Payment, EUR deposits via SEPA, and instant purchases with any fiat currency via Visa and Mastercard. Several additional options are also available when using the P2P platform.
---
4. Huobi Fees
Spot Trading
Spot trading on Huobi carries flat rate fees of 0.2% maker and taker orders.
Trading fees can be reduced by holding Huobi Token (HT). This can be used to reduce spot fees to as low as 0.07%, for users who hold over 5000 HT. Users who hold more than 2000 HT AND trade significant volume may further reduce their fees.
Derivatives
Coin-margined futures come with maker fees of 0.02% and taker fees of 0.04%. There is also an additional delivery fee of 0.015% for BTC/USD futures and 0.05% for other assets.
USDT-margined swaps carry the same maker and taker fees as above, however there is no delivery fee due to the perpetual nature of the swaps.
Coin-margined swaps have maker fees of 0.02% and  taker fee 0.05%.
Derivative trading fees are reduced for "VIP" users who trade higher volumes, with discounts increasing proportionally with trading volumes – to qualify, users must trade upwards of $25 million in volume within a 30-day period.
Deposits and withdrawals
Cryptocurrency deposits into Huobi are completely free. Withdrawal fees vary between assets, however are generally reasonable and designed only to cover blockchain transaction fees for the relevant network.
---
5. Huobi Limits
Withdrawal limits not explicitly stated anywhere public on Huobi. Upon logging-in, however, it appears that unverified users can withdraw up to 1 BTC worth of crypto daily.
In order to increase withdrawal limits, users will need to formally verify their identity – but it is not stated how high this limit can go.
---
6. Supported Countries
Huobi Global allows users from all countries around the world, excluding The United States of America, Canada, Japan, Cuba, Iran, North Korea, Sudan, Syria, Venezuela and Crimea.
There are also additional restrictions for derivatives trading, which is not permitted for users in China, Taiwan, Israel, Iraq, Bangladesh, Bolivia, Ecuador, Kyrgyzstan, Sevastopol and the UK.
It is worth noting that even though Japanese users are banned from the "global" platform, Japan does have its own country-specific version of Huobi.
---
7. Customer Support and Reviews
Huobi's primary channels of support are a chatbot and a FAQ-style support page, which is unintuitively placed under the "Services" header at the bottom of their website, rather than the "Support" header. Both of these support features are designed to answer most general enquiries, generally doing a good job. However, not all of the typical information is there and some of the English written content is unclear, making it hard to resolve some issues.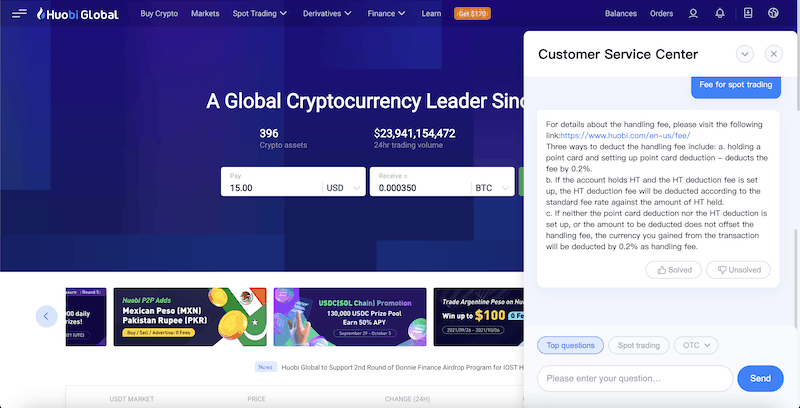 Aside from this, users report that it can be quite difficult to get one-on-one customer support via email or otherwise – which isn't great for urgent matters. Your best bet would be to use the official Huobi Global Telegram channel, or local Huobi Telegram communities.
Online reviews for Huobi are relatively poor, with a majority of complaints arising from users dealing with withdrawal issues. This commonly revolves around users being allowed to deposit funds, but then not being able to withdraw them until intensive KYC verification is completed.
This is a common issue for crypto platforms that is not isolated to Huobi, however I do agree that it is frustrating and inconvenient.
Personally, I've never had any issues with Huobi myself.
---
8. Conclusion: Is Huobi Safe to Use?
Huobi Global is a great platform for users who value a wide selection of cryptocurrencies and features, with excellent liquidity. Many assets on Huobi cannot be found elsewhere, making it a valuable option for trading new and exciting tokens.
It is also worth pointing out that Huobi Global has never had any hacks or technical incidents since it was established. Cyber security is one of the key factors to be considered when it comes to users' asset safety.
Slow customer support, as well as identity verification and withdrawal issues may be the only downsides of the exchange – and they're not minor issues either. If you decide on using Huobi, you may want to get started with a small quantity of funds and increase once you gain confidence with the platform.
The trading experience is extremely smooth and comparable to other exchanges, with a full-featured user interface that is intuitive and familiar.
That's it! If you have any comments or wish to share your personal experience with Huobi, please do so in the comments section below.