HitBTC Review and Comparison
By: Ofir Beigel | Last updated: 1/12/21
HitBTC is a cryptocurrency exchange established in late 2013 which is famous for its wide variety of coin listings and advanced trading features. In this post I will review the company, its services and share some of my (painful) personal experience with them.
HitBTC Review Summary
HitBTC offers a wide variety of currency pairs if you're looking to trade crypto for crypto. The exchange is also a magnet for many new (and sometimes shady) token offerings. However, the exchange's shady reputation, and mediocre customer support mark it as unreliable.
That's HitBTC in a nutshell. If you want a more detailed review about HitBTC keep on reading, here's what I'll cover:
---
1. HitBTC Overview
HitBTC was founded in late 2013 by Hit Solutions LTD. in Hong Kong. The company raised $6m from angel investors and little is known about its founders or management.
In my opinion, there's nothing more alarming than a company that remains in the shadows regarding its staff (see BTC-e's history to understand why).
---
2. HitBTC Services
HitBTC offers a variety of services:
Trading Platform – HitBTC's main service is their trading platform. The platform supplies advanced trading feature, a relatively sleek UI and a demo mode for people who aren't ready to risk real money trading Bitcoin just yet.
OTC Trading – HitBTC offers Over The Counter trading for people looking to sell or buy large amounts of Bitcoin or other cryptocurrencies (over $100K).
Token listing – HitBTC is known for being a place where companies that are issuing their own token could get it listed fairly easily.
Margin trading – For traders who want to leverage their trading, HitBTC offers cryptocurrency margin trading through the MetaTrader 5 Terminal.
API – HitBTC offers several APIs including programmatic access to their trading engine and the Financial Information Exchange (FIX) API
---
3. My Personal experience with HitBTC
I initially reviewed HitBTC back in 2014 when I just started out 99Bitcoins. Overall the exchange made a very good first impression.
I haven't actively used it for trading until the Bitcoin Cash and Bitcoin Gold forks came about. Whenever I claimed a new coin from one of these Bitcoin forks, I would immediately sell it on HitBTC.
All seemed to be going well, and as my site relies mainly on affiliate commissions, I decided to also recommend it to my readers. Unfortunately, that's when things took an ugly turn.
The first time I tried to withdraw my affiliate Bitcoin balance from HitBTC I had 0.25BTC waiting for withdrawal + another $600.
I followed the normal procedures, which include transferring your balance to your main account, but then a funny thing happened: My money just disappeared. It did not appear on my recent transactions and the current balance dropped to zero.
Naturally, I immediately contacted HitBTC and got the following reply:

Since then I tried contacting HitBTC several times but only received a very vague response claiming:
The issue you reported requires additional investigation. We have escalated the issue to our second-level support experts and flagged it as a high priority. We will keep you posted on the progress.
It seems a bit odd to me that a company knows there is a technical issue on their side and instead of immediately reimbursing my balance, they just keep me waiting with no access to my funds.
A quick online search showed a mob of angry customers posing similar reviews about the company.
All other communications I have sent since have gone unanswered. Four months later (on March 2018) I got a response, however it was the same unhelpful response, as usual, see the email below: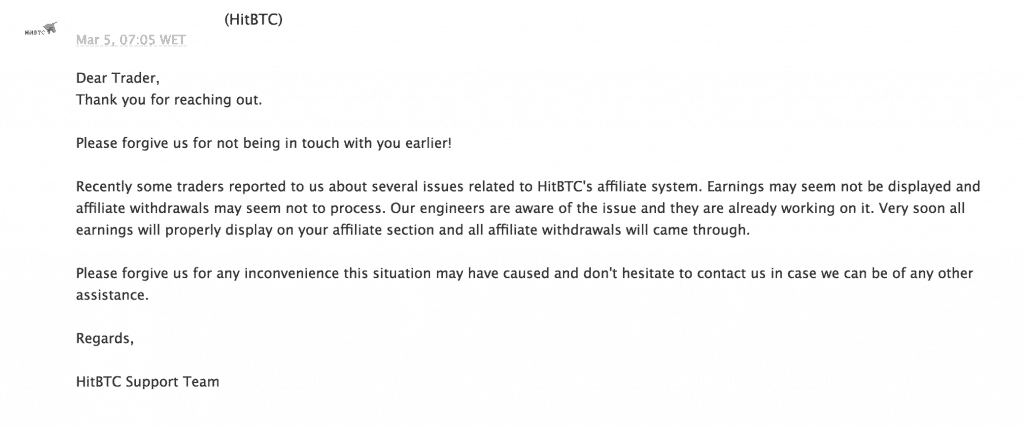 Then a funny thing happened.
I gave a talk at a crypto conference about Bitcoin affiliate programs and told my story with HitBTC as an example of how not to behave. Coincidently, a HitBTC rep was in the audience. We talked and he promised that the issue would be taken care of.
On March 2018 (five months after my initial contact) I was contacted by a HitBTC representative and the issue has been solved. Needless to say, this took way too much time to resolve. The affiliate program has since been deactivated.
At the moment I still recommend avoiding HitBTC. Some users have even started a petition against the low-level service HitBTC is supplying.
---
4. Currencies and Payment Methods
HitBTC supports almost 800 different crypto assets on its exchange. However, the exchange doesn't accept fiat deposits. If you want to trade Bitcoin or any other coin for USD, for example, you'll have to settle for Tether or similar stablecoins.
---
5. HitBTC Fees
HitBTC employs the "maker-taker" model. The "taker" is a trader who places an order that matches immediately with an existing order on the exchange (i.e. taking orders away from the exchange). The taker pays the fee from the committed trade.
The "maker" is a trader who places a limit order below the best ask price for the buy and above the best bid price for the sell (i.e. making new orders on the exchange).
Fees can vary from 0.25% (standard taker fee) to -0.01% for extremely large orders . The larger the transaction volume the lower the fee. The complete fee schedule can be seen here.
---
6. Supported Countries
HitBTC is available worldwide except for the following countries:
Cuba
North Korea
South Sudan
Sudan
Syria
United States
Crimea and Sevastopol
---
7. Customer Support and Review
HitBTC gets a mixed of positive and negative reviews online. It now has a "Great" TrustPilot score and is doing much better than most other exchanges. Having said that, it seems that the company is suffering from long support response times and also withdrawal issues.
Many of the complaints can be found on the company's Twitter profile (mainly in comments to existing posts) and in the currently banned subreddit r/hitbtc. Some interesting user comments can be found in the bottom of this post and in the comments of this review by Blockonomi.
Overall, it feels that "something is rotten in the state of Denmark", although there's no way to actually put your finger on it.
---
8. HitBTC vs. Binance
Many people compare HitBTC to Binance since both exchanges are crypto only and are relatively lenient regarding the coins they list and who they accept as a customer.
When you compare both exchanges, it seems that Binance has lower fees (0.1% flat) and a better reputation, while HitBTC has a better user interface and a wider selection of features. The support for both exchanges is far from perfect.
Personally, I would choose Binance since I value reputation more than anything, however it really depends on your needs. You can read my complete Binance review here.
---
9. Frequently Asked Questions
How do I Withdraw Money from HitBTC?
Log in to HitBTC
Go to "Deposits"
Make sure the currency you want to withdraw has been moved to your Main Account from your Trading Account.
Click on "Withdraw"
Enter the amount to withdraw and your wallet address
Enter the 2Fa code for your account (if enabled)
Click on "Withdraw" again
What Country is HitBTC In?
HitBTC is located in Hong Kong with offices also in Chile.
HitBTC is a service by Hit Solution Limited. Its postal address is Unit 19, 7/F., One Midtown No.11 Hoi Shing Road, Tsuen Wan, New Territories, Hong Kong
---
10. Conclusion – Is HitBTC Legit?
HitBTC has a big warning sign above its head. While there's no specific issue you can put your finger on, the exchange just brings up too many red flags. Personally and especially after what I've been through with them, I would recommend to stay away from this exchange if possible.
If, however, you require just a specific conversion of the occasional fork or cryptocurrency, they will probably get the job done.
Have you had any experience with HitBTC? I'd love to hear what you think about it in the comment section below.