Coinhouse Review – A Beginner's Guide
By: Eliot Prince | Last updated: 12/11/22
Coinhouse is a cryptocurrency broker that makes buying your first digital currency easy from its online platform or brick and mortar store. This review covers everything you need to know about the company before using its services.
Coinhouse Review Summary
Coinhouse.com makes it easy, and enjoyable, to buy and sell cryptocurrency. The platform is slick and well-developed removing all complexities for new users. The main thing to be aware of is that "Classic" (i.e. free) users can only access BTC, ETH and LTC while "Premium" users get access to a wider variety of coins (at a monthly cost).
The company seems to be keeping a solid reputation throughout the 5 years it's been operating, with a barrage of happy customers.
That's Coinhouse in a nutshell. For a more detailed review keep on reading, here's what I'll cover:
---
1. Company Overview
Launched and operated in Paris, France, since 2014, Coinhouse aims to make cryptocurrency accessible to individuals and qualified investors. Its broker service removes the complexities facing new users looking to buy, sell and store cryptocurrency.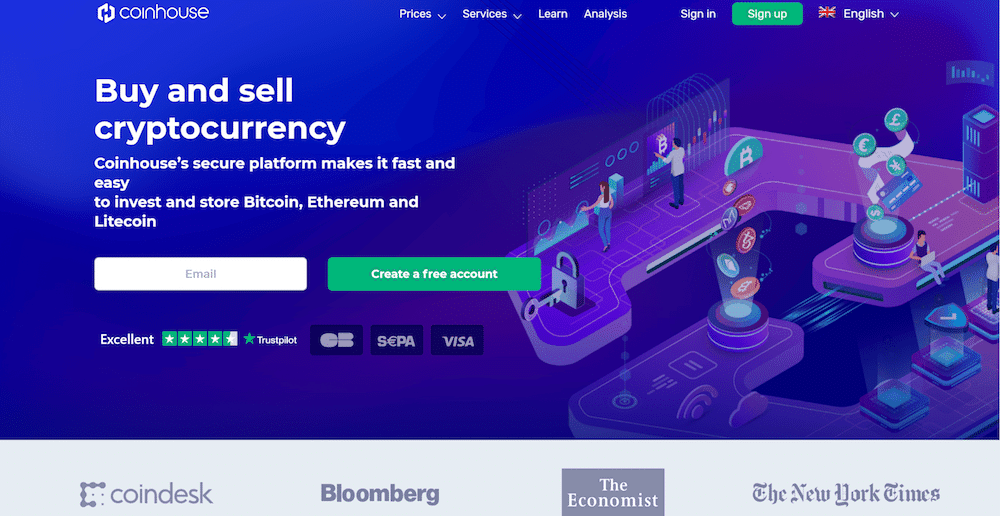 Eric Larcheveque and Thomas France initially launched 'La Maison du Bitcoin', a coworking space for digital currency and blockchain projects. It was a brick and mortar location that added an online exchange coinhouse.com
Now completely rebranded as Coinhouse, the company operates as a streamlined online trading platform.
In its quest to support people on their cryptocurrency investment journey, Coinhouse has expanded across Europe with over 200,000 customers.
---
2. Company Services
Coinhouse's online exchange is an easy user-friendly platform that really does make buying, selling and storing cryptocurrency a breeze.
The brokerage service
The signup process is fluid as the reactive system guides you through the process quickly including immediate identity verification in accordance with KYC and AML banking regulations.
Once registered the platform is clean and simple with a small selection of clear tabs. From the dashboard, you have quick buy and sell options along with your transaction history.
Nothing is over complicated, users can buy cryptocurrency in just three quick steps. After hitting the buy button you quickly select a payment method – either credit card or bank transfer.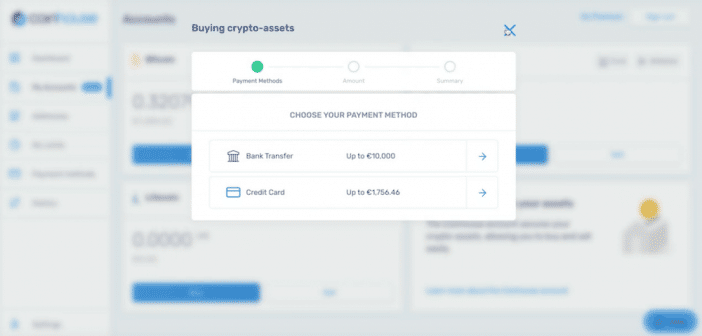 Next, you enter the amount you would like to purchase. At this point, you have a choice to either send cryptocurrency to your Coinhouse custodial wallet or an external wallet.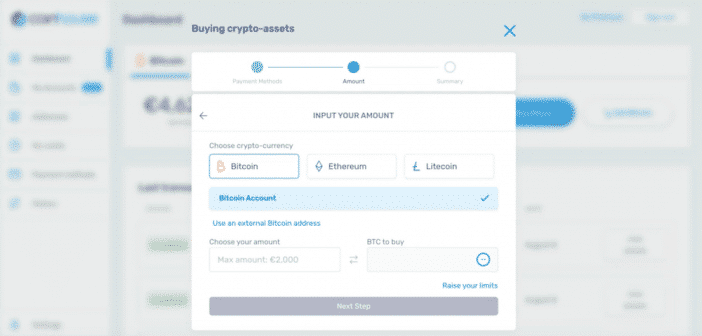 Finally, you confirm the transaction and the job is done. The trade is processed and funds are delivered to your chosen wallet address.
I was really impressed with the modern user interface which felt clean, fast and reactive without any complications.
Premium service
Users are also offered a premium service which adds some extra benefits for as little as €27 a month. One major advantage of this service is the addition of over 300 cryptocurrencies (and not just BTC, ETH and LTC).
You'll also gain access to a personal account manager, market insights, cheaper transactions and regular payments. €27 a month feels like a little overkill for what you actually get in my opinion. Here is a full comparison of the services: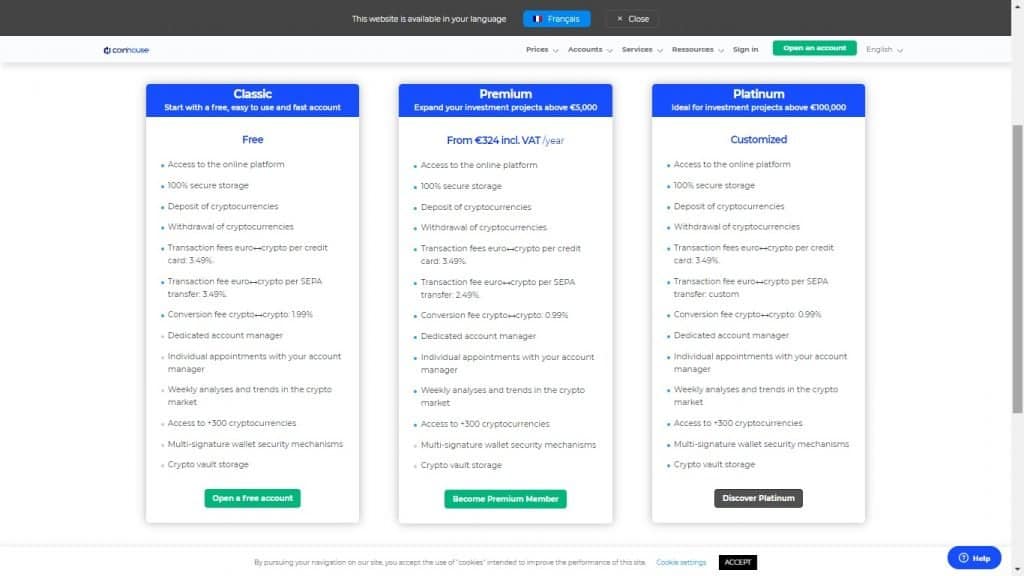 Scheduled recurring investments
Dubbed "Coinhouse Savings", users can schedule automatic, recurring cryptocurrency purchases to benefit from dollar-cost averaging. They can select both the frequency and duration of the purchases to suit their needs, for a range of supported assets.
Personalized portfolios
Coinhouse has created four portfolio types, which makes it easier for customers to select a basket of investments. These include:
A "Defensive" portfolio, to protect their funds from a market downturn

A "Fundamental" portfolio, which holds only Bitcoin and Ether

A "Balanced" portfolio, which holds a wider range of promising cryptocurrency assets

An "Offensive" portfolio, a high-risk basket of cryptocurrencies with the potential of higher reward.

Institutional-level custody 
Lastly, Coinhouse provides a cryptocurrency custody solution for institutions, utilising 100% cold storage. The service targets funds and corporate investors, as well as digital issuers such as stablecoins or tokenized security providers.
---
3. Currencies and Payment Methods
Regular free accounts have access to Bitcoin, Ethereum and Litecoin while premium users can trade over 300 major cryptocurrencies.
All trades are processed in Euros via SEPA bank transfers or credit cards. There is no need to make a deposit or hold fiat currencies on your account. All payment for trades is made at the time of purchase.
---
4. Fees
All cryptocurrency purchases made using a credit card have a 3.49% fee, no matter which account type you have.
Crypto purchases made using SEPA transfers start at 3.49%, and drop in price with premium and platinum accounts.
All crypto-to-crypto trades are charged 1.99% across all account types.
"Premium" membership starts at €27 per month for a 3-year membership, and can get as expensive as €39 per month for a casual rate. 
The "Platinum" membership has a customized price which depends on the customer's personal requirements.
The trades are made at live market rates and blockchain fees are not included in the Coinhouse fees. 
The fee structure is certainly not the cheapest around. The service is convenient and the credit card fee is actually around industry standard. You do get a little discount using the premium membership, especially with bank transfers. Although at €27 a month I wonder how much you are actually saving?
---
5. Buying Limits
The minimum purchase amount using a credit card is €20. Maximum purchase limits are no longer displayed on their website.
The minimum amount you can sell on Coinhouse is €20.
The maximum amount you can sell depends on your account verification level. Level 1 account verification allows you to only sell as much cryptocurrency as you have bought within Coinhouse, whereas Level 2 verification will enable you to sell cryptocurrency purchased elsewhere.
The maximum sale amount for Level 2 verification is capped at €10,000 per year, unless you manually provide a proof of the source of your funds.
---
6. Supported Countries
Coinhouse is exclusively a European cryptocurrency exchange. Users need to have a SEPA zone bank account. You can access the web-based platform from anywhere in the world but essentially need a European bank account to make trades.
The supported countries are:
Austria
Belgium
Bulgaria
Cyprus
Croatia
Czech Republic
Denmark
Estonia
Finland
France
Germany
Greece
Hungary
Ireland
Iceland
Italy
Latvia
Lithuania
Liechtenstein
Luxembourg
Malta
Monaco
Netherlands
Norway
Portugal
Poland
Romania
San Marino
Spain
Slovakia
Slovenia
Sweden
Switzerland
Roumanie
United Kingdom
---
7. Customer Support and Online Reviews
Coinhouse prides itself on being more than just another cryptocurrency exchange. Its ethos is to help people in their investment journey. As such they have created a physical location, online training courses, analysis and personal advice (for a price).
It's great to see an active telephone number on the website along with physical addresses and other contact information.
The email support aims to respond to all queries within 48 hours, but actually it was much quicker, responding to my question in less than 2 hours.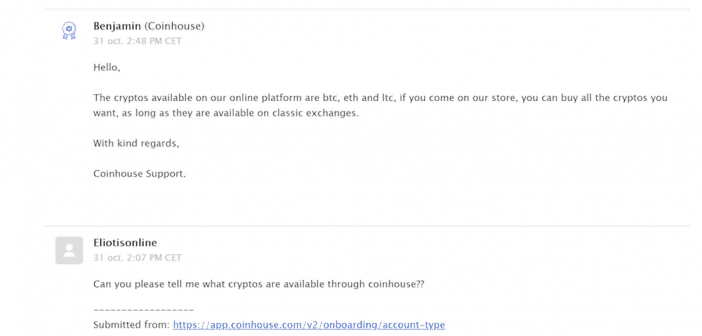 Its social media is busy and filled with helpful content although a lot of it is in French, which is understandable for the Paris based company.
Around the web, users seem pretty satisfied with the Coinhouse service. Reddit has several positive threads with little bad to say. Minimal complaints or scandals.
On TrustPilot, Coinhouse maintains a healthy 4.4-star rating with personal responses to any issues including customer support telephone numbers.
---
8. Conclusion
Coinhouse makes it easy, and enjoyable, to buy and sell cryptocurrency. The platform is slick and well developed removing all complexities for new users. A nice addition is the ability to trade funds directly into an external crypto wallet.
For free users, the currency selection is very limited with only Bitcoin, Ethereum and Litecoin to Euro pairs. Personally I think it is a sting to pay a membership fee to access coins readily available on other platforms.
The fees structure is not cheap, although is industry standard for credit card buys you'll usually face a bigger fee for the convenience of a broker service like Coinhouse.
Customer support and online reviews shine through in an area where many Bitcoin companies fall down. Getting support is easy through a number of methods including telephone plus not many have a bad thing to say about Coinhouse.
Overall, you can't go far wrong with Coinhouse. You might be paying a little more for the service but it is well developed and reliable.
Have you used Coinhouse yourself? I'd love to hear about your experience in the comments section below.