Anycoin Direct Review
By: Alex Miguel | Last updated: 1/5/21
Anycoin Direct is a user-friendly European cryptocurrency exchange, which aims to make crypto accessible to anyone. In this article I'll review how to buy and trade Bitcoin on AnyCoin Direct, as well as its fees and payment methods.
Anycoin Direct Review summary
Anycoin Direct is one of the most user-friendly cryptocurrency exchanges I've come across. It offers European users a very streamlined, user-friendly process to buy and sell crypto with fiat currency, as well as swap between crypto assets. The customer support and reviews are beyond excellent, but this comes at the cost of some significant premiums on exchange rates.
That's Anycoin Direct in a Nutshell. Continue reading below for a more in-depth review of Anycoin Direct's platform and services. Here's what I'll cover:
---
1. Anycoin Direct Overview
Anycoin Direct was founded by three friends in 2013, with one mission: "To make purchasing cryptocurrency as simple as buying a t-shirt online". Accordingly, the platform focuses on user-friendliness and simplifies the experience to a level that the average Joe can understand.
Since inception, the platform has grown to a substantial user base of more than 400,000 customers, as well as expanding their team to more than thirty members.
Anycoin Direct is also General Data Protection Regulation (GDPR) compliant, meaning that user information is highly protected.

---
2. Anycoin Direct Services
Buying crypto
Anycoin Direct offers an extremely simplified version of the usual cryptocurrency purchasing process, removing the buyer's need for any previous trading experience. 
Users will need to verify their account and identity before trading, as well as implement two-factor authentication (2FA).

There are no fancy charts or order-books, just a simple form that displays the bare basics: 
Which cryptocurrency you want to buy

How much you want to spend

How much you'll receive at the current market price

Which wallet address you want to send the coins to

Your preferred payment method
Any fees and the exchange rate you're paying are clearly displayed before you make your purchase. You'll also need to set up your own crypto wallet before completing a purchase – Anycoin Direct doesn't hold your coins for you.
Selling crypto
Just like their buying service, Anycoin Direct's selling service is nice and simplified. 
Proceeds from selling your crypto go straight into your bank account, rather than sitting on the exchange like other platforms. Users will also need to verify their bank account prior to executing any sell orders.
Once again, there are no charts or complex trading tools – just a simple box where you select your currencies of choice and how much you wish to sell.
Trading crypto
Lastly, Anycoin Direct has a "Trade" feature which allows users to convert between cryptocurrencies. Similar to its other services, these trades take place directly from your own external wallet, with none of your funds being held in custody by the platform itself.
---
3. Currencies and Payment Methods
Anycoin Direct allows users to pay for cryptocurrency purchases strictly in EUR, which makes sense seeing as they're a Europe-only platform. Despite the currency limitation, the range of payment methods available is very wide. The platform accepts purchases via credit card, SEPA, Sofort, iDeal, Giropay, EPS, MyBank and Bancontact. 
On the cryptocurrency side, the platform supports more than 25 different crypto assets for both the buying and selling function.
The cryptocurrencies currently available are:
Bitcoin (BTC)

Ether (ETH)

Ripple (XRP)

Litecoin (LTC)

Stellar Lumens (XLM)

Iota (IOTA)

Neo (NEO)

Cardano (ADA)

Monero (XMR)

EOS (EOS)

Bitcoin Cash (BCH)

Dogecoin (DOGE)

Ontology (ONT)

Dash (DASH)

Pivx (PIVX)

Stratis (STRAT)

Ethereum Classic (ETC)

Zcash (ZEC)

Qtum (QTUM)

OMiseGO (OMG)

Verge (XVG)

Gulden (NLG)

Neo Gas (GAS)

Peercoin (PPC)

Blackcoin (BLK)

Ontology Gas (ONG)
---
4. Fees and Limits
Fees
None of the fees are set in stone on Anycoin Direct, which can be a bit frustrating – however it does make sense for their business model.
Anycoin Direct calculates fees separately for every order, accounting for market volatility and other variables. This is important for them due to the need to "lock in" an appropriate exchange rate and fee to accommodate all purchase methods – some of which can take longer than others.
Fortunately, the fees being charged on each transaction are completely transparent and are displayed clearly in the order summary before you finalize a trade.
Different payment methods do carry different fees, however you'll need to initiate a trade before you can see the fees you are being charged. 
Limits
Both buy and sell limits on the platform are based on your level of identity verification. There are four verification levels:
Level 1: Maximum 1,000 EUR daily and 2,500 EUR yearly for buy/sell/trade

Level 2: Maximum 5,000 EUR daily and 20,000 EUR yearly for buy/sell/trade

Level 3: Maximum 20,000 EUR daily and 50,000 EUR yearly for buy and sell, and maximums of 10,000 EUR daily and 30,000 EUR yearly for the trade function

Level 4: Custom limits
All payment methods have the above limits, aside from Sofort which has a 10,000 daily limit for level 3 and 4.
---
5. Supported Countries
Anycoin Direct caters exclusively to the European market. All customers must have a European Citizenship or a valid Residence Permit, a European bank account, and must be over 18 years of age.
---
6. Customer Support and Reviews
Anycoin Direct has a brilliant track record for customer support, and it's easy to see why. Aside from the usual FAQ section that most platforms have, Anycoin Direct has guides for each and every action you could possibly take on their website. 
Everything from identity verification to buying crypto has its very own step-by-step guide, which helps users of any level through the experience.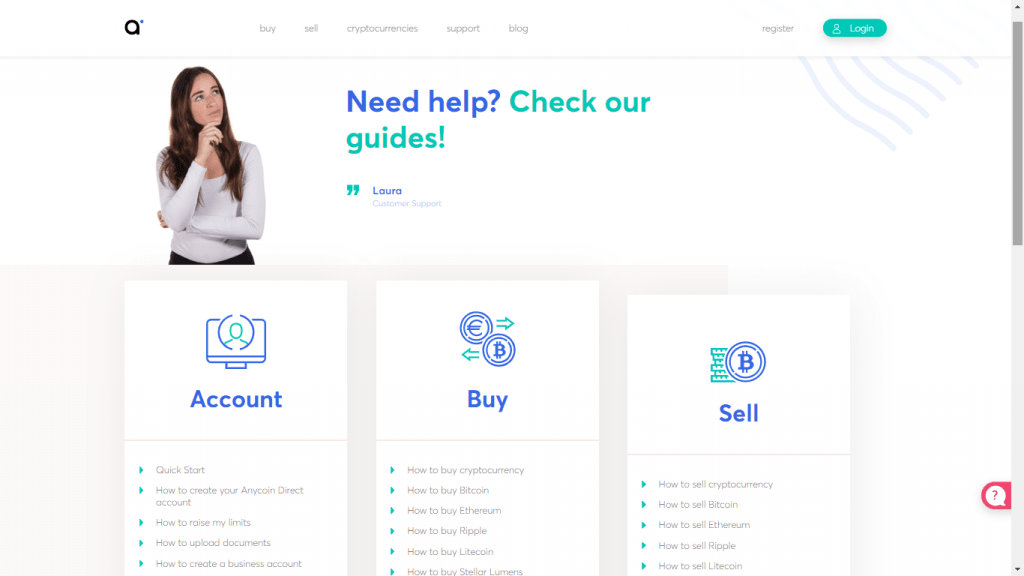 This stellar customer support is highlighted by their score on Trustpilot – scoring an "excellent" 4.4 out of 5 stars on average. This is a rare sight in the cryptocurrency exchange world.
My own experience with the live chat customer support was great. I received a response to all my inquiries within just a few short minutes, each time with a very friendly and helpful team member.
---
7. Conclusion
Anycoin Direct really sets the standard for ease-of-use, simplicity and excellent customer support. Their buy, sell and trade functions are all streamlined and broken down into the most basic way possible, allowing users of any experience level to comfortably participate in the crypto world.
The biggest downside is its lack of concrete fees, which vary with market conditions and payment methods. It's a little bit of a pain to have to initiate a trade to see what kind of fee you'll be charged, however it makes sense for how the platform works.
If you're an EU citizen and just getting into crypto or into hodling, AnyCoin Direct is a great place to start at. However, if you're an advanced trader who likes charts, indicators and precise exchange rates, there's probably more suitable options for you.