This is a step by step guide to mining Bitcoins at home
So you decide to start mining Bitcoins, great! but not so fast…
Before you even start to think about mining Bitcoins you will need figure some stuff out. But don't worry, this guide has you covered. I'll explain each and every step you need to take so in the end you can decide if you want to mine Bitcoins and how to do it as well.
Step 1 – I'm not sure Bitcoin mining is profitable for you
The first thing you'll need to figure out is if it's even profitable for you to mine Bitcoins. I'm guessing that your goal is to have more Bitcoins and that's why you're trying to mine them. But if you figure out how much money you'll need to spend on mining equipment and electricity you'll reach the fact that unless you have a huge amount of money to spend on these – you probably won't be profitable.
In order to find out if Bitcoin mining is profitable you can use a mining profitability calculator. The process of using this tool is explained here. After playing a bit with the data in the calculator you can decide which miner you'd like to buy. If you don't have enough money to spend on mining rigs perhaps it's just better for you to buy Bitcoins instead of mining them.
Step 2 – An expensive mining rig is a must for home mining
At today's mining difficulty it's impossible to mine using your personal computer or even an old mining rig and make a profit. And when I say an "old" mining rig – I mean a rig that wasn't built in the last 6 months.
If you're look for a good rig I'd recommend going with Spondoolies – they makes really mean rigs (but they also cost accordingly). Keep in mind that a mining rig is not all you'll need. These rigs require power and cooling to work better, they are also very loud. So it's best to find a place to put them in which is cool and can supply enough electricity.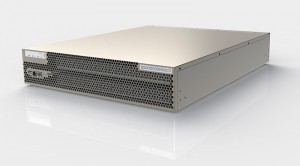 If you don't have such a place you can still host your rig at Spondoolies for a monthly fee. You may also be able to find some bargains on Ebay from companies or individuals who are selling their used equipment.
If you still can't afford one you can try using a cloud mining company – but more on that in a later post.
Step 3 – You can't mine alone, you'll need a pool of miners
Even though you have a bad ass mining rig you still can't mine all by yourself –  the mining difficulty is too high. That's why mining pools were invented – groups of miners who mine together and split the rewards. Once you fire up the miner (explained later) – you'll get shares for your part of the work in solving the next block of transactions.
When choosing which mining pool to join you will need to ask several questions:
What is the reward method – Proportional/Pay Per Share/Score Based/PPLNS
What fee they charge for mining and withdrawal of funds
How frequently they find a block (means how frequently I get rewarded)
How easy it is to withdraw funds
What kind of stats they provide
Do they offer BTC + NMC merged mining?
How stable is the pool?
To answer most of these questions you can use this excellent post from BitcoinTalk. You can also find a complete comparison of mining pools inside the Bitcoin wiki. For the purpose of demonstration I will use Slush's Pool when mining for Bitcoins. Once you are signed up with a pool you will get a username and password for that specific pool which we will use later on.
Step 4 – Get a mining program for your computer
Now that you've got the basics covered we're almost ready to mine. You will need a mining client to run on your computer to that you will be able to control and monitor your mining rig. Depending on what mining rig you got you will need to find the right software. Many mining pools have their own software like Bitminer but some don't. You can find a list of Bitcoin mining software here.
I'm using a mac so I will use a program called MacMiner. The most popular program I've found for a PC are BFGMiner and 50Miner  . If you want to compare different mining software you can do this here.
Step 5  – It's time to start mining
OK, so hopefully now everything is ready to go. Connect you miner to a power outlet and fire it up. Make sure to connect it also to your computer (usually via USB) and open up your mining software. The first thing you'll need to do is to enter your mining pool, username and password.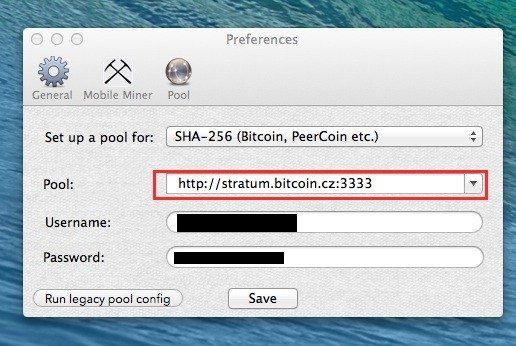 Once this is configured you'll basically start mining for Bitcoins. You will actaully start collections shares which represent your part of the work in finding the next block. According to the pool you've chosen you will be paid for your share of coins – just make sure that you enter your address in the required fields when signing up to the pool.
Conclusion – Perhaps you'd prefer cloud mining
This guide explained the basics of how to mine Bitcoins at home. I assume that if you are like most people – you know understand how expensive and time consuming this process can be. If you're looking for an alternative you may want to consider cloud mining. In the next post we'll review how this is done. If you have any more questions about how to mine don't hesitate to post them in the comments below.