Best Bitcoin Mining Software Reviewed
Last updated: 2/27/19
If you're thinking of getting into Bitcoin mining, one of the things you're going to need is a software to run your mining hardware. In this post I will review the top Bitcoin mining software in 2019. Read on!
Post Summary
Whether if you're joining a pool or mining solo, you will need to get familiar with the most up-to-date mining software. The different software options out there vary by the miner types they support (GPU/ASIC/FPGA), supported platforms (Windows, Linux, etc.) and more.
Whatever your choice might be, remember you need to follow certain steps to successfully mine Bitcoins:
Get the right Bitcoin mining hardware. Today only ASIC miners are a viable option for mining Bitcoin.
Get the best software that matches your needs
Decide whether you're joining a pool or going solo
Start mining
Here are the top mining software around and what I will review in this post:
---
1. Bitcoin mining overview
If you are reading this it means you are familiar with the fundamentals of Bitcoin mining and have the necessary hardware for mining. If not, before moving forward I suggest you go back and read our guide on this subject.
Mining software is an essential part of your mining operation. It provides you an interface to monitor and manage your miner's settings (clocking speed, fan speed, etc.). More importantly, it allows you to put your miner to work and start making money by connecting to a pool, or to the Bitcoin network if you are mining solo (not recommended).
There are several things you need to look out for when choosing your mining software. For one,  are you going to mine other coins than Bitcoin? Nowadays, Bitcoin mining can only be done by ASIC miners, so whatever software you choose it has to support ASICs. However, if you have other miners on your rig and you wish to manage all of them through the same interface, you'll need the proper software to support it.
Another important thing is the platform you're using to manage your miners; Whether it's Windows, Mac OS or Linux – you'll need to choose the right software. So, without further ado, let's review the best mining software available out there.
---
2. Bitcoin mining software review
1. CGminer
Pros: Supports GPU/FPGA/ASIC mining, Popular (frequently updated)
Cons: Textual interface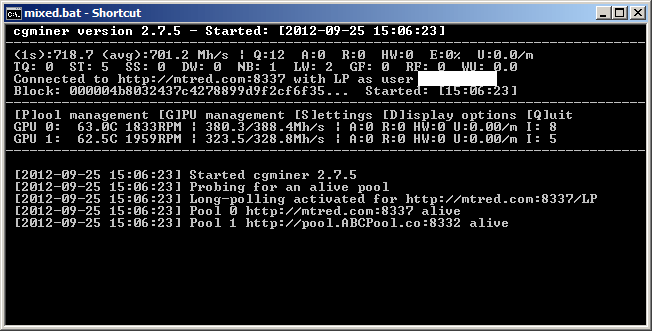 Going strong for many years, CGminer is still one of the most popular GPU/FPGA/ASIC mining software available. CGminer is a command line application written in C. It's also cross platform, meaning you can use it with Windows, Linux and Mac OS.
The software includes overclocking, monitoring, fan speed control and remote interface capabilities, among others. With ASIC, FGPA & GPU and multi pool support, CGminer is more than an adequate solution to handle your mining operation.
---
2. BFGminer
Pros: Powerful miner with many features, Cross platform, including Raspberry Pi
Cons: GPUs not supported, Suitable for more advanced users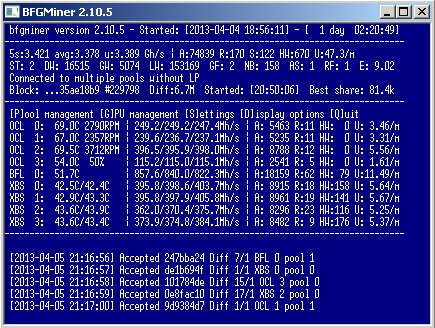 Unlike CGminer, BFGminer is designed specifically for FPGA and ASICs and doesn't support GPU mining. More oriented towards the tweaking audience, it features dynamic clocking, monitoring and remote interface capabilities.
Besides being a super versatile program, BFGminer is also cross platform, including an option to install on Raspberry Pi which is pretty neat. Though text based, the interface is very straightforward and you can use hotkeys to go through the different options it offers.
Lastly, BFGminer has a watchdog thread to detect idle threads and restart them or stop failed reconnects to spare your resources. Among the ASICs supported by BitMinter you could find Antminer U1/U2, Block Erupter USB, Red/Blue Fury and more.
---
3. EasyMiner
Pros: Graphic UI, Moneymaker mode for quick start-up
Cons: Windows installation triggers AV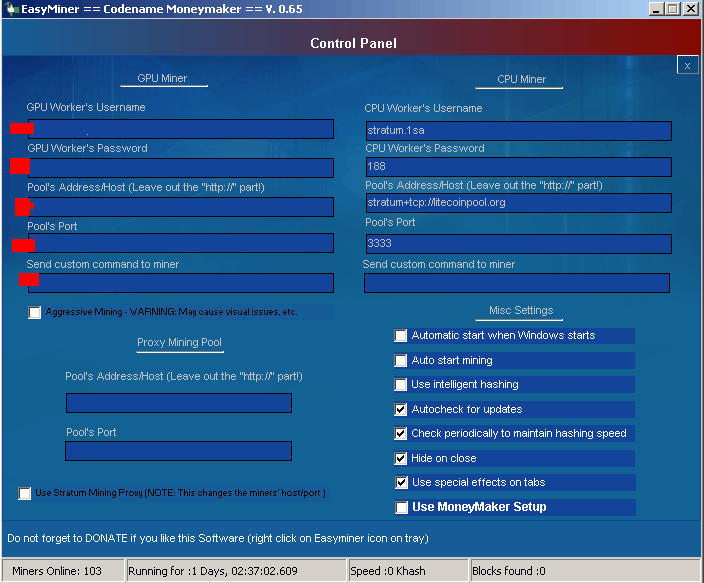 More of a GUI-based version of BFGminer and CGminer than a miner by itself. EasyMiner is a user friendly solution for miners that don't like to work on the popular Command Line Interface-based mining tools. With this tool you can also get graphical visualisation of your statistics and performance which is pretty neat.
Like other mining software, EasyMiner allows you to configure your miners to connect to external mining pools or mine solo. Additionally, the tool includes its own "MoneyMaker" mode which allows you to instantly create a paper LTC wallet and connect to its own private pool.
From several testimonials, it appears that Windows antivirus software products tend to get jumpy along the installation process. Apparently, this is "thanks" to some hackers that used malicious versions of the miners as part of a botnet attack on affected users. Also, while officially EasyMiner is only available for Windows, you can find an Ubuntu version of the software on this link.
---
4. MultiMiner
Pros: Beginner friendly, Graphic UI
Cons: Installing on other OSs than Windows requires some work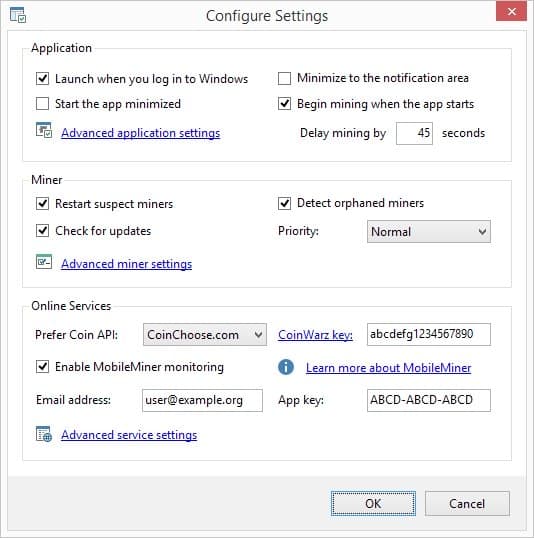 Known as one of the most beginner friendly mining software out there, BFGminer-based MultiMiner is a graphical, powerful yet simple solution for your Bitcoin mining needs. Once the installation process is done, the tool detects your installed mining hardware and creates a table with all the required info.
The software allows you to choose which coins you wish to mine per the connected mining device (GPU, ASIC, FGPA). MultiMiner is also packed with additional features such as an option to choose your mining strategy, remote access to your rig and tooltips to get your familiar with the complicated mining terms.
Though very appealing for newcomers, MultiMiner also allows more advanced options for power users such as direct access to API settings and engine arguments. MultiMiner is cross-platform. For detailed information on the latest releases and instructions on how to install on different OSs, follow this link.
---
5. BitMinter
Pros: Easy and intuitive UI, The pool's site is informative and approachable
Cons: Supports only BitMinter's pool, As of writing, the pool shows little activity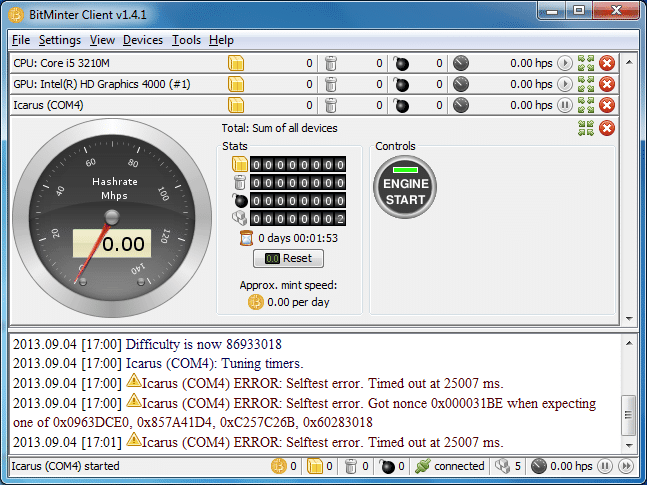 Originally started as an idea to create a user friendly mining software, Bitminter is now a fully fledged mining pool. It belongs in this article thanks to its dedicated client which allows you to use its services quickly and easily.
The software's official website is quite complete and straightforward: for the creators of the program, it's all about making Bitcoin mining "easy" and winning "high payouts".
BitMinter is different because it's a software that belongs to a mining pool, so your initial step is to register and fill in the pool sign-up form. So, it's a great option if you're looking for a simple installation.
Besides being available for operative systems like Windows, Linux and Mac OS X, BitMinter assures a good mining speed and long polling in order to reduce stale work.
---
3. Conclusion
Bitcoin mining software is an essential component of any mining operation. Whether you're mining solo or as part of a pool, the software is your only way to monitor, configure and connect your hardware to the network.
While it's clear that you have to match the software to the hardware you already have, there are some points you might overlook:
Get a bitcoin wallet – The result of successful mining are newly minted Bitcoins. You want to have a safe place to keep them in, preferably a hardware wallet
Beware of scammy download links! Bitcoin software is a potential way for hackers to steal your money. Download the software from official links only.
That's it! If you have some personal experience with mining software or think I missed something, please leave a comment in the comments section below.
Happy mining!
Bitcoin Video Crash Course
Dummy-proof explainer videos enjoyed by over 100,000 students. One email a day for 7 days, short and educational, guaranteed.
We hate spam as much as you do. You can unsubscribe with one click.