Note: If you're looking to buy Ethereum for trading purposes only you may want to check out  Plus500 or AvaTradeAvaTrade Ethereum CFD trading. Keep in mind that when trading CFDs your capital is at risk.
Lately there has been a lot of talk about the hottest altcoin in the community – Ethereum.
What is Ethereum?
Ethereum is a cryptocurrency and a blockchain platform with smart contract functionality. It's basically a decentralized platform for developers to build apps on top of and it was invented by Vitalik Buterin in 2013.
Ethereum can be used to codify, decentralized, secure and trade just about anything: voting, domain names, financial exchanges, crowdfunding, company governance, contracts and agreements of most kind, intellectual property.

And what is Ether?
Well, Ether is the currency of the Etherium platform. Ether will be required by anyone wishing to build upon or use the Ethereum platform. Just like BItcoin, Ether can be traded around the web and mined. In a second I'll show you exactly where you can buy it. Most people use the term Ethereum to refer to the currency instead of Ether and that's why it can get so confusing.
The total supply of ether and its rate of issuance was decided by the donations gathered on the 2014 presale of the currency. The results were roughly:
60 million ether created to contributors of the presale
12 Million (20% of the above) were created to the development fund, most of it going to early contributors and developers and the remaining to the Ethereum Foundation
5 ethers are created every block (roughly 15-17 seconds) to the miner of the block
2-3 ethers are sometimes sent to another miner if they were also able to find a solution but his block wasn't included (called uncle/aunt reward)
The founders of Ethereum state that Ether is not a currency as much as it is "crypto-fuel", meaning it's a token that has one main use – to pay for the Ethereum platform. This means that you probably won't be able to buy stuff with Ether online. However you can still trade it and invest in it in hopes its price goes up.
Because Ether is less "mature" than Bitcoin at the moment, it's less suitable for non technical people. For example, you can download Ether's official wallet app from github, but there's no "user friendly" version of it yet. There's also MyEtherWallet and EthereumWallet available with a simple interface.
Ethereum (ETH) vs. Ethereum Classic (ETC)
Ethereum Classic is a cryptocurrency that was created due to a disagreement with the way original Ethereum conducted business. The catalyst for the split was due to a hacker finding a way to steal $60m worth of Ethereum coins. The supporters of ETH said that the code should be altered and the stolen coins should be refunded, while the supporters of ETC said that "code is law" and whatever happened happened. So in real life what happened is that ETC was the same original Ehtereum code and ETH forked their code to create a new Ethereum.
Therefor 2 identical competing currencies were created that had 2 different exchange rates. Today ETH's price is much higher and is more common in the general cryptocurrency community.
How to Buy Ethereum in 3 steps
Step 1 – Get an Ethreum Wallet
Before starting the buying process you will need to get an Ethereum wallet to hold your Ether. There are many types of Ethereum wallets. Here is a short breakdown of the most popular Ethereum wallets.
Ethereum Hardware wallets
Hardware wallets are the most secure way for storing Ether. The main hardware wallets that support Ethereum are Ledger and TREZOR.
Electrum Software wallets
If you're just starting out with Ethereum, don't have a lot of Ether to store or don't have the money to buy a hardware wallet you can use free software wallets. These wallets are free of charge but are less secure since they are constantly connected to the Internet (and therefore can be hacked).  The top Ethereum wallets are Exodus, Jaxx, MyEtherWallet.
Step 2 -Buy Ethereum (credit card, wire transfer and cash) in
The easiest way to buy Ethereum (i.e. Ether) would be through one of the popular Ethereum exchanges. It's important to make a distinction between an actual Ethereum exchange that will sell you Ether and platforms like eToro that only let you speculate on the price.
Platforms like eToro don't give you actual access to your coins and you can't send coins from eToro to other people. The only thing that can be done with the platform is to buy and sell Ethereum for fiat currency (i.e. Dollars, Euros, etc.). This method is only valid if you live outside of the US.
IMPORTANT! If you use eToro you don't actually need an Ethereum wallet as they don't supply you the actual coins. Also, Cryptocurrencies can widely fluctuate in prices and are not appropriate for all investors. Trading cryptocurrencies is not supervised by any EU regulatory framework. So keep in mind that your capital is at risk.
Buy Ethereum through Coinbase
The most convenient and cheapest way to buy Ethereum would be Coinbase (if it's available in your country):
Open a Coinbase account
Add your payment method (Credit card or bank account)
Go to "Buy/Sell" and select the amount of Ethereum you desire
Click "Buy Ethereum"
Coinbase will sell you ETH for a fee of 1.49%-3.99% depending on your payment method (credit cards have a higher fee than wire transfers).
Visit Coinbase
Read our Coinabse review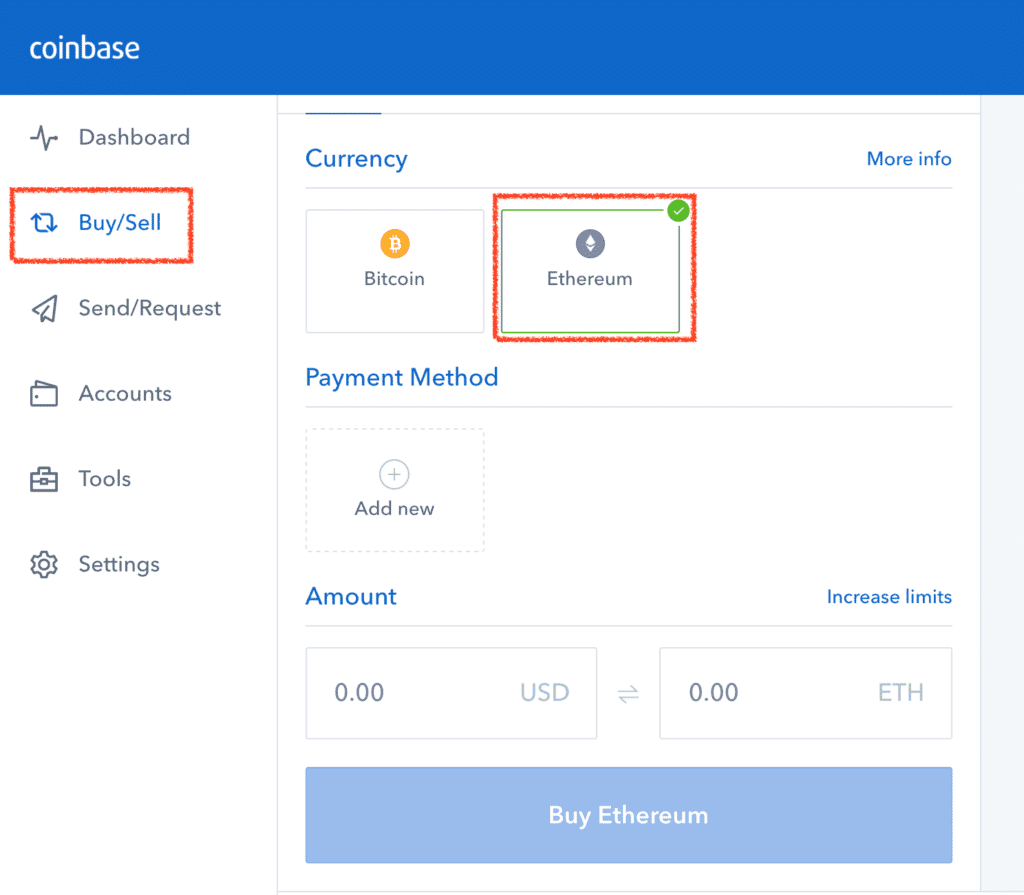 Buy Ethereum through Cex.io
CEX.io is a Bitcoin exchange that also sells ETH via a credit card. The fees for on CEX.io are already calculated into the exchange rate, that's why it will seem higher than other exchanges. For example, the exchange rate for 1 ETH on CEX.io can be around 7% higher than on Coinbase. However, CEX.io works with countries worldwide (unlike Coinbase).
Open a CEX.io account
Add your payment method (Credit card or bank account)
Go to "Buy/Sell" and select Ethereum
Choose the amount of Ethereum you want to buy
Click on "buy Ethereum"
Buy Ethereum on Cex.io
Read our Cex.io review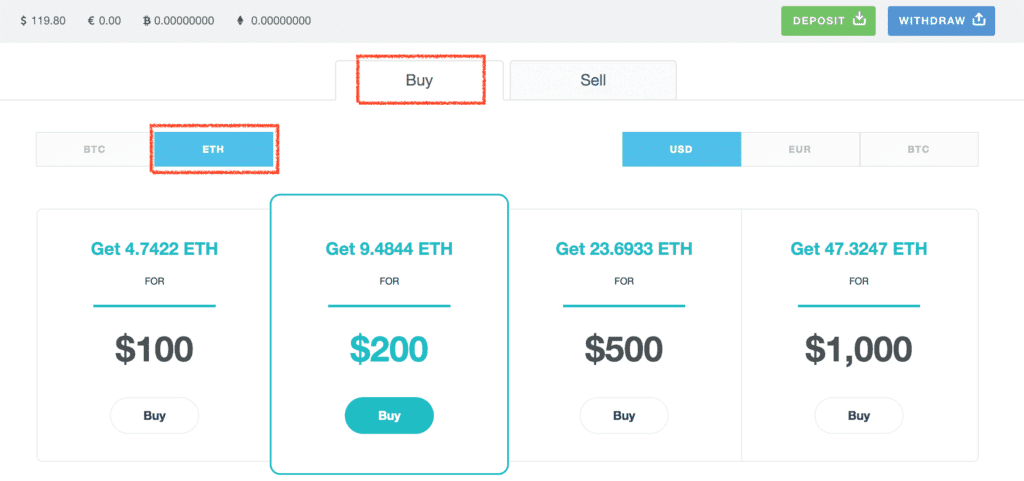 Buy Ethereum through Coinmama
Coinmama is a worldwide seller of Ethereum. The site allows you to buy Ethereum with your credit card and exchange rates are relatively fair considering the alternatives. Coinmama is a very reputable exchange that has been working in the cryptospace since 2014.
Buy Ethereum on Coinmama
Read our Coinmama review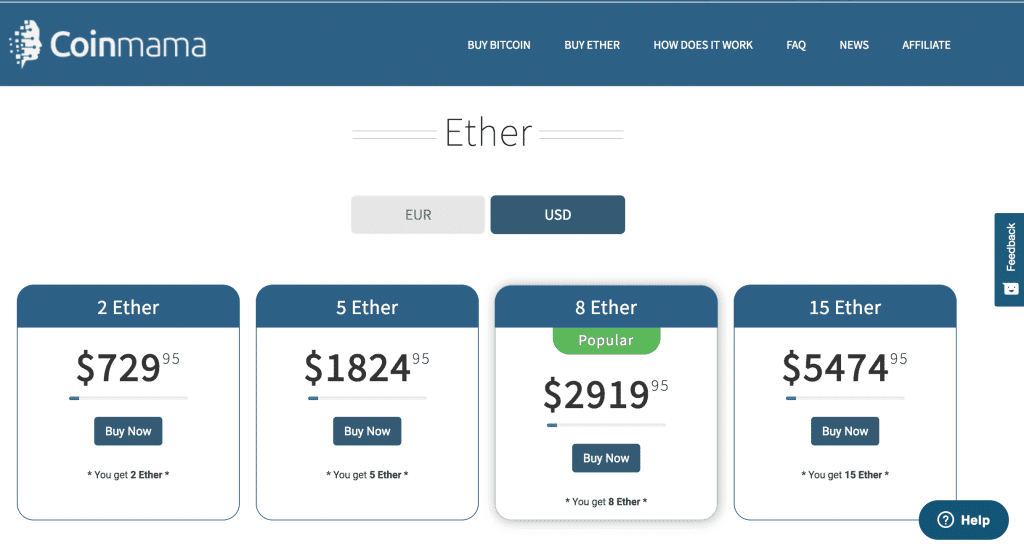 Exchanging Bitcoin (or any other altcoin) for Ethereum through Changelly
One of the easiest ways to buy Ethereum if you already have Bitcoin (or any other altcoin) is to change it to Ethereum via Changelly. From personal experience it takes around 30 minutes to get a coin traded from one type to another and the interface is very clean and intuitive. However don't use the exchange to buy Ethereum with fiat currency since the fees are extremely high.
Visit Changelly
Read our Changelly review
Buy Ethereum through Coinhouse
If you live in the EU (Eurozone) another good option could be buying Ethereum from Coinhouse. The company is a Bitcoin and Ethereum broker that started out supplying service only to people from France and gradually expanded to the rest of Europe. You can pay via a credit card, debit card or Neosurf.
Buy Bitcoins on Coinhouse     Read our Coinhouse review
Buy Ethereum through Bitfinex
Bitfinex is a well established exchange that allows you to buy Ethereum if you live outside of the US. Another issue is that the exchange recently halted fiat deposits so you'll need to have some sort of cryptocurrency if you want to buy Ethereum through this platform.
Visit Bitfinex
Read our Bitfinex review
Buy Ethereum with cash / from an individual through LocalEthereum
LocalEthereum is a marketplace that allows individuals to connect with each other in order to buy and sell Ethereum. The concept is similar to LocalBitcoins. While the variety and flexibility of this marketplace are usually high, the risk is also high. You have to make sure the person you're dealing with is legit before conducting a trade.
You can also get Ether from several Bitcoin exchanges like Kraken, Poloniex and Shapeshift.io.
Step 3 – Withdraw the Ether to your wallet
Once you bought Ethereum remember to make sure the coins are sitting in your own personal wallet. This is relevant mainly when buying Ether from an exchange. If you leave your coins on the exchange and the exchange gets hacked or becomes insolvenat you may end up losing your coins.
How to read an Ethereum transaction
Once you've made your purchase you'll be able to follow your transaction through the use of an Ethereum block explorer. A full explanation of how to read an ETH transaction can be found in this guide.
Don't want to buy? You can day trade as well
If you're only into Ethereum to profit on the exchange rate you can also invest in Ethereum CFDs (contract for difference). The idea is that instead of actually buying Ethereum you can just trade according to the exchange rate. CFDs is usually suited for experienced traders and your money is at risk when doing so. At the moment Plus500 are the only company that offers Ethereum CFDs.
You can also mine Ethereum
Mining Ethereum uses proof-of-work. It's similar to Bitcoin mining in a sense that there is a diminishing block reward for every block mined.
You can try mining Ethereum using your own computer (CPU mining), but it will probably not get you too far. However, if you have a dedicated GPU set up for the task then you can get some real rewards. For information on exactly how to mine Ether visit Ethereum's official web page or on our blog post about it.
Ether and Ethereum in general are disruptive technologies that are set to change how the Internet works. Whether it succeeds or not remains to be seen, but for now you can easily get your share of "the Internet's future" by following the steps mentioned above.
If you want to learn more about Ethereum you can use the variety of social channels dedicated to the platform: Facebook, Twitter, YouTube, Reddit, StackExchange and the Etheruem blog.