How to Buy Bitcoins in Nigeria
By: Ofir Beigel | Last updated: 2/9/22
Bitcoin seems to be growing popular in Nigeria in the past few years. This guide covers the legality of Bitcoin in Nigeria, how popular it is, which Bitcoin exchanges you can use to buy it and more.
How to Buy Bitcoin in Nigeria summary
While Bitcoin is not accepted as an official currency in Nigeria, you can own and trade it on exchanges. To quickly get Bitcoin in Nigeria, follow the steps below:
Download a software wallet
Go to Luno and create an account
Choose how many Bitcoin you wish to buy
Enter your billing information and Bitcoin address
If Luno doesn't work out for you here are some additional buying options for Bitcoin in Nigeria.
Thats' how to buy Bitcoins in Nigeria in a nutshell. For a more detailed guide keep on reading, here's what I'll cover:
---
1. Is Bitcoin legal in Nigeria?
There has been a somewhat cautious stance taken by the Nigerian government regarding Bitcoin. In 2015, the Central Bank of Nigeria (CBN) issued a circular which warned Nigerians of the volatility of Bitcoin.
It also stated that it was not responsible for the price of Bitcoin. In January 2017, the CBN issued another circular, this time to banks. It stated that bank transactions in Bitcoin and other forms of virtual currency were banned in Nigeria.
While this doesn't sound positive, further clarification was provided later in 2017 by the Deputy Director on Banking and Payments System, Musa Itopa-Jimoh. He stated that the CBN's warning had been misinterpreted and that CBN could not control or regulate Bitcoin since, like the internet, they don't own it.
The CBN has since set up a committee with the Nigeria Deposit Insurance Corporation (NDIC) to look into the possibility of adopting blockchain technology.
---
2. Bitcoin's Popularity in Nigeria
Adoption of Bitcoin in Nigeria has skyrocketed starting in late 2016, as shown by LocalBitcoins trading volume: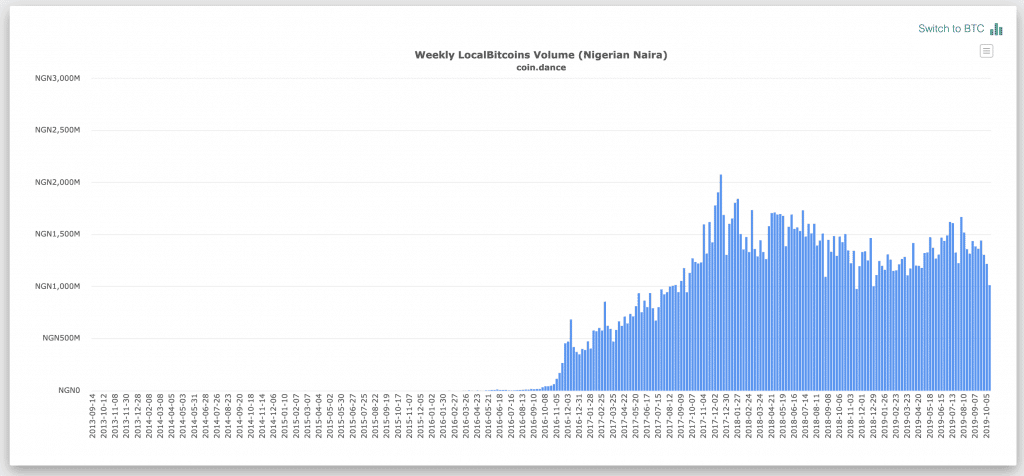 Weekly trade volume in Nigeria reached almost 2 billion Naira but has since moderated to around 1.3 billion per week. This indicates that while the speculative mania which burst in early 2018 has ended, many Nigerians are still using Bitcoin, probably as a store of value due to the unstable economy or for making international payments.
Google Trends shows search interest in "Bitcoin" in Nigeria correlates well with Bitcoin's price performance over the last years, with the search term 'Bitcoin' reaching peak popularity in late 2016 and again in December of 2017, and then subsequently declining.
However, search interest appears to be off its lows and trending upwards very slightly: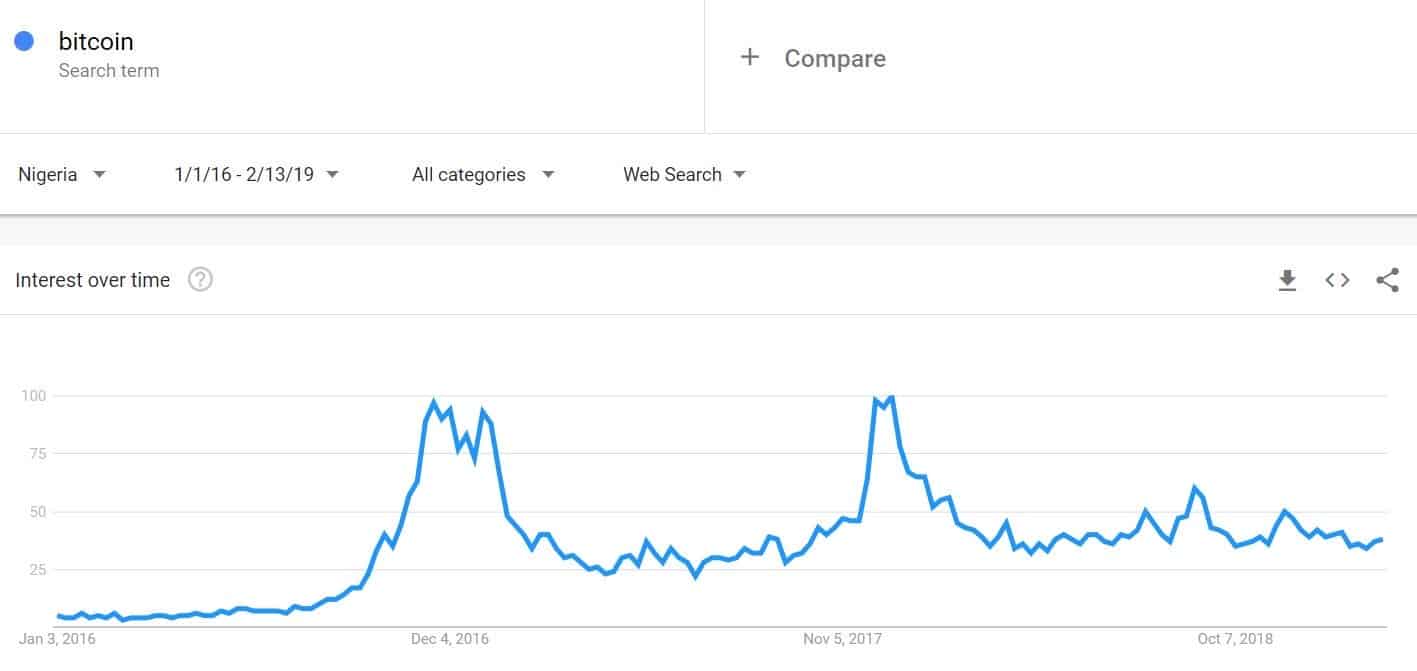 ---
3. Bitcoin communities in Nigeria
Nigerian Bitcoin communities can be found on both Facebook and Reddit:
---
4. Local Nigerian Bitcoin Exchanges
There are several Bitcoin exchanges based in Nigeria, making it easy to buy and sell BTC. However, only a few of these exchanges are reputable.
In particular, NairaEX is the biggest Nigerian Bitcoin broker and is your best bet when it comes to Bitcoin exchanges in Nigeria.
NairaEX
NairaEX, launched in 2015,  is the largest Bitcoin exchange in Nigeria. It claims to have over 100,000 users and makes buying and selling Bitcoin quick and easy.
Bitcoins can be purchased there with cash via bank deposit as well as by bank transfer and Perfect Money. ID verification is required but the process is simple. There is a 10,000 Naira minimum order.
Bitcoin Africa
Bitcoin Afrika is a relatively young Nigerian Bitcoin exchange. Founded in 2017, it has an automated escrow service and allows users to buy Bitcoin and altcoins with Visa and Mastercard.
Fees are charged when Bitcoin is successfully bought or sold at a rate of 0.5%. Bitcoin Afrika may be a smaller Bitcoin exchange but it offers good customer service with comparatively quick reply times.
---
5. International Bitcoin Exchanges in Nigeria
You're not just limited to Bitcoin exchanges in Nigeria. You can also buy and sell Bitcoin on certain international exchanges such as the following:
CEX.IO
CEX.IO is a London based exchange that allows you to purchase Bitcoins with a credit card, debit card or wire transfer. Other advantages of CEX.IO include the ease of use and quick customer support. However, fees charged for credit and debit card purchases are quite high.
You can read my complete CEX.io review here.
Luno
Luno operates in many countries including Nigeria. Originally founded as BitX, it was renamed in 2017. It has relatively low fees while deposits are free of charge.
Unfortunately, there aren't many payment methods available with bank transfer being the main option. Luno also offers a Bitcoin wallet which is available for web, Android and iOS.
You can read my complete Luno review here.
Changelly
Changelly allows you to trade cryptocurrency instantly and with minimal verification. You'll need to sign up for a Changelly account but no personal information is needed.
There are dozens of cryptocurrencies to choose from and each trade incurs a 0.5% fee which is reasonable. Because you send the funds straight to your wallet, there are no withdrawal fees either.
You can read my complete Changelly review here.
LocalBitcoins
LocalBitcoins is available almost anywhere around the world. It's possible to buy Bitcoins with many different payment methods which adds convenience. While LocalBitcoins offers greater privacy, fees can sometimes be higher, particularly when paying in cash.
Caution is advised when dealing with sellers from Nigeria as there are some scams (here's how to avoid most of them).
You can read my complete LocalBitcoins review here.
---
6. Bitcoin ATMs in Nigeria
As of 2017, there are no Bitcoin ATMs in Nigeria according to CoinATMRadar.
---
7. Conclusion
Although Bitcoin's legal status in Nigeria is a little murky, for now it seems that Bitcoin trading is continuing as normal. Hopefully the government will clarify its stance in future. As
Nigerian exchanges are operating as normal and accepting bank deposits and withdrawals, it seems the de facto status of Bitcoin is that it's acceptable to use within the country.
Despite the 2018 bear market, Bitcoin remains popular in Nigeria, possibly because it's a way for Nigerians to avoid Naira depreciation and to remit value.
Have you had any experience with buying Bitcoins in Nigeria? If so, I'd love to hear about it in the comment section below.