SecuX niftyX & V20 Review
By: Alex Miguel | Last updated: 8/15/23
The NiftyX and V20 are two different hardware wallets made by SecuX, a company based in Taiwan. In this review, I'll cover my personal experience with the SecuX niftyX and v20, including their setup processes, features, and everything in between.
SecuX niftyX & V20 Review Summary
The SecuX niftyX and V20 are both great quality touch screen hardware wallets, which come at a competitive price for their features.
Both wallets support a massive range of assets, with the niftyX focusing more on the storage and management of NFTs. Each wallet can be used with a companion app via bluetooth or data cable, both for normal transactions and the use of decentralized apps (dApps).
That's the niftyX & V20 in a nutshell. If you want a detailed review of my experience with these SecuX hardware wallets, keep on reading. Here's what I'll cover:
---
1. What is a Hardware Wallet?
A hardware wallet serves as a type of cryptocurrency wallet that enables people to store their coins in "cold storage." In essence, this means that cryptocurrency is kept offline and isolated from other devices, preventing direct internet access.
This strategy assists in guaranteeing the long-term security of crypto private keys, as offline storage is infinitely more difficult for unauthorized access compared to online storage.
---
2. Company Overview
SecuX Technology Inc. is a blockchain company founded in 2018 and based in Hsinchu, Taiwan.
The company produces a range of different electronic hardware wallets and accompanying apps, as well as physical seed phrase storage products known as the X-SEED range. They also offer a unique crypto-optimized payments terminal, along with a merchant dashboard software solution.
SecuX was awarded the Best Cross-Platform Crypto Hardware Wallet by CV Magazine in the United Kingdom in 2019.
---
3. What's in the box?
The SecuX niftyX comes in a premium-feeling box with a slide-out compartment, and a clear series of setup instructions printed on the packaging.
Inside the box, you'll find the niftyX device, a USBC to USB connecting/charging cable, three X-SEED metal seed phrase cards, two regular seed phrase cards, and one NFT mint card.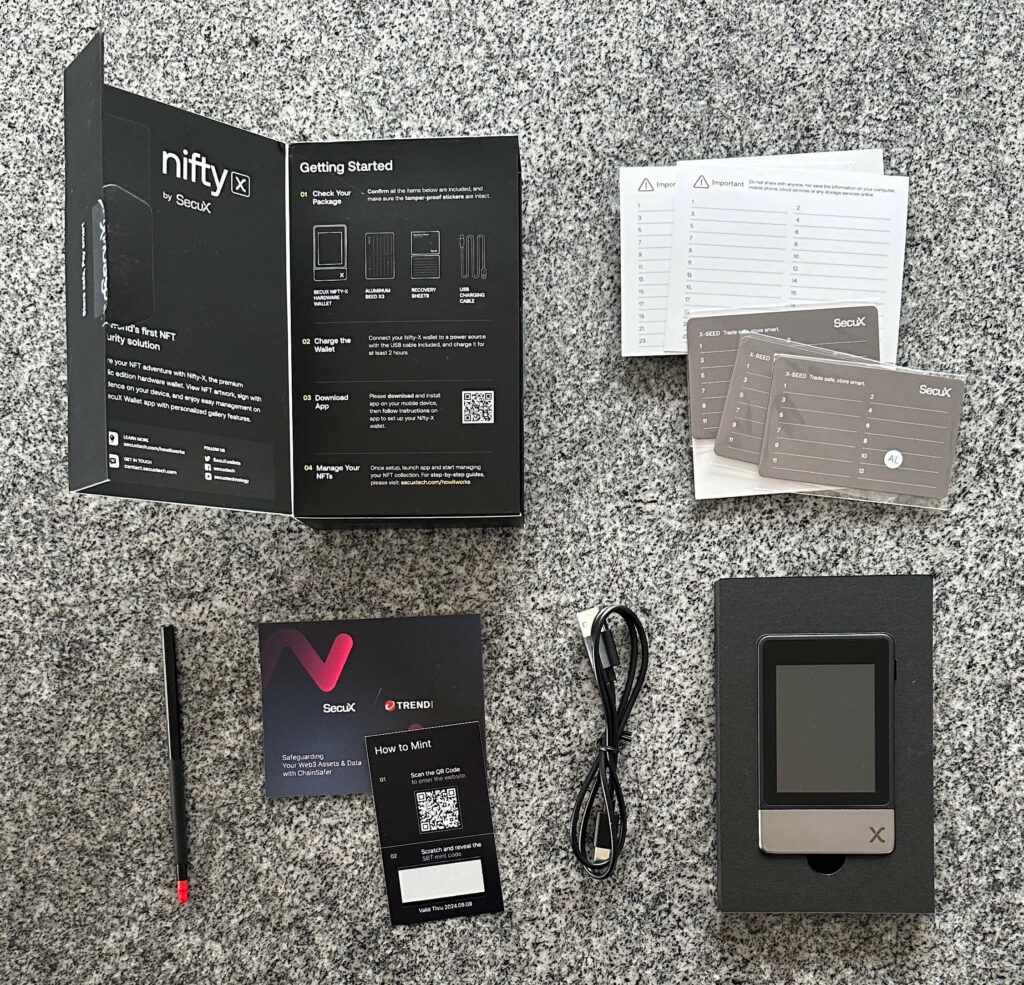 The SecuX V20 comes in a box with a less premium feel than its NFT-friendly counterpart, however still comes with all the essentials.
In the V20 box, you'll find one SecuX V20 hardware wallet device, a USBC to USB cable, two regular seed phrase cards, a hidden wallet detail card, a getting started guide and a plush bag for the device.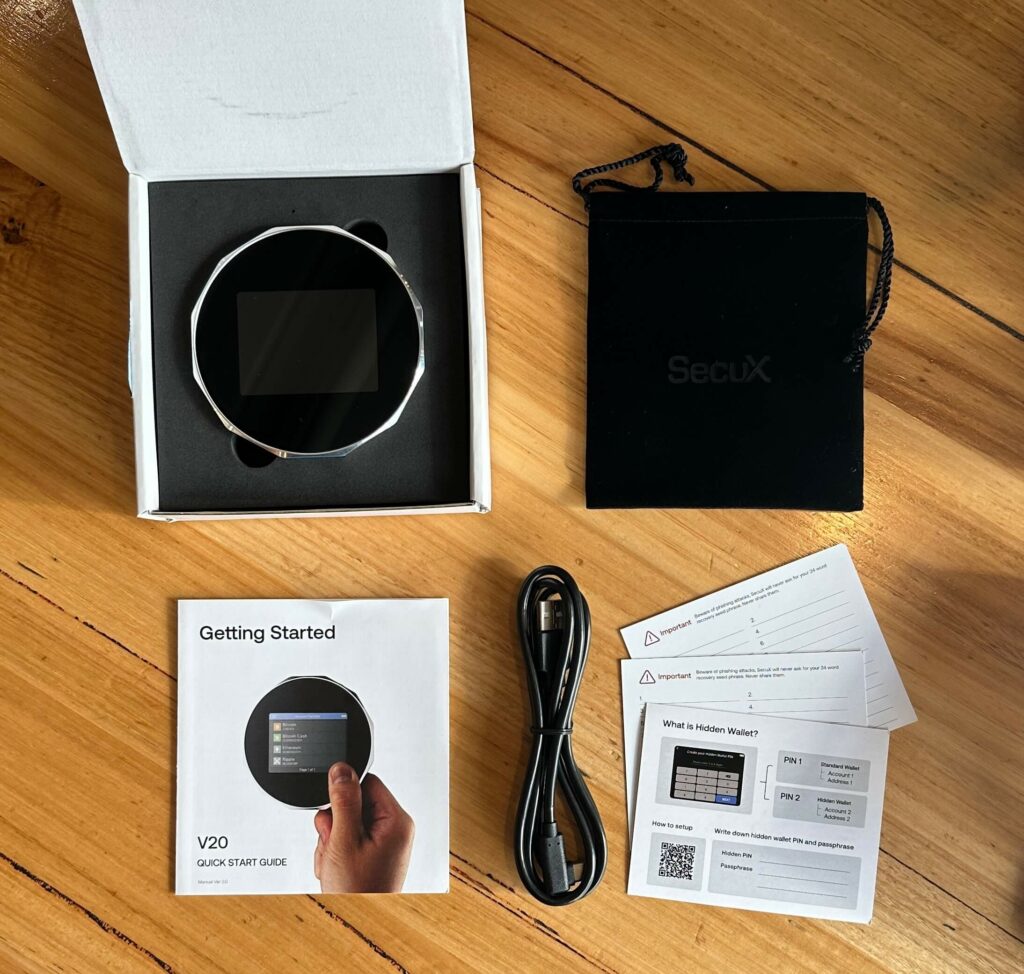 ---
4. SecuX niftyX & V20 Supported Coins
Both the SecuX niftyX and V20 wallets are capable of storing thousands of assets, from several different blockchains and scaling networks. These include, but are not limited to:
Bitcoin (BTC)
Bitcoin Cash (BCH)
Ethereum (ETH)
Solana (SOL)
Litecoin (LTC)
BNB (BNB)
Tether (USDT)
USD Coin (USDC)
Dai (DAI)
Lido Staked Ether (STETH)
Polygon (MATIC)
300+ EVM Chains
These additional EVM chains include a huge range of popular chains such as Tron and Binance Chain (as well as tokens on those networks).
Although the niftyX and V20 wallets can both store ERC-20 tokens and NFTs, the niftyX wallet is tailored specifically to storing and viewing NFTs on the device.
---
5. How Do I Set Up My SecuX Wallet?
Step 1: Power-on & set up a pin
Power on your SecuX niftyX or V20 device by holding down the physical button on the side of the device.
Follow the appropriate instructions on the screen, then create and confirm an access PIN number.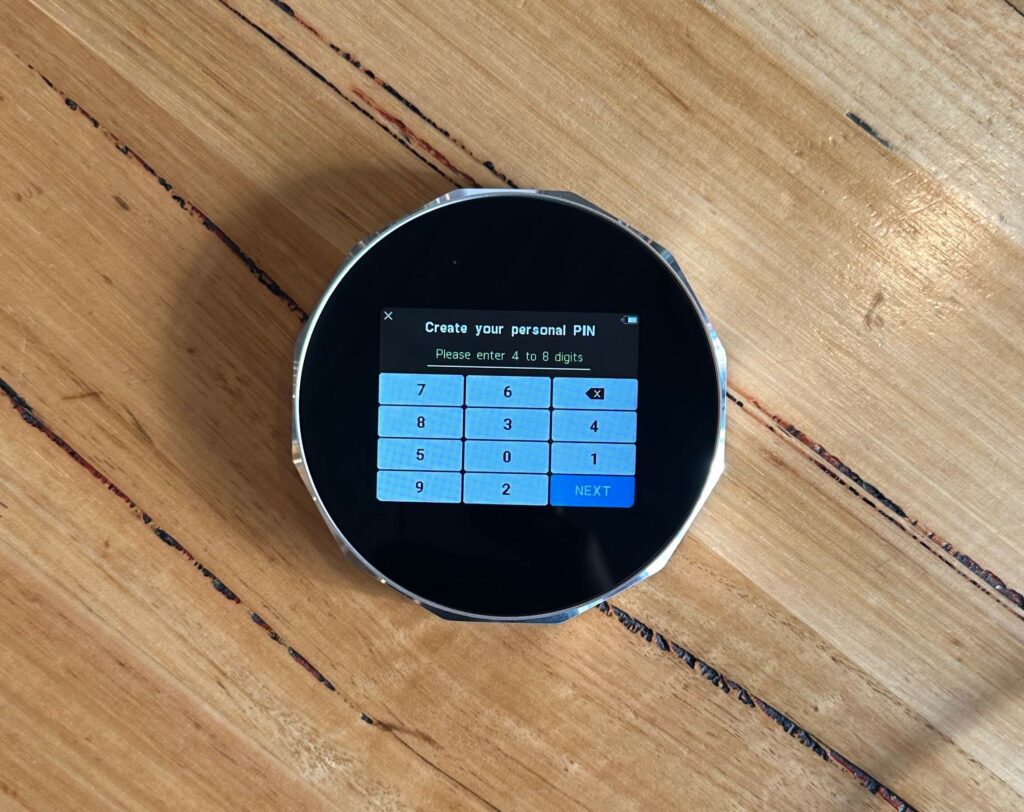 Once you've confirmed your pin, select "Create new wallet."
Step 2: Write down & verify seed phrase
Your wallet will then ask you to write down and verify your seed phrase. You can write this seed phrase down with a pen on one of the handy seed phrase cards provided with your SecuX device.
If you bought or received any X-SEED metal cards, you can use one for this step (three came free with my niftyX wallet).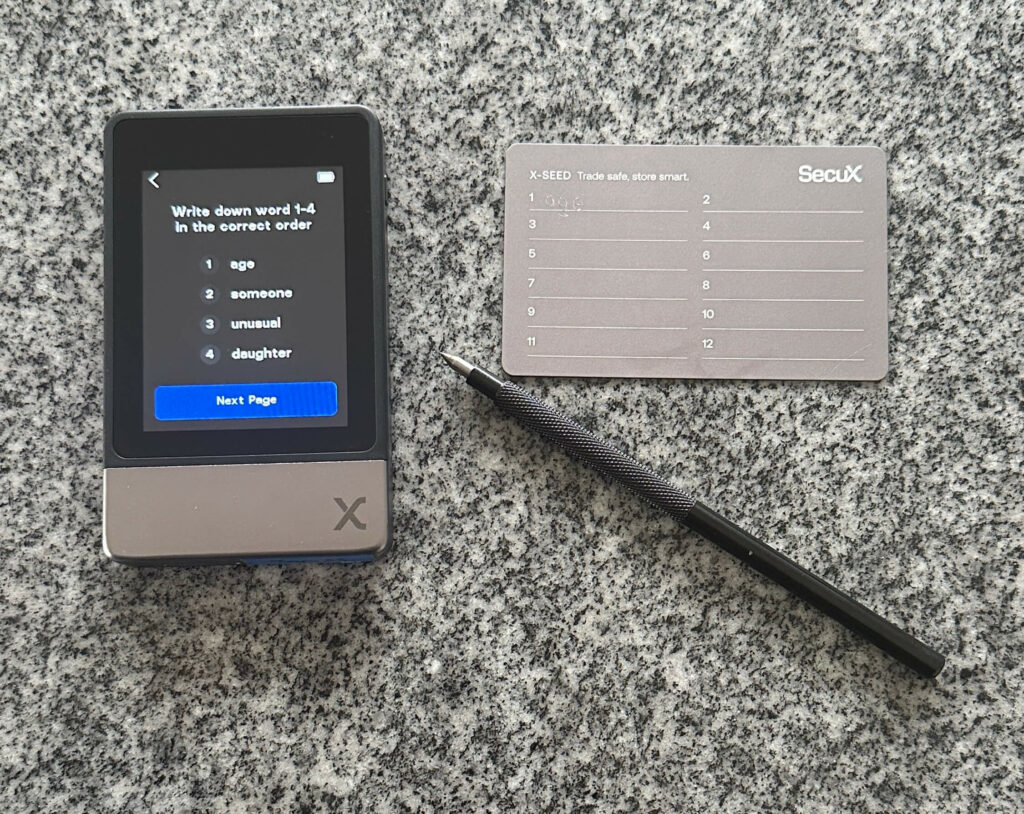 Verify the seed phrase by following the instructions on your device.
This is very sensitive and important information – make sure you store it securely and don't show anyone!
Step 3: Create a wallet account
Now it's time to create wallet accounts on your device, in order to load it with the assets you wish to store.
To do this, sync the wallet with the appropriate SecuX companion app. For the niftyX, download the SecuX Wallet app from your mobile phone's app store and sync your device via bluetooth.
For the V20, download the SecuX Mobile app on mobile, or simply navigate to the SecuXess app on your web browser. Sync your device via bluetooth or the USB cable provided.
Once connected, you can easily set up accounts and manage your assets. Any transactions out of those accounts will need to be confirmed on the device itself.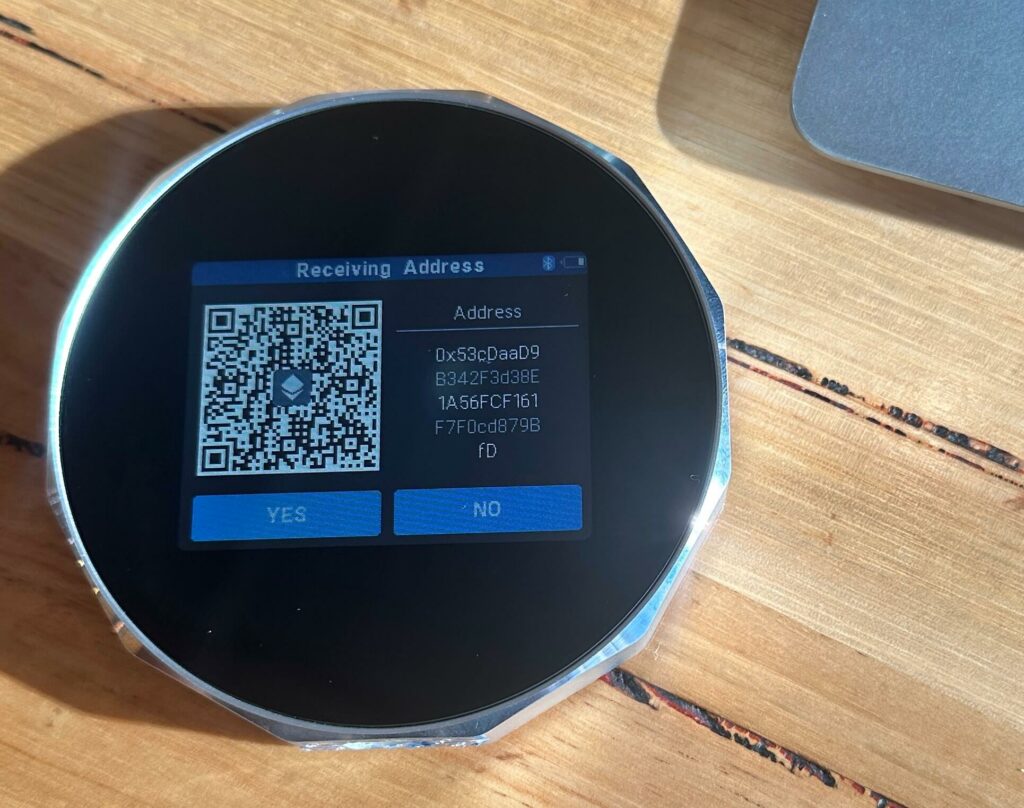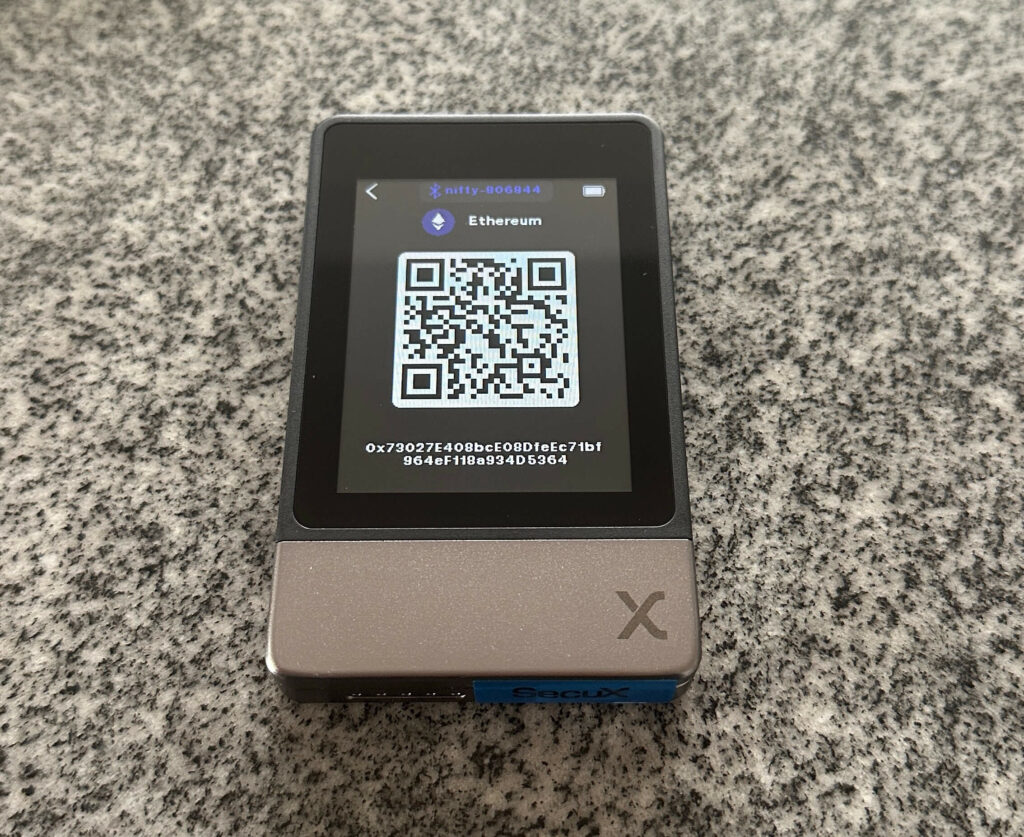 ---
6. Personal Usage Experience
Both the niftyX and the V20 felt like very high-quality devices, with a solid build and quality materials. The touch screens were very responsive and the use of both wallets went without a hitch.
Users can also very easily use WalletConnect or the MetaMask integration to browse and use dApps.
The only thing I found somewhat confusing was that the companion mobile app for the niftyX was an entirely different one from the main SecuX mobile app.
One last note is that I would have liked to see more "equality" between the packaging and extras included with the niftyX versus the V20. I guess niftyX users are paying a little more, however the product and packaging felt much more prestigious than the V20, and it even threw in free X-SEED seed phrase cards – something the V20 didn't come with.
---
7. How Much Do the NiftyX and V20 Wallets Cost?
The niftyX is on the higher end of the typical hardware wallet pricing range, with a price tag of $249. Although this may seem high, it is in line with the popular Trezor Model T. It is also pretty much the only hardware wallet of its kind; no other hardware wallet I know of is so tailored for collecting and displaying NFTs on the device itself.
The V20 is a little more affordable, at a price of $139. This places it at a more affordable price point than the niftyX and other touch-screen competitors, making it a very competitive deal.
---
8. Conclusion – Are The niftyX and V20 Wallets Worth It?
Both the SecuX niftyX and V20 models are nice and high-quality devices, at competitive price points with their direct competitors.
Each device is easy to use, supports a huge range of assets and tokens from several blockchains, and can be used with decentralized applications.
If you're a bigtime NFT user, the niftyX is a one-of-a-kind hardware wallet that allows you to very easily manage and view your NFT assets.
For those users who aren't so interested in NFTs, the V20 is an equally effective hardware wallet that will allow you to store and actively use almost any crypto asset – all at a competitive price for a touch-screen model.
That's it! If you have any comments or wish to share your personal experience with the wallets, please share in the comments section below.