CoinSwitch Review – A Beginner's Guide
Last updated: 7/31/19
CoinSwitch is a service that allows you to instantly exchange and buy a wide variety of cryptocurrencies. In this review I'll cover the difference features CoinSwitch offers and also what you need to be aware of before using the services.
CoinSwitch Review Summary
CoinSwitch is an aggregator enabling users to find, buy and exchange cryptocurrencies at the best rates through integration with different exchanges. The platform supports a huge variety of cryptocurrencies and the user experience is very intuitive. CoinSwitch's rates are extremely reasonable except for fiat purchases.
That's CoinSwitch in a nutshell. For a more detailed review keep on reading, here's what I'll cover:
---
1. Company Overview
The Bangalore startup has been dealing in the exchange and trade of digital assets since its June 2017 launch.
Founded by Ashish Singhal, Govind Soni and Vimal Sagar Tiwari, the exchange platform raised $1.5 million from venture capital firm Sequoia Capital in early 2018.
Coinswitch grew rapidly despite a turbulent 2018 for cryptocurrencies reporting a daily trading volume of over $1 million in less than a year. This is coupled with industry praise for its efforts to create an 'all in one' crypto solution.
---
2. CoinSwitch Services
CoinSwitch allows customers can exchange over 300 cryptocurrencies. The platform offers access to many major trading exchanges from a single account.
The service enables users to access exchanges including Huobi, Binance, Changelly and HitBTC. Smaller trades can be performed with no account allowing you to buy Bitcoin anonymously.
Access to the platform is through the website with no app currently available. It also supports various external wallet options including Metamask and Ledger.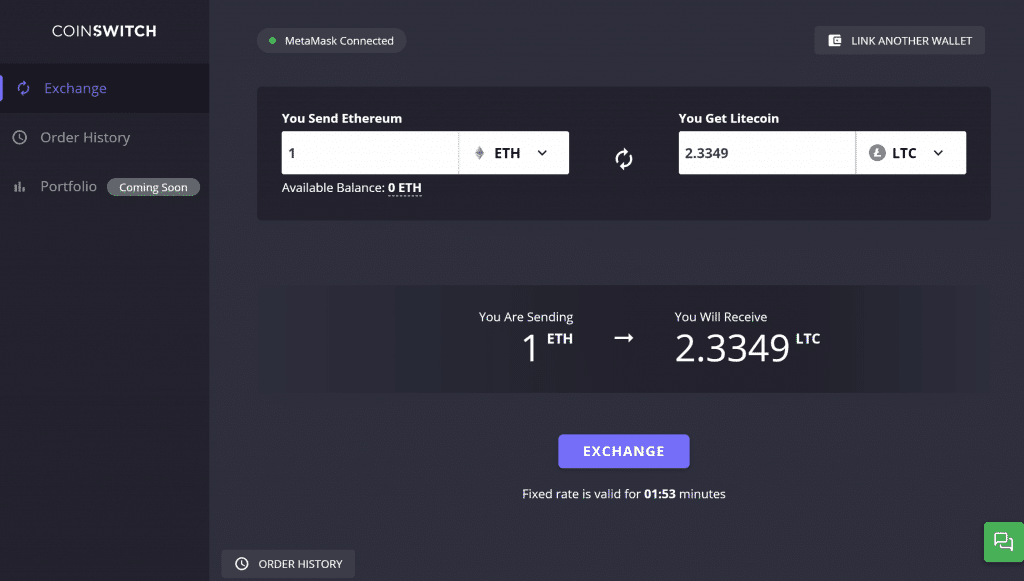 Guarda Wallet users will be delighted to find CoinSwitch exchange option directly in their wallet.
Credit card buys are now available as it constantly expands services. Wallet, currency and exchange support is continually moving forward as CoinSwitch looks to mature the market with an all in one solution.
---
3. Currencies and Payment Methods
CoinSwitch supports over 300 cryptocurrencies totalling 45,000+ trading pairs, far more than most competitors.
100+ coins are also available for purchase via a credit card. Fiat currency options are relatively expansive including US Dollar, Japanese Yen, Rouble and Euro. Reputable fiat to bitcoin commercial exchange platform Simplex processes the vast majority of these credit card transactions.
Many exchanges require multiple trades from fiat to altcoins but with CoinSwitch you can easily acquire a huge selection of coins in one transaction.
---
4. Fees
CoinSwitch fees feel a little unclear or hidden. Initially, it looks like fees stay at a minimum and the FAQ is quick to point out that fees vary. This is because each exchange offers differing fees.
The Coinswitch fee varies from 0% to 0.49%

This appears very attractive and is built into the exchange rate offered. Users must also take into account blockchain network fees and trade fees built into the CoinSwitch rate offered.
Information in this respect is a little hard to find and is not clearly broken down for the user. Overall, CoinSwitch themselves taking less than 0.5% for a transaction is very competitive for such convenience.
I did a little extra digging to see what customers are actually getting for their money. Credit card purchases don't present fees upfront. Now you can't buy a whole bitcoin via credit card. The max is $9072 via Simplex.
At the time of writing, this should return 0.96BTC, but CoinSwitch via Simplex exchanges at 0.87BTC worth around $8791. Users are losing the best part of $1000 in this trade just shy of 10% in rates and fees.
What about crypto to crypto trades? I compared 1 BTC to LTC (Litecoin).
CoinSwitch via Swaplab offers a rate of 106.13 LTC
Trading the pair direct on Bittrex was 106.67LTC
A pretty comparable rate considering the ease of which CoinSwitch operates compared to an advanced trading exchange like Bittrex.
---
5. Supported Countries
Based in India, CoinSwitch claims to be a worldwide cryptocurrency exchange. Many companies struggle to provide truly worldwide platforms, especially with confusing and frustrating US regulation.
The first thing to notice is massive language support including most major European and Asian choices.
One worry is the inclusion of Binance exchange trades. Binance has recently ceased serving US customers. I'm not sure how this will affect CoinSwitch's service.
For now, it seems that CoinSwitch is a truly worldwide trading exchange.
---
6. Buying Limits
Buying limits vary depending on what you're doing. CoinSwitch sets no explicit maximum or minimum trade values, rather it depends on what exchange partner you're using.
For example here are some maximum BTC trade limits for the largest platforms:
Binanace: 0.46 BTC
Huobi: 0.75 BTC
Changelly: 2 BTC
Swaplab: 9 BTC
Options like Swaplab's massive 9 Bitcoin limit provides ample opportunity to buy large amounts of Bitcoin. However, with the fees discussed above, it might be wise to spend a little extra time comparing alternatives.
---
7. Customer Support and Online Reviews
CoinSwitch appears to offer a decent customer service experience alongside the smooth platform. Most review sites, including TrustPilot, show positive reviews, especially for problem resolution.
There are very few horror stories around, which is always a positive sign of a solid cryptocurrency service. I will temper that by saying that many positive reviews look a little suspicious coming from new unused profiles.
Good signs appeared directly from their customer support section. Although I couldn't find any direct email or phone contact, a query sent through the contact form was replied to within one hour.

---
8. Conclusion
CoinSwitch is a very useful option to trade the best cryptocurrencies around. For trading crypto to crypto pairs, it offers a very fair service especially combined with great convenience. However, for regular traders it's probably best to seek more advanced, cheaper alternatives such as Binance or Bittrex.
You may want to look elsewhere for buying bitcoin with a credit card as CoinSwitch is expensive in this respect.
Overall, CoinSwitch does a smooth job in creating a one-stop-shop and trying to make cryptocurrency more accessible. It's certainly a rising competitor in the industry bringing a fresh challenge to Changelly and filling the gap left by ShapeShift's relaunch.
The future addition of extra hardware wallet support, portfolio tracking and management makes CoinSwitch one to keep an eye on for the future.
Have you had any experience with CoinSwitch? I'd love to hear about it in the comment section below.