As Bitcoin becomes more and more mainstream, so do Bitcoin hardware wallets. Hardware wallets are a form of cold storage that allow you to store a large amount of coins on a device with reduced fear of them getting stolen.
The way hardware wallets secure your Bitcoins is by allowing them to be transferred only if you get your hands on the actual wallet AND know a specific pin code. And, since they are not connected to the Internet 99.9% of the time, it's impossible for hackers to get a chance at cracking them.
So, for obvious reasons, hardware wallets have become very popular with people who want to take their Bitcoin security to the next level. The first hardware wallet was TREZOR, after it came LedgerWallet, and recently, we also reviewed KeepKey.
But today, I want to review a different kind of hardware wallet – CoolWallet. CoolWallet is a hardware wallet that looks basically like your everyday credit card. The card is actually a very slim electronic device that generates and stores your private keys on it. It can connect to any device that uses NFC or Bluetooth technology. So, unlike TREZOR or LedgerWallet, CoolWallet can connect to your mobile phone and other "USBless" devices.
CoolWallet started out as an Indiegogo campaign back in 2014. Today, it's already in production for another shipment batch, as the first one has already sold out. Here's the product's Indiegogo video:
CoolWallet is a simple and elegant solution
I actually got a complementary CoolWallet device to test out. This is one of the earliest versions ever made, so it has some glitches that I will address later on. But from first glance, CoolWallet is indeed cool. When you open up the box (which is nicely designed), you get the CoolWallet (which looks like a credit card), the charger and some other "utilities" (USB connector, a place to write down your seed, etc.).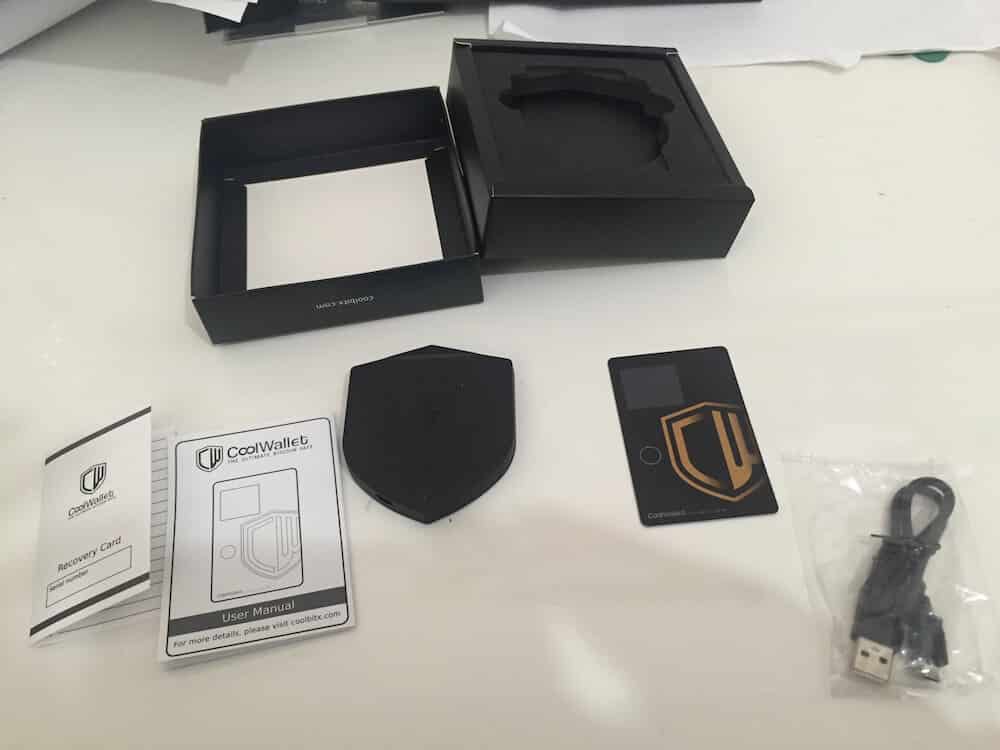 The card itself feels like a regular credit card. It's waterproof and has a display screen (24.6mm x 21.9mm) that acts as a layer of protection for showing you passwords and seeds, and requesting permission to send out funds. This is an important feature, since it means that no one can see sensitive information shown on the CoolWallet unless they are standing behind you or filming the screen in some way.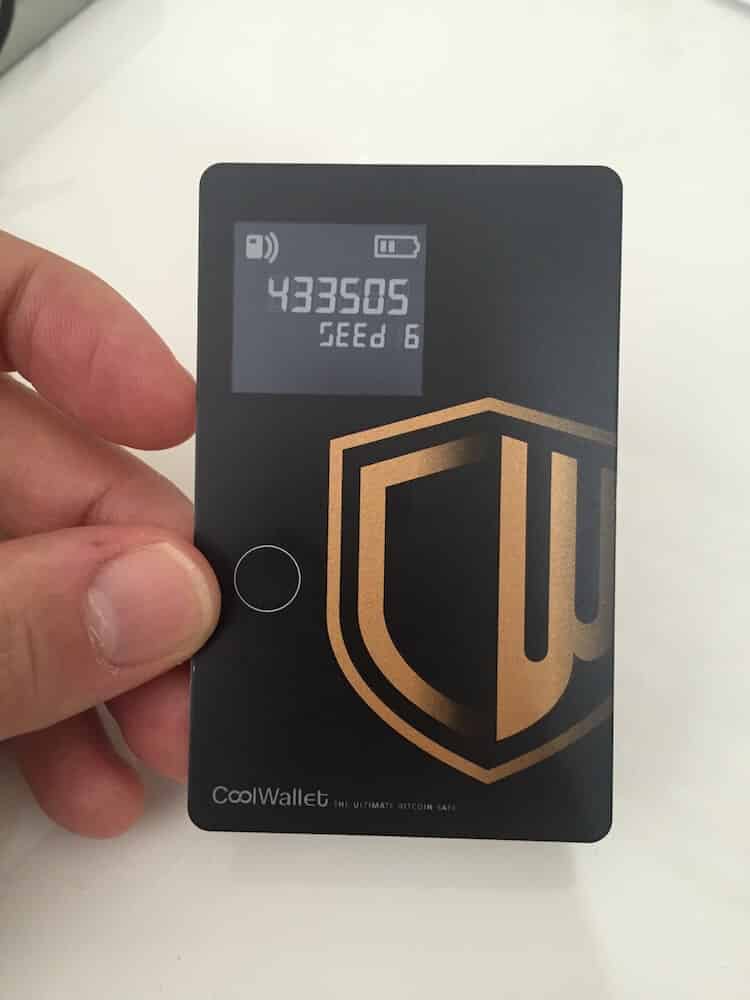 The bordered circle you can see next to my thumb is actually a control button that allows you to operate the card. My only comment on this button is that I didn't understand that it was actually "clickable" from the get go, and had to contact CoolWallet's support about this.
The card's battery lasts for two years, and if you want to recharge the card, all you need to do is just place it on top of the recharger. There are a lot of other cool features of CoolWallet, like the fact that it can bend up to 15 degrees, is heat resistant up to 60 degrees celsius, etc. Most of these additional features can be found on the company's FAQ page.
So, in terms of design, the CoolWallet gets a 10 out of 10 – it's probably the most portable and compact design for a hardware wallet I've seen to date.
Setting up the CoolWallet can be a bit slow
When I set up my first TREZOR, the whole process was pretty seamless; with CoolWallet, I had a bit of a hard time. First of all, since it's mobile oriented by nature, you'll have to go through the additional stage of downloading a mobile app to your phone (as opposed to just accessing a webpage on your browser).
You then need to pair your mobile device with your wallet, which is pretty straight forward. The next step is to create your private key and seed. You can choose between a word seed within the app option and a number seed option. If you go with the number seed option, you're choosing the more secure version, since you're using a "second screen", which means that someone has to be physically close to you in order to copy your seed.
However, if you choose a number seed, after you finish the process you will be asked to calculate the result of the sum of all of the numbers in your seed. This took me three times to get it right. The numbers are very complicated (e.g. 613426, 52488, 407618, etc.) andwhen you add up 16 numbers, you tend to make some mistakes, I guess. Keep in mind that this is a one-time process aimed at your own safety (making sure you can recover your Bitcoins if needed). So, even though it's more of a drag than other hardware wallets, I guess it's acceptable for maximum safety.
Here's the full setup of the wallet:

As you can see from the video, sending out coins from the CoolWallet is pretty easy. It's just like any other mobile wallet app, only with added protection through the CoolWallet card.
So will I be using CoolWallet to store my Bitcoins?
CoolWallet is a nice piece of software, and if I were just comparing usability, I'd probably choose CoolWallet over other hardware wallest out there. However, I use hardware wallets in order to store the larger portion of my Bitcoins, since I'm looking for added security. And since this is the case, I'm not concerned about usability as much as I'm concerned about the stability of a product and a company.
I don't feel the company has gained enough reputation for me to trust my Bitcoins with their product. I mean, what happens if the company goes bankrupt like so many Bitcoin companies have in the past year?
Also the setup process still feels a bit glitchy which will make me hesitate as a newbie. The product hasn't gained enough traction inside the Bitcoin community in order for it to be fully tested by the best Bitcoin geeks out there.
I'm not a techie; I know how to evaluate the usability and overall use of a product, but if I want to know if CoolWallet is indeed "hackproof", I'll probably rely on some Reddit review. However at the moment I could find only one that didn't seem to gain enough support. I did however find out a review that has an in depth walkthrough of the wallet and seems to do a good job at describing the pros and cons.
Here's what Coolwallet had to say about their product:
CoolWallet app is open source and with the seed you can recover your bitcoin on any BIP 32 supported HD wallet.

The main thing I would like to see is how CoolWallet can work independently from their mobile app, so that even if the company closes down, there's no fear of my Bitcoins getting lost.

We are looking to implement our hardware with other Bitcoin wallet providers. In the meantime, people who are interested can review our app on Github (https://github.com/CoolBitX-Technology/coolwallet-ios) . Both HD wallets (number & words) are recoverable – words with BIP 32 supported wallets and numbers with our open source iOS app.

CoolWallet (CoolBitX the company) has no access to your bitcoins so your bitcoins won't get lost if the company closes down.

since they are not connected to the Internet 99.9% of the time, it's impossible for hackers to get a chance at cracking them.

The CoolWallet hardware is 100% disconnected from the internet. It only sends signed transactions to the mobile device. Hackers can't get your private keys through the signed transaction.
At the moment CoolWallet won't be used to store a large amount of my coins. And if I'm not storing a large amount, I can just use any of my hot wallets that are loaded onto my mobile phone. I do believe, though, that if the company continues in the same direction they started out in, they have a bright future. The main thing I would like to see is how CoolWallet can work independently from their mobile app, so that even if the company closes down, there's no fear of my Bitcoins getting lost.
Do you already own a CoolWallet or any other hardware wallet? I would love to hear your experience with them.