'Bitcoin for the developing world & unbanked'- a theme that reverberates across online bitcoin communities. In spite of all these discussions, most of the Bitcoin action is seemingly unfolding overseas – North America, Europe & Australia. Sensationalist mainstream media heavily focuses on events in more developed parts of the world (Dell, Gyft, Overstock, Beepi) – rightly so as these events are great for the Bitcoin ecosystem overall.
Still, some light needs to be shed on other parts of the world -like the African continent. A fairly new concept – Bitcoin is unknown in some parts of Africa and simultaneously gaining traction in East, West & South Africa. Savvy entrepreneurial Africans and businesses recognize the benefits of adopting Bitcoin as a payment method.
I'll highlight some noteworthy merchants pioneering Bitcoin payments in East, West & Southern Africa.
Merchants Accepting Bitcoins in West Africa
Nigeria
For a long time, Nigerians have encountered friction in financial transactions online beyond the national jurisdiction – partly due to their renowned email scams and online swindling attempts. Despite these barriers, the ecommerce scene in Nigeria is a leader on the continent. Recently, PayPal launched an online payment alternative in Nigeria as part of a company roll out into 10 new markets.
Minku
Minku is a boutique fashion and accessories online start up registered in Nigeria as a company and for tax purposes. Kunmi Otitoju, the founder, designs fashionable high end leather bags sourcing local materials and labour from Nigeria. Minku's bags and accessories have a market both locally and internationally with clients spanning 16 different countries.
Minku is somewhere at the intersection of fashion design and technology, and accepting Bitcoin is something that fits with our goals of running a fully international online shop.
A Virginia Tech Computer Science alumna, Kunmi describes the choice to accept bitcoins as a simple one – Bitcoin is a global payments technology, with ultra-low fees and quick transaction speeds.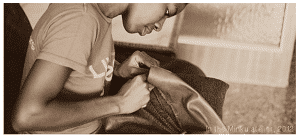 She quickly recognized the opportunity Bitcoin presented for her business. As a frequent travels across Europe marketing her design products, she cited the ease of accepting bitcoin from her phone and laptop as a huge incentive.
Sierra Leone
A small country in West Africa with a population of about 6 million people, Sierra Leone is home to Bureh, an ethical fashion accessory company. Although the founder, Daniel Heyman, is based in New York, the company's production is based in Freetown, Sierra Leone. Raw materials sourced from the docks of Freetown are assembled in local workshops by its local employees.
Last year, Bureh announced it was accepting Bitcoin as a payment method through BitPay, plus a $10 discount. Bitcoin was a logical choice – they have a local presence in Sierra Leone and larger global market in China, the US and Europe.
Speaking to Tanaya Macheel, Daniel spoke about this alternative approach.
 I can place orders from New York and frequently make payments transfer into the country to pay our local employees.
Merchants Accepting Bitcoins in East Africa
Kenya
MamaMikes
Mamamikes is a retail and wholesale eCommerce site based in Kenya. They offer a wide range of goods and services: electronics, kitchen accessories, clothes, utility payments, cell phone airtime, gift hampers and much more. The site targets East African diaspora looking to buy items for their friends and family in Kenya & Uganda. Up until recently, payment options included the usual suspects PayPal, Visa & MasterCard. Earlier this year, they added Bitcoin as a payment option on their website.
Responding via email, Segeni Ngethe, CEO, spoke on why the company decided to add bitcoin as an option
After reading about the 'frictionless nature' of Bitcoin payments, it made sense to offer this payment option to our customers. Credit Cards were never designed to be used on the internet.  Bitcoin on the other hand is a godsend technology for internet commerce.
He confidently stated that in the short time since they adopted this alternative payment option, they've had encouraging numbers from customers making payments via bitcoins.
"We are brainstorming more ways of growing our presence among bitcoin holders"
Ngethe sees more merchants in Africa adopting this method especially in the tourist industry. Kenya is a world class tourist destination and an emerging hub for tech. Tourism, ecommerce and remittances are hotbeds for bitcoin to take root in East Africa.
BitSoko
Though not strictly a merchant, BitSoko is a local college startup based at the Chandaria Business Centre and Incubation hub, Kenyatta University. Gibson and Allan, digital currency enthusiasts, are keen on the potential of digital currencies for their college community. They've been working on an online merchant service and bitcoin wallet both of which they're rolling out on a beta test within the Kenyatta University Community of 60,000 students. According to Gibson, one of the core developers,
BitSoko makes it simple to obtain, store and spend bitcoins by connecting users and merchant. Through the Bitsoko mobile wallet, users can spend bitcoin, just like fiat at local merchants. Merchants receive KES into their mobile wallets.
To encourage students at the campus adopt bitcoins, they've enlisted merchants in and around campus. Bejo's bar & Restaurant and Chase Cyber Café are two merchants that have signed up.
Merchants Accepting Bitcoins in South Africa
South Africa is home to PayFast, the largest payment processor in Sub Saharan Africa enabling Bitcoin payments. One of the merchants they serve, TakeAlot – the largest online retailer in South Africa began accepting bitcoins from its customers.
Willem van Biljon, co-CEO and CTO was happy to make the announcement a couple of weeks ago.
At TakeAlot we strive to be innovative and customer centric; Offering Bitcoin is another example of how we strive to achieve these ambitions.
Currently, prices are displayed in Rands with the Bitcoin payment option placed under 'Instant ETF'. Checkout processes happen through PayFast, while the transaction itself takes place on BitX, a South African Bitcoin exchange. However, a Bitcoin payment protocol support is under construction.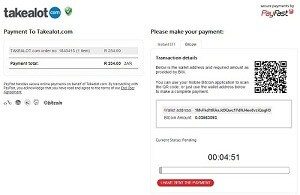 SA leads the pack in the number of merchants accepting Bitcoin for payment. Just to list a few: CoinMap, Ashworth Africa, Silver Banana, Landmark PC & Salon Supply Store
Meanwhile, a landowner in Western Cape Province, has put up a piece of property for sale on Gumtree exclusively in bitcoin (60 BTC).
Bitcoin is still in its infancy on the continent. Look out for more Bitcoin related merchant activities in Africa.