One of the worst experiences most people will ever have is buying a used car. Just the idea summons visions of smooth-talking hucksters trying to sell you a lemon. And if you've ever owned more than one car in your life, you've probably had to deal with one of these guys.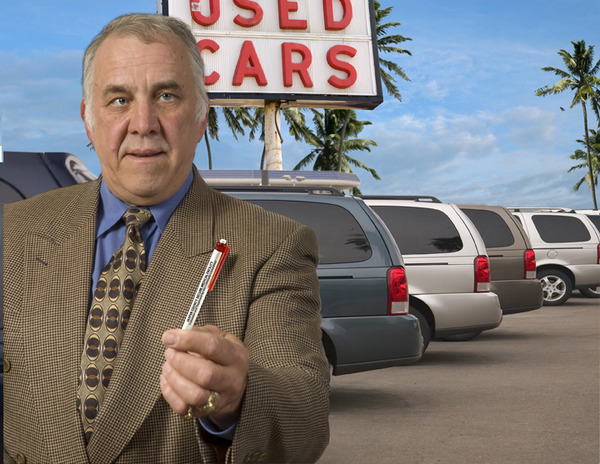 One person who had such a misadventure was Alejandro Resnick, co-founder of P2P Car Resale company Beepi. As the story goes, Resnick and his wife had just moved to Boston to attend Grad School and, after doing their due diligence, found themselves a nice little Jeep Liberty to tool around in. It didn't take long, however, before their new car began suffering a series of problems, and the dealer began losing interest in repairing the vehicle he had sold them. Eventually Resnick and his wife got rid of their Jeep Tyranny and got their money back, but something more came from this unpleasent experience:  a desire to fix a serious problem.  But how?
An Idea is Born
Alejandro talked with Fabrice Grinda (who later would become Beepi's Executive Chairman) on how they could revamp the used-car buying process to make it more reliable and safer for the inexperienced. Eventually they developed an idea and Resnick left for California to present his idea at Stanford. It was there that he met Omer Savir, who became his co-founder.
With $5 million from Jeff Brody of Redpoint Ventures, as well as participation from Fabrice Grinda, Jose Marin, Tina Sharkey, Brian Sharples and the Stanford Board of Trustees, they launched their idea of a P2P used car service. I first learned about Beepi yesterday morning when I saw an article on them in the Atlanta Business Journal, which shows how far this little Silicon Valley start-up has gotten in just six months from their humble beginnings in the San Francisco Bay area.
The company's home page is slick, professional, and decidedly quirky. After setting up a telephone interview with co-founder Omer Savir I made sure to look the whole site over to get a feel for the kind of people I would be dealing with. To say the least, they are ambitious. Omer has no trouble telling me that the company plans "to take over the world" using the incredibly subversive strategy of making car-buying fun. It's a difficult idea to process, but here's how he explains it:
The reason we started Beepi in the first place was to make buying a car fast, fun, and simple. At the end of the day, you're buying a car, it's supposed to be exciting. Today, though, it doesn't matter if you are buying from a private seller on Craigslist, or through a dealership, it's just not fun. You might be dealing with people who aren't who they say they are, the car might not be what they say it is…
So what makes Beepi special?
Buying With Confidence
The process of selling your car on Beepi is pretty straightforward: you go to their site and provide some information about your vehicle, same as with many other sites. The difference, however, is that Beepi will then schedule an appointment with you so they can send one of their technicians over to perform an exhaustive 2 hour 185 point inspection system. They will not sell any car that doesn't pass the inspection process, and it is a rigorous test.
They inspect, literally, every inch of the car. Omer tells me they aren't satisfied with just a visual inspection or a simple road-test, either. They go the whole nine yards and employ fiber optic cameras similar to those used by Special Forces and SWAT teams who want to recon a potentially hostile area. In this case, the engine block, undercarriage, and any hard-to-reach areas on the vehicle. This meticulous attitude leads them to reject 2 out of every 3 cars that people bring to Beepi.
Each Beepi Certified Technician is given a 100 hour company training program in addition to their existing qualifications as techs. When I ask Omer what they look for, he makes it clear that they only accept the best.
Every technician has to be a graduate of a trade school like UTI or possess an engineering degree. In addition, you also need a couple years of experience in the field, because that is extremely important. Dae (Yu) our lead inspector is actually the guy who developed the pre-owned inspection program for BMW, so obviously he has a lot of experience. And he is the one who teaches and trains all of our inspectors. We also have people who worked on vehicles in the (US) Marine Corps, people who designed cars for GM…you have to know cars, love cars, and have experience with cars to be a Beepi inspector. 
This is clearly not a simple task, so I asked Omer what sort of equipment a tech brings to the inspection.
A floor jack, mat, and a tablet with our company inspection checklist and order of operations. It clearly lays out every check that must be performed, in what order they are to be conducted, and if the car passes every check, the technician can take pictures on the spot and send them back to the office so we can upload them to the site.
Once a car is sold by Beepi they offer a 10 day/1,000 mile return policy, probably the best in the business. The only caveat is that the vehicle has to be in the same condition it was in when purchased, which should be pretty obvious.
The Bitcoin Connection
I've been saying since January that 2014 is the year Bitcoin goes mainstream, and so far I've been largely correct. From Overstock.com to Expedia, the King of Digital Currency shows no signs of slowing down, even as the price continues to fluctuate. Still, if I didn't ask why Beepi accepts bitcoin, I wouldn't be doing my job. Omer answers this with a laugh.
Well, like I said, Beepi is 21st Century car buying, so it only makes sense for us to use a 21st Century currency. We've spoken with multiple buyers to find out what they would prefer, and from day one we accepted credit cards, bank transfer, check…We always said we wanted it to be easy, and whatever way you wanted to pay, we were going to accept it. It was only natural that we accept bitcoin.
Does that mean Beepi might accept altcoins, like Litecoin or Dogecoin, in the future?
It's something we will consider. If there is a demand among customers, most likely, yes.
Since Omer made it clear that you had to be a Car Person to work for Beepi (not just a tech) I had to know:  what was his favorite car to work with so far?
A Porsche Carrera that I drove it from Point A to Point B and I seriously didn't want to give it up. (laughs) I thought I would just, you know, keep driving…let them chase me! The guy who bought it paid with his credit card, and he got like 5 free flights out of the deal.
A quick glance at their website showed plenty of really fine automobiles that run the gamut from a simple 2008 Smart Car ($9,000) to a smoking hot 2013 Mustang GT ($28,000). And for a limited time Beepi is even giving a $1,000 discount to any customer who buys their car in Bitcoin, so you might want to stop by their site.