Hodl Hodl Review
By: Alex Miguel | Last updated: 5/12/21
Hodl Hodl is a P2P platform for buying and selling Bitcoins, which uses multisig escrow to facilitate transactions between its users. Read this article if you want to know more how it works, its pros and cons.
Hodl Hodl Review summary
Hodl Hodl isn't your typical centralized P2P trading platform, using multisig addresses for escrow instead of holding any funds on behalf of its users. Due to this, it claims to be subject to less regulation and requires less customer information.
That's Hodl Hodl in a Nutshell. Continue reading below for a more detailed review of Hodl Hodl's platform and services. Here's what I'll be covering:
---
1. Hodl Hodl Overview
Hodl Hodl is a platform run by Hodlex Ltd, a company registered in London, England. According to Crunchbase, it was founded in 2016 and raised an undisclosed sum in seed capital during November 2018.
The platform is anonymity-focused and requires less KYC/AML regulation due to the fact that it does not hold any of its users funds. Instead, it provides a platform for buyers and sellers to find each other, while providing mediators to oversee the escrow process.
---
2. Hodl Hodl Services
Buy
In order to buy Bitcoins on Hodl Hodl, you simply create an offer by selecting a few parameters. These include the amount of Bitcoin you wish to buy, your preferred payment method and your maximum payment window time. You can also choose to input your location, which will allow you to choose more location-specific payment options such as local banks or in-person.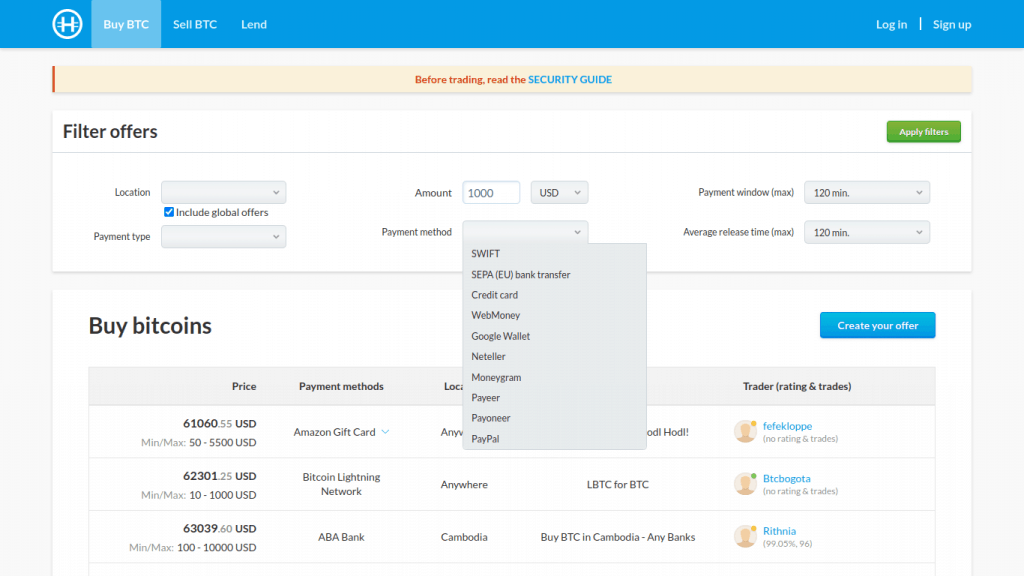 If time is of the essence users can also filter out sellers with a record of completing transactions slowly, by selecting a "maximum average release time".
As the buyer, you will wait until the seller has funded the escrow account with the Bitcoins you are purchasing, before making the payment. Your payment will go directly to the seller, who will then release the Bitcoins to you once they confirm that they have received the payment.
Each user accumulates a feedback rating on their trades, which is generally a good indicator of how trustworthy and efficient any single user may be.
Sell
To sell Bitcoins on Hodl Hodl, you input more or less the same parameters as you do for a buy order, above. The only difference is that you are selecting which payment methods you would like to accept from the buyer, and you must be selling Bitcoins only.
Upon initiating a trade, you will fund the escrow account with the Bitcoins you have agreed to sell and release them only once you have received the buyer's payment.
Lend
The Hodl Hodl platform also has a P2P lending service, which enables users to borrow additional cryptocurrency against their Bitcoin.
Lenders and borrowers can select their desired loan specifics, such as the interest rate, their cryptocurrency of choice, loan-to-value (LTV) ratio and loan term.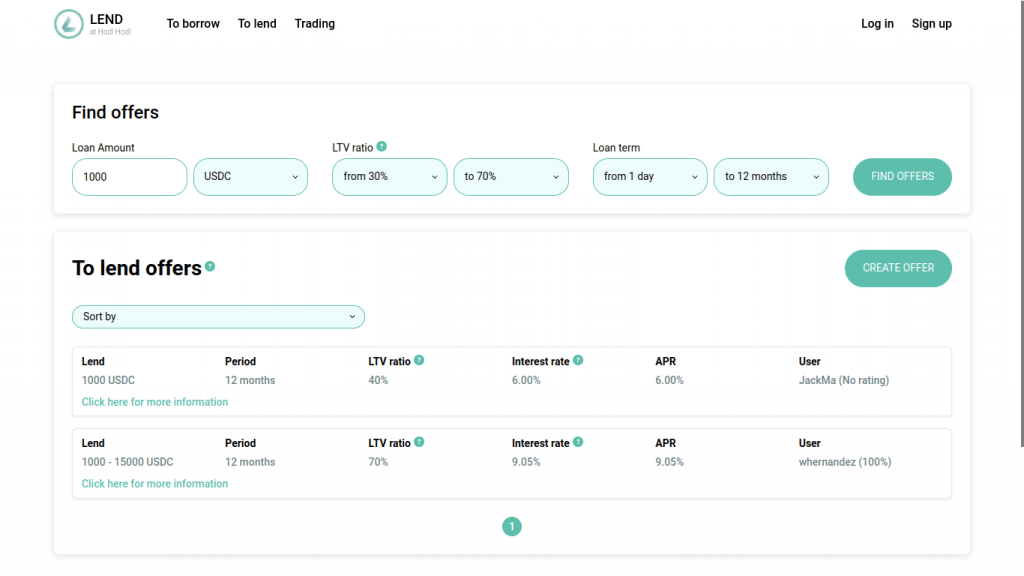 All loans must be over-collateralized, meaning that the value of their Bitcoin collateral must be higher than the value of the assets borrowed. LTV ratios can be anywhere between 30% and 80%, depending on the asset being borrowed.
This collateral is placed in a multisig escrow wallet by the borrower, just as the seller would do in a regular Hodl Hodl trade. The lender will then provide the borrower with the asset to be borrowed, which must be paid back in the agreed-upon time frame. These loan terms can vary from as little as 1 day to a maximum of 12 months.
Interest is paid at any time before the end of the loan term.
It is important to note that the collateral ratio must be kept above 90%, or the collateral will be automatically "liquidated" – in this case, the Bitcoins will be released to the lender.
---
3. Currencies and Payment Methods
Hodl Hodl users can buy Bitcoin using a variety of payment methods – possibly the largest range of payment methods seen on any P2P platform.
Being a P2P platform, however, these payment options all depend entirely on the seller wanting to accept them or not.
Some of the payment options available include:
Traditional methods such as SWIFT, SEPA and regular bank transfers
Credit card
Online payment platforms such as PayPal, Venmo and Revolut
Money transfer companies like MoneyGram and Western Union
Other cryptocurrencies
Cash
Gift cards from major retailers.
Loans
When it comes to loans, only Bitcoin or Liquid Bitcoin is accepted as collateral. A handful of cryptocurrencies can be borrowed, including:
Bitcoin (BTC)
Binance USD (BUSD)
Dai (DAI)
PAxos Standard (PAX)
Tether USD (USDT)
USD Coin (USDC)
Wrapped Bitcoin (WBTC).
---
4. Fees and Limits
Buy and Sell
Trading fees generally range between 0.5% and the default rate of 0.6%, depending on the user's referral and verification status. Users who signed up using a referral code are given a rate of 0.55%, while verified users receive a rate of 0.5%. Bear in mind that this fee is split between the buyer and seller.
If each party has a different fee rate, the lower rate from the two parties will be applied to the trade. A full description of how it works can be viewed here.
The minimum amount of Bitcoin you may buy or sell is 0.001 BTC.
Lending
Each loan on Hodl Hodl carries an origination fee of 0.5% to 1.5%, depending on the length of the loan. This equates to 0.5% for single-day loans, 1% for loans up to 5 months, and 1.5% for anything longer.
The minimum loan amount permitted is 50 USD worth of cryptocurrency.
---
5. Supported Countries
Hodl Hodl permits users from almost any country around the world to use the platform. There are some restrictions, however, according to their terms of service.
Users from the United States can only use the lend function, while those from North Korea, Iraq, Syria, and Sudan are not permitted to use the platform at all.
Some users from the US have reported that trades simply do not execute if the system has detected them being in the US.
---
6. Customer Support and Reviews
Hodl Hodl has very extensive FAQ sections for both their trading and lending services, which go into detail about almost any query you may have about the platform. In order to assist their users, they also have some very useful tutorials on their YouTube channel, which I thought was great.
Not many online reviews can be found on Hodl Hodl, which makes sense given that it is a P2P platform – user experience is more closely tied to your counterparty than the platform itself.
I did, however, find one review that commended the platform for their ability to resolve a trade dispute, which went smoothly due to fair mediation and the escrow system.
Another review also commented on the usefulness of the chat window for contacting your counterparty, as well as the control of their bid and ask offers – which can be set to automatically track market price, rather than constant manual adjustment.
---
7. Conclusion
Hodl Hodl appears to be a very useful P2P trading and lending platform, which reduces third-party risk by using multisig escrow addresses. This is vastly different from trusting a centralized party with custody of your coins, as most popular P2P platforms require.
With a wide range of available payment methods and minimal verification, Hodl Hodl provides a simple yet effective alternative to its competitors.
Have you had any experience with Hodl Hodl? Let me know how it went in the comments section below.