Bitcoin Ad Networks Reviews and Comparison
By: Ofir Beigel | Last updated: 1/17/23
Bitcoin ad networks allow you to advertise different Bitcoin services and earn revenue when visitors view these ads. This article will review the top 9 Bitcoin ad networks available today.
Bitcoin Ad Networks Summary
Thanks to the popularity of cryptocurrency, there are now dedicated Bitcoin ad networks that allow you to display Bitcoin-related ads on your site and earn additional Bitcoin income. Ad networks may differ in several parameters such as which websites they allow on their network, their payout model, support score and more.
The top Bitcoin ad networks tod20ay are:
That's Bitcoin ad networks in a nutshell. If you want a more detailed review about the different ad networks keep on reading, here's what I'll cover:
---
1. Bitcoin Ad Networks review
Much like Google AdSense, Bitcoin advertising networks provide you with ads to place on your website. In return you'll receive a payout in Bitcoin (or fiat currency), which you can usually withdraw within a week.
From an advertiser perspective, ad networks supply a wide range of cryptocurrency websites where they can display their ads.
If you're a publisher you should be aware of the following before implementing any ad network:
You won't always have control over which sites/services show up as advertisements on your site.
Ad slots from ad networks tend to load slower than hosted ads/images which can slow down your site's loading time.
Some ad networks don't filter out spammy or malicious ads.
If you're a very popular site you may be "cannibalising" your business model by selling ad slots to the ad network at a lower price than what you could have sold them directly to advertisers.
---
2. Coinzilla
Pros: referral program, payments are reliable and rarely delayed, high-quality advertisers
Cons: Strict website requirements
Coinzilla is a prominent Bitcoin advertising network, which was launched in 2016. It offers CPM advertising in the form of standard banners, floating banners, and pop-under ads.
Interestingly, adverts can be funded not only with Bitcoin but also with Ethereum. One feature you may find useful is the referral program, which can help you earn 10% of the deposits and withdrawals of referred users.
Payments on Coinzilla are processed weekly and monthly, with a minimum withdrawal amount of 50€.
Coinzilla's publisher requirements are on the strict side, with quite a lot of users having their websites rejected. In particular, Coinzilla only accepts websites with good engagement and interaction rate.
As for the customer support, Coinzilla has high online availability and responses are typically helpful. More than that, there's the flexibility of submitting a support ticket via the website or contacting Coinzilla via Skype.
Last, Coinzilla offers its own 'Marketplace' which gives users access to top crypto publishers and offers unique deals and prices.
---
3. CoinTraffic
Pros: Platform is quick and easy to use, Support is good, Screens advertisers
Cons: You may have to wait a while for your website to be reviewed
CoinTraffic has been around since 2014 and refers to itself as a crypto advertising network. It offers CPM campaigns and has a wide range of advertising format options, including banners, pop-under and native ads.
The platform is easy to use, which makes checking daily payments and withdrawing commissions particularly easy. There's a minimum withdrawal of €25, and requests for payouts are usually processed for the next scheduled payment day – either Monday, Wednesday or Friday.
One advantage of CoinTraffic is that they're selective about the number of advertising partners they have. This means that they're careful when approving advertisers.
Support offered by CoinTraffic is typically very good, with quick response times, though it can sometimes take weeks for your website to be approved or rejected.
---
4. Bitmedia
Pros: Good support, great UI, quality traffic thanks to advanced algorithm
Cons: Only crypto related websites are allowed
Bitmedia, founded in 2014. is a London-based Bitcoin ad network. Bitmedia's platform was built from scratch, involving many experts from the big-data & the high-load technologies. The goal in mind was to develop a top notch advertising platform as well as to promote the Bitcoin community.
The company provides both CPC & CPM campaigns, with payments initially being made for every click (CPC) or 1,000 impressions (CPM). The minimum amount for withdrawal is 0.001 BTC.
Officially, Bitmedia only allows Bitcoin and cryptocurrency related websites on its publishers. However, they do write that if your non-crypto website provides good and lively traffic, they may make an exception, if it suits them.
Bitmedia puts a heavy emphasis on quality. The company prides itself for developing a smart algorithm that shows ads to relevant users only, as well as conducting deep learning of the user's behavior, to better improve the algorithm. Moreover, their UI is very friendly and intuitive and their support is fast and helpful.
---
5. CoinAd
Pros: Focus on high-quality sites, weekly payments
Cons: Invite-only with strict entry requirements
CoinAd differs from most Bitcoin advertising networks in the sense that new publishers are accepted on an invite-only basis. What's more, they have strict requirements, such as only accepting websites with Alexa ranks of under 100,000 and at least 100,000 daily page impressions.
As such, this Bitcoin ad network is suited for more established sites. The goal behind this is to offer greater quality of sites for advertisers.
There are numerous advantages for publishers who are lucky enough to be invited. If you have a trusted, high-traffic website, you can earn well in comparison to most other Bitcoin advertising networks.
Payments are made on a weekly basis and can be sent directly to a Bitcoin wallet or even a PayPal account. The minimum withdrawal limit is $30. Overall, this is a very reliable Bitcoin ad network and well worth considering if you're invited.
---
6. Ad Dragon
Pros: Ethereum based payments
Cons: Monthly withdrawals, No strict policy for joining
Ad Dragon is the first Ethereum based advertising network that utilizes a peer-to-peer advertising model, so it is more of an ad marketplace than just a simple ad-exchange. Founded in 2019, Ad Dragon gives their publishers full control over pricing, therefore you can set your own prices on the marketplace.  The team values privacy very much, there is no lock-in, no contracts, and no codes to put on your website, at the same time this also means there is no strict policy for joining the platform.
The minimum payout is $50 that you can withdraw from the platform on a monthly basis in ETH. Ad Dragon can be a good alternative to CoinZilla and Google Ads if you are looking for a simple yet effective method to monetize your website.
---
7. A-ADS (Anonymous Ads)
Pros: Offers anonymity, payments are always prompt and punctual, good record of customer support
Cons: For advertisers – Ads can appear on low quality websites
A-ADS, One of the oldest Bitcoin advertising networks,  (Anonymous Ads) is still a very popular choice. Much like Bitcoin itself, the A-ADS advertising platform promotes anonymity: no personal information or verification is required.
While there is a sign-up page, you can choose to sign in with a Bitcoin address without registering for an account.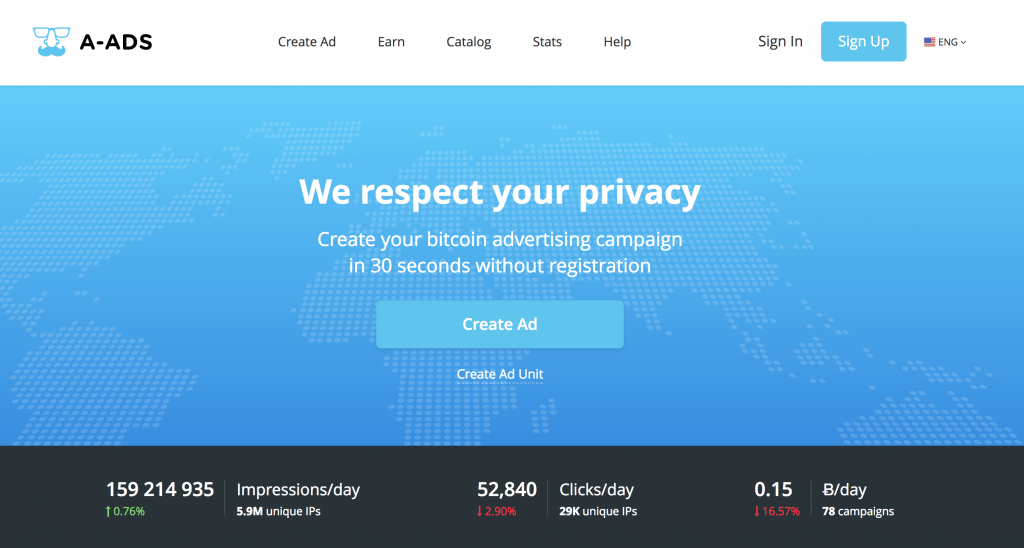 A-ADS is known to offer prompt and punctual payments. Users are given the choice of withdrawing to an A-ADS account or directly to a Bitcoin address. You're unlikely to encounter many problems, and if support is needed, A-ADS is usually very helpful.
A-Ads provides a tagging tool to distinguish between advertisers. Every ad in the network gets a tag (Risky Investments, Shady, etc). Publishers use manual pre-moderation to ban the unwanted tags. The minimal withdrawal threshold for A-Ads is 0.001 BTC.
---
8. AdBit
Pros: Payments are made in real time
Cons: Relatively small, not many ad formats, Customer support can be a little slow
AdBit is part of the BitRush network, and works using a pay-per-day system. It's similar to Google AdSense in that advertisers will bid against each other for a share in the ad space on your website. The higher the bid, the more of a share a particular advertiser has and the more you can potentially earn.
The only ad format option is a banner, though this can consist of text, an image, or interactive media, depending on the particular ad.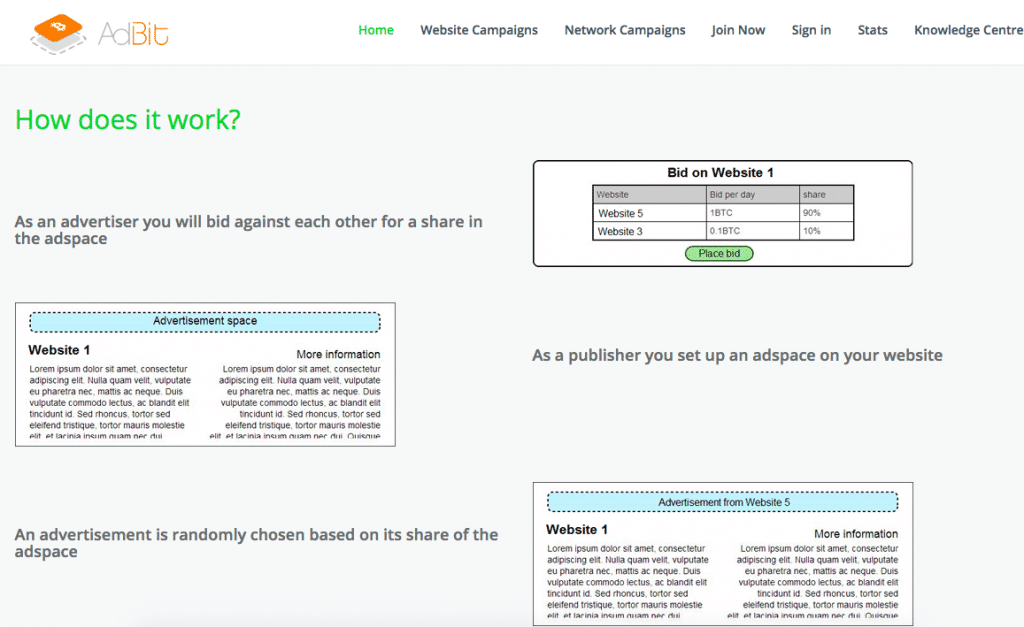 One of the best things about AdBit is that payments are made to your account in real time with every view or click an ad receives. As with many Bitcoin advertising networks, there's a minimum withdrawal of 0.001 BTC.
One area in which AdBit could improve is its support, which can be on the slow side. However, this is a reliable option that has the potential to offer decent returns.
---
9. Mellow Ads
Pros: Charges fairly low fees, which may mean higher payouts
Cons: Your website must be in a top 100,000 Alexa ranking, support is unreliable
Mellow Ads, launched in 2015, offers CPM and CPC campaigns, with advertisers able to buy a specific number of unique views or clicks respectively. There's a choice of banner and pop-under ads, and daily revenue is provided based on the number of views, clicks, or pops provided to the network.
Mellow Ads charges a fairly low fee of 10% for network campaigns, which means higher potential earnings than many other Bitcoin advertising networks.
However, Mellow Ads may not be for everyone since there are a number of mandatory requirements for having your website approved. This includes having a top 100,000 Alexa rank. This ad network is often used by micro payment sites like faucets.
In general, it's a very fast and reliable Bitcoin advertising network, though it doesn't have the most reliable customer support, with many users claiming not to have received replies. The minimum amount to claim your payout is 0.001BTC
---
10. CoinMedia
Pros: Easy to use, complete control over where to advertise
Cons: Relatively high withdrawal threshold, anonymous company
CoinMedia is a somewhat anonymous ad network which seemed a bit shady to me as a publisher. Their website doesn't supply a lot of information aside from stating that they use a CPM model and accept banner and pop-up ads.
The interface is very straightforward, both as an advertiser and a publisher, and there doesn't seem to be a lot of screening done behind the scenes. The minimum withdrawal amount is 0.004 Bitcoins. Deposits have to be higher than 0.005 Bitcoins.
---
11. ADconity
Pros: Rich media platform, good customer support, good revenue share
Cons: Relatively new
Adconity was founded in 2017 and it's a relatively new Ad network based in Zurich. Adconity provides CPC, CPM and CPA campaigns. They also have interesting partners on their list, such as GoDaddy, to name one.
Adconity puts a lot of emphasis on its user friendly approach, as stated by their moto "user friendly cryptocurrency, ICO and blockchain rich media advertising platform with competitive pricing".
The company prides itself on its high quality traffic and a wide variety of ad types offered, from text, image and native ads to POPs (under, up & new tab) and more.
Their approval time usually take up to 24 hours, with some exceptions. As for their customer support, judging from reviews their representatives are quick and helpful. Adconity's minimum amount to claim your payout is $100.
Please note users have had complaints about withdrawals and account blocking ad ADconity, please check this Bitcoin Talk thread for further information.
---
12. Coin.network
Pros: Established Company, good customer care
Cons: Strict publisher requirements, USD payments only
Coin.network was launched in 2017, under the US-based company BuySellAds. It offers both CPC and CPM advertising, in a range of advertising forms. These include everything from video, in-app, newsletter and native advertising.
The platform is highly selective when selecting publishers, serving just over 20 publishers at the time of writing. In order to qualify as a publisher, platforms generally must have hundreds of thousands of monthly views with quality traffic.
Coin.network appears to take good care of these publishers however, providing them with an account manager, email support and a dedicated Slack channel for VIP publishers.
Publisher payments from coin.network are made in USD only, on a monthly basis with no minimum threshold.
---
13. Conclusion
Bitcoin Ad networks specialize in promoting Bitcoin & Crypto related ads on relevant websites. It's a great way to earn additional income through your website. There are multiple networks to choose from, with some being easier to join and others being more profitable or offer better support.
My advice would be to experiment with 2-3 ad networks at a time and compare results. One thing to keep in mind is that if you do use an ad network you might be missing out on advertisers that want to buy ad spots directly from you (and are willing to pay more). So make sure you're not cannibalizing your own business model.
Are you using a Bitcoin advertising network we haven't mentioned? Have you had any experience with the ones we have? Let me know in the comment section below.