It's no secret that 99Bitcoins is a big fan of Blockchain.info. The company which recently received $30.5m in venture capital funding is one of the hottest names in the Bitcoin community. The company provides a  Bitcoin block explorer and also a Bitcoin wallet called "My Wallet" all free of charge. For those of you who don't have a Blockchain.info account yet, I highly recommend it.
Recently I took a deeper look into what features the blockchain.info website provides and found out some prettty cool stuff.

Is the Bitcoin Economy Actually Growing or Is This a Bubble ?
Blockchain.info supplies a lot of charts and statistics about the Bitcoin network. But sometimes these chart are hard to understand. One of the more interesting charts you can find is the Trade volume Vs. Transaction Volume chart. This chart is the result of taking the actual Bitcoin transaction volume and dividing it with the Bitcoin trade volume. The lower the number the more trading is being conducted.
When more trading is done than actual transactions this could imply a bubble. If you take a closer look you'll be able to see that when the ratio trends downward Bitcoin's price spikes since there is more speculation.
Supercool Visualisaztion of Bitcoin nodes and Miners
Although not really useful this next feature is pretty cool. It shows the distribution of Bitcoin nodes and miners around the globe. You can play around with a 3d model of Earth to find out where are the computers responsible for facilitating Bitcoin transactions are located.

100 Most Popular Addresses
Blockchain.info allows you to view the Bitcoin addresses which received the most payments up until today. Not surprisingly the leaders are addresses from SatoshiDice and Betcoin – both large Bitcoin gambling sites.
Hashrate Distribution Among Mining Pools
One of the main concerns for the security of the Bitcoin network is how decentrilized are the Bitcoin mining efforts. If a mining pool controls a large amount of the hashrate it can theoretically cause a 51% attack. This chart from Blockchain.info allows you to view the distribution of hashrate among the different mining pool.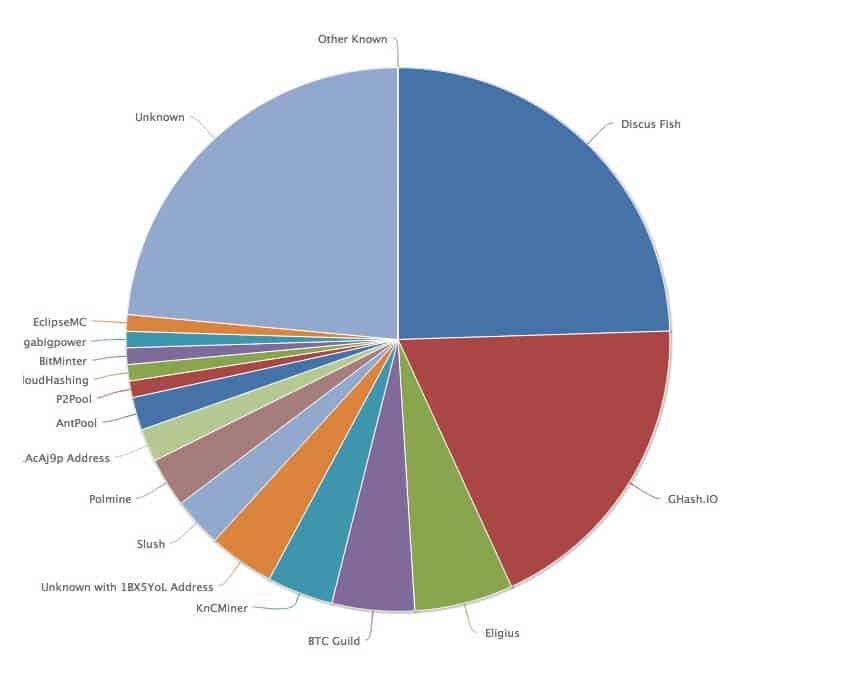 Largest Bitcoin Transactions
Ever wondered what are the largest transactions that are being done with Bitcoin? Blockchain.info allows you to view the largest Bitcoin transactions from the last 50,000 transaction.
Send Bitcoins to Multiple Addresses in One Transaction
Not so long ago I got an email from a user showing me how to send Bitcoins to multiple addresses in just one transaction. This can be used to make sending out coins more efficient and also lower the fees on multiple transactions. Since we send out a lot of micro transactions to our new subscribers we find this option extremely valuable. This feature is available under "Send Money" -> "Custom"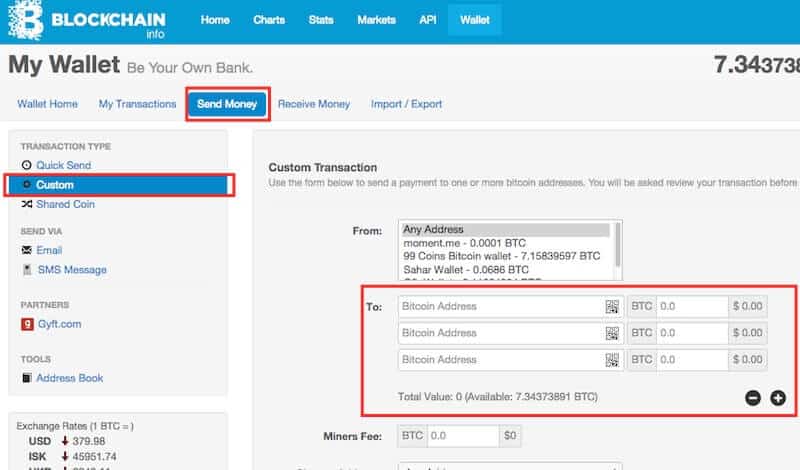 Examine Inputs and Outputs
If you're a more experienced user you can turn on "Advanced" mode on Blockchain.info's block explorer (located in the website's footer). In this mode you will be able to see what were the inputs and outputs of each transaction and their scripts.

Conceal your Bitcoin Transaction Tracks
Since the blockchain basically allows people to trace transactions pretty easily this next feature is for those who require more anonymity. SharedCoin is a way to mix your transaction with other transactions so it will be harder to trace (since difficulty to analyse the source increases).
Send Bitcoins by SMS or Email
If you want to send out Bitcoins to people who don't have a Bitcoin wallet this can be done easily by using the send by email / SMS feature inside "My Wallet". The recipient will get an email notifying him that the Bitcoins were sent. He can then open a new wallet for these Bitcoins.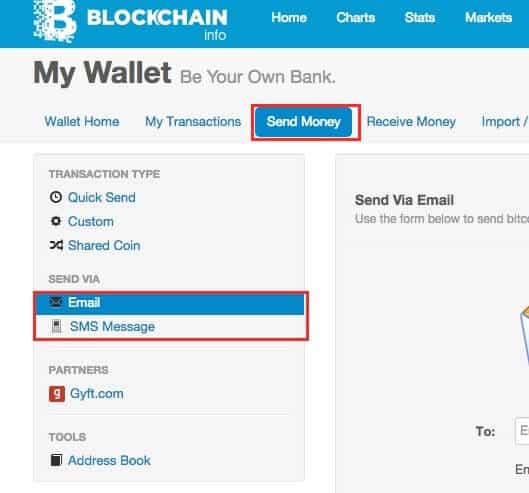 Keep Your Bitcoins in Cold Storage
One of the best ways to secure your Bitcoins is to use cold storage – meaning to store your Bitcoin offline on a piece of paper, a TREZOR device or a flash drive. Blockchain.info allows you to easily create a paper wallet which will have your public and private key available for printing. Keep in mind that if you transfer Bitcoins to that wallet and you do not print the private key your Bitcoins will be lost, so be careful.