Are you thinking of joining the Bitcoin mining universe? In case you don't know, you can either mine on your own or as part of a pool. In terms of profit, there aren't really many differences: solo mining will give you large and irregular payouts, as pooled mining will result in small and frequent payouts. In the end, they both add up to the same amount.
Whatever your choice might be, remember you need to follow certain steps to successfully mine Bitcoins:
Get the right Bitcoin mining hardware. Today only ASIC miners are a viable option for mining Bitcoin.
Get the best software that matches your needs
Arrange a way to receive the profits of mining
Start solving algorithms.
This is where you stop and think: but what is the best software for me if I don't even know them all? Well, let's make a small list of the most used software and help you choose.
IMPORTANT – Software that doesn't support ASIC mining should be ignored for mininig Bitcoin as you can only profit today if you use an ASIC miner.
1. CGminer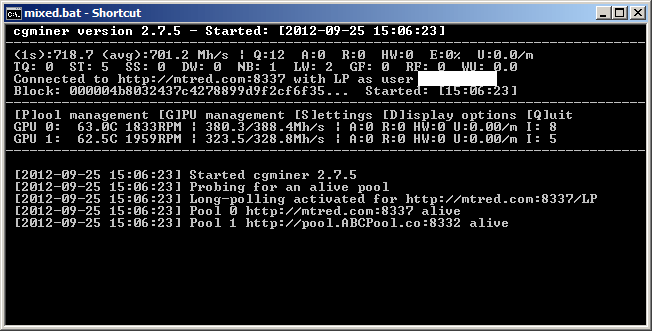 This software is, currently, the most popular GPU/FPGA/ASIC miner. CGminer is an open source GPU miner written in C available for several platforms like Windows, Linux and OS X. One of the things that make it extremely popular is the fact that it's based on the original code Cpu Miner, which you can discover in Bitcoin Wiki.
This software includes overclocking, monitoring, fans peed control and remote interface capabilities. His other features include self detection of new blocks with a mini-database, binary loading of kernels, multi GPU support and CPU mining support. There are a lot of other characteristics you can discover here, at CGminer official forum.
Download CGminer here.
2. BFGminer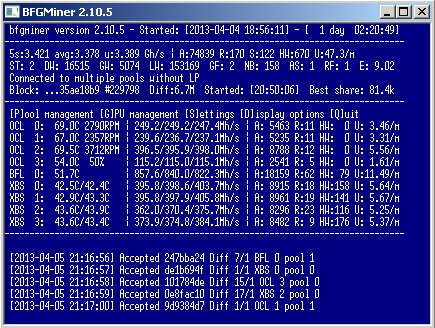 This software is a derivative of the previous CGminer, designed specifically for FPGA and ASICs, but without the central focus on GPUs like CGminer. The latest update on BFGminer, the 3.1.1 version launched in April 2012, features dynamic clocking, monitoring and remote interface capabilities.
Besides being a super versatile program, BFGminer has really interesting features: vector support, integrated overclocking and fan control, ADL device reordering by PCI bus ID, support for mining with free Mesa/LLVM OpenCL and for getblocktemplate decentralized mining protocol and also crypt mining support for both CPU and OpenCL (GPU).
A little reminder: if you're mining with a ModMiner, X6500 or ZTEX devices, you need to download bitstreams to make sure BFGMiner 3+ works with your device. You can find them in the official BFGminer forum and check BFGminer's official website here.
Download BFGminer here.
3. BitMinter

We can say that, although BitMinter might not be the most popular mining software, it's certainly one of the best when it comes to connect with users and potential "clients". The software's official website is quite complete and straightforward: for the creators of the program, it's all about making Bitcoin mining "easy" and winning "high payouts".
BitMinter is different because it's a software that belongs to a mining pool, so your initial step is to register and fill in the pool sign-up form. So, it's a great option if you're looking for a simple installation.
Besides being available for operative systems like Windows, Linux and Mac OS X, BitMinter assures a good mining speed and long polling in order to reduce stale work. It also allows you to mine on OpenCL-compatible GPUs or ASICs/FPGAs (BFL, Block Erupter and other Icarus-compatible). The official BitMinter forum can be found here.
4. BTCMiner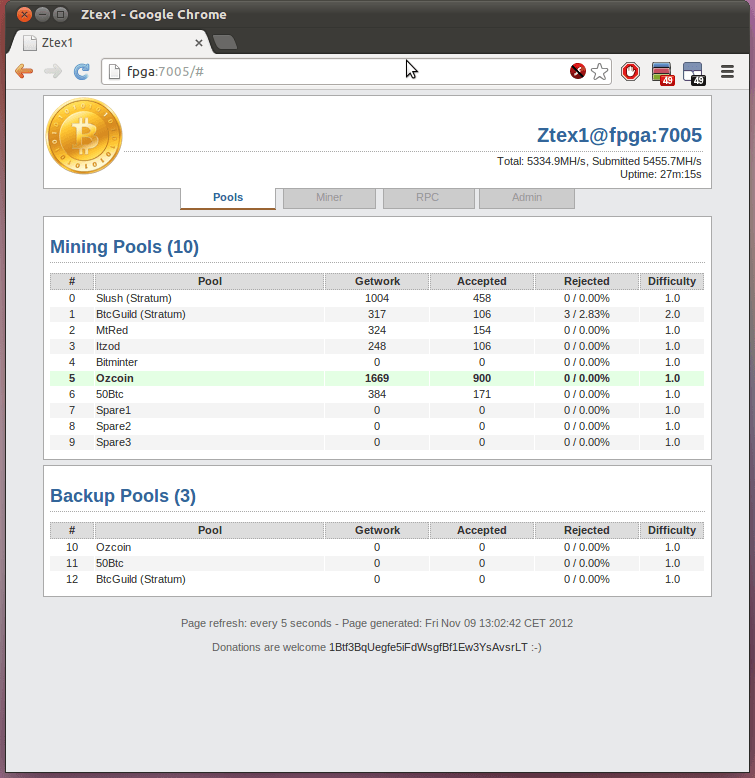 This open source Bitcoin mining software for ZTEX USB-FPGA Modules 1.15 runs on the operative systems Linux and Windows. Yet, Windows users need to install the libusb driver first, which you can find here. The FPGA boards supported by BTCMiner (USB-FPGA Modules 1.15b and 1.15d, USB-FPGA Modules 1.15x and USB-FPGA Modules 1.15y.) have a USB interface, which can be used for communication and programming, allowing the user to build low cost FPGA clusters with standard components (like USB hubs, for instance). In practical terms, this means no JTAG programmer is required and the program allows to run large mining rigs from just one software instance.
The software features a ready-to-use Bitstream, which doesn't require any Xilinx Software or a license, so this is an advantage. However, its dynamic frequency scaling is based on error measurement: so, BTCMiner automatically chooses the frequency with the highest rate of valid hashes. You can find BTCMiner official website here and discover more about this mining software.
Download BTCminer here.
---
After presenting you these different software miners and its characteristics, it's safe to say one thing: more important than rating them and placing them on a podium, you need to know them to correctly choose the one that's better for your needs and already available hardware. If you're looking for a technical comparison, check out our best Bitcoin mining hardware page. Good mining!