The North-American giant of online retail Overstock.com had recently announced it would start accepting Bitcoin on the second quarter of this new year. However, the platform just enabled a Bitcoin payment option for the clients in the United States.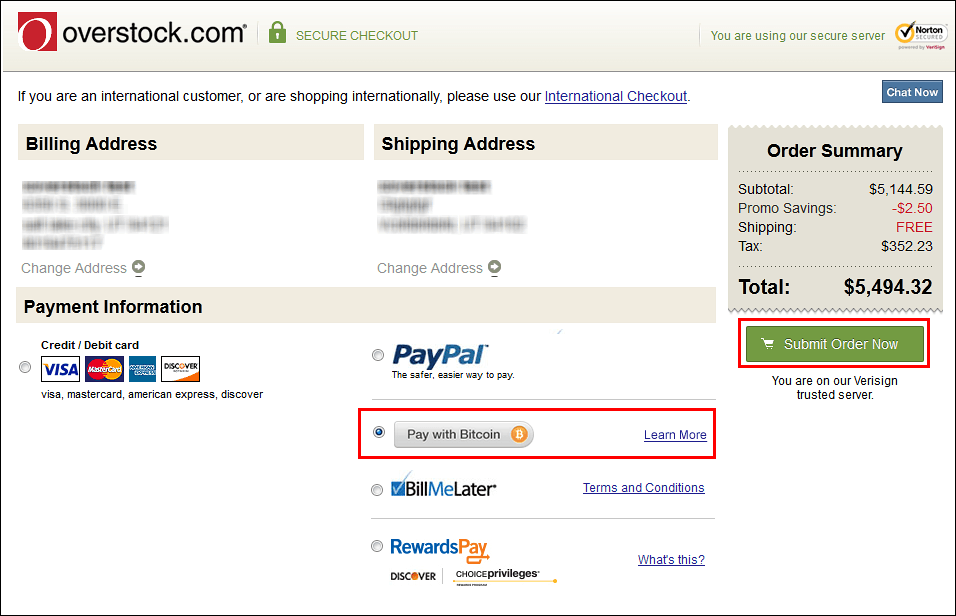 The company decided to make cryptocurrency payments available from this Thursday (9), but only to a restrict group of consumers: "the 'Pay with Bitcoins' option is only available for orders placed on our US shopping site. This payment option is not yet available on the mobile or international website versions". Looks like the rest of the world will have to wait, but some rumours around the web guarantee the waiting won't be long.
Overstock.com partnered with Coinbase in order to accept Bitcoin. On their website's help section, under the 'payment options' tab, cryptocurrency is already an option. "If you are already a Bitcoin user and would like to place an order using this form of payment, select the Pay with Bitcoin under the Payment Information section of our checkout page", the company informs.
The platform has also confirmed the good news on Twitter.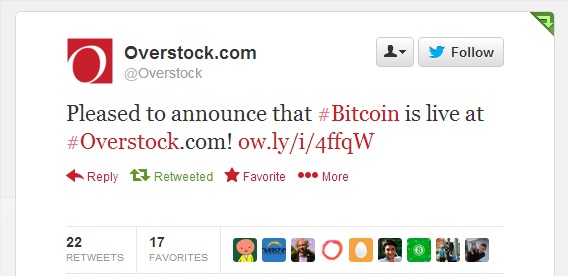 Not long ago, the CEO Patrick Byrne revealed he thinks "there's going to be a market in Bitcoins" and that Overstock.com wanted to become "the first major e-tailer that accepts them". Well, mission accomplished.
UPDATE 15:51, January 10
Only two hours after the news came out, Overstock.com had already registered around 100 Bitcoin purchases worth $10,000, according to Business Insider. The most expensive item bought so far with cryptocurrency was a 13-piece patio set.
UPDATE II 17:57, January 10
Overstock's CEO, Patrick Byrne, just published on Twitter that, after 21 hours, the plaform has registered "780 Bitcoin orders that accounted for $124,000 in sales".