On a recent post about Bitcoin marketing I suggested it's important to understand who your Bitcoin customer is. Today I'd like to shed some light on the average Bitcoin "newbie" which is a persona that many Bitcoin businesses are targeting.
In order to answer this question I needed a big enough data base and what better data base than our own 99Bitcoins which caters to over 30,000 Bitcoin newbies each month. So after enabling the demographics and interests reports in Google Analytics I can now share my insights with you.

Who do you think is the average Bitcoin user ?
Before I share my results I'd like to ask you personally – who do you think is the average Bitcoin user ? I've created a short 4 question quiz below that you can answer and see for yourself.

How large is the database we've tested?
Most people that come to our website are newbies. They usually come looking for tutorials about how to buy Bitcoins or where are the best places to buy Bitcoins. That's also the reason we give our subscribers their first 0.1 MilliBitcoin for free – so they can experience their first Bitcoin transaction without having to spend any money. Because of what I've just stated I believe that our website's demographic is a good representation of Bitcoin newbies.
Since we've only recently enabled demographics and interests in Google Analytics (god knows why) we have data from almost 7,000 visitors. As time goes by this data base will increase substantially (we get around 30,000 users each month) and so will the accuracy of the analysis.
The demographics of a Bitcoin newbie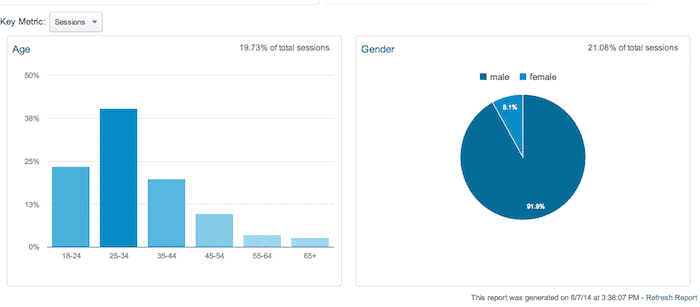 The charts above clearly state that the majority of Bitcoin newbies is (surprise surprise) male. We can also see that the main age group is 25-34 followed by 18-24. Next up it was time to look for what interests our target audience. In order to figure this out I used something called "Affinity categories" and "In-market segments".
Affinity

categories

 – 

Affinity categories are used to reach potential customers, to make them aware of your brand or product. These are users higher in the purchase funnel, meaning they are relevant for your business but are not yet aware of it.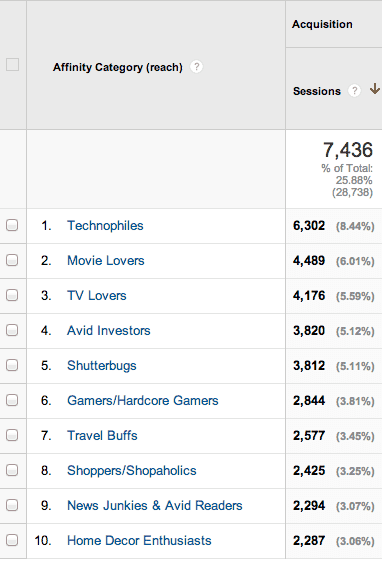 As you can see the "Technophiles" are probably the most relevant segment to become Bitcoin newbies, again no surprise here. What is interesting to see are that "Movie lovers", "TV Lovers" and "Shutterbugs" are also up high (Shutterbugs are enthusiastic amateur photographers). These categories are best to target in order to acquire a following for your business and not necessarily paying customers at the moment.
In-market segments – 

Users in these segments are more likely to be ready to purchase products or services in the specified category. These are users lower in the purchase funnel, near the end of the process. The number of tested users here is significantly lower and therefore is less accurate.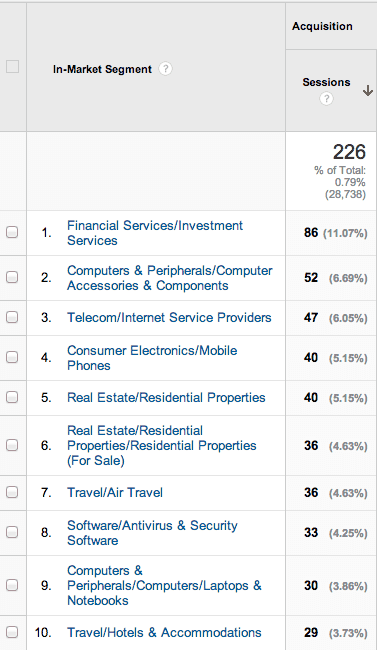 Of course these segments which are much more prone to buying Bitcoin are compiled out of investment services and computer segments. These are good segments to target if your business is looking to acquire new paying customers.
Cross referencing with other data sources
After finishing our analysis I tried to find some additional references online for the Bitcoin newbie persona. I didn't come up with much but I did find an old research the surveyed 1000 people by a website called Simularcrum. Keep in mind that it's from over a year ago before Bitcoin became mainstream. Here are it's main findings:
The average user is a 32.1 year old libertarian male.

Top motivators for new users are curiosity, profit, and politics.

Bitcointalk.org is the dominant community platform.

Far more people have used Bitcoin for donations than for illegal transactions.

36.7% of users do not drink, smoke, gamble, or take drugs.
The "average Bitcoin user" is male (95.2%), 32.1 years old, libertarian / anarcho-capitalist (44.3%), non-religious (61.8%), with a full time job (44.7%), and is in a relationship (55.6%).
Using this data to market Bitcoin startups
Once you have a rough estimate of who your Bitcoin customer is you can craft your promotional message more personally. For example, at the moment I wouldn't focus on targeting women at all since they don't seem to be a large part of my target audience.
If I was looking for a marketing differentiation though I may take the opposite angle and market ONLY to women since I know most people aren't pursuing this segment. The information brought here should be taken with a grain of salt and it's main purpose is to get you thinking about Bitcoin personas.
Make sure to have the right tracking tool like Google Analytics, SimilarWeb and QuantCast installed on your site to you too can answer the question "who is my customer ?".
So ARE you a typical Bitcoin newbie ?
I'd love to hear your opinion about this analysis – do you fall into this category ? If not, what category you think you can fit in to ? Also, if you have more data you'd like me to share about Bitcoin users from our site just post a comment below and I'll do my best to answer.