The following is a 9 step guide to any business or startup dealing with Bitcoin. It's simple, it's short and it has a specific action item for you to do at the end of each step. Enjoy.
---
Step 1 – Who are you're targeting ?
I categorize Bitcoin prospects as either "newbies" or "savvy". Of course they can be broken down into many more categories (here's a short example of some of the different Bitcoin types), but to keep things simple let's use just these two. Since Bitcoin is still in its infancy the larger audiance to target of the two is the newbies.
Target audiance action item:
Create at least 2 personas of your target audience.
---
Step 2 – Take an education based marketing approach
The concept of Bitcoin is hard to grasp. The phrase "What is Bitcoin ?" is the 5th most searched phrase on Google regarding Bitcoin (according to Google's Keyword Planner). This means you can't expect someone to understand what your product is about just by using the word "Bitcoin". Although this may seem as a disadvantage it also opens up a great opportunity for what's called "Education Marketing". By educating your prospects about Bitcoin and helping them understand it better you're automatically creating a connection with them. It also turns you into a resource for them which boosts your authority in this area. All of the above makes your sale much easier late on.
Education approach action item:
Add a tutorial teaching your customers something they didn't know.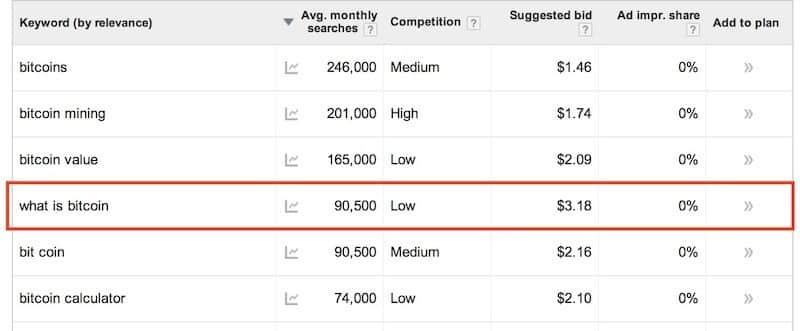 ---
Step 3 – Help your prospects out before asking for something 
When people come to your website it's usually because they are looking to solve some sort of a problem. It could that they want to buy some Bitcoins, or maybe they are looking for the best Scrypt mining equipment. Whatever there problem is you need to find a way to help them out before asking anything in return. For example – If you're a Bitcoin exchange, give any new verified customer a small amount of Bitcoins for free – just so they will be able to experience their first trade without needing to spend any money. If you're a cloud mining company – give them some free GHS so they'll be able to experience what it even means. Coindesk gives a great example with their State of Bitcoin quarterly report.
Helping out your prospects action item:
Create a free gift to give to your website visitors (here's our example):
[hcshort id="13″]
---
Step 4 – Tap into the main Bitcoin social networks
In order to create your brand, you'll have to have a presence on the main social networks dealing with Bitcoin. At the time of writing this post Bitcoin has a very active Sub Reddit, several Facebook groups, one main Google Plus community, the BitcoinTalk forum and also one main LinkedIn group. Make sure to participate in discussions and post informative links in these groups. And by saying informative I don't mean links about your product, but rather help the community learn something new. If however your company has a blog and you wrote something non commercial that you believe will interest people don't be afraid to share it. Social network groups are rarely the place to promote your product directly.
Bitcoin social networks action item:
Join all of the groups mentioned above, post something new or informative once a week.
---
Step 5 – Speak the language of your target audience
If you're targeting Bitcoin newbies make sure you're not speaking "Bitcoinish" – because they won't understand a word you're saying. Don't use Bitcoin jargon and don't assume your prospect knows anything that's related to Bitcoin. Even the phrase "decentralized digital currency" is unclear to 95% of the population when they hear it for the first time. On the other hand – if you're target the savvy Bitcoiners, using Bitcoin terminology will help you ascertain your credibility. This video is an example of how to explain what is Bitcoin in plain English:
Speaking the language action item:
Ask someone who's new to Bitcoin if they understand your sales page.
---
Step 6 – Use SEO and target long tail keywords
Search engine optimization (SEO) for specific long tail keywords can help you get extremely relevant traffic. The fact that Bitcoin is an emerging market has left many keywords untapped. For example, if you're a Bitcoin exchange in Germany, instead of target highly competitive KWs like "buy bitcoin" try targeting a long tail keyword like "buy bitcoin Germany" or "best Euro Bitcoin exchange". In order to come up with these long tail keyword think in terms of the problem people have. For example try targeting "where do I buy Bitcoin in [your country]". Search around forums and use the Google autocomplete feature to learn what your customers are looking for.
SEO action item:
Make a list of 10 long tail keyword you wish to target. Write a dedicated post for each one.

---
Step 7 – Create a free product for the Bitcoin community
One of the best ways to build your brand is to have other websites endorse you. Building a "product for the community" is a great way to get people talking about you. For example, Coinbase helped created BTC Quote – a free BTC ticker that shows you the latest price from their site. Preev is an excellent free tool that converts Bitcoin to other cuurencies. We've created CoinLlama – A Bitcoin price search engine which lets you find the best rates when buying Bitcoins.
Free product action item:
Think of a product related to your startup that other sites will to link to or embed.
---
Step 8 – Build a relationship with the Bitcoin PR giants
Luckily for us there aren't many PR giants in the Bitcoin arena, actually I can count only 3: Coindesk, Crypto Coin News (also known as CCN) and DC Magents. PR has never been my strongest suit but what I have learned is that exactly like what we talked about visitors – you have to give before you ask something in return. Best tactic here would be to find a specific reporter and not to approach the general support email. This can be done through a quick LinkedIn search. After that it's time for the dreaded cold email (tips on which can be found here).
PR relationship building action item:
Find a Bitcoin reporter  and send him a cold email about your company.
---
Step 9 – Don't be anonymous!
One of the biggest reasons people are afraid of Bitcoin is because of it's relation to illegal activities and fraud. In order to gain the trust of your customers your have to be transparent about your company. After Mt.Gox become insolvent people are twice as careful with who they trust and if something about you seems shady they will walk away.
Removing anonymity action item:
Create an "About" page for your company, displaying key figures and their LinkedIn profiles.
---
Build authority in your field – there's still room for it.
To sum things up, on of the beautiful things about the Bitcoin space is that it's still in its infancy and there' A LOT of room to grow. If your strategy is to build authority in your field then it will be much easier to convert your visitors into paying customers. It will also help all of the other tactics such as SEO, SEM and Social Media marketing. If you want to learn more Bitcoin marketing tactics you're welcome to read our 99Affiliates blog. Not many people take the time to follow on the steps we've just covered, make sure you stand out of the crowd, take action.