An increasing number of companies, tech developers, and researchers have been turning to Bitcoin for technological inspiration. This should come as no surprise given Bitcoin's dramatic rise and the fact that it accomplished something that would have been nearly inconceivable just a decade ago: establishing an all-digital peer-to-peer currency.
Now the NASDAQ trading exchange, which operates one of the world's largest and most valuable stock exchanges, is looking to Bitcoin for some inspiration of its own. The NASDAQ is examining ways to use Bitcoin's blockchain technology to process and track stock transactions, which could potentially lower the costs of said transactions dramatically. And not only is the NASDAQ looking to use Bitcoin's tech, but the exchange wants to be the first stock exchange in the world to do so.
Nasdaq Chief Executive Officer Robert Greifeld even went as far as to claim that blockchain technology "of fundamental importance to Wall Street." So what's so special about the blockchain? It allows for low-cost and decentralized compiling of massive amounts of data, and is especially useful for tracking long logs of transactions. Originally, the blockchain has allowed Bitcoin to regulate itself and to track all transactions and the location of all Bitcoins in circulation.
So what is stopping blockchain tech from doing the same for stock markets? Perhaps nothing. Every day countless financial transactions are completed on stock exchanges around the world. Stocks are bought and sold at a ridiculous rate and the NASDAQ and other exchanges currently have to rely on expensive centralized processing power and a small number of exclusive financial firms to process all of the transactions. If the ownership of stocks is somehow lost in the mix, the entire viability of the stock market could come under fire. Blockchain tech could ensure that could never happen, and it could do so at a low cost.
The NASDAQ is already working with a number of firms to explore the use and implementation of blockchain technology. Meanwhile, a poll of financial professionals found that nearly 95 percent supported the notion that blockchain tech could be used in the traditional financial industry, and venture capital investments in blockchain tech have been on the rise.
Bitcoin's blockchain tech may allow the NASDAQ – as well as the New York Stock Exchange, London Stock Exchange, and other stock exchanges around the world – to decentralize this processing and tracking. If so, the technology could disrupt and revolutionize the established financial industry and dramatically lower transaction costs.
Further, Bitcoin itself has also been slowly making its way into traditional investment markets. The Bitcoin Investment Trust was launched earlier this year by Grayscale Investments and allows wealthy investors to invest directly in Bitcoin through a trust. An investor must be earning at least $200,000 per year or have $1 million in assets, and must invest a minimal of $1 million dollars. The trust's value is directly tied to cryptocurrency.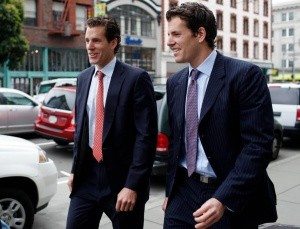 Also, the Winklevoss twins, who gained fame after Facebook founder Mark Zuckerberg allegedly stole their idea and sabotaged their efforts to create a Facebook-like platform, are looking to launch a Bitcoin-linked Exchange Traded Fund. If approved, the fund would be tied directly to Bitcoin prices and trade on the NASDAQ under the ticker 'COIN'. Although the fund has been in the works for several months, it is still pending.
As more financial products based on Bitcoin are launched, and as digital money's technology is adapted for other uses, acceptance and familiarity with the online currency should rise. While Bitcoin is a niche currency, given recent developments it wouldn't be a surprise to see Bitcoin gain more traction with the masses. Certainly, blockchain tech has been drawing attention.