It's not news that IBM has been exploring Bitcoin's technology and its applications. But the computer giant has now released a new report, which claims that the blockchain could be the much awaited solution for the logistical issues surrounding the evolution of the Internet of Things.
In a near future, our daily lives will exponentially interact with a "network of billions of intelligent devices," IBM predicts. This means we will need a bigger and more powerful connection to support all these devices. The network that connects all dots is already being called Internet of Things.
"As a global electronics company, we [IBM] understand the issues facing the high-tech industry and the continuous transformation required to thrive. Across the industry, companies are turning their attention from smartphones and tablets to a new generation of connected devices that will transform not just the electronics industry, but many others."
It's already happening, as it's not only our computers that are now connected to the Internet. Our phones, tablets, cars and even some house appliances – over a billion intelligent devices – already depend on a global connection to work. And history tells us that the only way for technology is up. However, more devices and new possibilities require a wider network that connects everyone and everything.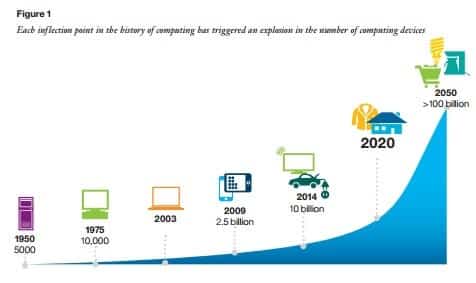 "The expected proliferation of hundreds of billions more [devices] places us at the threshold of a transformation sweeping across the electronics industry and many others," IBM says.
Following months of investigation, IBM believes Bitcoin's "blockchain offers a very elegant solution" to the problems still surrounding the evolution of the Internet of Things. The company says "the dream of a smart, safe and efficient future is threatened by subscription fees, ubiquitous advertising and intrusive surveillance," issues that could be solved by the integration of the blockchain. The claim is part of the new report titled Device Democracy – Saving the future of the Internet of Things.
We already knew that the blockchain was likely to have multiple applications in the financial world, but IBM's bold claim is quite exciting. This means the international company is not only looking into Bitcoin's core technology as part of a new payments system, but might have bigger plans for cryptocurrency's decentralized ledger.
IBM's first report shows that "a low-cost, private-by-design 'democracy of devices' will emerge" in order to "enable new digital economies and create new value, while offering consumers and enterprises fundamentally better products and user experiences."
According to the company, the structure we are using at the moment already needs a reboot and a massive update. IBM believes that the current Internet of Things won't scale to a network that can handle hundreds of billions of devices. The operative word is 'change' and this is where the blockchain will come in handy.