Litecoin Mining Hardware – Antminer L3+ Review
By: Steven Hay | Last updated: 1/11/21
As Litecoin becomes more and more popular, many people are looking for the most suitable miner to mine it. In this post I will review Bitmain's Antminer L3+, the world's most popular Scrypt miner, so read on.
Note: A newer version, the L3++ was released by Bitmain in May 2018, however, it is very hard to obtain. Additionally, from mixed user reviews it seems that it is no more than a firmware upgrade for the L3+.
Antminer L3+ Review Summary
Litecoin ASIC miners are hardware components dedicated to mining the Scrypt algorithm. Based on the BM1485 chip is Bitmain's Antminer L3+,  a newer version of the Antminer L3. The Antminer L3+ is way ahead of the competition when it comes to hashrate VS power draw and price.
If you already own an Antminer L3 you can read here our beginner's guide on how to mine Litecoin.
Last, before buying your mining hardware, make sure you use a Litecoin profit calculator to see if overall you can make money mining Litecoin.
That the Antminer L3+ in a nutshell. For a more detailed review keep on reading, here's what I'll cover:
---
1. Antminer L3 / L3+ overview
The Antminer L3 Scrypt miner was the first Bitmain ASIC miner dedicated to Litecoin mining. Its release into the market dealt a deadly blow to the competition, Innosilicon's A4 The Dominator.
However, the L3 was quickly sold out on Bitmain's store and today there are very slim chances you will be able to get your hands on one (your best chances are looking for used ones on eBay).
The Antminer L3+ is essentially an L3 with twice the hash rate and twice the power draw;
Both L3 types use the same BM1485 chips, so the L3+ is essentially two L3's boxed together. In the following chapters I will review the Antminer L3+ by comparing it to older models and competing products.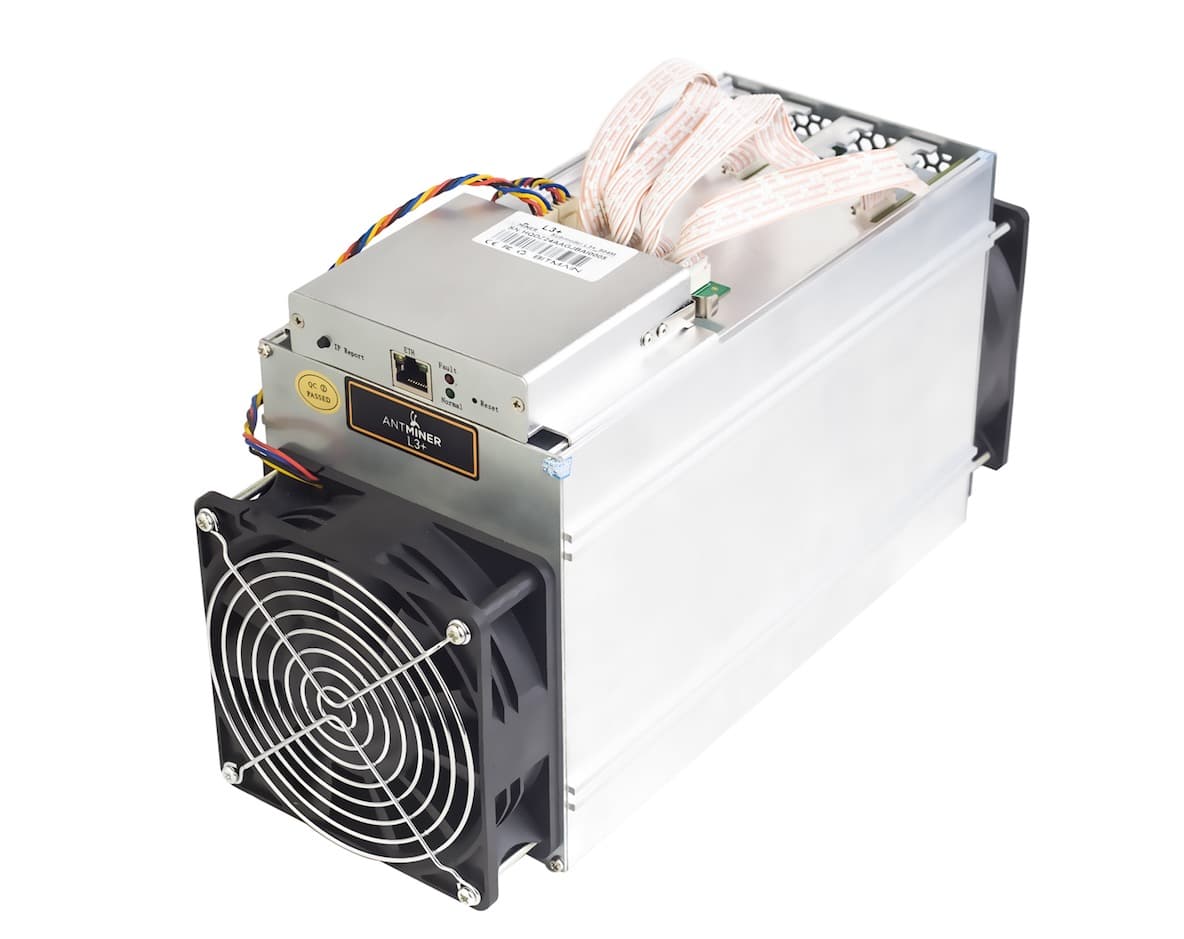 ---
2. Antminer L3+ Efficiency
The most important comparison criteria for a miner is efficiency, which measures the miner's hashrate VS. its power usage. Greater hashrate will get you more of a return but entails more power costs, which can end up eating your earnings.
An efficient miner gets you better hashrate for less power.
The Antminer L3+ boasts in a hashrate of ~504 MH/s for a power consumption of 800W. For comparison, its retired competitor, the A4 Dominator by Innosilicon was able to deliver a hashrate of 280 MH/s for 1050 watts, which is about half the hashrate for 30% more power draw.
Interestingly enough, the A4+ "LTCMaster", Innosilicon's latest Scrypt mining ASIC, performs better than the L3+, with a hashrate of 620MH/s for a power consumption of 750W.
However, the LTCMaster's price is at least 4 times the price of the L3+, so it might take you a significant amount of time before you'll get a positive ROI over it.
Bottom line – raw hashrate doesn't tell the full story, you need to seek efficiency. All things considered, the L3+ has an advantage compared to other Scrypt miners.
---
3. Antminer L3+ Weight and Size
The L3+ shipping weight is ~5 kgs, making it fairly chunky compared to the A4+'s ~4 kgs. This difference might not look like much when sitting on the rack, however, when calculating shipping costs (especially for multiple items) this makes the L3+ significantly more expensive.
The L3+ is a bit bigger (352mm*130mm*187.5mm) than the LTCMaster (350mm*125mm*155mm). This is another thing to consider when deciding how to stack your rack.
Still, when taking into consideration the very uncompetitive price difference, the L3+ is still the leading choice.
---
4. LTC mining hardware profitability
A very important step before you decide if it's a good time to buy your miner is to test it for profitability. To do that, you can use our a Litecoin mining calculator:
| | |
| --- | --- |
| Difficulty Factor | |
| Hash Rate | |
| LTC/USD Exchange Rate | |
| LTC/Block Reward | |
| Pool Fees % | |
| Hardware Cost (USD) | |
| Power (Watts) | |
| Power Cost (USD/kWh) | |
Just fill in the data for your hardware's price, electricity costs and the miner's specs as they appear on the manufacturer's page. The outcome of your possible return per these parameters will appear below the calculator.
Is Litecoin Mining Profitable?
When using updated stats to December 2020 with a power cost of 10 cents per KW, you'll find that you'll actually be losing money. This means that if you don't have access to extremely cheap electricity and a cool environment, Litecoin mining is probably not profitable for you.
When considering the outcome, it's important to remember that:
Both the difficulty and the price (in USD) can and will change over time. While the price can go both ways, from past experience it is highly probable that the difficulty will mostly go up over time. Basically, this means that the profitability projection is only true to the moment of calculation
The costs of additional essential mining gear e.g. cooling equipment and PSUs are not included in this calculation
---
5. Conclusion – Should I get the Antminer L3+?
The Antminer L3+ is a very solid all-round performer. In terms of efficiency, it's nearly identical to the newer, more powerful Innosilicon's A4+ LTCMaster .
With the price difference at the time of writing (pre-owned L3+ can be found at as low as $190 while the A4+ doesn't go lower than $1,100 on Amazon), it's quite clear that the L3+ is still the "best cash for hash" miner out there.
In May 2018 Bitmain released the Antminer l3++, their most advanced Scrypt miner up-to-date. However, most reviews of this model are mixed, with the main complaint being that this is just a new firmware for the L3+ rather than an actual new model.
Since the hardware is virtually identical to the L3+, this may well be the case.
A final word of advice – before spending all your hard earned money on mining hardware, make sure to run the numbers on a Litecoin mining profitability calculator. Mining is a risky business, it involves a significant initial investment. Don't invest more than you can afford to lose.