IMPORTANT: on June 10th 2017 a security bug was reported regarding Jaxx. The Jaxx time was notified about this however haven't implemented a fix yet. I suggest avoiding Jaxx until this is dealt with.
I recently reviewed the best Ethereum wallets around and came accross Jaxx – an independent Bitcoin wallet that's available for most devices (Windows, Apple and Linux desktop, Android and iOS mobile and tablet, and Google Chrome and Firefox extensions.)
Today I would like to take a deeper look at Jaxx and see how it compares to other successful desktop wallets. For this review I downloaded the Mac OS desktop version and the iOS version.
Spoiler alert – I was pretty impressed.
The design is great, the user interface is amazing
The first thing I've noticed about Jaxx is the design. The wallet uses beautiful, minimalist black screens that bring simplicity to the user. However that's not what got me sold on the wallet. What was truly amazing in my opinion was the simple interface.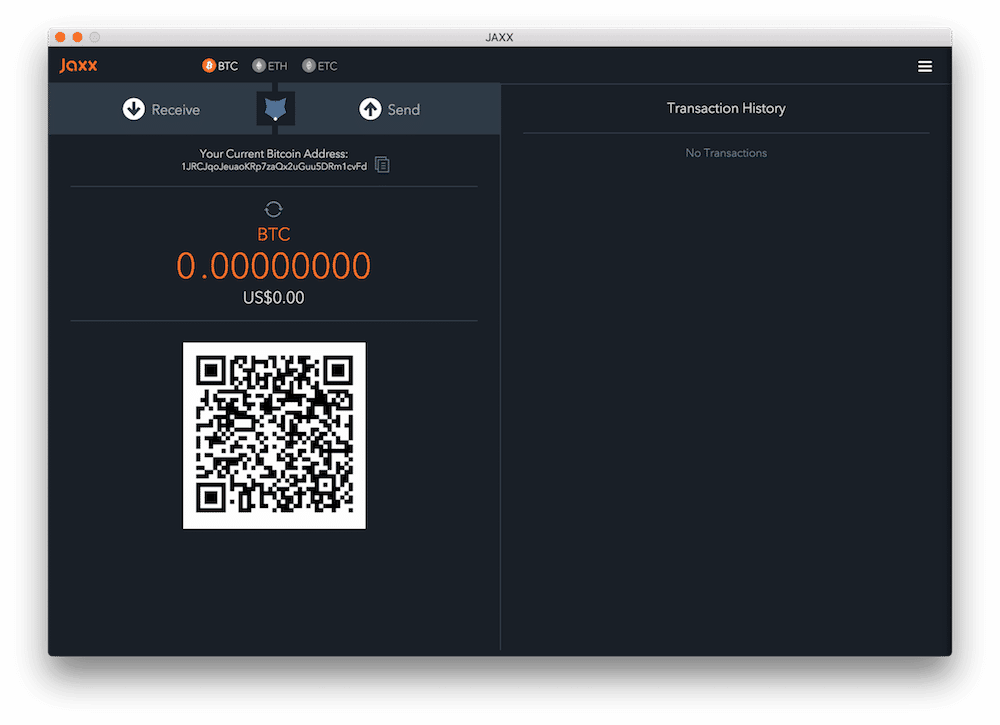 Even if you're a complete newbie you'll probably manage to use Jaxx without a lot of trouble. The setup is pretty simple and the ongoing use is limited to the basics such as "send" / "receive" and changing the currency type.
With Bitcoin and cryptocurrencies being such a technical subject we really need this type of products that don't scare the user away.
However, the fact that the interface is minimal doesn't mean that Jaxx doesn't supply the user with advanced features. Once you click the "menu" button (top right) you get all sort of advanced features including:
Adding / removing different currency support
Using different exchange rates
Setting up transaction fee size for faster / slower confirmations (see image below)
Displaying the private key of the wallet
Wallet backup
Importing funds from a paper wallet
Setting a security PIN
These options probably cover most, if not all, of the features I usually look for in a wallet. Also, each feature comes with a small tool tip that explains more about it so you don't have to go searching the web for explanations.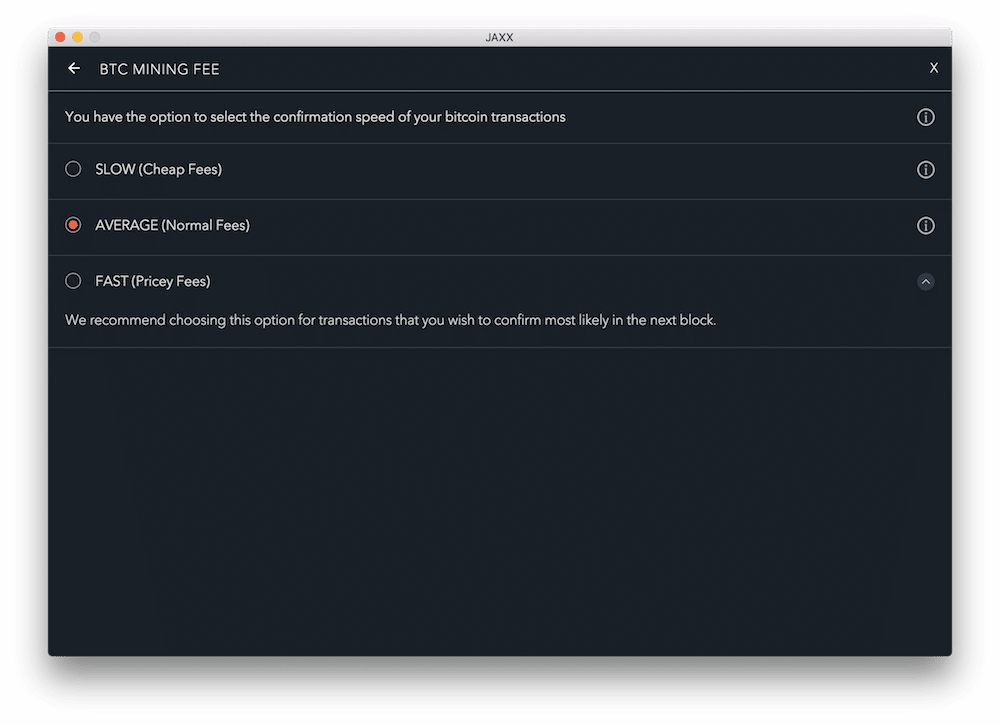 Altcoin support available for most major coins
Jaxx is not just a Bitcoin wallet, it also support a lot of other major altcoins including:  Ethereum (ETH and ETC), Dash, Augur (REP), Litecoin (LTC), Zcash (ZEC) and RSK.
Adding or removing a currency takes only two clicks – Go to "menu" -> "Wallets" and choose which currencies you'd like to have on your Jaxx wallet.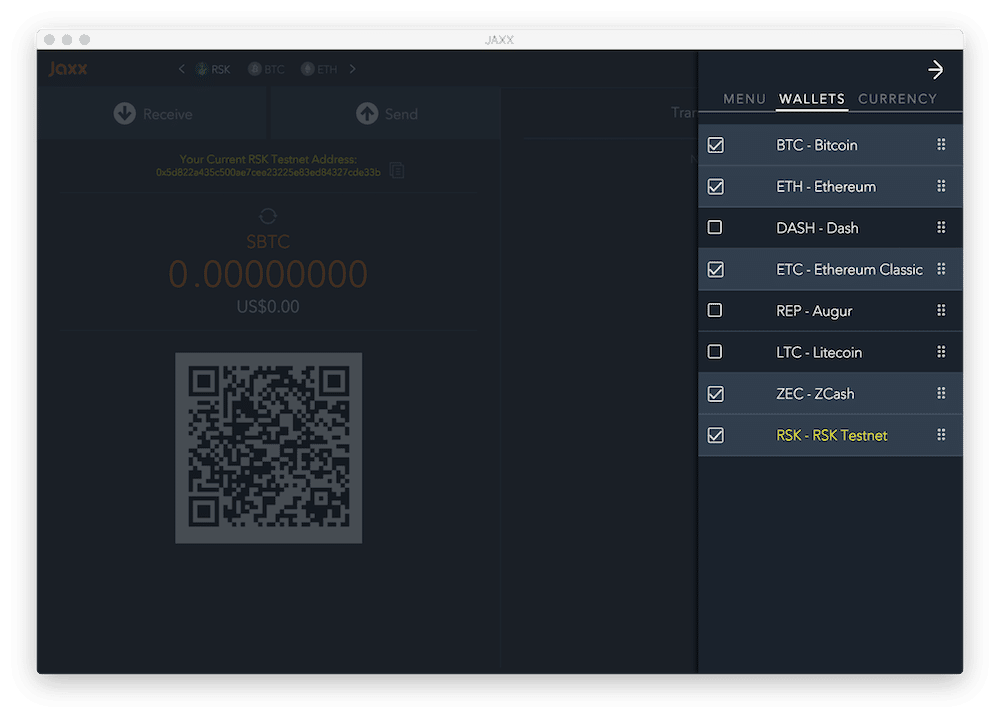 ShapeShift integration is a game changer
One of the more important features Jaxx has that's not available in other wallets is a built in integration with ShapeShift. ShapeShift is an exchange service for converting between blockchain tokens and coins. ShapeShift has been integrated directly into Jaxx to allow for in-app conversion between all currencies Jaxx supports. Here's a one minute explanation about how ShapeShift works:
This means you can exchange Bitcoin for ETH, for example, from within the app. In order to do so just click the fox icon within the app (see below) and decide what and how much you want to exchange.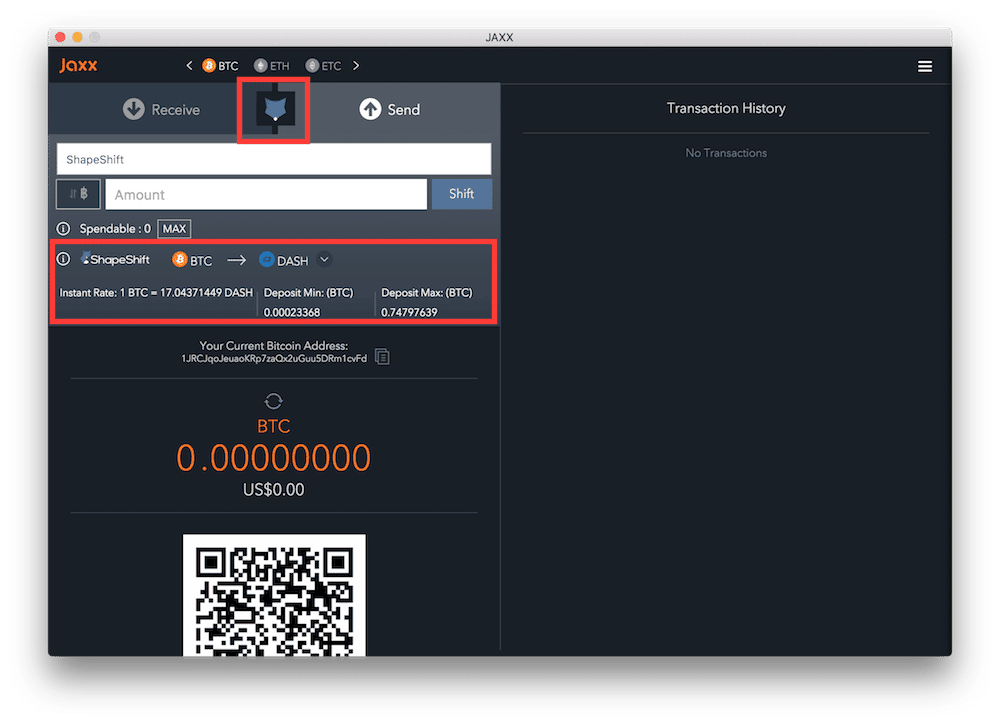 Some additional thoughts about Jaxx
One of the downsides of Jaxx is that it's not open source. However, the developers made the source code freely available for anyone who's looking to review it on the wallet's homepage. Support for the wallet is done via a ticketing system and there is a robust FAQ page in order to solve issues on your own.
I've also tried to look for reviews online regarding Jaxx. I did found several people who had issues with the wallet in the past. However I couldn't find anything negative from the last 3 months. I also found some pretty positive reviews about the wallet so I guess it's a personal matter.
Should you use Jaxx?
I've previously reviewed Exodus, a great desktop wallet in my opinion, and I have to say I think Exodus has found its match. Jaxx is an amazing piece of software, and unlike Exodus it's available across the board for mobile and desktop alike.
Having said that, the company is still young (only a year and a half old I think). Add the fact that Jaxx is a hot wallet and you come to the conclusion that it's not wise to keep a large amount of coins on it. This is not necessarily something to do with Jaxx, it's just a basic security measure – never keep a large amount of coins on a hot wallet. For large amounts always use a hardware wallet (i.e. TREZOR, Ledger), but for smaller "day to day" amounts Jaxx is an excellent choice in my book.