Following its expansion into the United States, global Bitcoin exchange itBit has just become the country's first fully regulated cryptocurrency company.
New York's Department of Financial Services granted the exchange an LLC this week, a license that allows the company to legally trade in all 50 states. "Compliance is an important pillar of (our) mission. itBit can truly become the backbone of the entire Bitcoin ecosystem," said itBit's CEO and co-founder Charles Cascarilla.
The department's superintendent Ben Lawsky tweeted an image of the license, declaring it a "big day" for business and Bitcoin's ecosystem.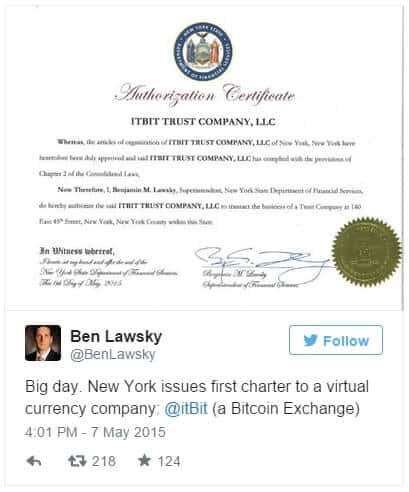 The company has been working hard to get the LLC since July 2014, when it established new offices in New York. "We've spent a lot of time and resources to get to this place," Cascarilla added. Besides operating in the United States, the exchange also has offices in Singapore, Asia.
Regulatory compliance is paramount when establishing any type of financial services company. This is not so much a belief or strategy as it is a matter of fact; there are extensive, well-established guidelines from multiple agencies at all levels of government on how to work within the system, and harsh consequences for those who do not comply.

While some see Bitcoin as alluring for its potential to operate outside this system, we see it differently. We believe Bitcoin and blockchain technology have immense potential within the system – to help make it more efficient, to offer new solutions and to bring us all into the future. With this bigger vision in mind, we realized that being regulatory compliant is not enough. We don't just want to stay within the lines — we want to set an entirely new standard.
After the news was made public, itBit's ($XBT) value increased almost 5% over the next 24 hours with BTC trading at over $243 on Friday (9th).
Besides being granted the new license, itBit also announced a capital injection of $25 million, result of a new financing round. The company later appointed three new board members. The three proeminent experts are Sheila C. Bair (former chairwoman of the Federal Deposit Insurance Corp.), Bill Bradley (former New Jersey senator) and Robert H. Herz (Morgan Stanley director).
The company is now looking forward to grow in the United States, building trust around the business and cryptocurrency.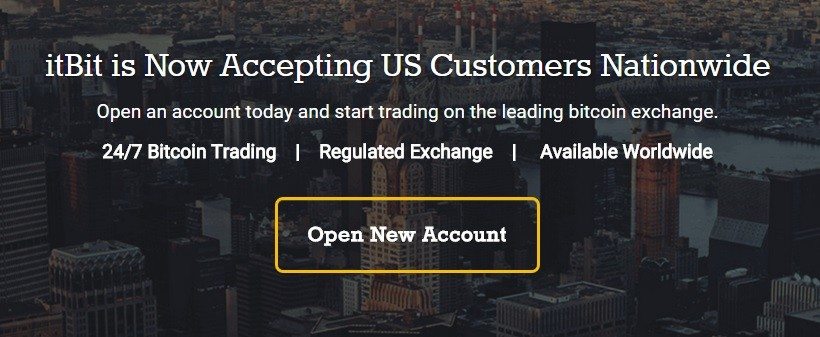 "Our clients can rest assured knowing that their deposits are secure no matter the exigency. Further, our US customers will have the additional assurance that their dollars will be kept in FDIC-insured, on-shore bank accounts," said the CEO of itBit.
Bach in March 2015, the exchange was one of the three bidders that won the third federal auction of Bitcoins seized from Ross Ulbricht, the mastermind behind the illegal online marketplace Silk Road, in 2013.