Russia, China, Indonesia and Brazil are just some of the countries that can now use the world's first peer-to-peer Bitcoin exchange. Decentralized platform Coinffeine has just launched in more than 70 countries, two months after releasing its 'technical preview' version.
Although Coinffeine offers an experience similar to traditional exchanges when buying Bitcoin, it uses local payment processors to manage fiat currency transactions. The platform is desktop-based, allowing its customers to manage their BTC in a global market "without having to lose control" over it.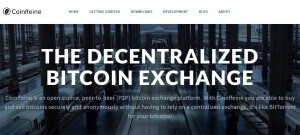 "To use Coinffeine is as simple as using LocalBitcoins, but as powerful as using Coinbase or BitStamp," said the company's CEO Alberto Gómez Toribio.
What makes Coinffeine decentralized is the fact that the exchange takes advantage of the P2P model to avoid accepting deposits in BTC or fiat currency. According to the company, this process makes it unnecessary to identify users or pay high fees.
"Not having to identify users or enforce KYC laws has allowed us to design a much more scalable exchange model. But what is even more interesting, is the user experience we offer. Coinffeine is like BitTorrent. You just download it, you connect your OKPAY account, or PayPal in the future, and use it."
Following the launching, "Coinffeine achieves the greatest international expansion from day one ever carried out by a Bitcoin company," the company said in a blog post.
Although Coinffeine is still in beta, the exchange is looking to grow even more and integrate other payment processors like PayPal or Alipay, eventually expanding services to the rest of the world in the near future.
Although the Bitcoin community received the good news with open arms, there is also some criticism over the fact that the company is only partly offering a decentralized service because it works with large banks like Bankinter.
Curious Bitcoiners can already use the exchange's services, making the most of the first Bitcoin desktop wallet that allows the users to buy and sell BTC automatically. However, users of the beta version are  advised to only use moderate amounts of money for now.