Bitcoin users in Latin American will finally have their very own exchange service thanks to efforts by CEX.io and AstroPay, whom have teamed together to offer local currency account deposits and withdrawals through Latin America.
Up until now it has been difficult for Latin Americans to use Bitcoin due to the limited provision of local services. The companies are now aiming to offer the new service in Argentine, Brasil, Uruguay, Chile, Mexico, Columbia, and Peru. Beforehand, Latin American users were only able to make withdrawals and deposits via banks, and often had to convert their local currency to US dollars and euros. This made it difficult for many people to access Bitcoin.
AstroPay will be charing a 2.5% fee on both deposits and withdrawals carried out through the company's online banking services. Users' banks may also charge additional fees and while the fees are somewhat high, they are likely to trend lower as more companies start offering services in the region and competition begins to increase. That's how markets work, after all.
CEX.io has generally focused on running its own Bitcoin exchange, but after pivoting away from crypto mining 24-hour trading volume has dropped to only $102,000 dollars in BTC/USD volumes. The company is hoping to increase volumes by teaming up with AstroPay so that Bitcoin users can fund their accounts using local currencies.
Customers from China and Turkey will also be able to use CEX.io to fund accounts using AstroPay's services.
CEX.io already offers account withdrawal and deposit services in 23 states in the United States. The company's track record and previous experience should help ensure that the company's Latin American roll out goes smoothly.
In many Latin American countries debit card ownership rates fall below 10%. Paraguay, Boliva, and Peru are among these countries, and for online merchants in said nations it can be a challenge simply facilitating payment.
At the same time, inflation in said countries can be very high and most people need a way to protect their wealth. Tight capital control and limited banking services can make it difficult to convert local currencies into US dollars and other international currencies, so Bitcoin offers an attractive alternative.
Up until recently, Bitcoin adoption has been slow in Latin American countries. In February of 2015, only 638 Bitcoin transactions were conducted, but that actually represents a substantial rise from the 493 transactions conducted just a month earlier. This past June, however, more than 3,500 Bitcoin transactions were conducted, representing astronomical growth over the course of just a few months.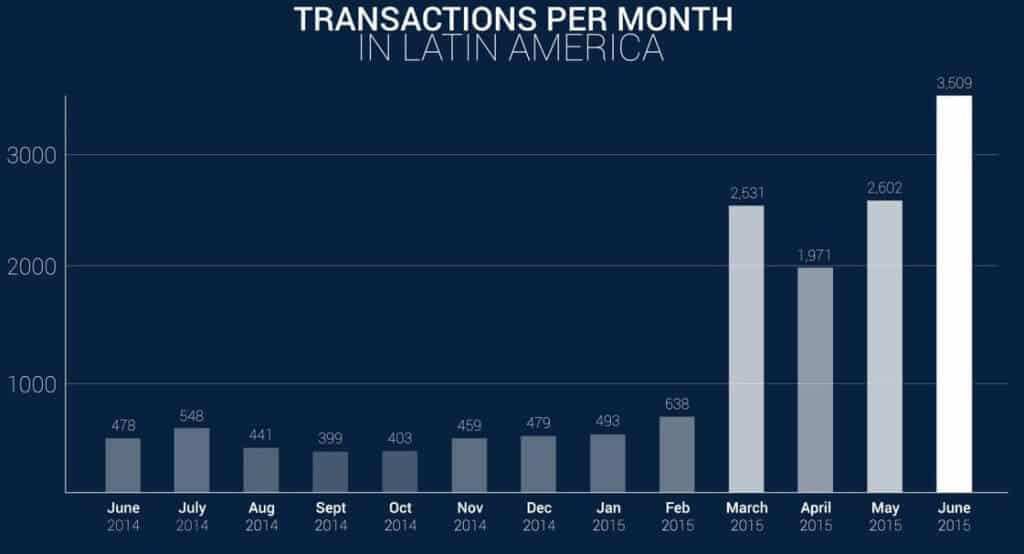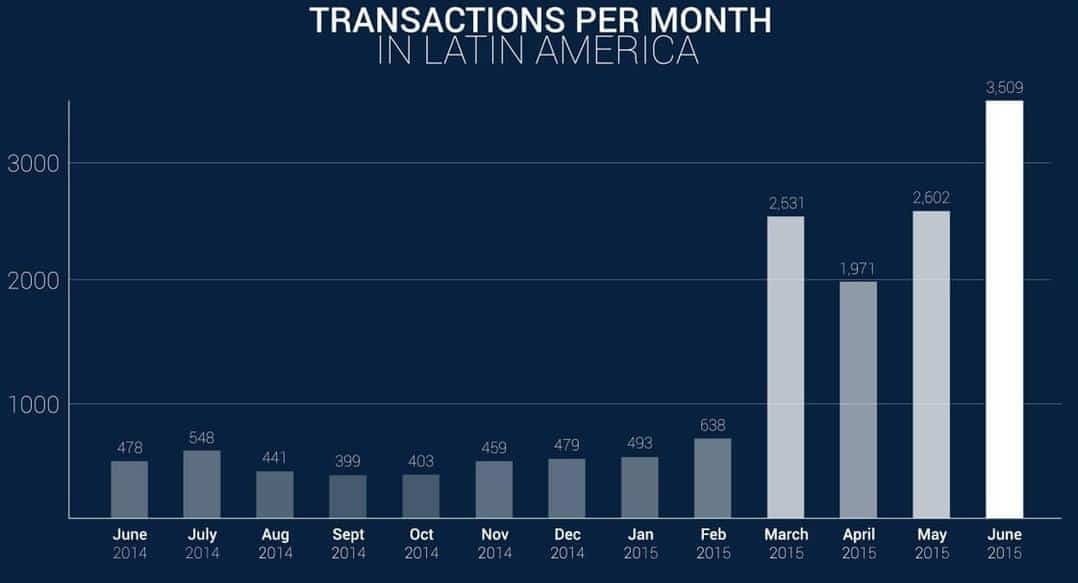 Bitcoin transactions hit 2,531 in March and then dropped to 1,971 in April, before rising to 2,602 in May, so the growth has been sustained and does not appear to be a temporary blip. Now, with firms like CEX.io expanding their offerings in the region, transactions could potentially climb even higher.
As international trade and transactions increase, Bitcoin's legitimacy and overall adoption rates should also grow. This will obviously benefit the whole Bitcoin community. Of course, we're getting a bit ahead of ourselves, but CEX.io's efforts to expand in Latin America bode well for the continued, gradual expansion of Bitcoin's global footprint.