Buying Bitcoins in Australia
By: Steven Hay | Last updated: 2/6/22
In this guide I'll review the status of Bitcoin in Australia, assess its current popularity, and cover some of the exchanges which you can use to get bitcoins in Australia.
Buy Bitcoin in Australia Summary
Bitcoin is a completely legal currency in Australia and it's being treated just like money. Businesses and financial institutions are free to deal with cryptocurrency. To quickly and easily buy Bitcoin in Australia just follow these steps:
Get a Bitcoin wallet
Go to Coinmama
Choose the amount of Bitcoin you wish to buy
Enter your payment information and Bitcoin address
If Coinmama doesn't work out for you here are a few additional options:
That's how to buy Bitcoin in Australia in a nutshell. For a more detailed review keep on reading, here's what I'll cover:
---
1. Is Bitcoin Legal in Australia?
Bitcoin is not recognized as legal tender in Australia, but has been incorporated within the tax law of the country. According to the Australian Taxation Office, citizens are able to use whatever currency they prefer to purchase goods and services, including Bitcoin since it has the same qualities as money.
You can buy Bitcoin with no tax commitments, as long as you are using the cryptocurrency for purchasing goods and services.
However, if you use Bitcoin as an investment vehicle for speculative trading, or accept it as a business, there are clearly-defined tax requirements to which you must adhere.
---
2. How Popular is Bitcoin in Australia?
While Bitcoin's adoption in Australia is definitive on the positive side, in the past 12 months the amount of Google searches for the term 'Bitcoin' has been on a steady decline.
As can be seen in the Google trends graph below, Searches are correlated with the price volatility of Bitcoin, as evidenced by the spike in interest in November 2018 when Bitcoin lost roughly 50% of its value.

LocalBitcoins exchange volumes indicate that there is a significant amount of people still trading the cryptocurrency peer-to-peer. The charts for LocalBitcoins indicate a relatively stable, albeit down-trending, economy.

---
3. Major Australian Bitcoin Communities
Australia is quite vocal in the Bitcoin community. There are more than 150 Meetup groups across Australia, with over 58,000 members in total.
Regular activity can be seen on the Australian Bitcoin subreddit as well. To get yourself involved with the community and to keep in touch with the latest news about Bitcoin, these are some of the best places online:
---
4. Australian Bitcoin exchanges
With the relatively rapid acceptance of Bitcoin and digital assets in Australia, there have been multiple cryptocurrency exchanges which have helped people buy their first bitcoin. These four exchanges are the most popular in Australia:
CoinJar
CoinJar was founded in 2013 and offers an easy and convenient way to buy, sell, store and spend cryptocurrency. On the CoinJar exchange, Bitcoin and ten more altcoins are available to trade for a 1% conversion fee against the Aussie Dollar. The iOS and Android apps enable a convenient way to store and spend coins on the go.
Independent Reserve
Independent Reserve, established in Sydney in 2013, has had flawless performance since its inception. The exchange has a good reputation in the online community, and the official website boasts a rigorous security standard.
All critical exchange data is encrypted and secured on two server locations, to protect against data breach or loss.  
CoinTree
CoinTree started in Melbourne in 2013 and has managed to attract more than 60k members. This exchange boasts a value of $100 million AUD in successful transaction volume so far. They have partnered with various organizations in the country and through these connections they've also enabled Australians to pay everyday bills with cryptocurrency.
CoinSpot
CoinSpot, also founded in 2013, has established itself as the exchange that offers the widest range of cryptocurrencies on the Australian market. They also strive to provide superior customer service. The online community however, believes that CoinSpot is one of the more expensive exchanges around.
---
5. International Exchanges available from Australia
Buying Bitcoin does not have to be kept strictly local. There are many international cryptocurrency exchanges which will happily accept your AUD. We've selected a few of the more popular options below:
Coinmama
Coinmama offers their services to around 200 different countries. You can use their platform to easily buy Bitcoin (and several altcoins) with a debit or credit card, providing you with near-instant access to bitcoins.
On the downside, the exchange has fees as high as 5.5% per transaction, which might be unappealing. You can read my full review of Coinmama here.
CEX.IO
CEX.io was founded in 2013, and enables you to both buy and sell Bitcoin and other cryptocurrencies. You can use either a credit card or a bank transfer to deposit funds into your exchange account without any deposit fees.
CEX.IO users also enjoy a low 0.2% fee on trading. CEX.IO offers other services as well, but you will have to read my full CEX.io review to learn more about those.
Changelly
Changelly is an instant crypto-only exchange, which unfortunately now requires you to sign up with your identity. You can use it to gain access to different cryptocurrencies once you have acquired Bitcoin through one of the other exchanges listed here.
The fees paid to Changelly are 0.5% per transaction, which is a reasonable and accessible fee. You can read my full Changelly review here.
---
6. How many Bitcoin ATMs are there in Australia?
Looking at FindBitcoinATM, as of April 2019 there are 40 dedicated Bitcoin ATMs in Australia, 21 of which are located in Sydney: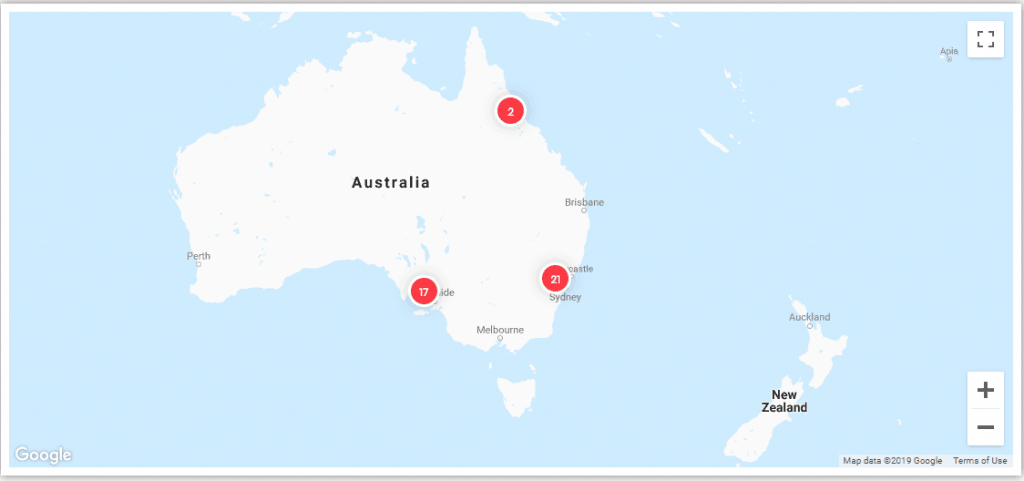 ---
7. Conclusion
The Australian Bitcoin market is long-established and rests on a strong economic and legal foundation. There are thousands of Australians that have already bought Bitcoin. Australia is also pushing new ground on cryptocurrency legislation. For example, Australia has already adopted the use of digital tokens for tokenization of real estate.
Finally, there are multiple options to buy Bitcoin in Australia, such as local exchanges, international exchanges and Bitcoin ATMs.
Have you had any experience with Bitcoin in Australia? I'd love to hear about it in the comment section below.