Nexo Review
By: Nicholas Marinoff | Last updated: 1/3/22
Nexo is a leading cryptocurrency banking platform that allows users to earn interest on their deposits, as well as borrow money against crypto collateral. In this review, I'll cover the company's core services, as well as other info you'll need to know before signing up.
Nexo Review Summary
Nexo is a decentralized crypto lending company that allows you to borrow cash or stablecoins. The firm offers a variety of products and services including interest-earning crypto accounts and crypto borrowing and lending.
That's Nexo in a nutshell! For a complete review of Nexo and its services read on, here's what I'll cover:
---
1. Nexo Overview
Nexo is based in Zug, Switzerland, which is often dubbed "Crypto Valley" thanks to the high number of blockchain and crypto-based startups that call the area home. The company was founded in 2017 by Kosta Kantchev, Georgi Shulev and Antoni Trenchev. Nexo got its first funds through an initial coin offering (ICO) that ended in April of 2018. The company raised just over $52 million from contributing firms such as Michael Arrington's Arrington XRP Capital.
Nexo is owned by European fintech organization Credissimo, which has been in business since 2007. The enterprise offers a wide variety of financial services including online consumer loans, bill payment and e-commerce financing. Nexo is SEC compliant and enforces all KYC and anti-money laundering protocols as required by the agency. The company also utilizes crypto custody services through its partner BitGo.
---
2. Nexo Services
Nexo currently offers three main products and services:
      Crypto-backed loans
      High-yield interest
      Mastercard-backed Nexo credit card
The company also provides various high-end services designed predominantly for institutional or professional investors. There is also a mobile app. Let's examine each of these services in greater detail:
Crypto-Backed Loans
Users can deposit their cryptocurrency into an account in exchange for a fiat-backed loan. Digital assets are used as collateral in case the 'loan taker' is unable to repay the loan in a timely manner. This option is attractive to anyone looking for a loan, since crypto allows more flexibility than fiat when it comes to borrowing and lending terms.
Users borrowing money, for example, will not be subjected to background or credit checks when applying for loans. The money is also handed out quickly once the amount is settled and the digital currency has been deposited. They also do not lose ownership of their crypto funds, granted they're able to meet their repayment terms regularly.
Money received on the platform can be spent using the Nexo credit card or moved into a standard bank account. Customers can expect interest rates of either 5.9% or 11.9% depending on several aspects of their loans, such as the size of their loan, to name one.
High-Yield Interest
Those looking to earn interest on their cash can deposit it into a Nexo account. This money is lent out to customers looking to borrow funds. The money that can be deposited includes various fiat currencies such as USD, EUR, or GBP. Users can also deposit a wide variety of stablecoins including Tether (USDT), USD Coin (USDC), and True USD (TUSD).
Lenders can earn as much as 12% annually on their money (which is compounded daily) and can withdraw or add funds as they see fit. This service is also commission free.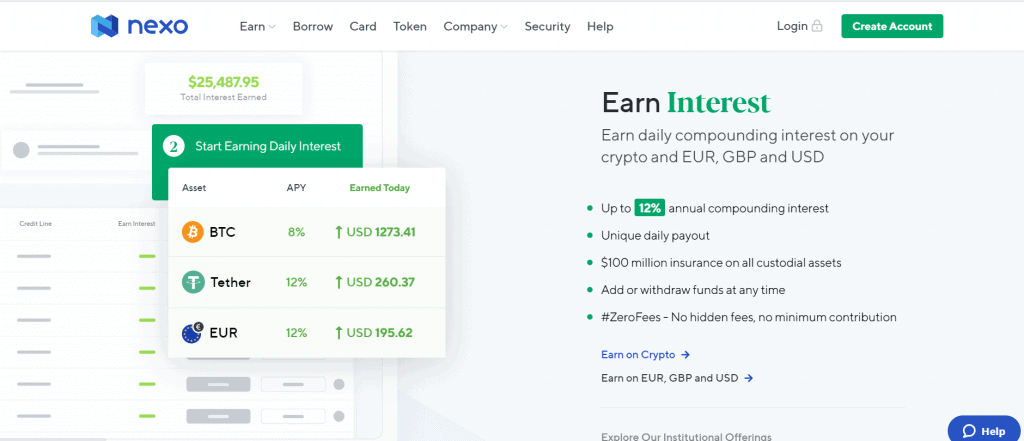 Nexo Credit Card
The Nexo credit card is backed by leading payment provider Mastercard. It can be used to withdraw cash at ATMs or to make purchases with retailers and service providers. The card has no fees and provides its users with 2% cash back either in Bitcoin or Nexo Tokens on everything they buy. The money is automatically transferred into users' Nexo accounts.
The card also comes equipped with a mobile wallet app to make the payment process simpler.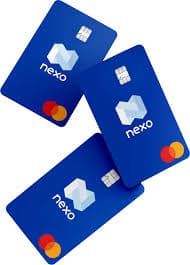 Institutional Services
For family offices or other large institutions, Nexo provides services through its institutional lending desk. Among the advantages provided to these customers include access to alpha-rich research pertaining to developments in the crypto and blockchain lending space.
---
3. Currencies and Payment Methods
When it comes to providing collateral, loan takers can deposit a wide array of cryptocurrencies including:
      Bitcoin (BTC)
      Ethereum (ETH)
      Nexo Token (NEXO)
      Litecoin (LTC)
      BNB (BNB)
      Ripple (XRP)
Lenders can earn up to 8% interest by lending digital assets such as:
      Bitcoin (BTC)
      Ethereum (ETH)
      Nexo Token (NEXO)
      Litecoin (LTC)
      BNB (BNB)
      Ripple (XRP)
      TRON (TRX)
      Bitcoin Cash (BCH)
      EOS (EOS)
Users can also earn as much as 12% interest by lending stablecoins such as:
Finally, a hefty 12%  interest can be earned by depositing fiat currencies such as:
---
4. Fees
Fees vary depending on the size of the loan. The current interest rate on a standard loan through Nexo is approximately 5.9%. The company does not charge any transaction, withdrawal or installment fees. Nexo even covers blockchain fees, which means customers strictly utilizing their Nexo accounts can enjoy completely free trading.
Naturally, there may be crypto exchange or bank fees that customers will have to pay depending on the terms of their loans and if their collateral changes before loan periods end.
---
5. Supported Countries
Nexo's services are available worldwide, not including the following countries:
Afghanistan
Bulgaria
Burma (Myanmar)
Central African Republic
Cote d'Ivoire
Cuba
Democratic Republic of Congo
Eritrea
Estonia
Iran
Iraq
Lebanon
Libya
North Korea
Republic of the Congo
Sierra Leone
Somalia
South Sudan
Sudan
Syria
Yemen
Zimbabwe
---
6. Customer Support
The company offers 24/7 customer support for anyone with questions. All one needs to do is submit a quick inquiry via the platform's website and they should receive a timely response. There is also a Help Center and a Frequently Asked Questions (FAQ) section on the website that customers are advised to check out so they can get a quick fix regarding their latest concern.
Customers can visit the company's Medium and YouTube pages for articles, announcements and videos regarding the latest news, any changes to the company's operations, and recent trading information.
Overall, the company has a high success rate with its customers, currently garnering a score of 4.8/5 from more than 2,100 reviews on TrustPilot.com. Most positive reviews pertain to the company's mobile app, its ease of use, and the wide variety of cryptocurrencies that are available and accepted by Nexo.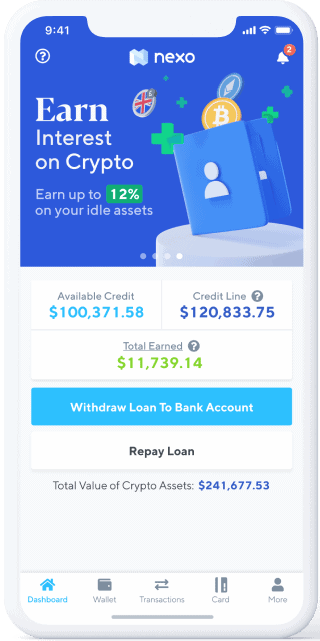 ---
7. Conclusion
Overall, Nexo is a large company in the space of decentralized finance that appears trustworthy and well established. The firm's executives boast a lengthy background in fintech, while the company itself offers high-end security and compliance measures, along with $100 million worth of insurance to cover hacks, cyberattacks and similar situations.
There are definite opportunities to earn high interest through Nexo. The only disadvantage are the interest rates for those borrowing money, which tend to run a little high. This can be difficult for those unable to pay loans back right away, but for those lending their assets, the chance to earn money on their assets is wide open.
That's it! If you have any comments or your own personal experience with Nexo, please share them in the comments section below.