In this post you will learn how to spot a Bitcoin scam, using free and simple tools.
With so many new Bitcoin services showing up every second it's sometimes hard to tell who's legit and who is a scam. I have to admit that I can also get fooled by some of these sites since scammers have become pretty elaborate in their ways of hiding their true nature.
However, using a specific toolset you can come to a fair assessment if a specific Bitcoin business is indeed a scam. This toolset is comprised out of different online tools which will help you learn about any Bitcoin site's reputation throughout the web.
Hopefully next time you encounter such a business you'll use the process I'm about to explain and decide for yourself if the business is legit. I recommend you bookmark this page so you can refer to it later on when you encounter a business that needs to be put to "The Bitcoin Scam Test".
Tool #1 – Bittrust reviews
Bittrust is a website that was formed in order for people to review other Bitcoin businesses. Using the search bar on the top it's pretty easy to find many reviews about different players in the market.
Keep in mind that when it comes to reviews in general users are more inclined to leave a review when the service was bad than when it was good. So if you don't find your business listed in Bittrust that's actually a good sign.
I would take Bittrust's reviews with a grain of salt as anyone can leave a review and it's pretty easy to manipulate the system. Bittrust is more of a starting point to see what people are saying about the specific business and finding out what issues can occur.
For example, Coinbase, which is a very respected Bitcoin business gets a rating of 2.57. This does not mean Coinbase is a scam necessarily. Once you read the reviews you'll see that most people are generally pissed off about the customer support.

Tool #2 – Alexa rank
One of the main things I like to check when investigating a specific Bitcoin business is how much traffic does that website get. I mean if it's a legit business I expect it to have a decent amount of traffic.
I check this criteria through Alexa which is a web analytics tool. Just type in the domain of the Bitcoin business and you'll get an alexa ranking. Here are my rules of thumb to interpret these ranking:
0 – 10,000 – Huge amounts of traffic
10,000 – 100,000 – Established business with large amounts of traffic
100,000 – 500,000 – Decent amount of traffic
500,000 + – Very little traffic

So if I check Circle for example (see above) I get a result around 60K. This means that Circle has large amounts of traffic and can probably be trusted.
You can also add the Alexa extension to your Chrome browser and be able to check each website instantly as you visit it.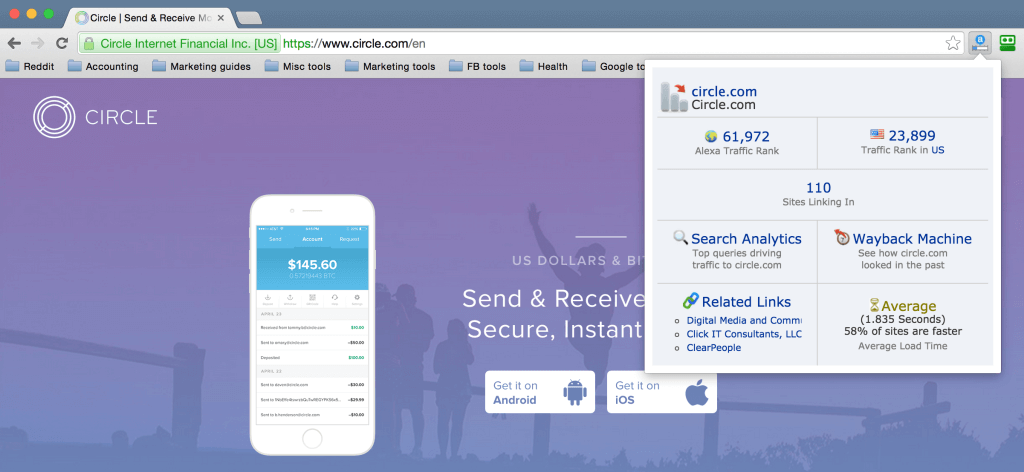 Keep in mind that the Alexa test also has its weak spots. Meaning you can easily buy tons of traffic for as cheap as $25 and make it look as if your website is pretty popular. Most of this traffic comes from spammy pop under windows and isn't from people actually using the service.
Tool #3 – r/Bitcoin
Using the subreddit r/Bitcoin can be a bit confusing. On the one hand you're going to get straight up "no BS" opinions, on the other hand it's hard to get a clear insight from the wide variety of opinions.
Go to reddit.com/r/bitcoin and enter the Bitcoin service you are examining in the search box on the top right. You will then find different threads related to that service. What I recommend you do next is read the comments and see what people are saying.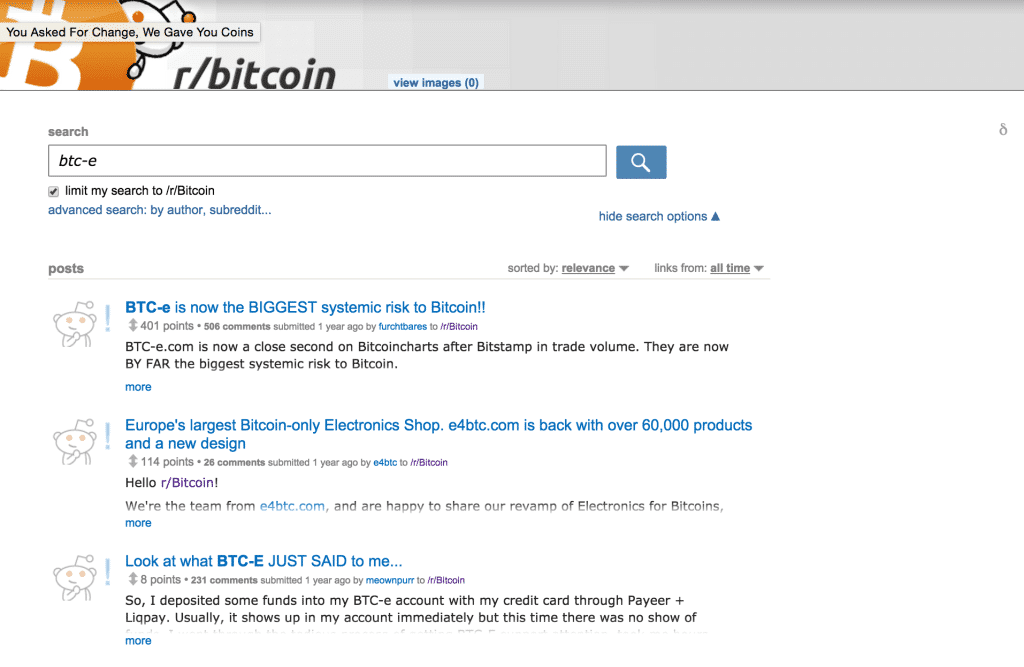 Keep in mind that the r/Bitcoin community sometimes tends to criticize so seeing bad comments is somewhat natural. Try to separate the wheat from the chaff and gain some insight that isn't just biased due to Internet trolling.
Another way for searching reviews inside reddit would be to write the website's name + "reddit" in Google. This will usually bring up to most popular threads on Reddit about that service.
Tool #4 – Whois registration
This specific tool will let you determine who is exactly behind the website you are inspecting. Now while it will not directly point out if this website is a scam or not, you will be able to see if the owner has something to hide. If your business is indeed a scam it's highly likely you will use a privacy registration service.
You see each domain name on the Internet has to be registered by someone. Some people would prefer their details to remain confidential so they use a private registration service. Using the WhoIs tool you can enter any domain name and see under whom it is registered.
In the example below you can see that Blockchain.info for example has supplied complete and detailed contact information regarding their company.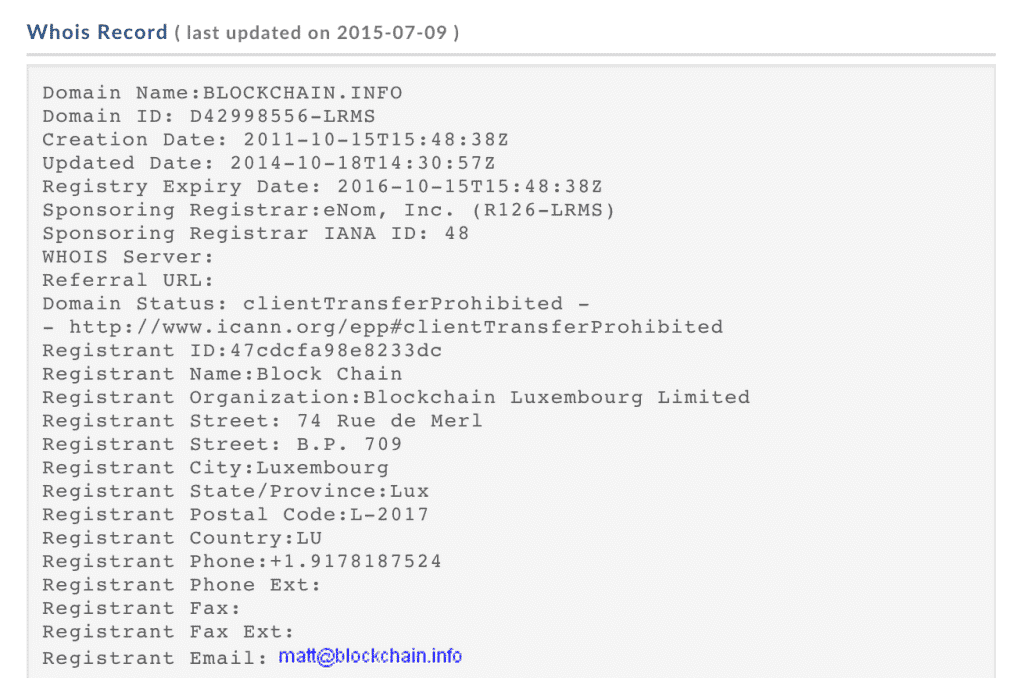 Tool #5 – Bitcointalk discussions
Another great source of information is BitcoinTalk. The forum contains many reviews about different Bitcoin services and is usually the first one to discuss and new scams that appear. Either use the forum's search bar or type in Google "[service name]+ Bitcointalk".
Much like Reddit, this information source supplies pretty reliable reviews but it's usually hard to filter out the information from it.
Tool #6 – Bitcoin foundation membership
Many services which are legit and see themselves as actual members of the Bitcoin community join the Bitcoin foundation as members. You can take a look at their membership page and see if the business you are inspecting is indeed a member.
Having said that, keep in mind that all you need to do in order to become a member of the foundation is pay a certain amount of money – so it isn't a seal of credibility per se. Also, Mt.Gox was also once a member of the Bitcoin foundation, so you can see that becoming a member on it's own doesn't mean that much.
Tool #7 – Contact Us / About Us page
My personal belief is that the main way to spot a scam is from the "about us" page of a website. If you can't find clear contact information, a physical address and pictures of actual people running the business it's usually a sign of warning.
One of the most dangerous things of all you can see on an about page is the vague phrase "we are a team of Bitcoin experts / enthusiasts". I can't tell you how many scam sites have used this description in their "about us" page.
For example, Bitcoin Income (I don't like to them since it's a scam) has the following paragraph on their about us section: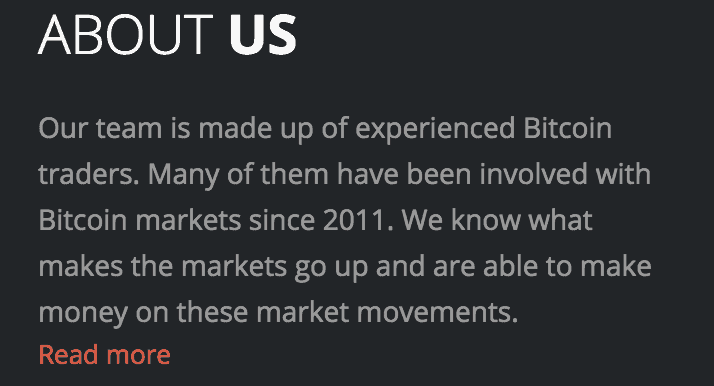 The more "real" data you can get about who's running the company, the more probable it is that the business is legit. If the company displays Facebook or Twitter profiles of its workers – even better.
Tool #8 – Domain authority / Trust flow
The next tool (or two actually) is brought straight from the online marketing world. "Domain authority" is determined by how many sites are linking to a specific website. The more sites linking to a website, the more likely it's reputable. It's basically a number between 0 to 100.
Use the Open Site Explorer to find out what a specific website's DA (domain authority) is. If the number is below 20 I'd get suspicious. If it's above 35 I'd be pretty confidant the site is getting enough links from around the web.

In the example above you can see that CoinTelegraph's DA is 53 which makes it a pretty reuptable site. However not all links are created equal and it's also important to check how trustworthy these links are.
Enter Majestic, another tool which will give us a way to measure the trustworthiness of the sites linking to the original domain. If you enter the site and get a trust flow of under 10 I'd be suspicious. In the case of CT the trust flow is 28 – so it's safe to say this site is legit.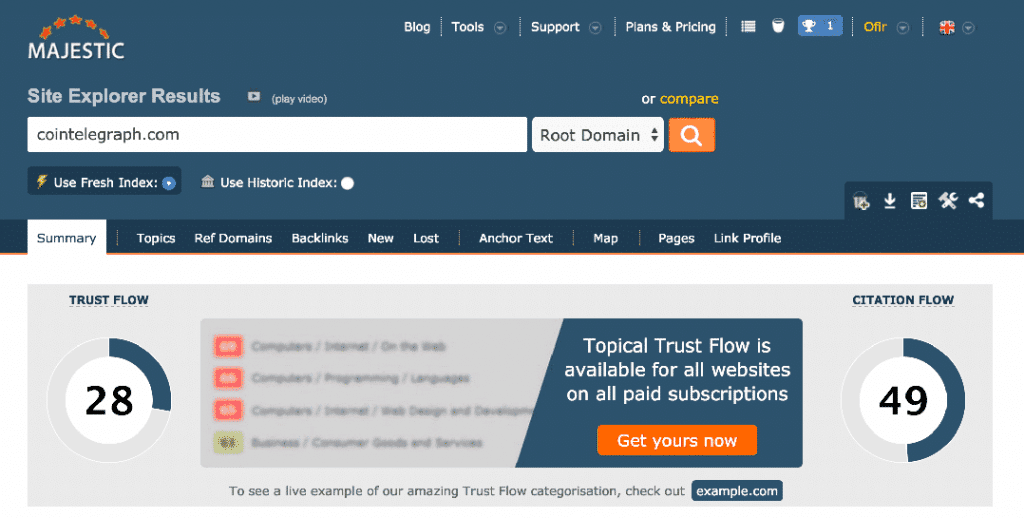 Tool #9 – Google (duh…)
Last and almost least is of course Google. Just Google the business name plus the word "review" or "reviews" and you may stumble upon different blogs which reviewed the service already. However, it's important to check the source of the review with the same tools we've just covered to see how reliable it is (Open Site Explorer and Majestic).
Tool #10 – Common sense
If something seems too good to be true, it probably is. If a site is promising you a 40% ROI in a week it's probably a HYIP (High Yield Investment Program). If a website says it will sell you Bitcoins with a credit card without any need for verification on your side – it's probably a scam.
No single tool will give you a definitive answer
None of these tools should be considered the ultimate test since they all have their weaknesses. Instead of using just one or two tools try using a bunch of them and see if you manage to get a good result from a considerable amount.
Also, if the site you're checking out is indeed a scam you're bound to stumble upon some reviews that imply this. Just make sure that you don't get caught up by one single review as sometimes people just trash other business due to a poor experience they had – this doesn't necessarily mean that the whole business is a scam.
If you use any other ways to uncover Bitcoin scams leave a comment and let me know. Hope you enjoyed this guide and that it will come in handy in the future (don't forget to bookmark it!).