FTX Review and Comparison
By: Alex Miguel | Last updated: 11/14/22
November 2022 update: On November 11 2022, following a critical liquidity crisis, FTX has filed for bankruptcy, with co-founder Sam Bankman-Fried stepping down from his role as CEO. The bankruptcy became inevitable after Binance's CEO, CZ, backed out of a deal to purchase FTX's non-US business. Click here to read the full story of the FTX crisis.
The review below is kept for legacy purposes only
FTX is a new and dynamic cryptocurrency exchange that has received considerable interest from users and investors alike, since its launch. In this post, I'll review FTX's main features and my personal thoughts on the platform.
FTX Review Summary
FTX is an ideal platform for sophisticated traders who want to optimize on frequent trading. With innovative features such as MOVE contracts and leveraged tokens, in addition to solid customer services and a range of benefits open to holders of the FTT token, derivatives traders will likely find a home here.
That's FTX in a nutshell. If you want a more detailed review keep on reading, here's what I'll cover:
---
1. FTX Overview
FTX is a centralized cryptocurrency exchange platform that specializes in advanced trading strategies, including derivatives, futures and leveraged tokens. It was founded in 2019 by ex-trader Sam Bankman-Fried and fellow MIT-graduate and ex-Google engineer Gary Wang. FTX recently moved its headquarters to the Bahamas in September 2021.
FTX has made good progress since its founding, acquiring over 1 million users and reaching over $10 billion in average daily trading volumes. It has an international platform (FTX) and a US platform (FTX.US), with a more limited selection of currencies and services. The company has made some large business moves, including a $150 million acquisition of crypto portfolio tracker Blockfolio in August 2020, as well as purchasing the naming rights to the Miami Heat's NBA arena for $135 million in early 2021.
The latest round of funding in October 2021 saw the firm valued at $25 billion, up from $18 billion in the previous funding round a few months prior. According to Bankman-Fried in a recent interview, firm revenues have increased by a factor of 75 in about a year from mid-2020 to mid-2021.
Bankman-Fried has also mentioned that the firm is 'considering' expansion in a number of further jurisdictions in Asia, including Singapore.
---
2. FTX Services
Spot Trading
Spot trading is available for users with a more traditional approach to investing, with over 100 options including popular cryptocurrencies such as BTC, ETH, BNB, SOL and FTX.
The platform offers TradingView charts, order books with grouping options, and multiple order types such as limit orders, market orders, stop-limit and stop-market orders, and even trailing orders.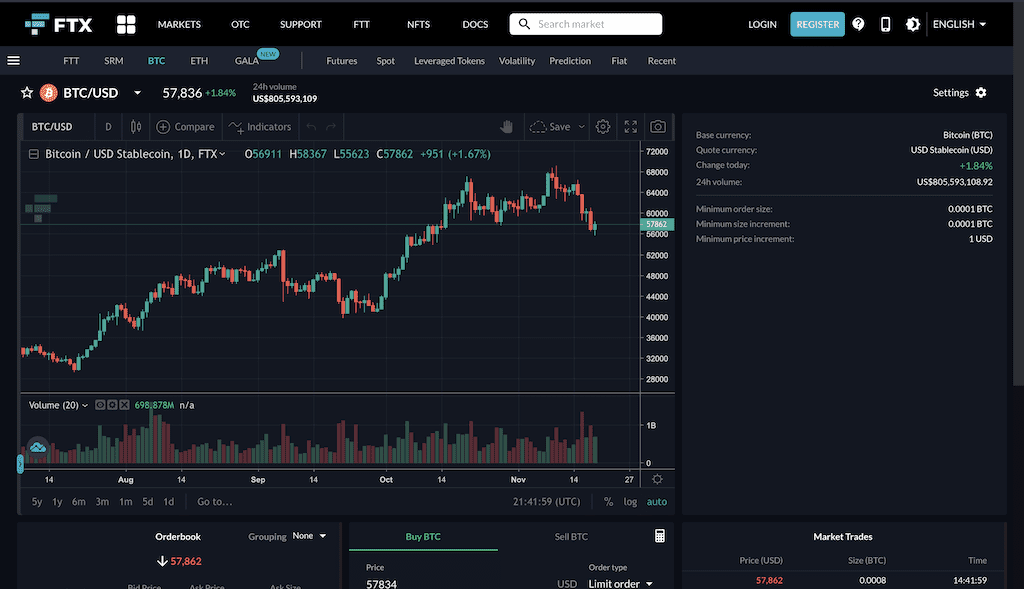 Overall, the user interface is nice and simple, remaining uncluttered compared to some other platforms.
Futures Trading
There are over 250 perpetual and quarterly futures markets on offer, covering more than 20 of the main cryptocurrencies. This also includes Index Futures, allowing broader exposure at a lower cost. Futures on FTX are stablecoin-settled (excluding Tether USDT) and are protected against clawbacks by a unique backstop liquidity provider program.
Leveraged Tokens
For investors who want leveraged exposure to crypto assets without the complexity of managing a leveraged position, FTX offers a range of ERC20 assets that provide this exposure in token form. Every future has four leveraged tokens by default (+3x, -3x, -1x, 0.5x) and any token that exceeds 4x is automatically rebalanced.
Volatility
For traders who wish to speculate on the volatility of Bitcoin using customized BTC Options, FTX offers two primary products. The first is MOVE, a type of contract which allows you to benefit based on the size of the move in BTC, regardless of the direction. The other is BVOL, a token that tracks the implied volatility of BTC. BVOL also has an inverse counterpart called iBVOL.
Prediction Markets
FTX's prediction markets allow users to trade on the likely occurrence of future events, such as presidential elections. These contracts are options set to expire on the date and time of the specific event's result. As of the time of writing, FTX lists TRUMP2024 and BOLSONARO2022, with respective values of $1 and $0 if these candidates succeed or fail.
Fiat
FTX allows KYC Level 2 users and above to withdraw and deposit (including via card) in USD, EUR, GBP, AUD, HKD, SGD, ZAR, CAD, CF and BRL, with more fiat currencies on the way. It commits to only adding fiat currencies for which it is able to handle large size wire transfers at low cost (withdrawals greater than $10,000 are free).
Stake
Users can earn returns by staking the native token FTT, with benefits including higher referral rates, free NFTS, additional voting rights and many others. In addition, users can earn returns staking the tokens SRM (4%), SOL (6%) and RAY (20%).
FTX Pay
FTX Pay is a payment-processing widget that allows merchants to receive payments by crypto and fiat to an online business, app, or website. Payments can be received either in an FTX account or an external wallet.
---
3. Currencies and Payment Methods
While not having the largest range in the market, FTX has a respectable coverage of the main cryptocurrencies. Users can trade over 180 different coins on its main platform, including Bitcoin and a substantial range of altcoins and stablecoins.
As mentioned above (see Fiat section), it is possible to purchase currencies using up to 10 different kinds of fiat currency, and to make purchases by credit card.
Wire transfers are processed on weekdays only (except in the case of SEN), and in UTC only during evenings. The clearing time for a USD Wire transfer can be anywhere up to one weekday. Users are encouraged to reach out to FTX prior to depositing or withdrawing fiat for the first time, who also provide a video walkthrough on the process.
The cryptocurrencies on offer are those you'd expect from a major exchange, including:
Bitcoin (BTC)
Ethereum (ETH)
Litecoin (LTC)
Ripple (XRP)
Bitcoin Cash (BCH)
Stellar Lumens (XLM)
Paxos Standard Token (PAX)
---
4. FTX Fees
Trading Spot / Futures
Fees are charged on a tiered basis for all futures and spot transactions.

Spot margin borrowers are charged a further fee in addition to the interest rate (explained here).
Various discounts are possible via the referral program, VIP program and Backstop Liquidity program, which can be accessed from the fee page here.
Holders of FTT are entitled to fee discounts of up to 60% in proportion to their holdings, taking fees down to a minimum of 0.015%.
Stakers of the native FTT coin holders can receive maker rebates up to -0.0030%, and for 25 FTT it is possible to reduce maker fees to zero.
Other fees
Deposits are free, and withdrawals are also free except in case of ETH, ERC-20 tokens and small BTC (<0.01 BTC) withdrawals.
In the case of leveraged tokens, a 0.10% fee is charged on creation and redemption, and a management fee of 0.03% is applied daily.
Limits
KYC Level 1 clients are permitted up to 2000 USD in withdrawals per day. The site states that 'enhanced due diligence' may be applied, and the user may be temporarily unable to trade futures.
For KYC Levels 2 and 3 (which require proof of address, government ID and facial verification), there are no limits on either crypto or fiat withdrawals. FTX does add however that all withdrawals are subject to a Chainalysis inspection, and reserves the right to request additional information.
---
5. Supported Countries
FTX.US operates in the United States, where it holds various US regulatory regulatory licences, but offers a limited version of services offered by FTX International, which operates worldwide with certain exceptions.
The FTX website lists a number of restricted jurisdictions whose residents do not have access to its services, which include: Cuba, Crimea and Sevastopol, Iran, Afghanistan, Syria, and North Korea. Separately, FTX lists Ontario and Japan as jurisdictions whose residents it will not accept as users, as well as non-professional investors from Hong Kong. Certain services are also unavailable to residents of Canada and Singapore, and the list is obviously fluid.
---
6. Customer Support and Reviews
The website is not minimalist, but at the same time is relatively compact given the amount of information it contains. There are numerous sub-pages, but they are tucked away in a dropdown menu at the top left, with the main real estate reserved for trading data and options.
There is no 'beginner' option for a user interface, but more serious traders (for whom the platform was designed) will be able to find their feet relatively quickly.
You can get a sense of the user experience for a range of transactions in this walkthrough with CEO Bankman-Fried himself.
The sign up process is fast, and optimized for pragmatism. Customer service responds quickly (<12 hrs), concisely, and politely. The overall experience can be summarized as practical, efficient and 'zero fluff'.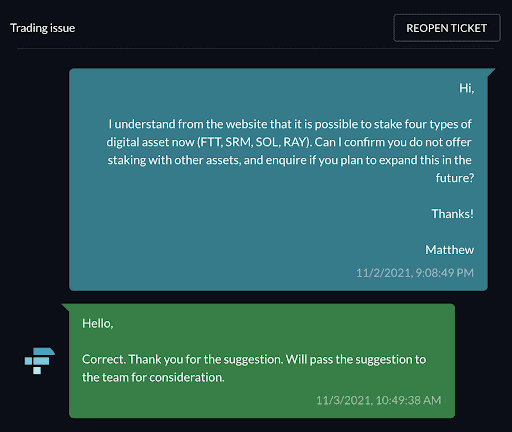 ---
7. Conclusion – Is FTX Legit?
FTX's platform is not built for beginners, but is built well for its target audience of more advanced traders. In other words, CEO Sam Bankman-Fried designed a system that he as a trader felt comfortable using. The popularity of the platform on both the demand (traders) and supply side (investors) is great evidence of his success. The site is functional, efficient and relatively intuitive. It is run by a team who are passionate about trading and are intrinsically motivated to continually improve the product. In this respect it is exactly what a blockchain-focused endeavor should look like.
FTX has also avoided hacks and is a solid destination for your funds. My verdict is, if you fit the profile, the time it takes to get familiar with the system is a profitable trade.
That's it! If you have comments or personal experience with FTX you'd like to share, please add a comment in the comments section below.