Bitcoin and Crypto Portfolio Trackers Reviewed and Compared
By: Alex Miguel | Last updated: 3/2/23
The easiest way to keep an eye on the price of all your crypto assets at once is to use a crypto portfolio tracker. In this post, I'll cover the top six options around.
Cryptocurrency Portfolio Trackers Summary
Crypto portfolio trackers tend to vary greatly with their functionality, user experience and additional features. Many of these apps are bundled with exchanges, wallets and data aggregators, while others are standalone products. Regardless, a crypto portfolio tracker makes it much easier to keep an eye on your crypto holdings at a glance.
Here are the leading models on the market: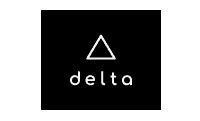 Price:
Limited free version, Pro version starts at $3.49/m
Supported platforms:
Mobile only
Notable Features
Stock / Index tracking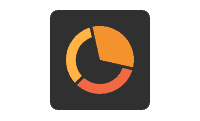 Supported platforms:
Desktop & Mobile
Notable Features
Built-in wallet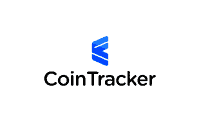 Supported platforms:
Desktop & Mobile
Notable Features
Tax reporting
That's the best crypto portfolio trackers in a nutshell. For a full review of each portfolio tracker and more detailed explanations, keep on reading. Here's what I'll cover:
---
1. What is a crypto portfolio tracker?
A crypto portfolio tracker is an application designed to help you monitor your entire crypto portfolio across all coins, tokens and exchanges.
The cryptocurrency market is highly fragmented, with assets being spread across multiple exchanges, platforms and blockchains. Because of this, it's becoming increasingly difficult to keep an eye on all of your investments at once.
This is where a portfolio tracker comes in handy. By using a portfolio tracking app, you can monitor all of your crypto positions in one place, create price alerts and more.
---
2. Delta
Pros: Sleek UI, exchange and wallet linking, detailed asset info & news
Cons: Requires "pro" version to link more than 2 exchanges or wallets
Delta is one of the only major crypto portfolio tracking apps today that focuses solely on portfolio tracking, without additional features. Founded in September 2017 and headquartered in the EU, Delta also has the ability to track several other assets such as stocks, indexes and commodities.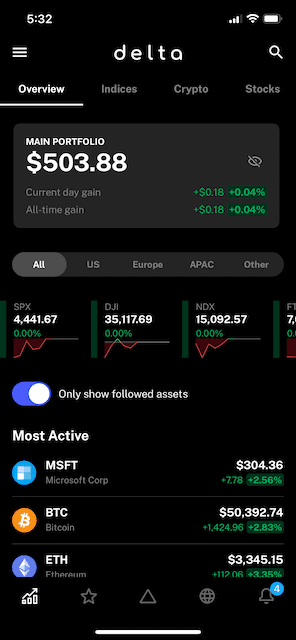 The app has a very sleek interface, which is nicer than most other crypto portfolio trackers available today.
As with other options, crypto transactions can be added either manually or automatically by connecting an exchange account, with over 20 crypto exchanges supported. Users may also connect one of 10+ wallets supported by Delta. There is a catch though – only two exchanges or wallets can be linked in the free version of the app. For anything more, users will need to upgrade to the paid version, starting at $3.49 per month.
Delta has a useful "portfolio analytics" section, which provides an excellent visual breakdown of your portfolio and assets. This includes portfolio performance, asset allocation and more.
Another minor but handy feature I came across was the "add custom coin" option, for assets that may not yet be supported/listed by exchanges.
Clicking on an asset in your Delta portfolio will display almost everything you could want to know about an asset: A price chart, its market cap and volume, direct updates from the project team, third-party news, and even links to the project's website, GitHub and social media.
---
3. CoinStats
Web, Mac, iOS and Android
Pros: Feature-packed app, built-in wallet and swaps, link exchanges and wallets free
Cons: UI feels a little cluttered
CoinStats was founded in 2017 in Armenia. It is a coin tracking app available on Mac, iOS and Android, as well as a web version accessible via any internet browser.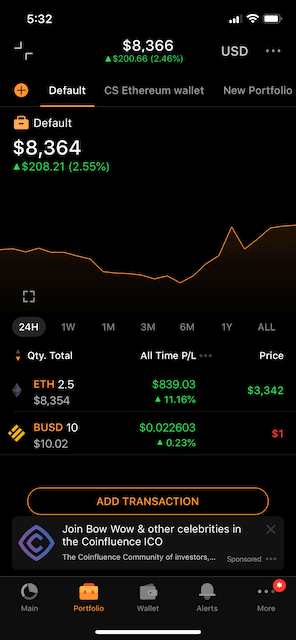 The app is one of the most comprehensive portfolio trackers available, however the flurry of figures and features can be a little overwhelming compared to other options. Due to this, the user interface feels a little more busy/clunky than many competitors.
As with other portfolio trackers, Coin Stats allows users to add assets to their portfolio by connecting a wallet or exchange. More than 50 platforms are supported by the app. For those who prefer to add assets manually, there's a "simple" and an "advanced" option, which I thought was a great idea. This enables users to add assets quickly, without additional details such as purchase price, dates or trading pairs – details that aren't optional in some other apps.
Clicking on an asset in your portfolio will reveal a wealth of data for it, from price charts to market cap, coin supply, website and social media, block explorers, asset statistics, news, and more. I was especially happy to see that contract addresses were provided for tokens, which is extremely useful for decentralized finance (DeFi) users.
Coin Stats also enables users to set up price alerts, enable "significant change" notifications, and a "buy" option that redirects users to the crypto.com app.
For those who want to keep everything in one app, Coin Stats also has its own built-in wallet, which can be used to hold and swap Bitcoin and tokens on Ethereum, Binance Smart Chain and Polygon.
---
4. CoinTracker
Pros: Built-in tax accounting, links exchanges and wallets, clean UI
Cons: Does not allow for easy manual asset entry, no simple asset data or news
CoinTracker is a crypto portfolio tracker with built-in tax accounting, making it easy to take care of your tax obligations.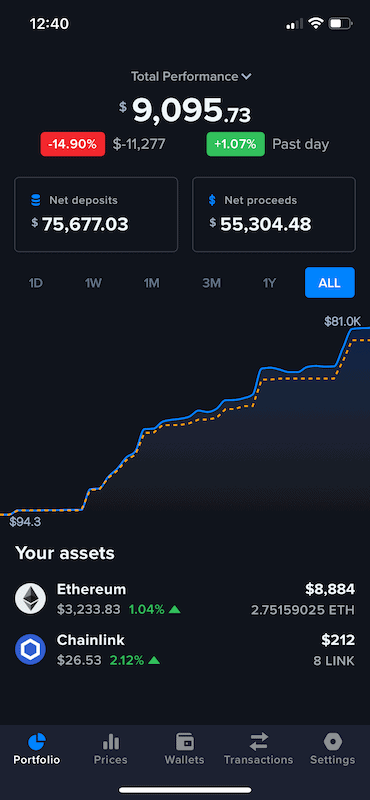 Users can simply connect one of 300+ exchange accounts or wallets to the app, automatically importing their balances and transaction history.
The user interface is nice and clean, with a clear separation of net deposits, proceeds and profits. Tapping on a portfolio asset reveals a user's total holdings, market value of these holdings and the current price of the asset per unit. Unfortunately, unlike other apps, there are no news items or token metrics provided.
The biggest benefit that comes with CoinTracker is of course its ability to help users become fully compliant with crypto tax obligations. The app enables users to download their tax reports and file their returns via TurboTax's software, or even your own accountant. There is full tax reporting support for several countries, including the US, the UK, Canada and Australia.
Although you can track overall portfolio performance with CoinTracker, you'll need to pay to view individual asset performance or to create a tax report.
---
5. Crypto Pro
Pros: Shows detailed asset metrics and news, viewable in Apple Watch, links to exchanges and wallets
Cons: Requires "premium" to link exchanges or wallets, support for Apple devices only
Crypto Pro is an Apple-only portfolio tracking app, which boasts a sleek, streamlined user interface. This is simple and easy to navigate, thanks to the absence of any additional products like exchanges or wallets.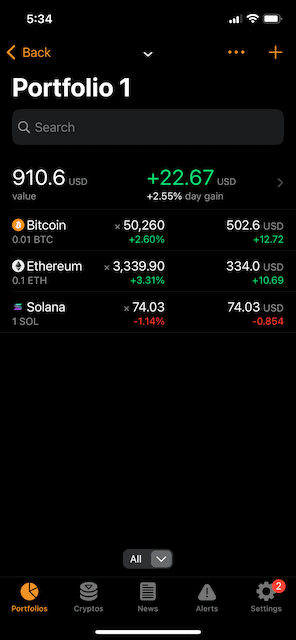 The portfolio breakdown shows a cool pie chart with asset allocations, number of assets and total cost, which I liked. Unfortunately, this app only provides the option of viewing balances denominated in fiat currency and not Bitcoin or Ether.
Adding assets is very easy, allowing for as much or as little information input as the user prefers. Once again, users can link an exchange API to import their holdings – however only paid users can use this function at all. Upgrading to Premium starts at $9.99 per month.
Crypto Pro has a searchable crypto rankings list which shows top cryptos, price and performance. Upon clicking an asset, users can get a breakdown of price action, market cap, coin supply, trading volume and news. The app also has a handy news tab, which can be customized to show general crypto news or news tailored specifically to your portfolio assets.
One great feature on Crypto Pro is its ability to connect to your Apple watch, so you don't even need to pull out your phone or laptop to check your portfolio.
---
6. Coingecko
Pros: Popular crypto data aggregator, easy asset entry
Cons: Cannot link exchanges or wallets, UI not as intuitive as other apps
Coingecko is best-known as the world's most popular cryptocurrency data aggregator. What many may not know, is that it also has a crypto portfolio tracker – both on its website and its mobile app.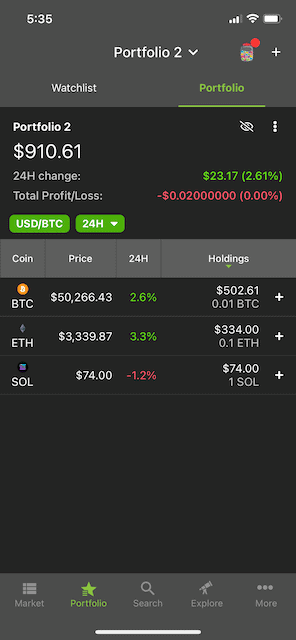 Having a portfolio tracker within Coingecko is extremely handy, since a large proportion of users already use Coingecko as their go-to source for crypto asset information.
Adding assets to your portfolio in Coingecko works slightly differently to other portfolio trackers. By default, it doesn't ask for the quantity, purchase price, or any other details for the asset being added – although these can be added later. This allows users to speedily monitor their asset prices, without the requirement of entering all of the finer details into their portfolio.
Unfortunately, at the time of writing, Coingecko doesn't yet provide an option to add positions automatically from exchanges or wallets.
Clicking on an asset within your portfolio displays all of the usual coin data one would usually see when searching for an asset on the Coingecko website, such as market cap, supply metrics, trading volume and more.
Overall, the app is a little less intuitive than other options that focus solely on portfolio tracking, but it is handy having all of the usual Coingecko tools at your disposal. You can still set up price alerts and there's an "explore" page for general news, blog articles, podcasts and more.
---
7. Conclusion
Overall, there's a lot of diversity in portfolio tracker apps – many of which have other products built into them.
If you're deciding which portfolio tracking app to use, it may be worth picking any of the options above that incorporates another product that you already use. Read our full guides on bitcoin wallets and bitcoin exchanges if you need help deciding what is best for your investment needs.
Personally, I prefer a "pure" portfolio app that's focused completely on tracking my assets, without distractions. Delta provides a simple interface with good functionality like syncing exchange/wallet positions, which is extremely useful.
Do you have any experience with portfolio trackers? Let me know in the comments section below.