On a previous article we discussed hardware Bitcoin mining. This time, we get to analyse cloud mining, what it is, how it's done and how one can make the most out of it.  The overall question of,"Is Bitcoin mining worth it?" is a bit more complex, and requires considering all options, but cloud mining can certainly be an attractive one.
What is Bitcoin Cloud Mining?
First things first, let's see what cloud mining actually is. The word cloud used a lot lately. Chances are you have seen it being used somewhere else already. In general, it stands for a service being provided to you through a remote source. When it comes to cloud mining for instance, the hashing power you can rent or purchase through a contract usually comes from a data center. Where it's easier (and also cheaper) to inspect and maintain the hardware. So basically, cloud mining bitcoin allows you to use the hardware of another party to mine bitcoin. This can be done in two ways: by buying a contract from a cloud mining provider or leasing the rig or an individual.  We'll analyse those further later on in the article.
Knowing all this you've probably already figured out that mining Bitcoin on the cloud is easier. And this is the key point of Bitcoin cloud mining, while mining with your own hardware could be more profitable and allow you to be more flexible with the way you use your machines cloud mining is a growing industry and it keeps attracting more as more people gain interest in Bitcoin mining. The idea that you could buy some hashing power without owning any mining hardware of your own and start hashing right away seemed to attract the interest of people interested in mining rapidly. CEX.IO, one the first, and currently the biggest cloud mining and trading platform experienced some rapid growth last year.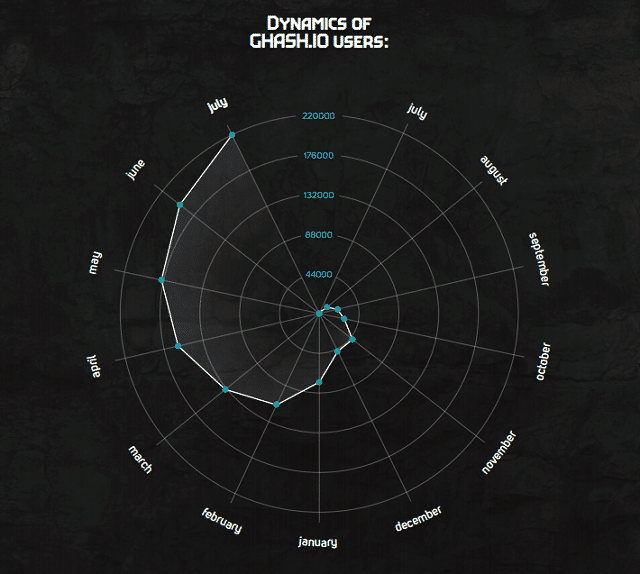 Let's see what kind of cloud mining platforms are out there, in a more detailed way this time.
CEX.IO – The Bitcoin Cloud Mining Leader: 
Offers an easy way to buy Gh/s with bitcoin, it's core advantages, besides the ease of use it offers are that you get a payout credited to your account each time the pool finds a block and you can also buy any portion of Gh/s without any limitation on how long it's going to be paying out for you. But the main reason CEX thrived in the cloud mining industry was that they were the first to introduce Gh/s trading.
Users are not only able to buy Gh/s from their platform, but at any point after their purchase, they can sell it to another user. And while most of CEX's users admit that it would hard to make a profit by just holding on the hashing power until you break even, it's easier to profit by trading hashing power. Up to date CEX is still the leader in the cloud mining industry and the only bitcoin cloud mining platform that offers you the ability to trade back the hashing power you purchase.
Bitcoin Mining Rig Leasing:
In this case, individuals put up their mining rigs for leasing so people can rent them for a daily fare to mine the coin they want in the pool they want. While many support that this is the least profitable way to mine bitcoin since in most cases you get to rent the hashing power at a price bigger than what the rig would mine for you.  And while profitability for Bitcoin mining might not be a big aspect of rig leasing, the flexibility you get through this service is something unique.
You get to choose from a variety of listings where all kinds of mining rigs are available and you can compare the prices and profitability. Most importantly, you get to choose the pool the rig will be mining on, rig leasing is ideal in case you want to test your luck with a new coin release. Renting a powerful rig to mine a coin at it's launch is a unique and smart way to invest to a cryptocurrency, in hopes that it's price will rise after you acquire the coins. The most well known platforms you can lease a rig through are miningrigrentals.com, LeaserRig, Betarigs and nicehash (westhash is nicehash's optimized alternative for Canada, the USA etc. )
Bitcoin Mining Contracts: 
It's not hard to figure out that mining contracts have the best potential to help you make profit through mining, but that's just words. While contract per Gh/s prices are usually lower than the other two options, it's still the most risky option and also the one with no flexibility at all. By purchasing a mining contract your goal of course would be to get your principal back along with some profit, but that's a risky bet for several reasons.
Even though the prices of contracts keep going lower as the difficulty increases there are many factors that could make you earn less money from your contract while it mines for you than what you originally paid to buy the service. As we suggested in our other articles on Bitcoin mining, you should do the math and try to check if the contract can be profitable. Coin Brief's Bitcoin Mining Calculator can be really helpful for this calculation. Furthermore, you should not forget to check the reputation of the company you're going to buy a contract from. This one is really important, there were cases that companies handing out contracts turned out to be scams and there still are concerns about the rest. Even Gavin Andresen, chief scientist at the Bitcoin Foundation voiced his concerns through reddit stating that mining contract companies could be running ponzi schemes.