TL;DR version of this post:
A VPN allows you to access the Internet anonymously and with an encrypted connection.
Using a VPN is important for your computer's security especially if you use public wi-fi
The top 5 VPN providers are:  IPVanish, ExpressVPN, CyberGhost, HideMyAss and StrongVPN
Tip: Check out current running VPN deals before you buy one.
Recently we've published one of our most popular posts ever titled "How to access the Darknet in under 2 minutes". If you don't want to go through the whole post here it is in a nutshell:
download TOR
Use a VPN for added anonymity (optional)
Surf the Darknet via search engines (DuckDuckGO – http://3g2upl4pq6kufc4m.onion/ or directories
But ever since that we've been getting a lot of questions asking "what is the best VPN to use?"
So in today's post I'd like to cover what I consider to be the top 4 VPN providers available on the market today. But before I start my review we have to answer a basic question:
What is a VPN?
VPN stands for Virtual Private Network. It's basically a group of computers all linked to one another through the Internet. This adds security and privacy to your Internet connection. Let me explain..
Security – When you're using "normal" Wi-Fi (i.e. public Wi-Fi) you are using an unsecure connection to the Internet. This means that you are vulnerable to hackers and other malicious attacks trying to steal your data. When connecting through a network of private and secure computers (i.e. a VPN) you are protecting the data that is being transferred through encryption.
Privacy – When you are connecting to the Internet without a VPN anyone can trace your IP address (Internet protocol address). This means that your location can be pinpointed fairly easily. When you access the Internet via a VPN your location appears to be that of a remote computer, so your privacy is ensured.
I don't care about anonymity, why should I use a VPN?
Even if you don't feel that hiding your IP address has any interest to you, you probably aren't aware of the risk involved in connecting to the Internet from an unsecure network. Public Wi-Fi networks—like those in coffee shops or hotels—are not nearly as safe as you think. Even if they have a password, you're sharing a network with tons of other people, which means your data is at risk.
So if you log into your email, bank account, Facebook account or submit any other sensitive information while connected to a public network, someone can easily obtain that data. While there are some way to help you stay safe, if you want a one stop solution – use a VPN.
If you want a real live demonstration of how serious this is, watch this video:
Also, sometimes you'll want to access websites that aren't accessible in your country. In this case a VPN is also a good solution. For example, when I was travelling through China I couldn't access Facebook or Google unless I used a VPN.
How do I know what a good VPN service looks like?
Since there are so many VPN services out there it's kind of hard to know how to asses them. Here's a short list of what you should be looking for in a VPN service:
Exit locations – This basically dictates what IPs you can use when accessing the VPN. So if for example, you would like to surf the web from a USA IP you would need a VPN services that supplies such exit locations.
Logging – Does the VPN service keep a record of what you are doing? If it's complete privacy you're after you'll want to make sure what is the logging policy of that specific VPN service.
Protocol – This may sound a bit confusing, since when you compare VPN services you'll see terms like SSL/TLS (sometimes referred to as OpenVPN support,) PPTP, IPSec, L2TP, and other VPN types. However most of these options are invisible to you as the user as all of these protocol provide a secure connection. Of course there are differences between the protocols, but if you're concerned about this you're probably already aware of them.
Speed – Since connecting through a remote computer takes more time, make sure the VPN service you choose can deliver your connection fast enough. There's nothing more frustrating than a slow internet connection…
Mobile app – Mobile usage in constantly increase, so you want to make sure that the VPN service also supplies your mobile phone with adequate solutions. Make sure that a mobile app is available for the service you are examining if this is an issue.
Operating System compatibility – Your going to install a piece of software called a VPN client on your computer to connect to the VPN so you need to make sure it's compatible with your OS (operating system). Today most of the VPN services are compatible with Windows and Mac OS, but it's always  advised to make sure your OS is supported.
Price – When it comes to price you will find free and subscription based VPNs. Although using a free VPN may sound attractive keep in mind that most of the free services will log your activities and serve you ads based on where you've surfed. Also, their exit locations are pretty limited.
Subscription based VPNs will probably take your privacy more seriously but you'll need to find out if they log any of your activities through their logging policy. Also, in most cases they will not serve ads and will offer you some sort of a free trial to use their services.
So here are the top 4 VPN services by 99Bitcoins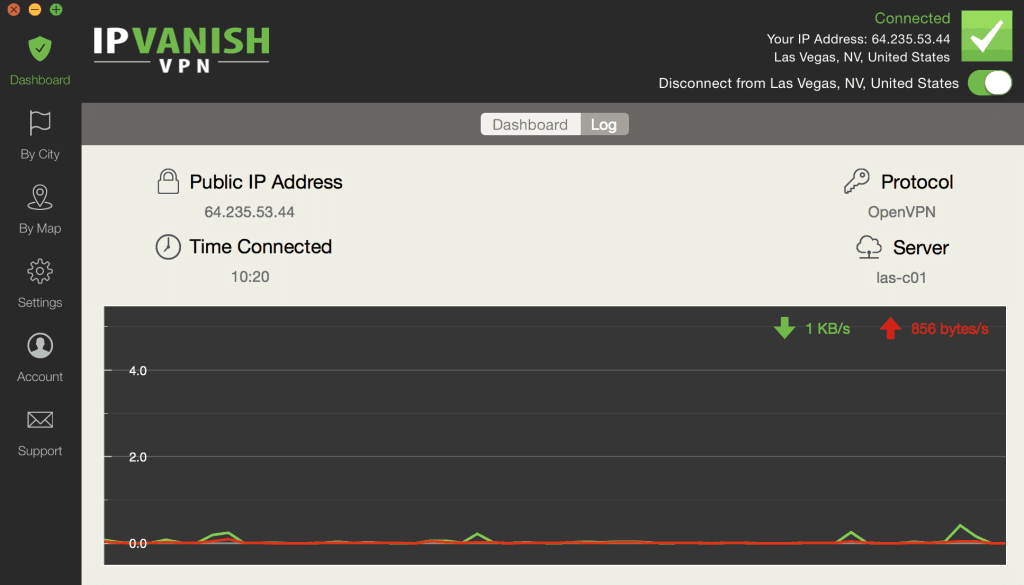 This is the VPN I've been using while writing this post. It has a pretty impressive connection speed (I sometimes forget I'm on a VPN), mobile compatibility and it spans 25,000+ IPs on 325+ servers in 60+ countries.
It also has a dedicated mobile app for iOS and Android and it's compatible with most OS out there.  If you go with the yearly plan it's currently $78/year but you can use this coupon to get a 30% discount (brining it down to only $54.95/year). Of course there's a 7 day money-back guarantee AND you can pay with Bitcoin which is always a great option 🙂
The user interface is pretty intuitive and it takes like 2 minutes to set everything up. Very impressed by the service until now. To find more about IPVanish click here.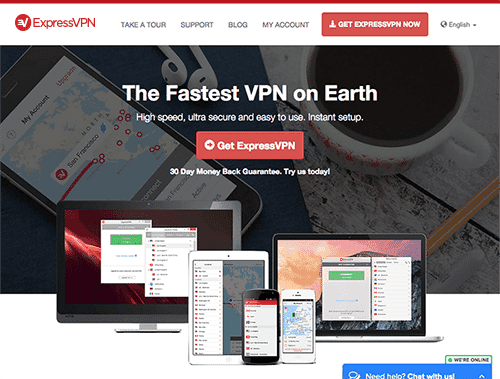 Another one of my personal favourites. I used ExpressVPN back when I traveled through China for a Bitcoin conference (I needed access to Google and Facebook). I love to super easy "one button" interface, connection is super fast and there are 78 countries (and 100 cities) you can choose to connect from. The price is about $100 for a full year (or $12.95 for one month). Also you get a 30 day money back guarantee if you feel that the service doesn't suit you.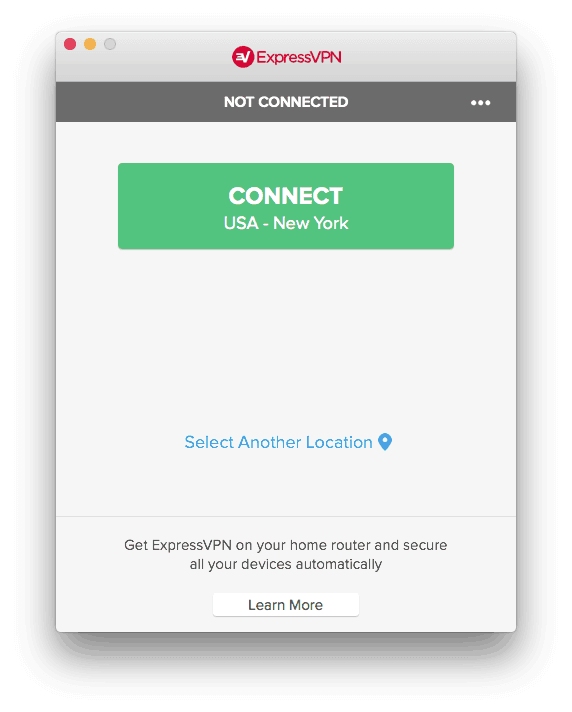 To find out more about ExpressVPN click here.
CyberGhost VPN is one of the most popular VPN services available today. It offers a free proxy that you can use but you'll have to "wait in line" in order for it to work (takes about 2-3 minutes). They also offer a 30 day money back guarantee on their plans. Personally I didn't like the software's "look and feel" but I guess it's a matter of taste.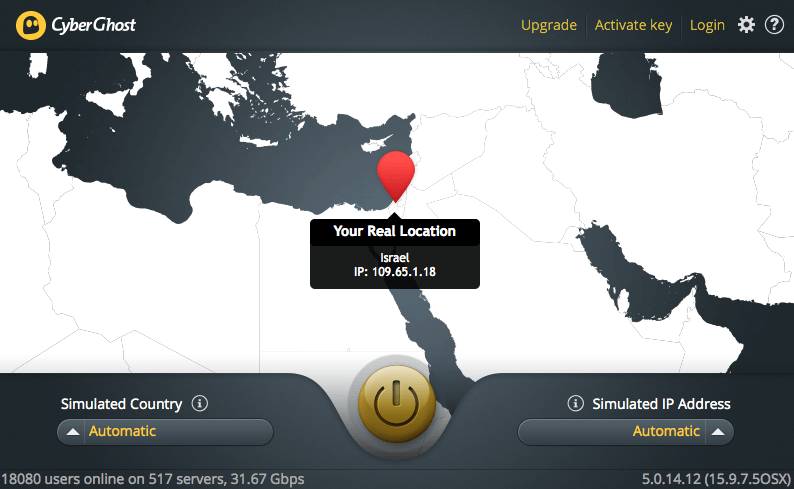 CyberGhost VPN has servers deployed in 20+ countries around the world – you can see the full list of countries and servers here.
The service provides support to mobile devices as well but allows only one device to be connected at any given moment (IPVanish allows up to 2 devices to connect simultaneously). CyberGhost VPN also accept Bitcoin payments and is priced between $60-$110/year depending on the plan you choose.
To find more about CyberGhost VPN click here.
One of the most popular players in the market, "Hide My Ass" (or HMA) is one of the largest VPN providers out there today. HMA operates in 190 countries with over 880 servers – this will give you a wide variety of IP addresses. Here's the full list of servers.
Other than the extreme coverage HMA offers the service seems pretty similar to the two previous providers mentioned (mobile devices and multiple OS supported). The yearly price for HMA is $78 which is exactly what IPVanish charges as well. All in all a solid service.

To find more about HIde My Ass click here.
StrongVPN has been around since 1994 in the computer industry. It was also known as ReliableHosting.com and later on started providing VPN services. Their pricing strategy is a bit different as they allow you to choose between 3 different packages – Lite, Special and Deluxe.
The packages differ from one another in the number of servers and countries you can connect to. You are also limited to the number of server switches you can do per month which is a downside when compared to the other providers.
Price-wise the Deluxe package which seems to be the best package to compete with what others are offering costs $155 which is a much higher price tag than the competitors. One final thing to keep in mind is that StrongVPN seems to keep log files of its users – so if it's anonymity you're looking for perhaps this is not the best service.
To find more about Strong VPN click here.
One cool VPN infographic by StrongVPN
Before we wrap up, here's some sort of a graphical recap of what we've just covered created by StrongVPN. It goes a bit more in depth about the different protocols as well. If you have your own experience with VPN services feel free to share it in the comment section below.
Source: Lifehacker