One of the more interesting devices manufactured by Bitmain (the leading Bitcoin mining hardware supplier today) is the Antrouter R1. The product has 2 main functions:
It's just your everyday Internet router – turning wired Internet access into wireless access.
It's a Bitcoin miner that allows you to compete for the chance of mining Bitcoins.
The device can also be used as a high speed USB charger –  Using a USB cable, connect your mobile device to the R1 to charge it. Android phones, iPhones, and tablets are supported.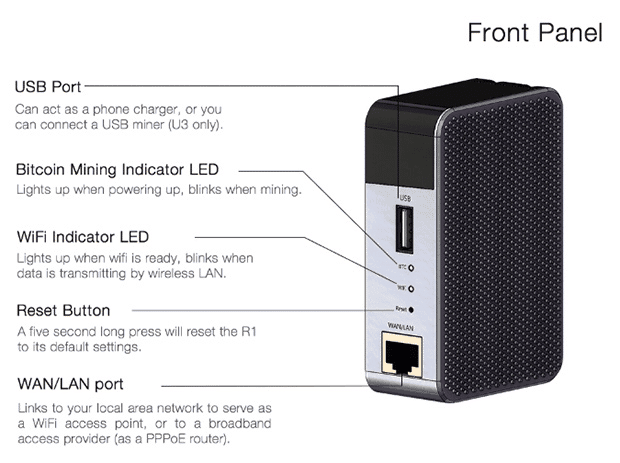 But before you fork over $39 to Bitmain (shipping not included) and start mining Bitcoins, it's important to understand just how slim your chances are to actually mine Bitcoins with the Antrouter. Let's start out with the technical specs:
Front Panel                             Connect ethernet cable and log into the management system.
Input Voltage                          110V – 220V
Input Current                          0.2A
WiFi Standard                         802.11 g/n
WiFi Band                               2.4G
WiFi Transmission Rate        150M
USB Charge Voltage              5.0V
USB Charge Current              Max. 2A
Dimensions                             84.5 x 56.5 x 29 mm
Temperature                            40°C (in 25°C environment)
Bitcoin Hashrate                     5.5 GH/s
Bitcoin Mining Mode               AntPool Solo Mode (Forced)
As you can see the Antrouter has a hash rate of 5.5GH/s. Just for comparison, the most efficient miner today that will probably break even within 12 months, the Antminer S9, has a hash rate of 14 TH/s. that's more than 2500 times more than the Antrouter R1.
Moreover, when you're mining with the Antrouter you're doing what's called "Solo Mining" – it means that  you're not joining a pool of miner and getting rewarded for your share of the work. If that was the case you would make around 10 cents each month since you're not contributing that much (calculated via our Bitcoin mining calc).
Instead, you are trying to mine on your own, attempting to solve an ultra complex math problem with a very weak computer. There's a slim chance that you will manage to do this and get rewarded 12.5 Bitcoins, but it's even smaller than the chance of winning the lottery.
Having said all that, I still believe the concept is appealing. I mean, it doesn't cost much to buy this device, it still has its own primary function as a router, and just imagine what a story you'll have if you actually do manage to mine Bitcoins with it by sheer luck.
Setting up the Antrouter R1 takes a bit of configuration the first time around. However this guide is pretty thourough and will get you through it easily. The Antrouter R1 isn't a new product, it was first introduced to the market at the end of 2015 (see the original Bitcointalk thread here). While browsing through user reviews I found that the two main complaints users had are:
Shipping costs make this product much more expensive than the stated price. When contacted, Bitmain stated they have a new shipping method (4PX) that reduces the cost of shipping by more than 70% to certain countries as compared to regular express shipping services. The Antrouter R1 is also sold on Newegg.com for a price of $49 and shipping it from USA. This price is only $10 above the price on the website, which doesn't include international shipping cost.
Some users who bought the product on Amazon claim to have received a faulty product. However most reviews are positive.
The verdict – is the Antrouter R1 worth your money?
If you're looking to get your money's worth stay away from this device. It will just cost more than a simple network router and chances are it will never bring in any profit. However, if you're feeling lucky and want to buy a cheap lifetime lottery ticket to the Bitcoin mining raffle this seems like a good deal. Personally I think the idea is pretty cool, even if it doesn't end up mining any coins…