Bitcoin Examiner came across an interesting Bitcoin-related research revealed by the tool Google Trends. According to a quick analysis, shared here, the general interest towards cryptocurrency keeps growing at a steady pace, with a slight rise in July.
After a peek of curiosity registered in April, justified by the Cyprus crisis revelation, the interest revealed by the web surfers has been going up and down, as you can check on this chart, but the numbers are quite positive.
Regarding geographical data, the United States and the North of Europe, especially Finland, are the countries with more interest in knowing more about Bitcoin.
It's curious to see that China, which has been showing a huge practical interest in Bitcoin since last year, is not coming up as a strong location in a matter of web research. However, that can be explained by the simple fact that the country data is not available, for instance.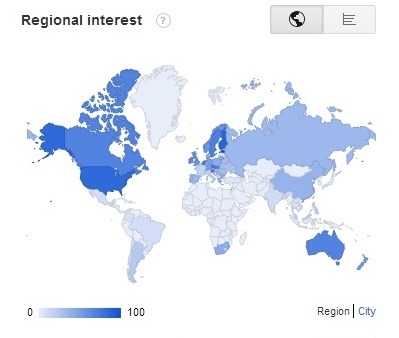 And what about the more researched terms? Well, "mining bitcoin" is the most browsed expression, followed by "bitcoins" and "bitcoin exchange". No big surprise here, as well.
It looks like the interest in Bitcoin remains stable, unlike its price, which has consecutively been going down this week. This Friday, the value fell below $75. Today (6), it's been fluctuating between $67 and $70.