There is a new open-source project out there that plans to fulfill the original ideals of cryptocurrency: decentralization, openness, and anonymity. The community-driven project, which aims to create a decentralized currency and payment system that includes mining pools and exchanges, is called BitcoinDark.
According to its developers, BitcoinDark will be composed of a set of services and will support "direct P2P trading, asset exchange, private sports betting and much more", always focusing on the idea of privacy.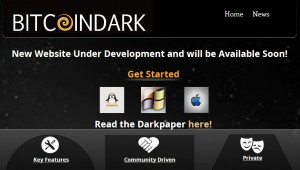 "Privacy servers will form the backbone of the BitcoinDark off-blockchain private network and will not only work to keep your transactions anonymous, but private as well", reads the project's website.
The webpage also reveals that "BitcoinDark is an ASIC compatible PoW/PoS coin. Development of Teleport Anon Tech is underway and will include a near real-time decentralized exchange (Instantdex) and a peer-to-peer sports book (Privatebet) and more".
The most advanced and unique privacy mechanism, Teleport Anon Tech, is now well under development by the core BTCD developer Jl777 (James) and will utilize the pNXT platform. BitcoinDark will be at the cutting edge of crypto-technology.  Welcome to the evolution of crypto!
A comment published on the forum BitcoinTalk.org confirms the new platform's key features. The project is currently seeking community assistance and suggestions from the general public: "a good coin should be developed by the community that intends to use it".